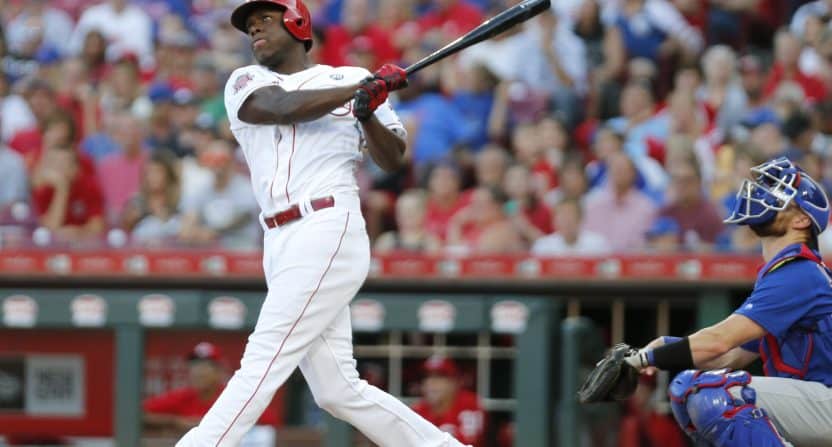 Risers
Arisitides Aquino, OF, CIN
Aquino has exploded onto the scene, blasting seven home runs and batting .464 in nine games since being called up to the show. He is clearly the most exciting pickup in any league format right now after depositing three home runs into the stands on Saturday night
With Yasel Puig traded to the Indians, there was an opening in right field. Aquino has seized the opportunity and isn't looking back.
His numbers are insane. Aquino has an 87.5% HR/FB% and a Hard% of 63.2%. These numbers are clearly unsustainable. But make no mistake about it, the 25-year-old has tremendous power. He blasted 28 home runs in AAA in only 323 plate appearances. With a HR/FB% of 30%, the power is sustainable.
Aquino, like most power hitters, strikes out a lot. In his limited time in the Majors, he already has a quite high K% of 30%. In his last two seasons in the minors, Aquino has a K% of 25%. Strikeouts will likely always be high for Aquino but it won't matter if he keeps hitting the ball hard into the air.
Aquino's ownership rates have exploded in the last week: 65% owned in CBS leagues, 58% owned in Yahoo leagues, and 10% ESPN leagues. Grab him now and enjoy the ride.
Adrian Houser, SP/RP, MIL
Houser has been in-and-out of the starting rotation for the Brewers all season. With injuries seemingly affecting every pitcher in Milwaukee, Houser is taking advantage of the opportunity to start again.
In his last three starts, Houser has 21 Ks in 16 innings with a 3.38 ERA. Houser's season-long rate numbers are not great (ERA of 4.00, WHIP of 1.33), but he is trending upward.
Howser has allowed a BABIP of .320, an unlucky number given his Hard% is at 37.5%. His approach is excellent, inducing a Ground Ball% of 54.5% and a Fly Ball% of 24.9%. With a K% of 25.6%, Howser has exactly the type of profile we are looking for: a high strikeout rate paired with a high ground ball percentage.
Howser is way off the radar right now with extremely low ownership rates: 5% in CBS leagues, 4% in Yahoo leagues, 1% in ESPN leagues. I am always a fan of buying early so grab him now before everyone else takes notice.
Fallers
Jeff Samardzija, SP, SFG
Samardzija has put himself back on the fantasy radar with a solid performance over the last month. In that time period he has a 2.27 ERA and 34 strikeouts over 35.2 innings pitched. While those numbers seem impressive, when we look at under the hood we see several warning signs.
In the same time period Samardzija has a ridiculously low BABIP of .190 with a LOB% (Left on-base percentage) of 97.4%. These are numbers of pitcher that is extremely lucky. There's no way he can count on his defense to turn almost every ball in play into an out while allowing almost no baserunners to score.
Zooming out to the season view, we can see that Samardzija is just an average pitcher. His ERA, while solid at 3.55, is a mirage. He has trouble limiting fly balls (41.6% FB%) and hard contact (41.5%). Samardzija's FIP is 4.37, which is a more realistic view of his ERA going forward.
I have no problem Samardzija dropping in Samardzija in shallow leagues. He can be a solid trade bait now as part of a 2-for-1 deal in deeper leagues. In any case, look to make a move while his value is at its highest point.