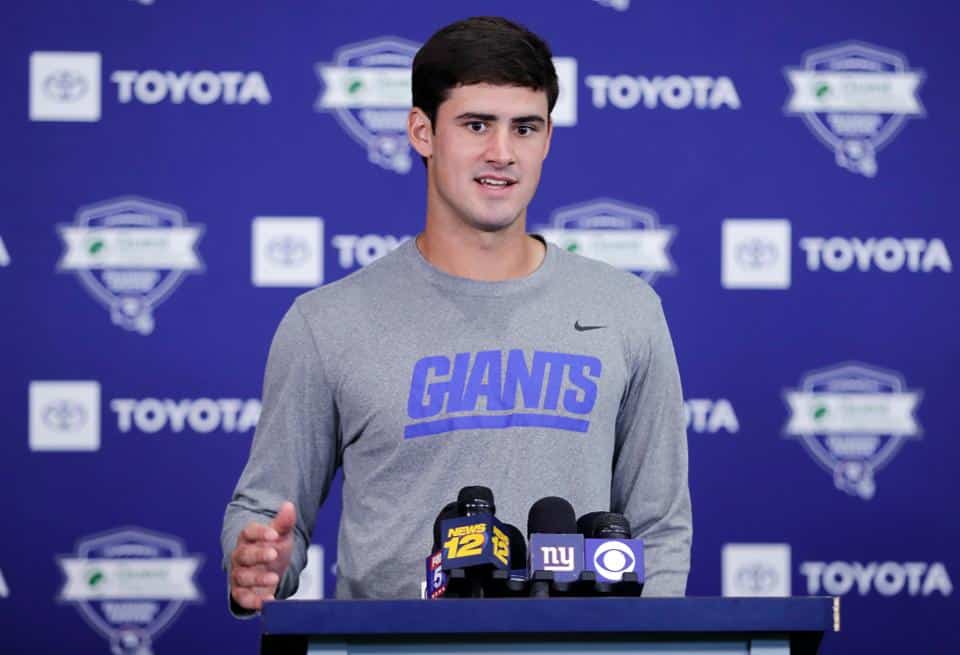 First of all, Hi haters!
Did you see that dime piece I slung last night? Boom-sauce dripping baby! I mean come on. Kyler who? Dwayne fucking Haskins? Are you serious? Remember on draft night when you giggled after the Giants picked me at no. 6 overall?
Well, who's laughing now Dwayne? Me. I'm laughing at your NFL debut stat line, 8-of-14 passing for 117 yards and 2 INTs, tallying a whopping 44.9 passer rating. Yikes! I'll be sure to track your progress all season long bud! Cheers!
For Those of You Who Don't Know Me…
My name is Daniel Scones aka The White Mamba. I am currently the backup quarterback for your New York Football Giants. I am here in New York, to not only take that pussy Eli Manning's job, but to taste all of the finest Brunch menus that this great city has to offer.
Please DM me any restaurant recommendations @DanielScones on Twitter. Let's do brunch! I'm here to crush bottomless mimosas and torch the NFL like a fucking crème brûlée.
My mission is to start at QB for this team by midseason. But, my passion is to make everyone understand the difference between a frittata and a quiche.
For Those of You Who've Been Talking Shit…
And, you know who you are because there are many of you. But, just for the record, I'm especially looking at you Chris Carter, you Nick Wright, you Scott Van Pelt, you Dan Graziano, and most recently you Ryan Clark. You all should get together for drinks at Yappy Hour!
Did anyone else see Ryan Clark on ESPN's Get Up this morning? Probably not because that show blows moose cock. But, why is this man always so angry? And why does he wear a safety pin on his collar? Can somebody get this guy a tie? Hey Ryan, get off my dick bro. Seriously, anybody who has contributed to the backlash post draft day I hope you were watching last night while snacking on some humble pie. I was 5-of-5 passing for 67 yards and a Touchdown on my one and only series. That's why they called me "Swagger" in high school.
For Those of You Who Haven't Seen My Girlfriend…
Yup, she's a smoker! So, here's another reason to hate on me!
For Eli Manning…
I'm sorry bro. You've been nothing but nice to me over the years, but now is not a time for pleasantries. I'm coming for your fucking head, poindexter.
It really pisses me off when people say that I look like you because you look like a fucking nerd. And, what? No brunch invite? I've been in town for four months and not one single Belgian waffle, not one Eggs Florentine, not even a measly scone.
You're a bitch. I'm sorry. Don't even talk to me in the locker room anymore.
NFL Preseason Week 1 Picks:
49ers -4.5   Because Jimmy G took me to brunch one time.
Rams +5     Because Antonio Brown's feet look like he crip walked through toxic sludge.