Patrick Mahomes is the early favorite to repeat as MVP this season. He'll try to become the first player since Peyton Manning in 2008 and 2009 to win the award in back-to-back seasons.
Mahomes will have another great season, but I have doubts he'll be able to match his historic 2018 campaign when he finished with over 5,000 yards and 50 touchdowns.
Take a look at a few of my top bets for MVP.
READ ALSO
Top 5 NFL and CFB 'Games Of The Year' To Bet Right Now
Aaron Rodgers + 800
Rodgers has a new head coach for the first time since the 2006 season. Learning a new offensive system and experiencing some much-needed change is exactly what Rodgers needs at this point in his career. He played in all 16 games last season but struggled with injuries and was finally sent to the sidelines in week 17 with a concussion.
Green Bay has a strong offensive line and Pro Bowl receiver Davante Adams. Adams has built a great relationship with Rodgers and had a career season with 111 catches and 13 touchdowns a year ago. Plus, he has to redeem himself for the beer-chugging fail.
At 35-years-old, Rodgers still has elite arm talent and the weapons around him for a huge season. Given the revamped defense with as many as five new starters, Green Bay should be much improved overall helping the MVP chances of Rodgers.
Carson Wentz + 1600
The pressure is on Carson Wentz. The Eagles rewarded Wentz a $128m contract and Super Bowl MVP Nick Foles is in Jacksonville. In a shortened 2018 season due to injury, Wentz had a very productive year completing almost 70% of his passes and throwing 21 touchdowns with only seven interceptions.
The front office added even more playmakers for Wentz trading for DeSean Jackson and drafting Penn State running back Miles Sanders in the second round. If the Eagles can make a run to their second Super Bowl in three years, Wentz will be the catalyst and an MVP candidate.
Phillip Rivers + 2200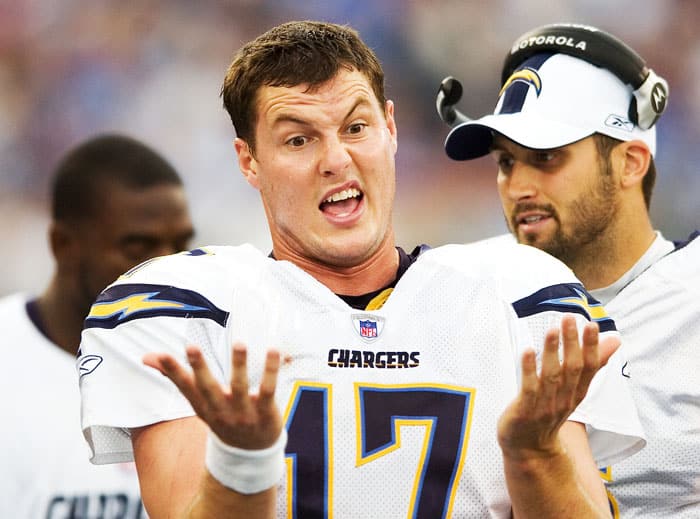 The Chargers have a loaded roster and should challenge the Chiefs for the AFC West crown. In 2018, Rivers had his best statistical season since 2013. His quarterback rating was 105.5, he tossed 32 touchdowns, and had over 4,300 yards in the air leading the Chargers to the divisional round of the playoffs.
Rivers has great players all over the field including receivers Keenan Allen, Mike Williams and running back Melvin Gordon. Heading into his 16th year, this might be his last legitimate chance to reach a Super Bowl and I can envision with an excellent season certain MVP voters wanting to show their appreciation for his remarkable career with a MVP trophy.
Matt Ryan + 2800
Matt Ryan had a remarkable season throwing for almost 5,000 yards and 35 touchdowns. Even still, his team had to win their last three games just to finish with a 7-9 record.
It's unheard of for a quarterback to be that productive without even a sniff of the post season. The majority of the Falcons problems started on defense with multiple season ending injuries. Running back Devonta Freeman also missed 14 games due to injuries.
Atlanta improved the offensive line in free agency and the draft and should be able to keep Matt Ryan upright in the pocket. The receivers are all dangerous and can make plays in the passing game. Julio Jones is a star, and Calving Ridley had over 800 yards receiving and 10 scores as a rookie. The sky is the limit for this offense and Matt Ryan should have another massive season.
READ ALSO
2019 NFL SuperContest Preview, Rules and Strategy
Cam Newton + 4000
Newton had a great start to the 2018 season before injuring his shoulder. He played through the injury before the franchise decided to shut him down after a close loss to the Saints in week 15. He had shoulder surgery in the off-season and is on pace to be ready for training camp.
If healthy, he has a talented group of receivers and running backs to work with. DJ Moore and Curtis Samuel are young and both seem ready to have breakout seasons. Christian McCaffrey set a franchise record with over 1,900 total yards and is only going to get better. It will be interesting to see if tight end Greg Olson can contribute after back-to-back injury plagued seasons. The Panthers also picked up wide receiver Chris Hogan in free agency from New England who's a good receiver with big game experience.
The pieces are in place for Newton to have a big year. I'll be watching closely during the preseason to see how Newton and his shoulder react to live action.
Best Bet

I'm going to make a small a wager on Matt Ryan to win the MVP due to the amount of talent he has around him. Another interesting stat is Atlanta could play as many as 13 games indoors this year which will benefit Ryan in the passing game and clearly help his explosive receiving core.
However, most of my cash will be on Carson Wentz for MVP. All reports out of Philly have Wentz at the facility night and day working with his new receivers to build chemistry before the team reports to camp. You have to consider his injury history, but Philly has a great chance to reach the Super Bowl. If that happens, Wentz will have a great shot at winning his first MVP trophy.