With the second round of the NBA Playoffs just heating up, as a DFS player you're torn between a love/hate of the situation. While the dramatic atmosphere of each remaining matchup is storied and provides a "Must See TV" element, the inner degenerate in every DFS regular cringes at the thought of limited player pool options that are all loaded with public ownership.
How do you best the field with roster differential while not completely going overboard with consideration to the depths of your player pool?
Let's take a look at managing these inconsistencies, along with the limited player pools per slate that come with them (including an example winning GPP lineup on DraftKings), and also "telling a story" with your daily fantasy basketball playoff lineups.
Nothing Is Consistent
When we're in the midst of the regular season setting lineups, the sample pool of games to analyze (and trends therein) are often what we're using to breakdown recent consistencies and the likelihoods that they'll transpire again. A healthy breakdown under the microscope often consists of a sample exceeding 10 games, because various changes occur with rosters and their rotations on a daily basis and it requires a look at various spans to gauge where a team is at depending on the stat or matchup you're looking at.
In the playoffs we're not given nearly the sample size to work with, especially with considerations to matchups and shared floor time. This is due to the fact that coaches often throw in rotational curveballs that are somewhat contrarian to what they're apt to do during the regular season, or stagger minutes drastically between players at a position in general.
While some bit of advice here would be to stay on Twitter for roster updates leading up until lock (I have a variety of notifications for different fantasy news profiles), that's nothing out of the usual in preparation. It's what you do to prepare for it within your rosters.
Getting different with your lineups is always encouraged, particularly in GPP play, and measuring for potential positive/negative regression in player production shouldn't be out of the question given the limited circumstances.
The very turbulent dramatic nature of these playoff series shouldered game after game is emotional duress that does in fact wear into the equation to some extent. Being even somewhat mindful of this when looking at recent player fantasy performance specifically during the playoffs would be encouraged, especially in regards to trying to best the field in ownership.
If you see a player who's been on fire the past 2-3 games during the playoffs, you can be assured that they'll be carrying the field majority with them on the next slate. Depending on the number of entries you're playing (and which tournaments they're in of course), it may be worth fading them.
Managing Playoff Player Pools
With slates consisting of no more than 2-3 games now, player ownership is insanely congested with all of the obvious value and stud players reaching as close to 80% ownership in some cases. That considered, you should look at the feasible ways to get different with your roster while keeping the train on the tracks as to not simply dive to the cheapest garbage possible all in a hopeful exchange for affording a more expensive talent elsewhere in your lineup…
…HOWEVER, this oddly does not apply to FanDuel due to their Lowest Score Dropped rule where your lowest scoring player falls off your roster. There are plenty of days that the GPP winners feature a bare minimum $3,500 no-name player in their lineups in order to afford a much greater talent at another position (which is critical with no multi-position eligibility combined with massive price hikes between tiers).
Depending on the entry types (Cash or GPP), your lineups should still stay along the lines of the strategies you're used to in regards to how weird you're getting with your roster construction. You shouldn't have to stray too far outside the lines with your Cash game entries, but your GPP play should definitely sing to a different tune considering how many exact duplicate lineups there will be in the field. Just the slightest difference can end up being the largest in many instances. How you choose to reason your reaches is up to you, but don't shy away from anticipating positive regression where you'll seemingly draw less ownership.
Tell A Story With Your Lineups (Predicting Game Flow)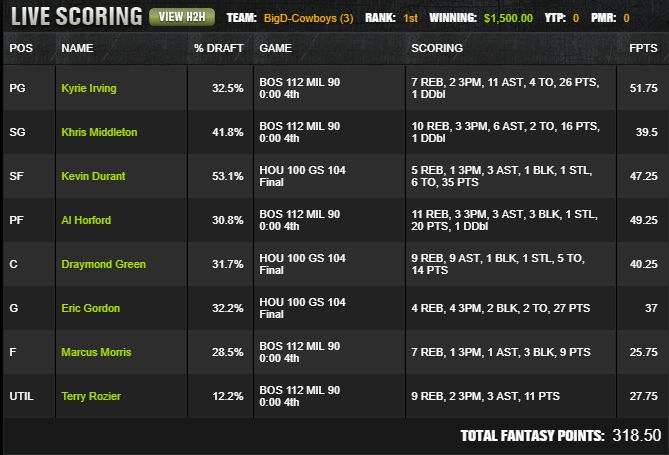 While during the regular season it's often discouraged to anticipate game flow within your lineup construction (particularly in regards to deep bench rotational minutes), this is most obviously because there is a significantly larger player pool to work with. Given the specifics of limited featured games on a playoff slate, it doesn't hurt your cause one bit to try painting a picture with the story behind some of your lineups.
You'll notice in the GPP winning lineup featured above (from Sunday's pair of Game 1's) that a team stack stemming from the [very] right side of an improbable Celtics blowout victory over the Bucks was the catalyst to the success in this lineup.
Some players by nature, given an extremely limited number of games on a slate, will be prone to the obligatory feeling of needing an equal amount of exposure to each team featured. Nothing too crazy was done out of the ordinary in this lineup, but you'll notice Terry Rozier at a meager 12.2% ownership was the key in differentiating himself (and it even split first place with an exact roster tie).
Clearly going heavy on the Celtics was not the public favorite of the day, and while it wouldn't have necessarily banked a GPP for you, it would've netted you some decent cash. Being different by telling a story within your roster, such as forecasting a Celtics-heavy win in Milwaukee, can be an effective and reasonable way to get yourself ahead of the field with such a small number of worthwhile players to choose from. So have some fun with it, get a bit unusual with how an outcome may wind up, and hopefully I'll see you on the greener side.