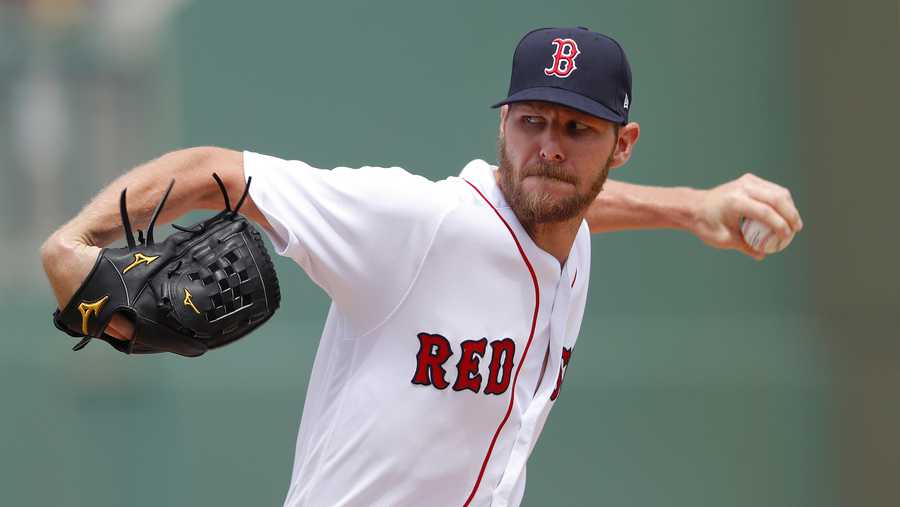 The 2019 American League Cy Young picture is much different in some ways than the National League in that there's a huge drop off after the two favorites. The other peculiar thing is that every pitcher from (+1200) to (+2000) is fighting to even get the most votes on their own pitching staff.
The American League, as a whole, has done a great job providing a deep rotation with more than one pitcher being able to win the award this year. Last season, Blake Snell came out of the long shot tier, but Chris Sale likely would have won the award without a second half slump and injury. Let's dig into the odds.
READ ALSO:
2019 National League Cy Young Odds: Chalk, Mid Range and Long Shots
The Chalk
Chris Sale (+300)
Corey Kluber (+350)
The chalk is well deserved here for a guy like Chris Sale, and frankly, there's a lot to like about him yet again. Chris Sale, when healthy and on point, is the most dominant pitcher in Major League Baseball and it may not be close. I'm a huge narrative driven type of person when it comes to futures, and not even to the point that judging or voters are slighted towards someone with a "due factor." I just think eventually players of this caliber break through the glass ceiling, if for nothing else, self validation.
At this point, Chris Sale can opt out of his contract next year and either way, he's going to get paid. We're also starting to tread on the fact that Sale may already be the best pitcher in baseball to never win a Cy Young. The price is brutal, but eventually he will take home the hardware.
Kluber is going to have four other pitchers taking some of his votes including Carlos Carrasco, Trevor Baur, Mike Clevinger, and even long shot Shane Bieber. It's hard to win back-to-back Cy Young Awards and Kluber's next level stats suggest some regression. Also, his top heavy lineup won't be the same.
Mid-Range
Gerrit Cole (+1200)
Justin Verlander (+1500)
Trevor Baur (+1500)
Carlos Carrasco (+1500)
Blane Snell (+1800)
David Price (+2000)
The issue with most of these guys is while they present value, they may not even end up being the best pitcher on their own team. As I stated above, Baur and Carrasco have to fend off Corey Kluber, Mike Clevinger, and Shane Bieber, which like many Astro's MVP votes, that can get messy.
Houston is in the same position with its pitching, knowing Cole and Verlander are going to eat into each others share. The same thing can be said about David Price, and let's not even forget Rick Porcello also won a Cy Young before.
Blake Snell is great, but again, it's incredibly hard to repeat. Trevor Baur poses great value along with Gerrit Cole to at least beat the market to put you in a position to sell in the secondary market.
Long Shots
Marcus Stroman (+8000)
Shane Bieber (+10000)
Long shots certainly provide value in this market as last year showed us with Blake Snell (+20000). Breakout pitchers are hard to predict over a season, and it makes the most sense to buy futures before the season.
I've selected two in this range for a variety of reasons, so let's start with Marcus Stroman. Stroman was a terribly unlucky pitcher last year, as he still had an elite ground ball ratio, while being the victim of bad defense, injuries, and a very bad team. When you turn back the clock to 2017, he finished eighth in Cy Young voting, going 13-9 with a 3.09 ERA, striking out 164 in 201 innings. If he can stay healthy while The Jays improve, he'll out perform his value.
Shane Bieber is treading on the mush category, as he's very fantasy analysts breakout candidate this year, but it's for good reason. If things break right for him, he could be this years version of Walker Buehler for Cleveland. I may be a year early on Bieber as the odds suggest, but to borrow another cliche, he was terribly unlucky last year. He has elite control, maybe the best in the bigs at his age, but was just in the strike zone too much last year. If he can work outside the zone on purpose, he can get hitters to chase his stuff and may end up being the breakout pitcher on this team, not Baur or Clevinger.
READ ALSO:
2019 National League Cy Young Odds: Chalk, Mid Range and Long Shots