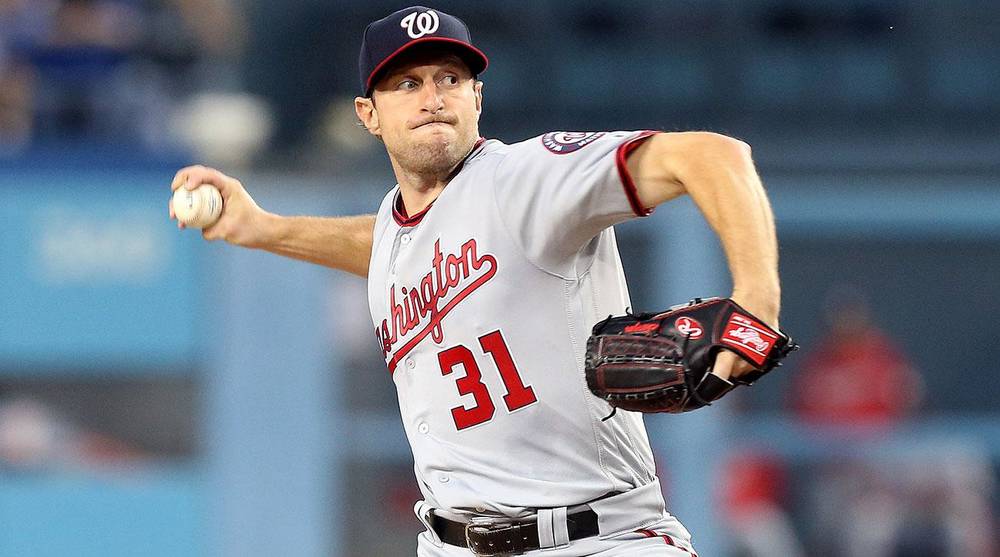 The National League has always been Max Scherzer, and everyone else. Sure, they'll be a random guy who breaks out every year to challenge him, but Scherzer is the one constant in this league. It just depends on if the breakout star is able to barely beat out Scherzer's ho-hum normal season. As we saw last year, it took a historical season from deGrom, but he got it done. Let's see who is in line to challenge Scherzer this year.
READ ALSO:
2019 American League Cy Young Odds: Chalk, Mid Range and Long Shots
The Chalk
Max Scherzer (+250)
Jacob deGrom (+350)
If you're trying to find someone to pick, but can't decide, always go with Max Scherzer. He's one of just ten three-time award winners while finishing top five in voting six straight years. He's actually getting better with age, apparently. Despite deGrom's historic season, he probably should have won the award. Barring injury, he'll be there in the end and will most likely be the odds-on favorite at some point in the season in the -150 range. Sherzer also has to deal with Stephen Strasburg and Patrick Corbin potentially taking some votes, but Strasburg has never been able to stay healthy for an entire season.
Much like Snell, deGrom broke out last season to a level channeling Pedro Martinez. His stuff was unhittable, and he showed that wins don't matter to voters as much as we thought. deGrom may not be that dominant again, and much like Scherzer, he has a three-headed monster who will take votes away from him in Noah Syndergaard and Zack Wheeler.
Mid Range
Aaron Nola (+600)
Noah Syndergaard (+1200)
Walker Buehler (+1500)
Clayton Kershaw (+1800)
Aaron Nola showed why he was a top prospect last season, being as high as third on the NL Cy Young voting chart. I know many saber metric predictors and handicappers that think he will regress, but I only see him getting better behind an improved lineup.
Syndergaard, much like Strasburg, is injury-prone … and again, has deGrom and Wheeler to contend with. Walker Buehler is everyones' post-season darling, aside from Nathan Eovaldi, but I worry about the increased workload and his ability to stay healthy. But keep in mind, Kershaw is likely to start on the disabled list and give Buehler the spotlight for the first time.
Kershaw technically provides a ton of value, after all, Greg Maddux made a second career by changing his game, something Kershaw is modeling this next phase of his pitching after.
Long Shots
Stephen Strasburg (+2500)
Robbie Ray (+5000)
These two guys are infuriating in their own ways, but Strasburg should have already won at least one if not multiple Cy Youngs by this point. He has potentially the most talented arm in the Major Leagues, yet injuries year after year derail him.
In 2017, Strasburg won 15 games while pitching to a 2.52 ERA. That's the pitcher he truly is, even though he missed time that year. Last season, he made only 22 starts with a 3.74 ERA, before once again going down. It's the same story with him, if he stays healthy and finally puts it together, he is one of the best pitchers in baseball. He was once the number one pitching prospect in baseball, and now at age 31, he needs to figure out how to save his own arm. If he doesn't, he will take the distinction from Chris Sale as the best pitcher to ever not win a Cy Young.
As for Robbie Ray, he's a saber metric handicapper's dream. Everything points to the fact he should be an annual Cy Young contender and he just gets unlucky time after time. He walks guys too much, 13%, batters have a 44% hard contact rate, and gives up too many home runs. That seems bad, but he strikes everyone out, 31.4% K rate and 12k/9 last season. The reason people love him so much is if he could just get the walks under control and work lower in the zone, he'd be elite with those strike out numbers. It's hard to bank on him doing so, but if he ever puts it together, you won't believe amount of analysts that will tell you, "I told you so."
READ ALSO:
2019 American League Cy Young Odds: Chalk, Mid Range and Long Shots