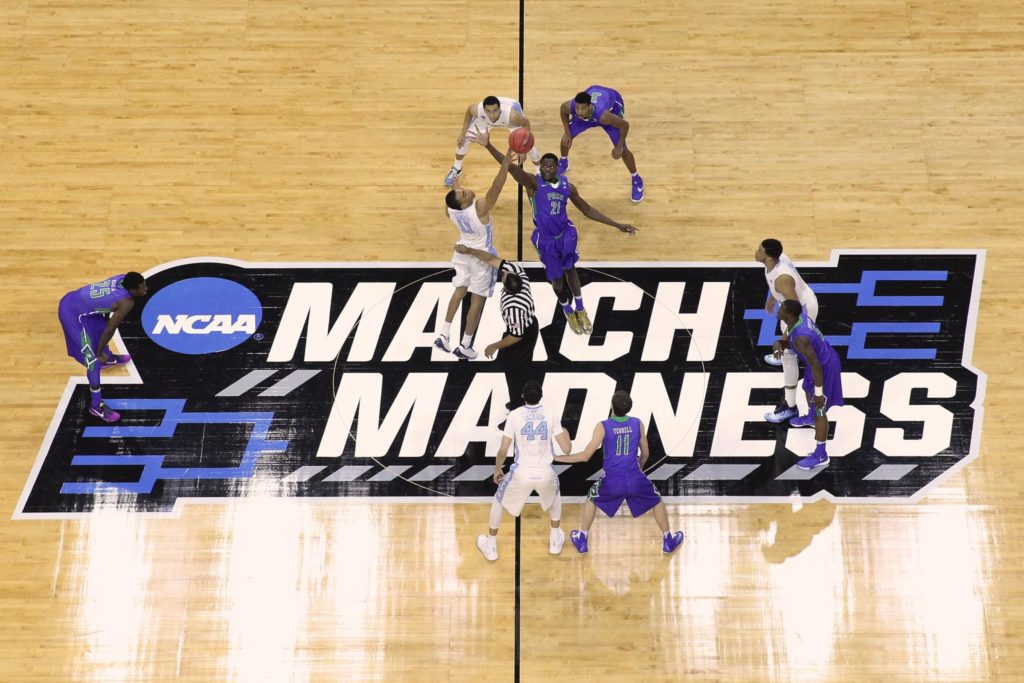 Based off the wisdom of Sean Green (@seantgreen), Ryan Kramer (@KramerCentric), Colby Dant (@TheColbyD), James Alberino (@spreadinvestor), and Christian Pina (@ChristianPina) in episode 669 of the Sports Gambling Podcast, March Madness Betting Strategies, below are 10 commandments to live by when betting on the big tournament next week and getting the most out of your college basketball picks.
Use promo code SGP to sign up for DraftKings' $64,000 March Madness Bracket Challenge  
1. Limit Variance By Betting On First Half Outcomes
The second half of NCAA March Madness games are full of drama: unexpected heroes, last minute chokes, blown calls, and more. The first half of March Madness games tends to be more consistent as the pressure of the games ends sets in stone in the second period.
2. Consider Team Depth, Especially Deeper Into the Tournament
Fatigue and injury are factors that eliminate talented teams at every year's March Madness tournament. The pressure and high level of the tournament make fatigue a commonplace, and no star is invincible from injury. Because of this, count on teams with depth and talent in their bench.
3. Bet Late When You Go With the Underdog
Just as in any other case, because sportsbooks understand that they will receive public money on favorites consistently, it makes sense to wait to bet on underdogs for movement of money lines.
4. Focus on Guard Play and Defense
Teams with talented guards who turn the ball over rarely, as well as teams with structured and proven defenses, are the ones who will win momentum and likely win games.
5. No.4 and No.5 Seeds Are Often Underrated
The high level of play in the tournament and the depth of division one basketball programs means that #4 and #5 seeds tend to be both skilled and experienced.
6. Travel and Home Court Advantage Matters
According to statistics, the teams that have to travel farther for their games perform worse. Consider travel, home court advantage, and fan support before making your picks.
7. Madness Experience Makes A Difference
Pressure can make or break a team, and one variable that limits pressure is experience. Teams that have experience in the big tourney are more likely to strive and succeed under the bright March lights.
8. Free Throw Percentage Loses/Wins Games
When teams losing a close game towards the end of regulation foul, it is important to have your money on teams that will capitalize on points from the line and shut down the opportunity for late comebacks.
9. Consider Variance of Point Distribution
It is difficult to rely on teams that only shoot the 3 ball. Your best bet is on teams who can find another way to score if their first method isn't working.
10. Offensive Rebounding and Physicality Are Huge
Which teams will get bullied under the rack? Which teams will give themselves multiple consecutive possessions by rebounding on offense? Consider these qualities to have more confidence in your picks.
Use promo code SGP to sign up for DraftKings' $64,000 March Madness Bracket Challenge