Aside from mid major conference tournaments going on this weekend here are some bubble teams that need wins to help boost their resume.
MINNESOTA @ MARYLAND
Minnesota came up with a huge win at home against Purdue earlier in the week and the Gophers appear to be in but not by much a win here would pretty much solidify them in the NCAA tournament.
SYRACUSE @ CLEMSON
Clemson is an interesting case. They seem to be a team that is going to benefit just because they play in the ACC. When you analyze their schedule they basically have zero win that make you say "oh wow". Here's a gigantic game for the Tigers who need as many wins as they can get right now.
TCU @ TEXAS
Both these teams could use this win but if there's one team that needs it more it's certainly TCU. I've seen multiple brackets have TCU as the last 4 in or first 4 out. TCU has dropped several games down the stretch and could sure use a big win over a rival to end their regular season.
VILLANOVA @ SETON HALL
Villanova is in but and Seton Hall just earned a big win over Marquette that most likely put them in but a win here would pretty much wrap things up for the Pirates.
NC STATE @ BOSTON COLLEGE
NC State is coming off a loss at home to Georgia Tech who was without one of their best players. The Wolfpack have a few decent wins but they also have a game where they only scored 24 points. This is a must win for the pack.
FLORIDA @ KENTUCKY
Florida is about as much on the bubble as one can be which is why if they can somehow come into Lexington and grab a upset victory over one of the best teams in the country then in my eyes they will have punched their ticket to the dance. A loss here and a early exit in the SEC tournament and the Gators may be NIT bound.
GEORGETOWN @ MARQUETTE
The Hoyas have a huge game this Saturday against Marquette. Georgetown has played good ball down the stretch and are just a few wins away from being in the field of 68. Can the Hoyas come into Milwaukee and get the win?
ARIZONA STATE @ ARIZONA
Arizona is showing some signs of life lately despite being involved in this NCAA FBI scandal. Arizona State and coach Bobby Hurley are one of the nation's biggest mysteries. One game they look like an elite eight team and the next they could lose to literally anyone in the nation. The Sun Devils are currently projected as the last 4 in which makes this game absolutely gigantic for them.
CENTRAL FLORIDA @ TEMPLE
Legendary Philadelphia head coach Fran Dumphry is in his final season as a head coach and what would be greater than Temple a current last 4 in bubble team upsetting UCF at home in Philly on senior day? This game is must watch TV.
ST. JOHN'S @ XAVIER
St. John's looked like a lock for the tourney a few weeks ago but then hit a tough stretch of the season and now they got to do some work. Xavier just recently beat St. John's in their own place and have suddenly popped up on the bubble watch. This is a big game for both teams but most likely bigger for Xavier if they want any shot at dancing.
ALABAMA @ ARKANSAS
The Crimson Tide have been fading down the stretch and are noted as the last 4 in the tournament in several projections. Arkansas is a bubble team on the outside looking to get in and perhaps playing for their coaches job. This one should be a dandy.
OKLAHOMA @ KANSAS STATE
Oklahoma despite their big win against Kansas is still a bubble team although most bracketologist currently have them in it's not by much. Kansas State is playing for their first ever Big 12 regular season title. Talk about what's at the stake here?
DEPAUL @ CREIGHTON
Both these teams still have a shot. Sure, they are both on the outside of the bubble but a nice win heading into the Big East Tournament would be big for both teams.
RUTGERS @ INDIANA
I keep hearing everybody talk about it. Indiana despite losing 12 of 13 games just a few weeks ago and not winning a home game in 57 days remains a team on the bubble and one that may just be in at the moment. Look, I don't agree but regardless it should make this game compelling.
WISCONSIN @ OHIO STATE
Ohio State is a bubble team that's currently on the inside of the bubble but they could sure use a win against a ranked Wisconsin team to boost up that resume. If the Buckeyes lose here and get upset early in the BIG TEN tournament they may just find themselves on the outside of the field.
OTHER NOTABLE GAMES
Texas Tech @ Iowa State
Texas Tech could win their first ever Big 12 regular season championship with a win here and a Kansas State loss. That's big news for a conference that's been owned by Kansas. Iowa State is playing to improve their seeding and are coming off a bad loss.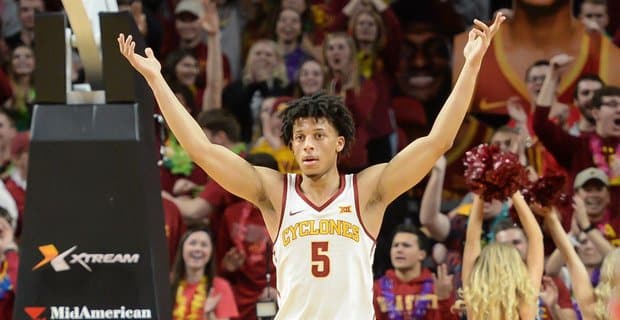 Louisville @ Virginia
The Cardinals have been fading down the stretch including a blown double digit lead to Virginia a few weeks ago. Virginia is looking to lock up their 1 seed in the field of 68.
Duke @ North Carolina
Can Duke get revenge in Chapel Hill? This a big game simply for the fact that a 1 seed in the NCAA Tournament may be at stake here.
Michigan @ Michigan State
A Big Ten regular season title is at stake here but let's not forget a little revenge from the Spartans coming into Ann Arbor a week or so ago and handling the Wolverines. Regardless this is must watch college basketball.
Houston @ Cincinnati
Cincinnati not only doesn't want to lose two games in a row closing out the season. If the Bearcats can defend their home court and get the win they'll get a share of the regular season AAC Title.