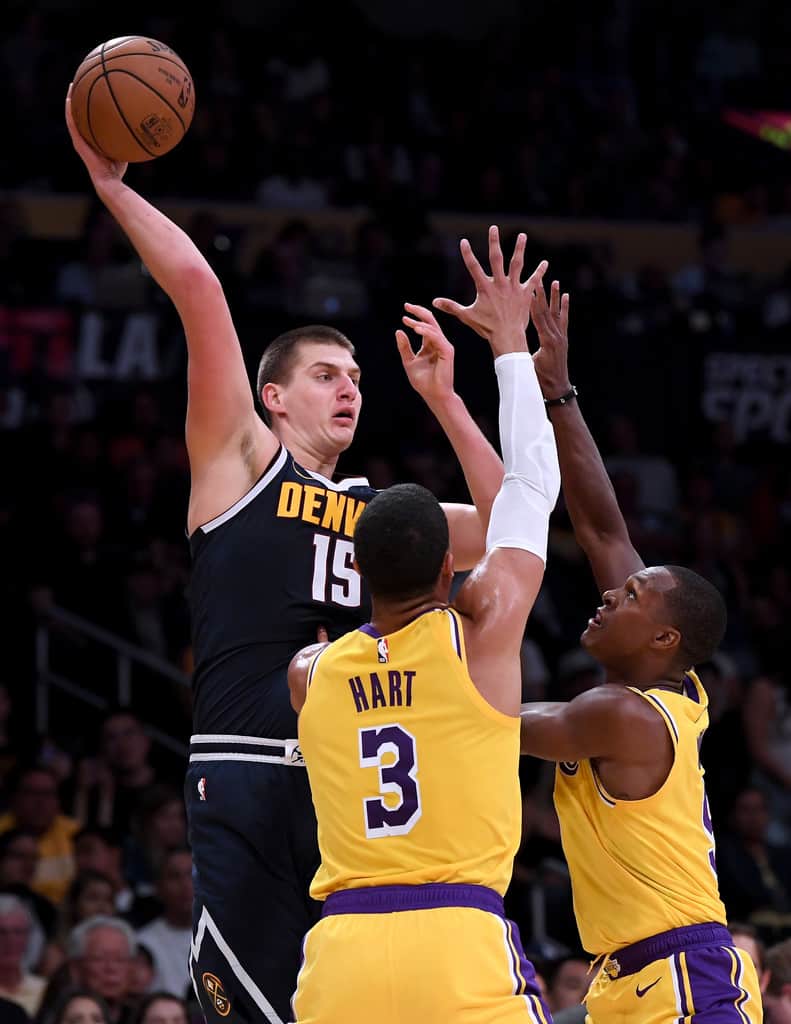 Daily Fantasy Basketball Cores, Pivots, and Strategy will offer to serve as a mutually proportioned grasp for an everyday NBA DFS main slate, touching on core and pivot plays at each position, as well as strategies you may find useful as roster outlines or interesting contrarian plays.
Happy Hump Day! Or so they say. I look forward to Wednesday for simple pleasures in the work week beyond just being at the halfway mark, but typically relishing in the fact that Wednesdays carry the best damn slates aside from Fridays (at least in my opinion). So I usually find it to be a monumental day of geeking out whilst grinding the 7-4 work shift and looking not so far ahead to the weekend, typically because there aren't many other fantastic things taking place on Wednesdays besides if you happen to have a great Happy Hour nearby with some NBA on their big screens. And this Wednesday we're grinning at a ten-game slate stacked with options seemingly everywhere, so make plans for later with this slew of offensive matchups and let's dive in…
Point Guard
(UPDATE: KYRIE IRVING RULED OUT!)
Core:
• Ben Simmons ($8,900 DK/$9,900 FD)
Shaking off a bad February, Ben Simmons is off to a great start to March playing at fantastic value beyond his dollar in each of the last three games. Despite being on a back-to-back he's traveling to face the Chicago Bulls, who are doing the very same, except coming off a loss to the Pacers and definitely built nowhere to any caliber of the Sixers, regardless of their missing post anchor in Joel Embiid.
The Bulls are not very good defensively, trudging in 21st overall at the category in the past ten games. While Chicago's pace is toward the middle of the field (17th overall in the past ten games), the spot is a solid one as he's averaging over 40 minutes the past three outings. His price hasn't risen too much and he's primed to hit a ceiling here. I will be getting at least a matching share of Ben Simmons this evening.
Pivots:  Rajon Rondo, Ricky Rubio, De'Aaron Fox, Trae Young, Elfrid Payton, Terry Rozier
Punts:  Derrick White, Bryn Forbes, Jalen Brunson, Spencer Dinwiddie, Emmanuel Mudiay, Tomas Satoransky
Shooting Guard
Core:
• Luka Doncic ($9,100 PG/SF on DK/$9,300 FD)
Nobody can get this guy's position correct, or to match on the same day for that matter, so I put him under the FanDuel designation of Shooting Guard for today but roster as you need to. But at that rate, I would suggest doing so wherever you must put him in at least several of your rosters because he's squaring off against the second-highest paced team over the last ten games in the Washington Wizards. Not to mention that they're also 27th overall in opponent 2nd chance points in that same time span, but the Wiz are in the bottom five teams defensively as a cherry on top as well.
While he's put up duds in the past couple of games, Luka has the nightly capability of jamming past 50 fantasy points and with usage up over 36% almost by second nature, it's impossible to not want to get a healthy amount of roster exposure to him.
Pivots:  D'Angelo Russell, Bradley Beal, Zach LaVine, Jimmy Butler, Devin Booker, Donovan Mitchell, Jrue Holiday, Buddy Hield, Marcus Smart, Jaylen Brown
Punts:  Luke Kennard, Joe Ingles, Dwyane Wade, Allonzo Trier, Damyean Dotson
Small Forward
Core:
• Will Barton ($5,600 DK/$5,900 FD)
For an incredible textbook example of packaged deal value, look no further than Will Barton on tonight's slate against the Los Angeles Lakers. Although he's not always touting a high usage percentage, Barton's got a sandwich-layered opportunity spread between low-cost, high ceiling (over 50 DKFP), fantastic matchup, and steady starting minutes (over 32 on average). Against a fast-paced Lakers team on the ropes (or quite possibly begun the descent to the canvas), I don't see a much better core play by definition on the entire evening, especially considering his dirt cheap price tag.
Pivots:  Kelly Oubre Jr, LeBron James, Justise Winslow, Trevor Ariza, Josh Richardson
Punts:  Jae Crowder, Gordon Hayward, JJ Redick
Power Forward
Core:
• Blake Griffin ($8,600 DK/$8,500 FD)
Facing a visiting Minnesota Timberwolves team who's second-to-last defensively in the past ten games and fairly lousy against the Power Forward position, Blake Griffin is in a prime spot to bounce back in front of his home crowd in the Motor City. Aside from two difficult defensive games against Toronto and San Antonio, and the night of his recent ejection in Cleveland (which was in the 3rd quarter and he was on pace to exceed fantasy value), Blake Griffin has been steady and did reach 55.50 DKFP against Indiana just before those duds mentioned. In a paced up game against the inconsistent and oft-injured Timberwolves, Blake Griffin shouldn't have a tough time exceeding value at his price point.
Pivots:  Kevin Love, LaMarcus Aldridge, Tobias Harris, Paul Millsap, Dwight Powell (Center on DK), Lauri Markkanen, Bobby Portis, Julius Randle
Punts:  Bam Adebayo, Mike Scott, Jabari Parker, Jeff Green, Taurean Prince, Rodney Kurucs, Larry Nance Jr
Center
Core:
• Nikola Jokic ($10,600 DK/$10,900 FD)
Take that Will Barton spot this evening that I mentioned earlier and multiply that several times over. The Joker is set to smash down across the stat line in a Gotham-like Lakers' Los Angeles: dreary, filled with questionable characters, and never seeming to have an answer for the premier villain (or in this case, NBA Serbian stud Center from Denver). With his usage typically in the mid-twenties, minutes in the high-thirties, and his ceiling being out of this world, Jokic's very fair salary cost provides lofty opportunity at plus-value against this forsaken Lakers roster showing no signs of defensive character.
Pivots:  Karl-Anthony Towns, Rudy Gobert, Al Horford, Andre Drummond, Hassan Whiteside
Punts:  Mason Plumlee, Alex Len, Jarrett Allen, JaVale McGee 
Strategy
While there're a variety of concrete options at each position tonight (especially in regards to Multi Position Eligibility), there are a few prime targets I intend to build around from the foundational standpoint. Luka Doncic is where I gravitate toward from the get-go, and trying to piece around the Denver side of the Lakers game proceeding just after that. The affordable yet feasible pieces surrounding the Boston/Sacramento game seem attractive at this fork in the road.
Getting cute with the Knicks rotating pieces is a Russian Roulette match I'd prefer not to pigeonhole myself with, despite the price tags always remaining in reach of temptation. As it stands due to hit for the random lucky soul who happens to be the Fizdale Whisperer of the given day's slate, you have to realistically look at the sample pool of games for the season and ask yourself if that gamble is worth rostering the potential single-digit fantasy point outcome over. On the other hand, I wouldn't entirely recommend fading them given the opportunity at hand with a Suns team in the mix of chasing the likes of Zion. Just like everything else in life, roster/consume in moderation should you choose to venture down that rabbit hole (as we especially learned yesterday with Vucevic and Harden).