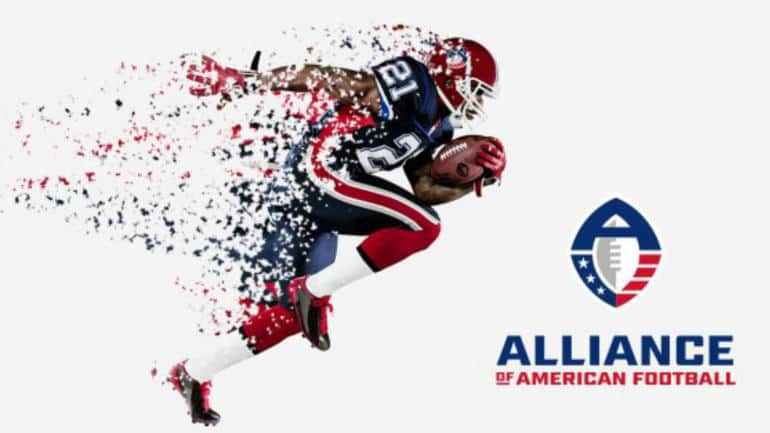 Finally, we almost have football year round. Next year will be even better with XFL: Part 2. This should keep us watching football until the Canadian Football League and the Arena Football league kick in the summer. Gimme a nice Ric Flair WOOOOOOO!
This Saturday we have two AAF Football games followed by two AAF Football games on Sunday. Here's a preview to get you caught up on things.
Saturday 5 PM CBS
ATLANTA LEGENDS @ ORLANDO APOLLOS
The Atlanta Legends have already had a tough offseason although having never played a game as a franchise. Their head coach and former Minnesota Vikings head coach Brad Childress resigned about a month ago and now their defensive coordinator Kevin Coyle will take over as head coach. Michael Vick is the offensive coordinator, while former Bills tight end Pete Metzelaars (a Tecmo Super Bowl and 4-time Super Bowl loser) is coaching the offensive line.
The Legends have two QBs that most big football fans should know: former Georgia Bulldog Aaron Murray and former Tennessee Vol Matt Simms (yes, the son of Phil Simms). We just received some breaking news that Matt Simms beat out Aaron Murray and will be making the start for the Legends. Another former college QB, Denard Robinson, is slated to be one of the RBs. At wideout, the Legends have yet another former QB in Georgia Tech's Justin Thomas. For those reasons alone this should be a fun offense to watch.
The Orlando Apollos are already the most interesting team in the AAF simply because they hired 73 year old Steve Spurrier to be their head coach. The ole ball coach! Love him or hate him you must admit that this is great for entertainment sake. Spurrier also brought along some known names. Willie Jackson, who spent several years in the NFL and played for Spurrier at Florida, is coaching the wideouts. Spurrier has his son Scott Spurrier coaching the tight ends. Coaching the defense is former Dallas Cowboys defensive end Jim Jeffcoat, who most recently served as the defensive line coach for the Colorado Buffaloes. Jeffcoat isn't the only former NFL player coaching the defense. Donnie Abraham, who spent 8 years in the NFL as a starting cornerback for the Tampa Bay Bucs and New York Jets is coaching the defensive backs.
Former SMU star Garrett Gilbert is slated to start at quarterback. He's been off and on NFL rosters since 2014 and was on the Patriots practice roster when they beat the Seahawks in Super Bowl XLIX. So guess what? He got a ring. Battling Gilbert for playing time is Austin Appleby, the former Purdue and Florida QB. If you follow South Florida in the American Conference, then you know running back D'Ernest Johnson. He was a beast at South Florida and he'll look to do the same for the Apollos. Wide receiver-wise, the Apollos have a bunch of former Florida Gators and Jalin Marshall, a former Ohio State wideout who spent some time with the New York Jets.
Prediction: Apollos 27 Legends 17
SATURDAY 5PM
SAN DIEGO FLEET @ SAN ANTONIO COMMANDERS
My only problem thus far with the league is they scheduled both games at the same exact time on a Saturday night. How does that make any sense?
San Antonio was the home of all eight AAF teams training camp facilities. So even though the Fleet are a road team, they should be comfortable with the area. The San Diego Fleet are coached by former Rams OC and head coach of the greatest show on turf, Mike Martz. Amongst the Fleet coaching staff are several recognizable former NFL players: Lamont Jordan, Az Hakim, Anthony Becht, and Eric Allen.
The team has two QBs that I'm familiar with in former Arizona State Sun Devil Mike Bercovici and former East Carolina Pirate Philip Nelson. Nelson Spruce, who set several school receptions records at Colorado and is well-known for his stint on the Los Angeles Rams Hard Knocks season, should be their standout wide receiver. Defensively, I got to be honest, I hadn't heard of many of these guys.
The San Antonio Commanders are coached by former Nebraska and Oregon State head coach Mike Riley. He's only been a head coach at the professional level once and that was a disaster with Ryan Leaf and the San Diego Chargers. The team's general manager is former Dallas Cowboys fullback Daryl "Moose" Johnston. Riley did bring in a nice hire as defensive coordinator with Jim Grobe, a guy well-known and respected on the college level. Not that long ago, Grobe led the Wake Forest Demon Deacons to a ACC Title Game.
At quarterback, the Commanders have former UNC Tar Heel Marquise Williams and former Toledo Rocket Logan Woodside. I'm assuming one of those two will be getting the start. Former Houston Cougars' QB Greg Ward Jr. is playing wideout and at safety, they have Kurtis Drummond, who played college ball at Michigan State and spent 3 years with the Houston Texans.
Prediction: Fleet 31 Commanders 27
SUNDAY 1:00 PM
MEMPHIS EXPRESS @ BIRMINGHAM IRON
The Memphis Express are coached by longtime NFL coach and former player Mike Singletary. Singletary brought NFL defensive coach Dennis Thurman with him. Thurman wasted no time bringing in some coaches that were once NFL coaches and players in Pepper Johnson and former defensive back Oshiomogho Atogwe.
Singletary has two QBs that have recently been in the NFL, Christian Hackenberg and Zach Mettenberger. I'm assuming one of those two will start with former Troy QB Brandon Silvers as the third option. Zac Stacy is the one RB on the roster that stands out to me. Stacy showed some flashes of great play with the St. Louis Rams and New York Jets but could never stay healthy.
The Birmingham Iron are coached by longtime NFL assistant Tim Lewis, who is best known for his run as DC for the New York Giants from 2004 to 2006. Lewis brought in Steve Logan from East Carolina to run his offense and longtime NFL assistants Rick Minter and Ted Cottrell to run his defense.
Alabama QB Blake Sims and Washington Husky Keith Price will compete for the starting quarterback spot. Trent Richardson, a former first round pick for the Cleveland Browns, is in the backfield. Defensively, they have famous Auburn pick-six corner Chris Davis. Former Chargers placekicker Nick Novak will be kicking.
Prediction: Iron 24 Express 10
SUNDAY 5 PM
SALT LAKE CITY STALLIONS @ ARIZONA HOTSHOTS
The Apollos aren't the only AAF franchise with a head coach in their 70s. The Salt Lake Stallions hired head coach Dennis Erickson, who most recently spent time as the Utah Utes offensive coordinator. Erickson is best known for winning National Championships in 1989 and 1991 as head coach of the Miami Hurricanes. Defensively, he brought in longtime NFL DC Donnie Henderson.
Their roster has a few recognizable names: Austin Allen, best known for his days as QB of the Arkansas Razorbacks; RB Brandon Oliver who played well for a few seasons with the San Diego Chargers; and WR Kenny Bell who had some nice seasons at Nebraska. 
The Arizona Hotshots are coached by Rick Neuheisel, a former UCLA player and head coach and Baltimore Ravens assistant. As for his staff, I'm only familiar with tight end coach Charles Arbuckle, who went to UCLA back in the day and played several seasons for the Indianapolis Colts.
John Wofford from Wake Forest and Trevor Knight from Texas A&M are the quarterbacks. Their RB Larry Rose III was a beast at New Mexico State just two years ago. TE Bryce Williams also spent a few years in the NFL and his college days at East Carolina. At linebacker, the Hot Shots have former Arizona Wildcat stud Scooby Wright. Longtime NFL kicker Nick Folk should be their special teams star.
Prediction: Stallions 17 Hot Shots 13
AAF Future Odds