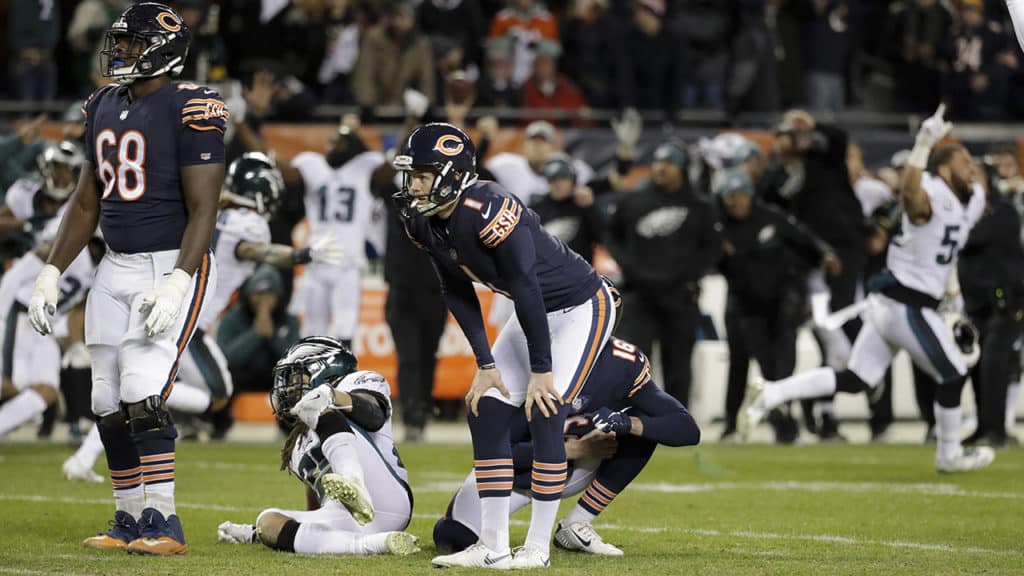 Wild Card Weekend gave us everything we wanted, and then some. We saw people lose their fucking minds over kicking and officiating all weekend. We saw a dude's leg do something it should never do. We even got to see a certain Quarterback (again) show off the size of his member in the playoffs. Yeah, it was an eventful weekend in the NFL.
*Futures odds found at mybookie.ag
Pass: Underdogs/Wild Card Teams
I'm changing up the format just a bit here. There was too much to narrow down into two Pass/Fail, so I'm going to dive into things that passed the eye test for the week.
Underdogs went 4-0 ATS (3-1 depending on what number you got the Dallas/Seattle game.) The 4 Wild Card teams also went 3-1 SU, meaning divisional champion home teams went 1-3! This past weekend was just further proof that getting into the postseason is all a team needs to do in order to keep them Super Bowl dreamin'. There was a stat graphic shown during one of the broadcasts this week that showed no team since 2013 has made the Super Bowl from Wild Card Weekend, but there was one nearly every year from 2000-2013.
The Colts Offense came out strong against Houston Saturday. The offensive line made it look like a walk through practice the way they were shoving dudes around. The Texans hadn't given up a 100 yard rusher all season. Marlon Mack cruised past that number behind the beasts up front. It was really nice to see the true better team in the AFC South advance to the Divisional Round.
If you had Dallas -2.5, you might want to skip to the next paragraph. This one might hurt. It looked like Dak's TD run was going to seal the deal for Dallas, and people holding Cowboys tickets. But Mr. DangeRUSS took Seattle down the field and scored with 1:22 left in the game to make the score 24-20 Dallas. Ohhh and who better to fuck things up for the gambling world than the drunk Polish kicker himself. Just before half, Janikowski shanked a field goal and demolished his hamstring in the meantime. Fast forward to the score late in the 4th, and Seattle lines up for the 2 point conversion. In a traditional game management situation, Seattle would have kicked the Extra Point to make the deficit 3 points. Onside kick, sideline pass, Field Goal, Overtime. We've all seen the script. Janikowski's injury gave Pete Carroll no choice but to go for two. Of course they get it. Lose the game 24-22. If you had Dallas -2.5, well, fuck gambling sometimes, ya know?
The San Diego Los Angeles Super Chargers of Carson looked like a team on a mission as well. Before giving the Ravens hope in the 4th quarter, the Chargers were beating Baltimore at their own game. Clock management, Field Goal, Defense, Repeat. How about Michael "Money Badger" Badgley! Setting franchise postseason field goal records, and locking down the remedy to the Chargers Achilles heel over the past several seasons.
Then there was the game everyone is talking about. Up until the last 5 minutes, it was by far the worst game of the weekend. Everyone forgets about how shitty the play was on both sides. How many times can Michael Bennett give the opposing team a free 1st down on a penalty during a 3rd down stop. Both teams secondaries showed why they play defense and not offense, as easy picks fell to the ground innocently. But all was forgiven when Big Dick Nick Foles took the Eagles down late in the game to take the 16-15 lead.
When that drive started, there was almost a certainty that Philly was going to score. Both Tight Ends made some plays, then on 4th down at the 1 yard line, Foles found Golden Tate for the TD to take the lead. When Tarik Cohen took the ensuing kickoff nearly to midfield, there was almost a feeling of "no way, is Foles luck about to run out?" Trubisky made a couple plays to get them into field goal range and I thought to myself "is the Big Dick Nick hype going to turn into Giant Testicle Trubisky when the Bears comeback here?" Unless you've been in a coma, you know how that game ended. Philly lives one more week to play in New Orleans.
We have both 6 seeds and one 5 seed still alive, and looking pretty dangerous. Here are the 4 winners from this weekend's current Super Bowl Futures odds.
Cowboys   +1600
Colts           +1200
Chargers   +1000
Eagles        +1600
Fail: Home Teams (And Their Fans)
Winning your division ensures a home game in the playoffs. Typically, home field advantage means something. Apparently the Texans, Ravens, and Bears didn't care much about moving on.
If you've read any of my articles you know that I cannot stand the Houston Texans this season. Which is strange because I actually really enjoy watching Watson, Hopkins, and Watt play. There's just something unsettling about watching a team catch every fucking break possible over the course of a season. But that all was cured Saturday. The Colts showed Houston that their division champion title was just a formality. Not only did Houston lose, they got manhandled.
Baltimore showed that they were tired of playing football as well. What I don't get though, is why the fans filled the stadium with disapproving boo's when Lamar Jackson trotted into the huddle late in the 3rd quarter. I get it, watching Baltimore's offense try to move the ball was worse than jerkin' off with a cheese grater, but did they really think Joe Flacco was going to come in and be the hero that takes them to the promised land again? The fans' frustration was evident when a video of a Ravens fan started shit with a Chargers fan, sending him down a few rows in the fight. I mean, we already knew the Ravens players were convicts, I didn't realize their fans were too. That's true dedication to your favorite team.
Then there's Cody Parkey. It's as if the entire game didn't happen to these Bears fans. If it wasn't for Parkee draining field goals throughout that game, the final kick would have never mattered. The real fail was the Bears offense. How can the fan base be mad at a guy who scored 9 of the teams 15 points. Matt Nagy showed his true Andy Reid coaching colors. Take a team with a high powered offense into the postseason, then run the absolute most vanilla section of the play calling sheet throughout the entire game.
Looking Ahead…
The best weekend of the season is upon us. Can one or more of these Wild Card teams stun a 1 or 2 seed this weekend? Will Andy Reid shit down his leg again in the playoffs? Will Tom Brady finally be watching an AFC Championship game from home? Can Big Dick Nick keep this shit going? Can the road dogs continue this outright win thing going? It's going to be a fun weekend.