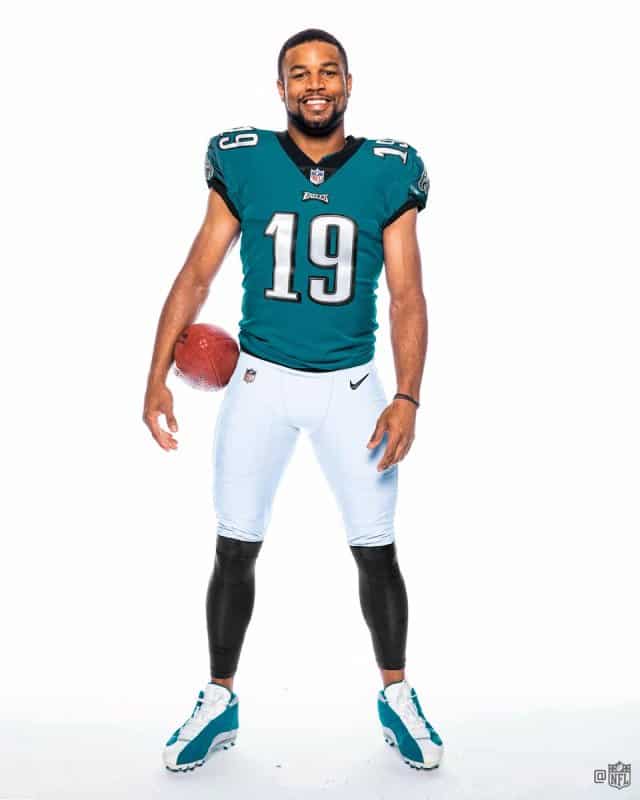 There are many important dates throughout an NFL offseason and during the actual season that mold the structure of a franchise. The NFL trade deadline is as important as any; it acts as the cutoff for teams to try to straighten their respective rosters, while others use it as a time to move around pieces to gain future assets.
The 2018 edition of moving day brought a few surprises and it will open opportunities in different situations.
Wide Receivers seemed to be a hot commodity in the NFL parallel universe as we saw a few big names get moved around.
Golden Tate traded to Eagles for a 2019 third-round pick
One of those headlines that made you look twice when you saw it, Tate moving to the Eagles is big for both sides as it gives us clarity on both offenses.
Lions The move opens up 9.7 targets a game, which led the team along with the 517 receiving yards he's accumulated on 44 receptions. Tate ran out of the slot on 85.7% of his routes, the next best was Golladay with 43.4%.
Eagles Tate was 3rd on his team in air yards by a large margin, now he joins an offense that needs help at the wideout position with Alshon Jeffery leading the way with 500 air yards in only 4 games, Agholor is second with only 11 more air yards than the incoming Tate.
Kenny Golladay
Fantasy owners of the 2nd year wideout celebrated the departure of Golden Tate knowing this would open up the doors for Kenny G. Tate owned 28.6% of the target share and a team-high 6.1 receptions per game, look for Golladay to flourish in the spot and I fully expect him to be the winner in Detroit when the dust settles.
Golden Tate
He joins an Eagles team that already had two players that are considered slot receivers. Nelson Agholor leads the Philadelphia with 213 routes ran out of the slot and is second on the team in catches with 41, and Jordan Matthews, well put the jerseys back up, again.
Look for Tate to exploit defenses with his speed and ability to run after the catch. His aDOT for receptions out of the slot is .8 lower than Aghlor's but when lined up as a flanker, Tate's aDOT rockets to 12.3, so look for him to be moved around keeping Agholor on the field more than we expect.
WR Demaryius Thomas (and a 2019 7th) traded to the Texans for 2019 4th and 7th round picks.
Another big splash made on the final day of the trade deadline, the Houston Texans reached out to the Broncos looking to fill the hole left from the injury to Will Fuller. In an attempt to give franchise Quarterback DeShaun Watson all the weapons possible, Houston took a chance and I think it's a win for the team.
Texans The loss of Fuller for the year was a big blow for an offense that allowed him to stretch the field with his speed and get over the top of defenses. He had 4 touchdowns in 7 games and went out on a 5-124-1 performance. Fuller missed 31 of his 48 career games so he has never been reliable, Houston made a move with Keke Coutee being the next man up.
Denver Can consider themselves as safe winners in this transaction as the move takes a $14-million cap hit off the books for 2019 while also acquiring a fourth-round pick to help rebuild a team that needs many pieces.
Demaryius Thomas
In a contract year, the 30-year-old has shown to be reliable when he is on the field 16 games. He hasn't missed a game since 2011, going for 1000+ yards in 5 of 6 seasons. His outlook is much brighter receiving balls from Watson rather than Case Keenum who looks to be struggling to find his rhythm in Denver.
Fuller ran a total of 222 routes, 92 of them of the slot (41%), Thomas also dominated his share in the slot lining up there 53.1% of the time. Look for Thomas to work from there but also being able to split out wide on the right side, where he and Fuller both lines up 2nd most and did damage. When lining up on the right side, Thomas has a ridiculous 15.5 aDOT.
Courtland Sutton
The winner here might be the rookie as he goes from a window of opportunity to a door of fortune. An interesting stat on this offense is both Sutton and Thomas, shared the exact market share of Denver's air yards (21.3%), with the 3rd receiver on the team being 6th. When it came to targets is where we'll see the huge uptick as Sutton was only seeing 12.7% of the targets while Thomas saw 21.2% averaging 4.5 receptions per game while Sutton is only grabbing 2.
Honorable mention Not a WR but he had to be brought up
Ty Montgomery Traded to the Ravens for a 2020 seventh-round pick
Let's be real here, something had to happen after….
Packers With a stable of ball carriers and no sense of clarity, the move opens up space for Aaron Jones to keep dominating the backfield without another head to feed. Jones is coming off a season-high in touches and looks to be securing the lead back role.
Ravens Not really anything we can react to as Montgomery joins a running back group that's crowded putting him in the same position as he was in Green Bay. This move was best with both sides and you don't mess with #12 in Green Bay, "You ain't gotta go home, but you got to get the hell out of here"