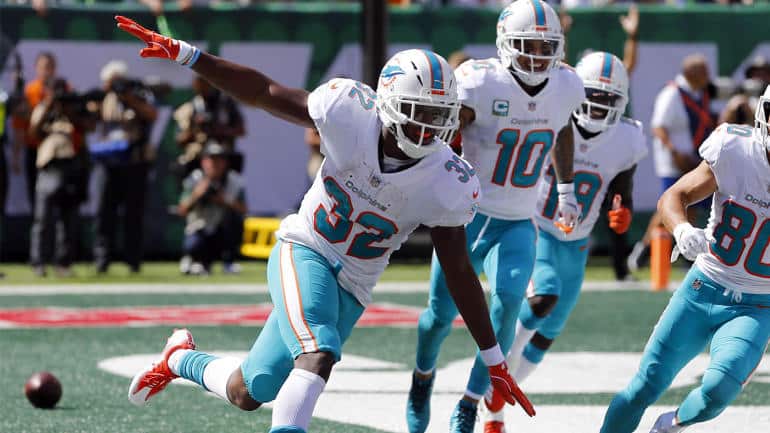 When entering an NFL season, many experts try and predict the strength of schedules for teams and players leading an individual to believe in better matchups. Some still resort to old strategies and use the previous years' stats and trends as a measure. But the truth in those numbers is far from the reality of the current state of a defense with missing pieces whether it be through trades, free agency or now as we are into the season, injuries. Also, from a coaching staff perspective, new coaches in new places also affect the way a team performs and gameplans.
The sample size we now possess to lean on, with the information and outlook on injuries and how they impact a team. Week 7 brings us value with a few different players so look to have some of these quarterbacks in your lineups.
Chalk of the week
Todd Gurley         DK  $9,800       FD $10,200
The Fantasy world's top scorer is set to bring a scary 50% ownership in daily fantasy this weekend. Gurley is also the highest priced player at any position on this weekends DFS slate.
His opponent, a San Francisco defense allowing the 12th most fantasy points to the position. The 49ers have allowed five rushing scores in six games and were trampled in week five by the Chargers backs for 44.5 points. The 49ers have defended 59 running back targets, top 5 in the NFL, and will now be asked to slow down a running back that has thrashed defenses all year both through the ground game and in the passing game. Look for Gurley to continue his success averaging 4.8 yards per carry this season on 25 touches per game. The Rams have an Implied TT of 30, 2nd highest this week.
Contrarian Play of the week
Kenyan Drake  DK $4,900      FD $6,300
One of the more confusing backfields in the league, Miami has yet to find their bell cow running back. Maybe it's just not what they're looking for, as we have seen the Dolphins lean on veteran Frank Gore is pivotal moments. Maybe its the trust he has from the coaching staff being a veteran, or perhaps it's the distrust they have in Drake to not commit mistakes. Last week we once again lived the trend with Gore getting the team inside the 5 and Drake committing a bonehead fumble to keep the Bears alive. Will this translate to fewer snaps?
We'll take our chances facing a Detroit front that's been punished by opposing backs this season. The Lions allow 5.3 yards per carry (2nd most) while giving up the 7th most rush yards through 6 weeks.
Where Drake holds value is in the pass game where he has been able to rack up receptions while running 28 routes to Gore's 12 for one target last week. The Lions surrender five receptions a game to the position while giving up the 4th most fantasy points at 31.3.
Fan Favorite Play of the week
Nick Chubb   DK $3,600       FD $4,800
The big news this week was the fuss involving Carlos Hyde being shipped to Jacksonville. The release came as a pleasant surprise for Chubb owners, and also for Browns fans where Hyde was averaging a measly 3.4 yards per carry.
Tampa Bay's defensive numbers are confusing. When taking a glance, you see they've only allowed 421 rush yards, 3rd best in the NFL. The only problem is they have given up five rushing scores and three in the air to running backs. These errors on the defensive side of the ball rank Tampa as the 7th best team to target for running backs allowing 28.7 yards per carry. This week Chubb seems to be a popular name and quickly has become a fan favorite in the DFS universe in week 7 with his cheap price tag. The departure of Hyde almost guarantees more looks for Chubb and that's what people will see when constructing lineups. What they won't see is he is projected to be the 3rd highest owned RB this week at over 37.5% ownership. There are only three running backs expected to have over 20% ownership, Chubb is one of them and will need to surpass expectations to pay off the risk although his cheap price will be easy to meet.
What were you thinking play of the week
James White  DK $6,900     FD $7,300
They hype surrounding rookie ball carrier Sony Michel is real. Over the past three weeks, Michel has averaged 22.6 touches scoring four touchdowns in those three games. The carries have been there, but he's been virtually invisible through the air with only one reception in the same sample size.
Enter James White, the best catching back on the roster. This week that will play critical facing the Bears stout defensive front that allows a stingy 3.7 yards per carry. However, they were beaten up last week by the Dolphins backfield for 158 total rush yards (5.6 YPC).
Last week we saw a hobbled Khalil Mack struggle while nursing an injury, only recording two tackles and failing to register a sack for the first time this season. The team looked fatigued in the humid weather, and I consider limiting Tom Brady and his weapons will be a problem this week. The Patriots attack won't come through the traditional ground game as the Bears can stop the run, so look for Brady to use a quick pass game plan, putting White in a favorable spot to tally points through easy receptions. The News of Rob Gronkowski being doubtful also helps White with more looks as he will play an even more prominent role in assisting Brady to get rid of the ball quickly. White is projected to be owned at around 7.5% in week 7.