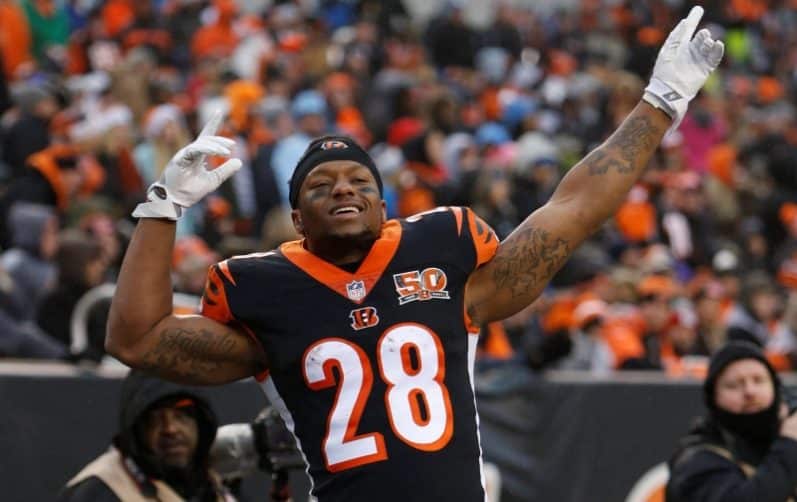 In the information-driven age we live in, the term "sleeper" has lost its authority, with the abundance of research tools and "experts" reaching deep, year after year hoping just one sleeper will stick to the wall.
I want to take a slightly different approach and discuss a few Running Backs whom I believe will over exceed their ADP (average draft position) and preseason projections. Value is key…
Joe Mixon
When searching for a middle tier running back, if you get the opportunity to draft one that acts like a three-down back, you must run with the opening. Last year Joe Mixon shined once Jeremy Hill was out of the lineup. Starting in week 8, Mixon touched the ball 17.6 times per game, and before getting injured in week 13, he was the 7th overall running back in that four-game sample.
If you had the pleasure of watching Mixon last year, you noticed his vision and ability to run in between tackles but also bounce outside when needed. Most of the former Sooners work was done running behind his guards where his YPC 4.5 running to the left side and 4.1 YPC running behind the right guard. A bruising back, at one point last season Mixon was rumbling for more than 80% of his total yards after contact.
85% of Joe Mixon's rushing yards have come after contact in 2017.

The highest % among HBs this year. pic.twitter.com/5hzx5Hnuef

— PFF (@PFF) October 12, 2017
What Mixon did lack was the breakaway speed once he did hit the hole holding down his overall YPC. After finishing with 3.5 YPC, the sophomore running back looked to gain speed in the off-season and showed up to camp 12 pounds lighter with a much slimmer look and down from last years 230 pounds. Mixon is currently being drafted in the back end of the 2nd rounds as the 13th overall RB with an ADP of 20.4. This makes Mixon a high-end RB2, but I deem he has the potential to be an RB1 with the amount of work he may see. 172 of Mixon's touches came on first and second down with only six touches on third down situations. Giovanni Bernard will likely be the man in charge on 3rd down putting a slight hit on Mixon's ceiling.
A fascinating stat I dug up; The Bengals had a 30% success rate when rushing the ball in the red zone, #1 in the NFL. Mixon is the centerpiece of the offense when the team enters the Red zone seeing 47.2% of the carries inside the 20, 78.3% inside the 10, and 85% inside the 5-yard line. Look for Mixon to get plenty of looks if the Cincinnati offense can move the ball inside the opponents 20.
Dion Lewis
Pack your bags and head out to Nissan Stadium for the makeover down in Nashville. Lewis spent three years in New England but none better than that of 2017. The now 27-year-old ball carrier was asked to run the ball 180 times, which is almost three times as many as his previous career high of 64. Dion Lewis prospered with the opportunity and averaged 5 yards per carry while tacking on six scores. His presence as a pass catcher out of the backfield is never in question as he hauled in 32 of his 35 total targets with a career-high three receiving touchdowns. This was his first 16 game season in his three years with New England.
Titan up, and get ready for the influence of Matt Lefleur in the new offense leading to more opportunity for the backs. A West Coast approach from the offensive coordinator accompanied with a zone blocking scheme leaves me uncertain Derrick Henry will be able to dominate. If you look back at what LeFleur prefers out of his backs, you see Todd Gurley and Devonta Freeman in roles that had them involved in the short pass game and watched them create after the catch. If Henry's acceleration and inability to hit the hole quickly keeps him from being able to do what these backs did, look for Lewis to see more opportunities making him a great flex play or RB2 in PPR formats. He is currently being taken off the board as the 29th overall running back with an ADP of 62.7.
Sony Michel
One of the bigger storylines in training camps is the future status of the Patriots rookie ball carrier. The Patriots went out and gambled in the draft selecting Sony Michel in the first round with the 31st overall pick. Running back is a hole the needed to fill after using a committee for the last few years and more playing the hot hand, or the running back that fit that week's gameplan.
Michel brings a different element to the New England backfield, an elusiveness between the tackles as well as outside. When reaching the second level, his burst and acceleration allow him to outrun defenders and get out to open space. His downfall, if any, is his impatience on certain runs and his lack of waiting for the play to develop, ultimately causing him to outrun his blockers.
The recent news about his knee injury and minor surgery procedure has people backing up some now and rethinking the risk involved. Instead, the ADP of teammate Rex Burkhead has seen a rise jumping him from the back end of the 7th rounds to the top of the 6th. Meanwhile, Michel has dropped from an ADP of 4.9 in mid-July to the back end of the 5th round as of August 8th. If Michel can come back healthy, his ceiling is uncapped. He jumps into a backfield that will be missing Dion Lewis's 212 touches and over 1100 total yards of offense.
The opportunity will be there for him if he can remain on the field. He joins a Patriots run game that was ranked 4th in run DVOA and had above average success rates while running on first and second downs. When your team averages 4.5 yards per carry on first down runs, it opens up the playbook on the following downs with manageable yards to gain conclusively keeping the opposing defenses guessing.
Jordan Wilkins
Sometimes when looking for value, searching in backfields with uncertainty, might lead you to fantasy gold. The Indianapolis Colts enter the preseason with a coop of running backs. Headed by the most familiar, Marlon Mack hopes to regain his spot on the depth chart after playing 2017 with a torn labrum. Maybe it was the injury, or maybe his offensive line that ranked 18th in adjusted line yards but dropped to 25th in 2nd level yards, the Colts also ranked 31st in YPC leading you to believe that Mack getting hit behind the line on 33% of his runs was a serious issue of the offensive line. Macks numbers are really mediocre if you look at them as a whole, starting with his YPC at only 3.8.
If Wilkins can show his abilities in pass blocking and adjust to the ways of Andrew Luck, look for Jordan Wilkins to contend for the lead back role in Indianapolis. With the departure of veteran Frank Gore, Indianapolis is 4th in the league for carries unaccounted for from 2017 leaving a gap for an opportunity.
"What keeps them on their toes right now is that they have to learn everything," coach Frank Reich said. "But as we get more towards the games, we will be game-plan specific. Certain guys have a little better feel on gap-scheme runs. Other runners, as you know, have a better feel for zone scheme runs and you just kind of gear guys towards what they're best." – Frank Reich
By the looks of it, the backfield is up for grabs and Coach Frank Reich is open to the hot hand depending on the game scheme. Currently drafted as the 54th running back and 148th overall, if opportunity knocks, Wilkins can open your door to fantasy chimeras.
Kerryon Johnson
" A real-life video game" is what some are saying out of Lions camp. Kerryon Johnson is an all-around serviceable back that excels in pass blocking as well as extensive catching ability to add to his rumbling running style.
Who is this WR? It's rookie RB Kerryon Johnson!🏃‍♂️🤲🏈 #OnePride @AyeyoKEJO pic.twitter.com/8vu4ieSd4s

— Logan Lamorandier (@LLamorandier) August 4, 2018
In college, he only caught 32 passes in 3 seasons, but his film shows him having above average hands for a running back. The Lions 3rd down specialist Theo Riddick looks to have the passing downs to himself, but look for Johnson's explosiveness to find him on the field more often.
What stands out, is his speed for his size after running a 4.52 on Auburn's pro day while carrying a 6-foot 213-pound frame. The addition of LeGarrette Blount does cap his ceiling with the short down situations looking to be the veterans, but again I stress that talent outweighs experience and if he shows to be able to create the same efficiency on goal-line carries, then look for the nine-year veteran to slowly turn irrelevant.
The Lions traded down up to pick 43 to draft Johnson, in a spot many thought would be Derrius Guice, showing the confidence the Lions organization has for the former Tiger. The 2017 SEC offensive player of the year, Johnson rushed for 20 touchdowns while tacking on 1,585 yards.
Where Johnson can find opportunity is making himself valuable in the passing game. The Lions targeted running backs 115 times last season. Riddick saw 61.8 % of those chances, so whom does the other share go to? Blount has failed to catch 10 total passes in a complete season since 2014, where he only had 10, his career high, 15 total catches in 2011 so look elsewhere for receptions out of the backfield.
If Johnson can show soft hands as he has thus far through camp, look for him to grind to 200+ touches this season.