1.The MLB Draft Matters, Even If It Doesn't Have The Buzz Of Other Sports
The MLB draft happened during a largely uneventful Monday evening slate of baseball, with The Detroit Tigers selecting Auburn pitching prospect Casey Mize. Number one draft picks are much more violatile in Major League Baseball than in other sports, however Mize has drawn comparisons to Justin Verlander (who was the second overall pick in the 2004 MLB draft. Mize came into todays action with 10-5 record, a 2.95 ERA, and striking out 151 batters over 109 innings.
Some other notes of the draft, The Yankees drafted the first ambidextrous catcher Anthony Seigner at pick number 23. Yes not only is he a switch hitter, he can catch and throw from either arm. With Gary Sanchez the catcher of the future in The Bronx, look for a position change for the versatile player out of high school, he pitched with both arms in high school as well.
Here's the rest of the top 10: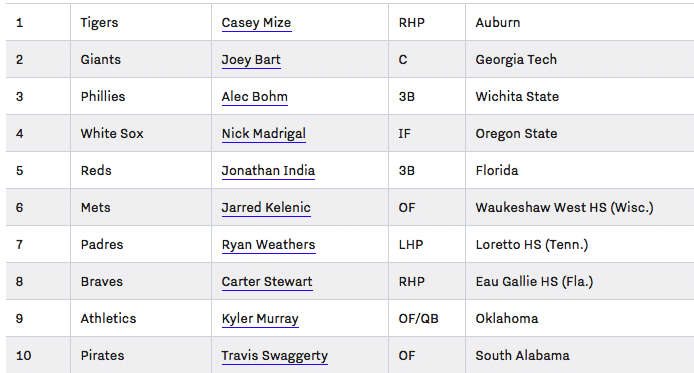 2. Anthony DeSclafani Is Back
In the words of Clinton Sparks, get familiar. If you happened to have forgotten who Anthony DeSclafani was, let me remind you. He was the ace of the Cincinnati Reds pitching staff from 2015 and on. Here's just a glimpse off of his numbers in 2016: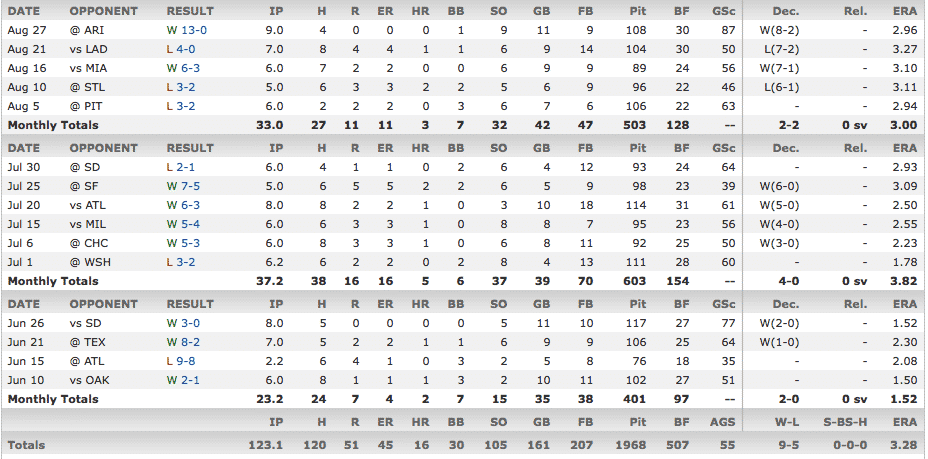 He went 9-5 with a 3.28 ERA and allowed more than three earned ones twice. He's much better in the first five market, especially unders due to Cincinnati's inability to score runs, but there's a way to get behind him, and he's back on Tuesday pitching against a (road version) of Kyle Freeland…with a bit of a high total.
3. Aces Returning
Not only does Tuesday mark the return of Anthony DeSclafani, but Carlos Martinez takes the mound against probably the worst pitcher in baseball in Jose Urena (as a -210 favorite) to return to his first five inning dominance. On top of that, Tuesday will mark the return of Madison Bumgardner while he takes on a new ace in the form of Patrick Corbin.
Corbin did struggle last time out against of all clubs Cincinnati, but he did strike out ten. MadBum may take some time to get used to and he won't have much wiggle room going up against Corbin. One more "ace" of note is that Nathan Eovaldi is making his second start of the season for Tampa Bay after coming off six no-hit innings. He is a huge underdog due to the fact that he faces Max Scherzer, but an opportunity to go under the total may present itself there on Tuesday as well.