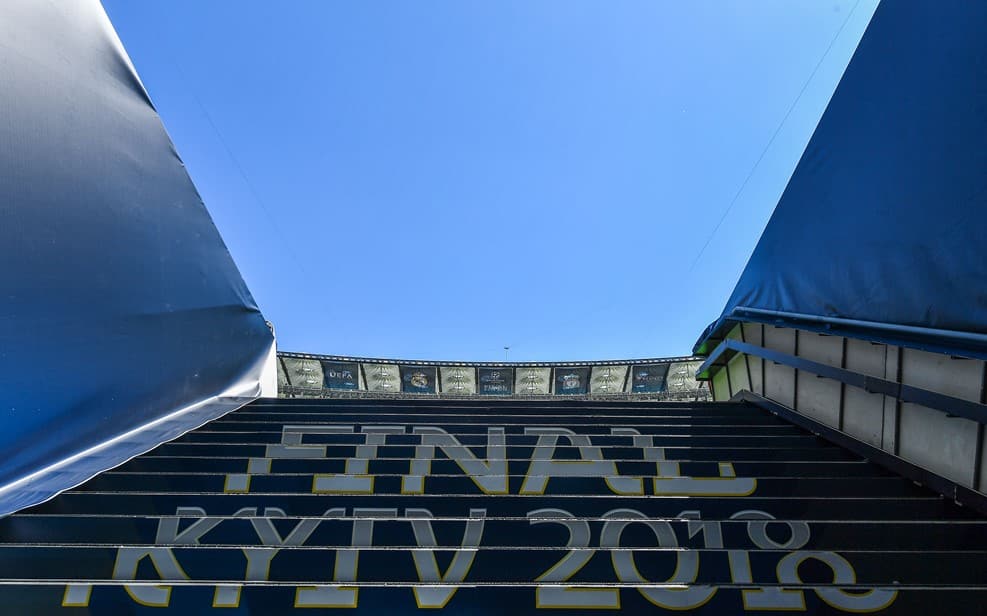 Most epic movies, deliver memorable endings. Before reaching a conclusion, a good story possesses an intense climax, Saturday, we get exactly that.
NSC Olimpiyskiy Stadium in Kyiv – the capital of Ukraine, and host to the most anticipated match in recent memory. The encounter brings everything you can crave; Star Power, plenty with each club led by their respective conductors, Cristiano Ronaldo and Mohamed Salah will be looking to guide their clubs to triumph.
The 2 very similar this season, with Ronaldo netting 50 goals this season, his counterpart, 48. Salah was able to break the English Premier League record, scoring 32 goals in a 38 game season. CR7 has scored 15 goals this tournament averaging 1 score every 72 minutes. Salah has scored 10 at a rate of one per 90 minutes of action.
Both players also tend to do most of their damage in the closing halves of games :
Ronaldo: 19 first-half goals      32 second-half goals
Salah: 23 first-half goals           25 first-half goals
Liverpool comes into this match as the highest scoring side in this competition with 40 goals, second, Real Madrid with 30. The Spanish side has not been kept to a clean sheet in their last 12 Champions League games. The contest sets up perfect for the fan of high scoring affairs, with both of these team generating plenty of chances and ranking in the top 5 in opportunities created, only trailing Bayern Munich.
The trend this entire tournament has been that of record-breaking goals being scored. In 124 matches, we have been lucky to see the ball pass the goal line 397 times. The number gives us an average of 3.2 goals per match, with 1 goal scored about ever 28 minutes. With these 2 ultra attacking teams, how can we not see the trend continue?
The Pick
Some clubs can change tactics when facing off vs. a team like Real Madrid, the only problem with Liverpool is for them to find success in this final, they will have to stick to their identity, and that is to press high, be extremely aggressive, and counter through their three-headed monster in Mane, Firmino, and King Salah.
In big matches like this, I think a bit of experience is crucial to have and in this matchup, all of that lands on the Madrid side as not one player on the English team, have ever participated in a Champions League Final. The return of Dani Carvajal will be an incredible boost for the back line of the Spanish Giants, in open matches like the one we have on hand, defenders that can create on the ball, overlap and serve crosses are a bonus to have and can serve to be the deciding factor. Good and bad, as they will be asked to cover a lot of field while having recover on counters, something both teams thrive on.
One thing that is for sure, Saturday, Los Merengues won't be lacking confidence as they will search for their 3rd straight title. Their General, CR7 will be looking to get his hands on the trophy known as Ol' Big Ears, for the 5th time in his career.
After the success we have shared on this tournament, I'm going BIG on the Final as I feel I have a solid read on the outcome. Follow at your own risk
Real Madrid to win the Cup MAX (5U)
Real Madrid Team Total Over 1.5 MAX (5U)
Over 3 MAX (5U)
Highest scoring half
2nd Half -110 (2U)
Match Result and Both Teams to Score
Real Madrid/Yes +240 (1U)
Will a goal be scored in both halves?
YES (3U) -240
Ronaldo scores a Goal (3U)
Ronaldo score 2 or more +275 (1U)
Sergio Ramos Scores a goal +750 (1U)
Real Madrid 4 or more goals +800 (1U)
Liverpool
Likely XI: Karius; Alexander-Arnold), Van Dijk, Lovren, Robertson; Henderson, Milner, Wijnaldum; Mané, Firmino, Salah
Out: Oxlade-Chamberlain (knee ligaments), Gomez (ankle), Matip (thigh)
Doubtful: Emre Can
Real Madrid
Likely XI: Navas; Carvajal, Varane, Ramos, Marcelo; Casemiro, Kroos, Modrić, Isco; Ronaldo, Benzema
Out:
Doubtful:
Real Madrid with all options available for this match