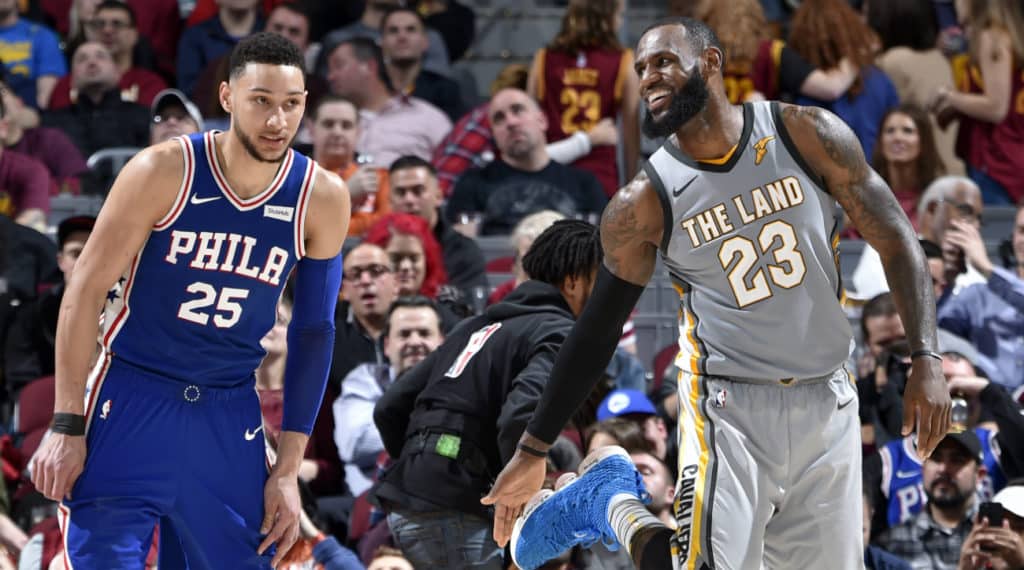 Earlier this season rumors started to circulate that LeBron James could potentially be taking his talents to Philadelphia in the 2018 offseason. At the time, I would said you were crazy to believe such nonsense. In fact, I even promised, via Facebook, that if James signed with the 76ers I would move back to Philly from Los Angeles. That's how confident I was that it would never happen.
After this week, I'm starting to reconsider that promise.
There were small signs here and there earlier this year. LeBron shouting out Clutch Sports cohort Ben Simmons as his "little brother" was cute. Then he posted to his Instagram stories that he was playing NBA 2K as the Sixers. That was fun. But none of it was too serious.
This week, everything changed.
First, a series of three billboards urging LeBron to come to Philly was placed in Cleveland by Power Home Remodeling, a company based in Chester, Pa. That on its own isn't enough to spark any major fires, but James' reaction to the story might be. He could have dismissed it. He could have said it was nothing. He could have squashed it immediately. But he didn't. Instead, he said it was "very flattering."
"You can say it's a distraction, it's not. Not a distraction," James said Tuesday, per Cleveland.com's Chris Fedor. "It is actually very flattering that I'm sitting here at 33 and in my 15th year and teams or guys—I don't want to say teams because that becomes tampering—but people in their respective city want me to play for them. That's cool I think. That's dope."
He said it was cool. He said it was dope. Those aren't the words of somebody trying to squash something. Sure, LeBron speaks his mind a lot and tells the truth. And while it is the truth that something like this is flattering, it's not the answer you give when you want to reassure a franchise you're in for the long haul.
He could be using it to send a message to the Cavs that they need to get their act together if they want to keep him, but why? The trade deadline's already passed, they made their moves, their roster is set for their playoff run. There's nothing else they can do as an organization this year. All that's left is for the team to bring it.
Next came a big one. Rumor has it that LeBron was looking at private schools in the Philadelphia area over the All-Star break. This is huge. Enormous. Not a sign that he's made up his mind, for sure, but clearly a sign that he's thinking about Philly as a potential destination. True, he still owns two houses in Los Angeles and spends his offseasons there already but he wants to see what kind of educational opportunities are provided in the Delaware Valley.
James denied those rumors saying, "Pennsylvania? Nah. What are you talking about? Over the All-Star break, I was on vacation and then went to Los Angeles."
The Sixers defeated the Cavs this week in a hard-fought, well-played game between the two teams that led to ESPN's Zach Lowe tweeting this:
The Sixers are for real. If ya' don't know, now ya' know. Those around the league are certainly starting to take notice. Just a few years removed from a 10-win season, the Sixers are making noise, and they're doing it in the absence of number one overall pick Markelle Fultz. While their future looks bright they are also are well-positioned to be a team nobody wants to face in the playoffs this year.
After the Sixers win, Joel Embiid took to Twitter as well, posting this:
Summer 2018 goals. LeBron sure looks happy being near the big fella. Perhaps enough to want to make it more of a permanent thing.
One of the final pieces of the LeBron-to-Philly conspiracy to land this week was this tweet from Philadelphia-area reporter Jon Johnson, who claims that sources are telling him the chance James lands on the Sixers is higher than many believe.
All the fuss and speculation has led to some debate among Sixers fans. While many see the potential addition of James to their roster as a no-brainer, and the culmination of what the team's been working towards for years, others are openly questioning if the team should bring in the superstar. Some think the team would be sacrificing their status as a home-grown, built from the ground up organization and "selling out" by signing James. While the billboards placed in Cleveland see James as the final piece of "The Process" others see it as turning their back on the spirit of the rebuild started by Sam Hinkie years ago.
I say, bring on the King.