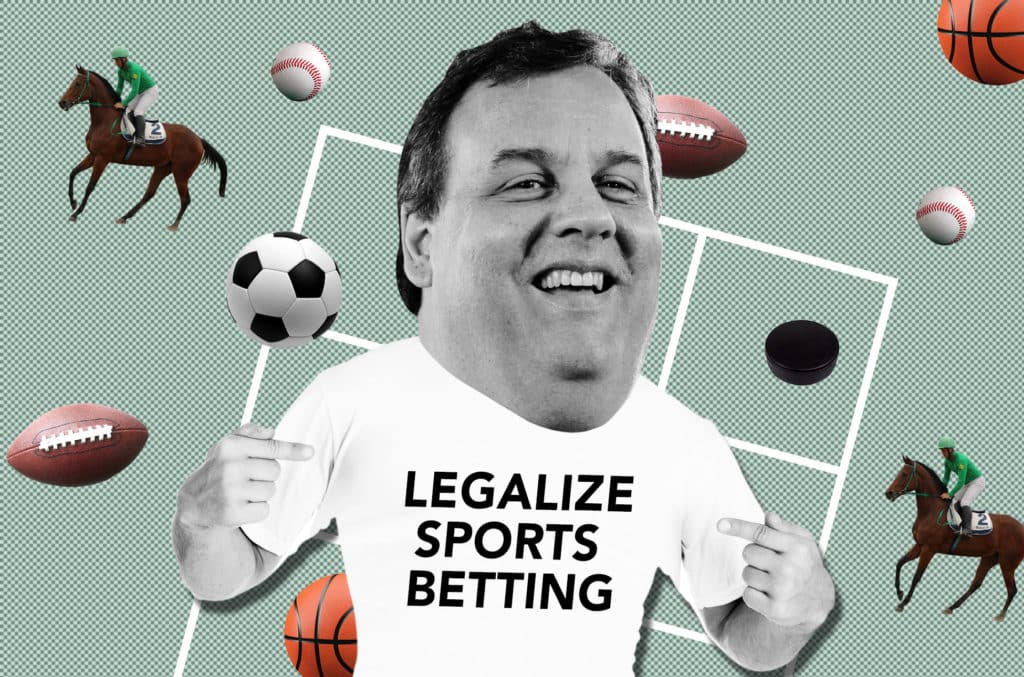 Let me preface this by saying I am the furthest thing from a lawyer and there are a ton of people much more in "the know" than I am. however, on one of the latest #InsideVegas podcast episodes, while talking with Josh Appelbaum of Sports Insights (32:15) we stumbled on the topic of legalization. This is because let's face it, you can't open up a twitter feed or podcast episode without it being touched on. More specifically than the ins and outs of legalization, we stumbled on my somewhat unpopular of sports gambling legalization: I'm not in love with the idea. I've lived in Las Vegas for over two years and have been fortunate to gamble on sports full time professionally and to be honest, I just don't want to try to fix what isn't broken, please allow me to share with you some other concerns: David Purdum of ESPN Chalk wrote a fantastic article detailing some of the things that Las Vegas bookmakers are worried about as well, which can be found Here.
I've had to navigate this topic carefully because let's face it; it's going to piss many people off. I want it to be clear that it's not that I don't want sports gambling to be legal, I just don't think everyone is fully aware of what that legalization could possibly mean to the market that is sports gambling, so let's start there. The first thing anyone will ever tell you when you start to take the next step in sports gambling is that this is a market, a fluid one. It's liquid, it moves based on money, and it's forever changing based on how much money sports books are liable for on each side.
It's no secret that the stigma of sports betting is going away. 2017 saw Nevada sports books set a new record with $4.8 billion wagered in 2017 and sports books also won a record $248.7 million, according to numbers released Wednesday by Nevada Gaming Control. If you think that number is big, it probably doesn't even scratch the surface as to what was wagered illegally. To paint a picture, Forbes.com estimated that $4.5 billion was wagered illegally on Super Bowl 51 alone and another $93 Billion wagered in the 2017 NFL and college football alone in 2017.
So why am I bringing this all up? Because money moves this market. When a point spread is moved from -7 to -8 it is because of one thing– you guessed it, money. On an NFL Sunday, there are 16 NFL games per Sunday excluding bye weeks. Imagine for a second that there were only 16 stocks to buy (32 with totals on each game) and instantly overnight another $100 Billion dollars entered the market, it would be pure anarchy-which is a real possibility. This is an exaggeration, but imagine another $100 Million in liability for public teams like The New England Patriots or Dallas Cowboys. In theory, lines could take off from -7 to -11 weekly based on public money liability. Now, the good news is that it is most likely going to go state by state and all The Supreme Court decision is going to do is allow states to decide for themselves, so this change will not happen overnight from a cash perspective in casinos.
That being said, what could affect it drastically almost overnight is how the online version is handled. From people I've talked to that have attended legalization conferences, it is going to be about 80% in person and 20% online. The big reason for this is that the way that lawmakers are winning those opposed over is one word: jobs. If you create a sports book inside a casino, you need an oddsmaker, a risk manager, ticket writers, bartenders, and the list goes on. That being said, online sportsbooks will have their place. From things I've heard, you're going to essentially see websites and huge companies simply add a sportsbook option-Think Google Sportsbook, Yahoo Sportsbook, Draftkings or Fanuel sportsbook, etc. "Mom & Pop" sportsbooks may eventually come, but at first it is most likely going to be big companies just adding another option. What is very interesting to me is how this new law will affect "bookies." specifically those who run their business through a website. If you thought that they would possibly just be able to take their business to the forefront and out of the shadows, it's probably not going to happen. Just because alcohol is legal in your state it doesn't mean you can open a bar without a little thing called a liquor license. The same will probably hold true in that they would need a gaming license, but office style sports pools are not illegal to run online, so who knows how that will affect them. It will all be about the language but imagine a Draft Kings style app where you can challenge people to the Sunday NFL slate.
Now here's the good news. In some ways, this influx of money is already somewhat accounted for. Between offshore, local books, and corner bookies-the money is already in the market to an extent, but what isn't accounted for yet is the casual fan who isn't willing to deposit offshore or have a local bookmaker. This "boom" in my opinion will essentially mirror that of daily fantasy sports. Casual fans of all ages were able to simply deposit using a debit card and try their hand at daily fantasy sports from ages 18-90. A similar thing is going to happen with sports gambling due to the newfound convenience of mobile apps and how simple it will be, just like DFS. It's already happening, sports gambling is the most legal illegal operation in the world. With a credit card and a 5dimes account, you can wager away your life savings as much as you want.
The handle of each game is going to go way up, but this isn't a completely new concept, which is a good thing. The American Gaming Association estimates that $4.8 Billion was wagered on The Superbowl in 2017 like I said above, and lines were not flipped on their heads as lines typically move inbetween 1-2 points on either side, but there is no telling how much things will be flipped on their heads with every Sunday slate of games having the handle of Monday Night football, and Monday Night Football having the handle of The Superbowl, and so on, it will remain to be seen.
The next issue is that of taxes. As we have seen with the legalization of marijuana, it can actually be a fantastic moneymaking venture for states to partake in. Colorado topped $1 Billion in Marijuana sales tax for 2017 in October, which is obviously fantastic for all things handled by your individual state. With that being said, Nevada has the blueprint down pat after all this time, as bookmakers pray that other states don't try to fix what isn't broken. Here is an excerpt from Purdum's article from South Point Hotel & Casino owner Michael Gaughan:
This mostly pertains to other forms of gambling besides sports, because in truth, sports gambling isn't exactly taxed in Nevada for the patron the way you may think. Unless you win a wager that has greater odds of 300/1, it is not taxed. If you wager $5,000 on a straight bet, parlay, teaser, etc you will not be taxed on your winnings. You give the ticket writer cash, and if you're lucky enough to win, you get it back in–to quote Randy Moss–straight cash homie. Now, let's be honest. Are you supposed to fill out a 1099 form for all gambling winnings? Yes. However, there is absolutely no way for anyone else to know how much exactly you won. I'm not advocating tax evasion here, I'm just telling you the facts. Not to mention every single losing ticket is a tax write off to mitigate that down to zero. You only receive a 1099 gambling winnings form from a casino in situations like jackpots for Keno, slots, etc (hence the "Call Attendant" message you will receive if you hit a jackpot over 300/1.)
Obviously, not everyone files taxes under professional sports handicapper, so your situation is a probably a little bit different. However some things you may not be aware of is that losing tickets (losing investments), cable (how to monitor your investment), internet (how to research what to invest in and watch the market), furniture (home office furniture), car & gas (company car) are all tax write-offs. If someone takes the next step in say New Jersey and creates an LLC for themselves as a second income in sports gambling, all of these things would be made available to you. However, no one exactly knows how each state will run their tax program. When you win a Draft Kings tournament, you are unable to receive your winnings until your tax forms are in order (ask Sean Green about that one) however if it is under that limit, you're just supposed to fill out a 1099 at the end of the year for "gambling winnings" which I'd argue less than 5% of people actually do, right or wrong.
The big point I want you to take away for tax purposes is one thing. Cash is not tracked, however, if you use PayPal or the new mobile apps and websites-it will be tracked as transactions to/from your banks and/or PayPal/Venmo/etc.
Now that I'm sure I'm about to get audited, let's get into something that is personal as well as near and dear to my heart, the city of Las Vegas. As I stated above, the most likely path is that The Supreme Court is going to allow for states to allow themselves to have sports gambling, so again, this will not happen overnight at once–but I'm still worried. 95% of the appeal of Las Vegas is gambling and more specifically sports betting. If you've never been to Las Vegas for a football weekend, playoff slate, or Superbowl/ March Madness situation–the words "jammed-packed" don't do it justice. There is a vibe that still exists in Las Vegas as the last outlaw city left. Hell, I made the decision to move to Las Vegas full time from Boston for the sole reason that sports gambling was legal. Casinos exist all over the world where you can play table games, keno, slots, bingo–you name it. Sports gambling is the only thing that separates Las Vegas from the rest of them. I don't know if you know this, but Las Vegas isn't exactly the most geographically amazing destination on the planet. In truth, Las Vegas is out of the way in the desert in Nevada and is about 20 miles x 20 miles. If you take away sports gambling, you take away a huge attraction to the city. Do I think Las Vegas will crumble if they're not the only place in the world it's legal? No. Do I think that it may affect the city and its residents by fewer jobs, fewer people in town? Yes. Why would someone in Boston fly across the country to Vegas for March Madness when they can just drive an hour to Foxwoods. The same goes for people all over the world. Las Vegas will survive, It's still the entertainment capital of the world, I'm not saying that–but it will have an impact for sure. You're taking a lot of what makes Vegas, Vegas by letting other states have it. I love living in the last outlaw city left, I like that it's a badge of honor to gamble in Las Vegas. I know it sounds selfish, but it's more jealousy, to be honest.
One thing that does deserve to be talked about as well is each of the league's stances. In short, It really doesn't matter what the leagues have to say, and believe me, each league has their own opinion. Roger Goodell says it will damage the game yet is too naive and ignorant to realize it's already happening. Adam Silver wants to make money off of it by charging an "integrity fee", It's talked about openly in sports like UFC (the odds are talked about and shown throughout the pre-fight and fight), boxing, and horse racing programs like The Triple Crown events all have no issue freely talking about odds. They even have handicappers picking horses throughout the show, gambling advertisements and promo codes. In truth again, It really has no bearing on the outcome if a league doesn't want legalization, it is a state issue. Each league's respective commissioners have no say on the matter, that's just the facts.
Lastly, I want to talk about what this will do for companies involved with sports gambling-because this will be positive for just about everyone, that we can agree on. Companies like Sports Insights will benefit greatly from having more data available to them. Prop Swap will have an infinite amount of tickets to be able to buy and sell to buyers in their inventory, thousands of jobs will be created for content providers for new and casual bettors to try and get into the field, companies like The Action Network, OddsShark, Covers, Sportsline, ESPN Chalk, Sports Gambling Podcasts, etc will be booming. I also think the social media platform of handicappers is a very interesting debate as people who buy and sell picks will have a greater audience to reach. If done right, this will be a win/win for everyone involved from this perspective, as there are a ton of great writers making a good living in spaces like daily fantasy content and season-long formats, this is just the next logical step.
I hate to sound like I'm against sports gambling being legal because it's not the case in black and white like that. I do however think that it has become "cool" to get behind the legalization effort without looking at all the facts involved with this ground-breaking decision. The market, tax implications, how commentating may change, jobs, and everything mentioned above is just the tip of the ice burg. With the boom of offshore betting, make no mistake–sports gambling is happening, this will just bring it to the forefront and away from the shadows, but it will send ripple effects throughout the sports world.