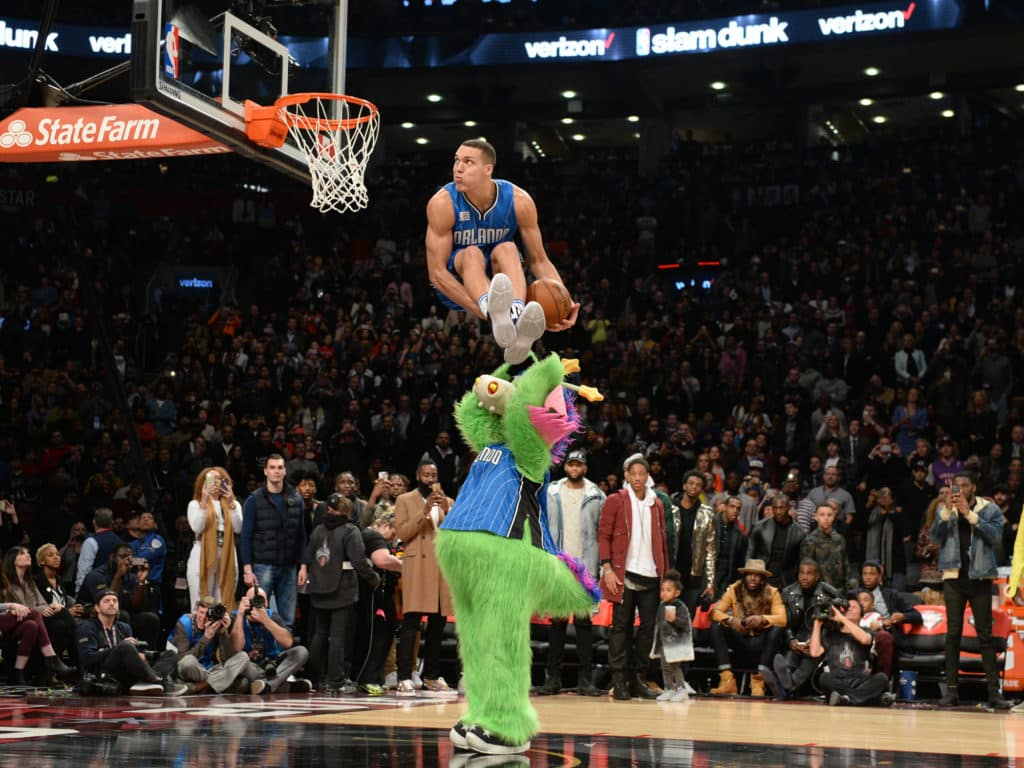 NBA All-Star Weekend is a celebration of all things basketball. The highlight of the hoops carnival is certainly NBA All-Star Saturday Night. The evening is packed with special events for fans like the Dunk Contest, Three-Point Shootout, and Skills Challenge. The events have created some of the most memorable moments, stories, and highlights in league history. Think Jordan dunking from the foul line, Bird asking his shoot-out competition who's going to come in second place, and…whatever happens in the skills competition.
We're here to take a look at the competitors for the 2018 contests and their odds of winning to help you put your money in the right place to make All-Star Saturday Night even more interesting.
Three-Point Contest
Former champ and deadly long-range marksman Klay Thompson stands out as the safe bet here at +120, but we really like defending champ and gunner Eric Gordon at +300 as well.
What we're really looking for in a three-point champ is somebody who's been there before. Being a long-range bomber in a game is one thing, but shooting from a rack, with the clock ticking down is something that takes getting used to. Every year, new competitors in the shootout remark about how it's not something they really get to practice much, and the adjustment causes them to change up their shot and natural rhythm.
For this reason, you can stay away from Wayne Ellington and Tobias Harris. Let past experience be your guide as well in staying far away from Kyle Lowry (a last place 9 points in last years shootout, second-to-last 15 in 2016) and Paul George (who shot an airball on his first shot in 2013, and finished with a whopping 10 points).
Devin Booker is interesting at +350, and had a decent showing in his appearance in the 2016 contest. He finished the first round just two points out of the lead before putting up a disappointing 16 in the finals, good enough for third place.
Our best bet is Bradley Beal at +530. Beal came in second place in his 2014 appearance in the contest. He forced a tiebreaker round with eventual champ Marco Belinelli by hitting his final six shots in the finals in a clutch performance. Beal is enjoying his best statistical season as a pro and is leading the Wizards in John Wall's absence. A victory in the Three-Point Contest would add to his breakout season.
Slam Dunk Contest
The dunk contest is the perfect blend of athleticism and creativity. Last minute replacement Donovan Mitchell is currently the odds-on favorite to take home the dunk trophy, and his in-game dunks this year certainly add to the hype around his upcoming performance. Mitchell and Dennis Smith Jr. (+130) have both provided their fair share of in-game highlight dunks this year, which we think are making their odds of winning a little too high.
Our favorite bet is new Cavalier Larry Nance Jr. at +230. Not only does he have the athleticism needed for the contest, but he's a legacy. His father was the NBA's first dunk contest champ, and with NBA nostalgia earning major points during the dunk contest, the son could majorly benefit from bringing his pops onto the court to assist with one of his attempts. He's also been preparing, which is huge. Many dunk contest hopefuls get by on just their athleticism, but Nance knows he's got to bring his A-game and put in the work to bring something new to the contest.
Victor Oladipo is the long-shot at +280, but we just can't see the breakout All-Star bringing this one home. He's our stay-away bet for the Dunk Contest.
Skills Challenge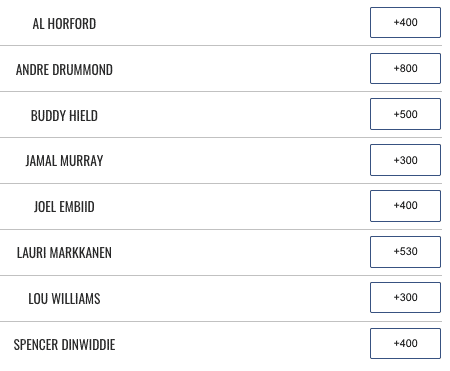 Lauri Markkanen jumps out to us immediately at +530 to win. If you're looking for this year's Porzingis (last year's champ), look no further than the Bulls rookie. He's been buried on a bad Chicago team, and his longshot odds may be due to a lack of exposure for the young stretch-big. He can do it all on the court, something you're looking for in a bet for the skills challenge.
We'd stay away from Joel Embiid, and all the hype surrounding him. He's certainly a very skilled player, but his handling and passing just aren't good enough to earn him his +400 odds. Spencer Dinwiddie is a much better bet for the same money, another highly skilled player who's buried by the fact he plays in Brooklyn.
Andre Drummond is a strong stay-away for the skills contest, even at his +800 odds. If you're looking to place your money on one of the favorites, we say trust Lou Williams. The Clipper deserved a spot in the All-Star game on Sunday and might be looking to prove himself on Saturday night.