Welcome to another edition of The Social Media Player Profile. This week we continue the progression of the series detailing both a person and a company in the same light, as last week we detailed Prop Swap.
This Week I'm very excited to shine a light onto a company that professional bettors simply cannot live without, and if you are not incorporating them into your handicapping, you are doing yourself a vast disservice. The company: Is Sports Insights. The Person: is Josh Appelbaum (@Josh_Insights)
Sports Insights is a company that does many things well, but most notably they detail bet splits, bet %'s, and where the money is. If you've ever heard anyone say. "Fade The Public" those numbers are coming from Sports Insights. Through there website and subscription service, with a few clicks, you are able to get every bet split in the world. If 90% of tickets are on one specific side, Sports Insights is the place people get that information. Here's a snapshot of what is available to you with a subscription. A subscription can be purchased through there website Here.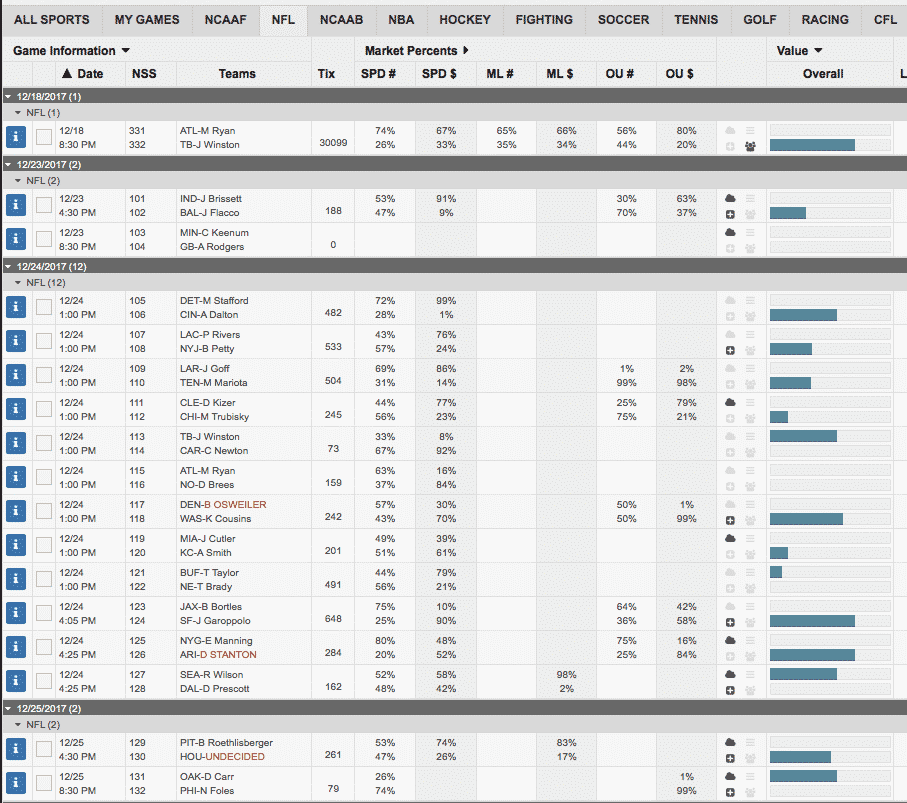 This is just a sample of what Sports Insights provides, however. Their twitter account is simply invaluable as information is put out as soon as (and usually before) it is made available to the betting public. I personally have the account's notifications on so it goes straight to my phone. They also provide picks, betting trends, injury notifications, and statistics. Sports Insights is also a part of the up and coming company, The Action Network which can be found on Twitter Here.
Here to give a voice to the company is Josh Appelbaum, who is the Customer Service Manager and betting hangout host. So, let's get into it!

1. I've detailed above somewhat of a overview of everything that Sports Insights does, but how would you describe Sports Insights and the companies aim to make bettors more informed?
Sports Insights is a data analytics company with one simple goal: help bettors make smarter bets. We aren't handicappers, we just search for games that fit our model. We believe in betting against the public because more often than not, the public loses. They bet with their gut instinct, which is a losing strategy. By fading the public, we are able to take advantage of artificially inflated numbers. As an added bonus, we also place ourselves on the side of the sportsbooks.
As we all know, the house always wins. In addition to going contrarian, we also love to be on the side of the sharps (professional bettors who have a long track record of success). We pride ourselves on being honest and transparent. Sports betting isn't a get rich quick overnight sort of thing. There will be ups and downs. The goal is to stay the course, think long-term and stick to the blueprint. We call it "Grinders with Blinders." Cover up the names of the teams, eliminate all subjectivity and analyze the data. That will tell you where the value is.
2. Sports Insights is a Massachusettes based company however they obviously deal with Las Vegas and offshore odds constantly. Was/is there any plan of possibly moving the company to Las Vegas, and does Sports Insights deal with any obstacles being a company with a focus on an industry that isn't legal in the state Sports Insights is based out of?
Many people think we're a Las Vegas company but we are actually based on the north shore of Boston. This puts us in a unique position which allows us to remove subjectivity and monitor both the Vegas market and offshore market free of bias. Recently we merged with Fantasy Labs, Bet Labs and Sports Action to create the Action Network. We are excited about the future of sports betting, specifically the push toward legalization. We cater to all bettors, both sharp and square. We hope to become the go-to site to help all bettors turn a profit and increase their return on investment.
3. Sports Insights is most well known for detailing bet splits, spread %'s, number of tickets written, and the indication of where betting lines will go. With that being said, what other services do Sports Insights offer including the Sports Insights system selections?
With a Sports Insights membership, bettors receive our best bet picks (55% since 2010), live odds from over 50 different Vegas and offshore sportsbooks, betting and dollar percentages, the number of bets on every game, sharp money bet signals known as steam and reverse line moves, injury and weather alerts, our exclusive Sharp Report, and access to our live Sports Betting Hangouts each night where we break down the board and answer questions from members.
4. Sports Insights tweets regarding injury news is invaluable to bettors (most notable the tweets that should be all on all bettors notifications. Where does Sports Insights get their injury news from and how do they confirm it before sending it out.
Injury updates are extremely important and can have a massive effect on the betting market. Our goal is to always provide accurate, reliable and up to the second injury alerts. Thousands of bettors follow our twitter feed @SportsInsights and count on us to tell them who will play and who will not. We have hundreds of sources across the industry. Our rule of thumb: when it comes to breaking an injury status, always make sure you have at least more than one source.
5. One question I have always wondered (I've been a Sports Insights subscriber for many years) is how exactly Sports Insights gets the information it does regarding bet splits. Is it automated with sportsbooks in Las Vegas as well as offshore for both the number of tickets written and the percentage of each side wagered on? Also, how does Sports Insights verify the accuracy of such numbers?
Sports Insights was founded in 1999 by our President and CEO Dan Fabrizio. Over the years we've created partnerships with the books to get their data. Our betting percentages come from 7 contributing books: 5Dimes, Bookmaker, BetUs, Carib, GTBets, SIA and Sportsbook. We backtest our data throughout the day to ensure that it is 100% accurate and reliable.
6. The total number of tickets written on each game is included, however, they are not broken down by at which sportsbook they are placed at. Is this something that is possible or in the plans for the future of Sports Insights?
Our number of bets comes from 2 books: 5Dimes and Carib. We are one of the only sites on the market that provides actual dollar percentages (which come from one sharp offshore book). We hope to add more contributing books in the future. Our dream is to have a complete breakdown of ticket counts, betting percentages and dollar percentages from both the offshore market and the Vegas market so members can compare both and get a full representation of the market overall.
7. One can always read between the lines in terms of making the connection of ticket % vs. actual money wagered, but is there a way for a recreational bettor to tell where "sharp" action is?
A constant question we get all the time is: where is the sharp action? Earlier this year we unveiled a new feature aimed at answering that question. With our new Sharp Action Report, members can quickly see which games have the highest number of bet signal units, most lopsided bets and dollars and the games with the biggest discrepancy between bets and dollars. The Sharp Action Report is one of the most popular features of our new Advantage membership.
8. With the merger of Sports Insights and The Action Network, what things are in store for the future of Sports Insights and what does the merger mean between Sports Insights and The Action Network? Also, can you briefly explain what The Action Network is and what it's aim is?
The goal of the Action Network is to deliver premium content and analytics to the invested sports fan. We focus on both sports betting and daily fantasy. We have a great team of sharp minds across all different fields, led by our head of media, Chad Millman. In terms of what's next, stay tuned. We have big things planned in 2018 and beyond.
9. Shifting to a more personal side, what does your specific job title as customer service manager and betting hangout host entail on a day to day basis?
As the Customer Service Manager and Betting Hangout Host of Sports Insights, my #1 job is to assist our members and teach them how to become a successful bettor. I pride myself on knowing each individual member by name and helping them in any way that I can. There's nothing more fulfilling for me than watching a new member become sharper over time and then "see the light" and start winning. I started from the bottom at Sports Insights. I was hired in 2011 as a sports information specialist, back when we were a very small, unknown company. We've come such a long way over the years and I am honored to be a part of the team.
10. Lastly, one question we ask in every profile is what they think the current temperature of social media is and the effect they feel social media has had on sports handicapping?
Social media is critically important when it comes to sports betting, specifically Twitter. Being able to follow industry sources throughout the day and get real-time updates on injuries, line movement and betting details makes a huge difference. Whenever we have a new member sign up with us for the first time, I always recommend they create a Twitter account and follow all of the Sports Insights/Action Network employees.
Staying plugged into the betting discussion on a daily basis is the best and quickest way to learn our strategies and gain invaluable insight. That being said, there is a lot of noise on social media. Fake accounts, handicappers who lie about their records (aka "scamdicappers"). The goal is to focus on the signal and ignore the noise, but that is often easier said than done. I subscribe to the theory: if it looks to good to be true, it usually is.
Sports Insights packages can be found via the link provided by Sports Gambling Podcast Here. Sports Insights the truly the standard in the sports handicapping industry and I was thrilled to have Josh here to take the time to give you all a glimpse into the services they provide. I truly wouldn't be able to handicap the same without it and encourage you all to take advantage of this service. Josh can be found on Twitter Here and is available to answer any questions you may have. Their FAQ page can also be found Here.