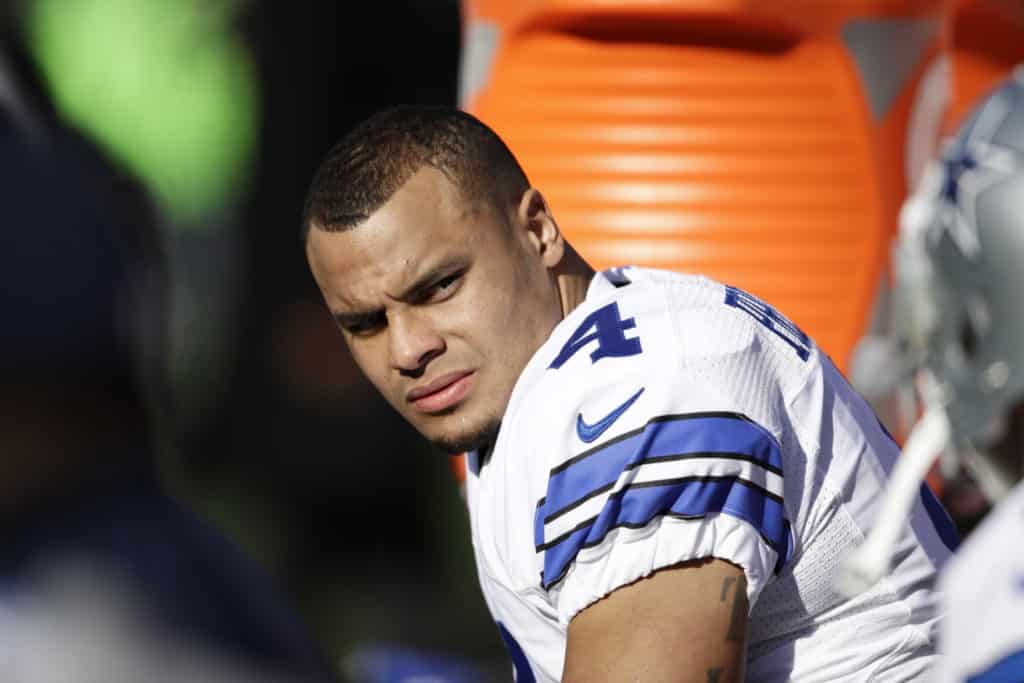 1.Stafford Is Still Who We Know He Is
Stop me if you've heard this before, Stafford lost to a team who is projected to be over .500 at the end of the season. His record against a team over .500 is now an unbelievable 5-62. I don't know how many times I have to write this as a bullet point in these articles,  but please don't ever back Stafford against a team that is projected over .500 for the love of all things that are good in this world. The best news? Stafford has the upstart Ravens this week who will likely end the year over .500. Fade away.
2. Dak Has Been Exposed As Tebow 2.0
Last season I was beating my chest to anyone that would listen that Dak Prescott is no more than a game manager who benefits from the offensive line (That isn't as good as it was last year) and the emergence of Zeke Elliot. I am of the belief he's just a worse version of Alex Smith with much better weapons and better protection, and if you don't take my word for it, sometimes pictures can tell the story more.
The Dak regression is here friends.
3. The Rams Proved Me Wrong
In truth, I placed a small bet on New Orleans because I was willing to make Jared Goff and The Rams beat a good team. If you don't know, The Rams have had the easiest compounded schedule in the NFL and I really am a buyer of The New Orleans Saints. Jared Goff is making me a believer and it may be finally time to buy in. That being said, I believe this says a lot more about The Rams than it does The Saints. The schedule is a bit of a mixed bag moving forward as they have Arizona, Philadelphia, Seattle, Tennessee, and San Francisco moving forward. I'm still not all the way there on them, but have no fear playing them against inferior teams.
4. The Blue Print To Beat The Jaguars Is Out There
Here's the thing no one really understands about Jacksonville. They are unbeatable with a lead, and will never be able to come from behind. They want to hide Bortles in plain site and run the ball 30 times. If you can get out to a lead against Jacksonville and force them to throw the ball and play catch up, they have no chance. From a week to week perspective and even more than that a live wagering perspective, live-bet Jacksonville with a lead, and fade them when they are behind. This is somewhat the reason why they are covering as a favorite and losing as an underdog. They need to run the ball, play perfect special teams, and play lights out defence. Against explosive offences moving forward look to fade them, but against struggling offences, they are a great bet. This was a meaningless non-conference road game, so I would argue they were looking ahead to this weeks matchup against The Colts, where they should be able to play their style.
5. Baltimore Has The Inside Track On The Number Two Playoff Spot & No One Knows It
Another one of my under the radar darlings this year has been Baltimore. The defence is just as stout as ever and if you can get over your Joe Flacco fear, they're a great bet. With their win on Monday night, Baltimore took back over the number two wild card spot from The Bills. The best part of this is they own tiebreakers against teams creeping around them including Cincinnati, Oakland, and Miami. They do have a head to head loss against Tennessee, but Tennessee is ahead of them, not behind them. They likely won't win the division, but a wild card is well within reach and if your book offers progressive odds to make the playoffs, Baltimore is one of my favorite bets. They also are likely to finish above .500 and get Stafford this week who is allergic to beating such a team.