1. Extra Rest Continues To Help
As we led off with last week, teams coming off long rest have historically performed well, and the trend is continuing into this season. In week two, teams with extra rest all cashed tickets for players as New England (Thursday night loss to KC), Kansas City (Thursday night win against NE), and both Tampa Bay and Miami went a combined 4-0. Coming into week three, Houston and Cincinnati had the extra 3 days to prepare and played inspired football.
Neither were able to get the win, but they actually made the spread count, as both covered as road underdogs. Houston covered as 14 point underdogs against New England and Cincinnati took Green Bay to overtime, almost pulling off the huge upset. Teams with extra rest are now 6-0 against the number on the young season. Teams off extra rest for week four: LA Rams and San Francisco 49'ers
2. Wong Teaser's Getting Bettors To The Window
A great friend of the Podcast, Adam Chernoff wrote an amazing article detailing what a basic strategy teaser (also known as a Wong Teaser) actually is. You can read that article here: How To Maximize Basic Strategy In NFL Betting. Here's the short version however.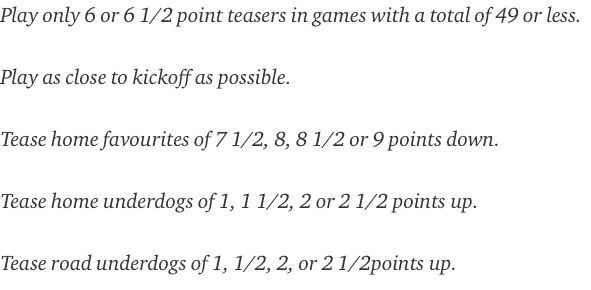 Teams that have qualified for basic teaser strategy are now 8-1 on the season for teaser legs. Week 3 teaser went 3-0 last week with The Colts (+7.5), Buffalo (+8.5), Green Bay (-1). Seattle was on the cusp of qualifying, and would have pushed you to 4-0 if you took that opportunity. Teams currently qualifying for a basic teaser in week 4: Atlanta (-7.5), Baltimore (+2.5), New England (-2.5), Arizona (-7)
3. Detroit Still Isn't There Yet
One of the best nuggets among NFL handicappers and gambling circles is Matthew Stafford's record as an NFL quarterback against teams that finish the season with a winning record. Spoiler: it's not good. Assuming Atlanta finishes above .500 this season, Matthew Stafford is now 5-47 against teams that finish the season with a winning record. This stat of Matthew Stafford not being able to beat winning teams made me want to dig a little bit deeper into some of the great quarterbacks in this league and pick apart their record against winning teams. The results were very interesting: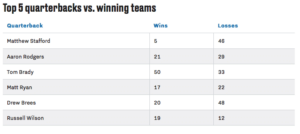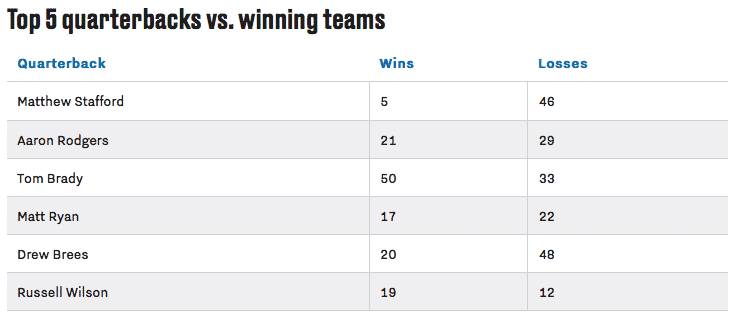 Definitely not as good as you would think for the elite of the elite.
Week 4 matchups:
Wilson: Indianapolis (1-2)
Rodgers: Chicago (1-2)
Brady: Carolina (2-1)
Ryan:Buffalo (2-1)
Brees: Miami (1-1)
Stafford: Minnesota (2-1)
4. Look Ahead Spots Matter
If you subscribe to the 10-3-3 rule, a lookahead spot is a huge place for a letdown. Denver, coming off an impressive win went to Buffalo and got caught looking ahead to the Raiders. On the flip side, The Raiders did the same thing as they got blown out of the building while heading to Washington.
Baltimore shouldn't have gotten off the plane as they lost 44-7 looking ahead to Pittsburgh, and Pittsburgh did the same thing over looking the Mike Glennon lead Bears. Pick your spots to find these and fade away, it's gold. Division games in week 5 (Look ahead for Week 4) Rams, Seahawks. Angle: Seattle look ahead as -13 point favorites against Colts at home.
5. Public Burial 
Last name: Public, First name: Joe. It was not a good day for the general public as sports books had their most profitable Sunday in over two years via various outlets. Jacksonville (32% of tickets), Chicago (27%), New York Jets (32%), Houston (31%), Minnesota (24%), Cincinnati (22%), and Washington (28%) all covered or won outright to send recreational bettors to the poor house.
These types of things happen, and "Fade The Public" is a real strategy, and days like Sunday is how that statement was born. Early Week 4 bet splits: Carolina (33%), Dallas (18%), NYJ (39%), Baltimore (27%), Arizona (21%), A couple public underdogs are Indianapolis (75%) and LA Rams (72%).