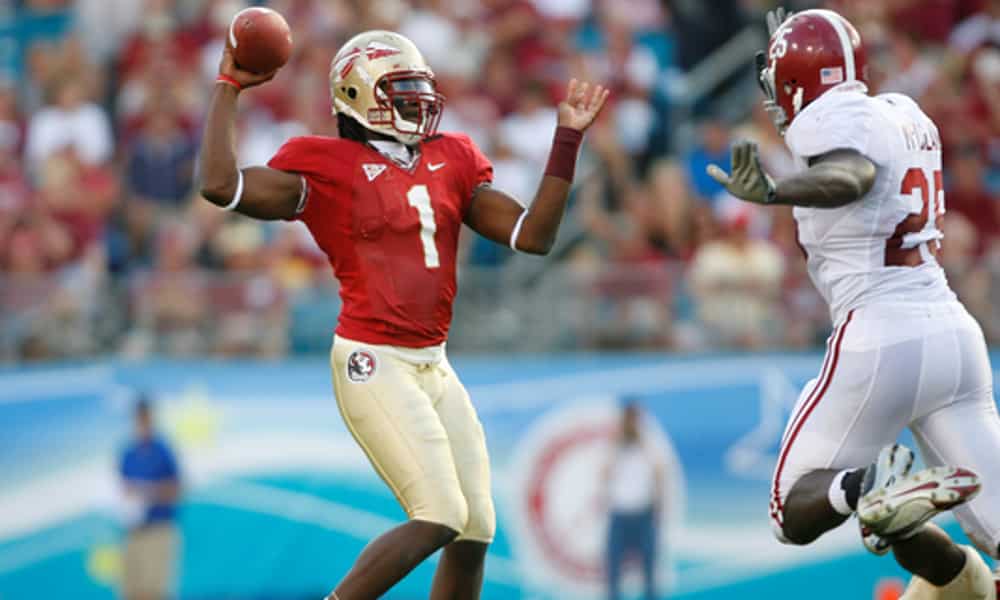 I've rated all the 88 Week 1 college football games from worst to best and why you should tune in and perhaps why your team might lose this Saturday.
88. Bethune Cookman @ Miami (FL) – Miami is getting a ton of preseason hype but they're breaking in a new QB. Bethune Cookman only won four games last season so it can't get much worse.
87. Northwestern State @ Louisiana Tech – Northwestern State will want to play up for this game but that's still probably not going to mean much. Northwestern State went 1-10 last season and Louisiana Tech was a bowl team. One would think that Northwestern State has to be better than they were last year.
86. Florida A&M @ Arkansas – Florida A&M won only four games last year but they are coming off a nice win against Texas Southern. They use a two quarterback system that was quite impressive last week. Arkansas head coach Bret Bielema is supposedly on the hot seat. One thing about Florida A&M is that since they are in Florida maybe they have some talent on their roster. Arkansas might be looking at the week two TCU matchup. Razorbacks still most likely win by 40.
85. Central Connecticut State @ Syracuse – The Syracuse defense was very shaky at times last season but still the orange should be a lot better in year two under Dino Babers. Central Connecticut State was 2-9 last season so this shouldn't be much of a game, but if CCS can keep it close in the first half who knows?
84. Jackson State @ TCU – TCU had a surprising losing season last year. Are the wheels perhaps coming off the wagon? I doubt it. Jackson State only won three games last year and Walter Payton's not walking through that door.
83. Elon @ Toledo – Toledo should be loaded this season and Elon only won two games last year. Elon might need some bad weather or a key injury to even compete in this one.
82. Austin Peay @ Cincinnati – Austin Peay was winless last season so they can only get better right? Plus Cincinnati is breaking in a new head coach in Luke Fickell. The best time to face a new head coach is always in their first game they coach.
81. Missouri State @ Missouri – Both teams were pretty bad last year but Missouri improved at the season went on. Missouri State might play up for this one considering it's a in state matchup. Shouldn't be much of a game but if the Missouri offense struggles maybe Missouri State can get some confidence.
80. Abilene Christian @ New Mexico – New Mexico led the nation is running last year and they return their star QB in Lamar Jordan. This game shouldn't be close at all but if Abilene Christian can stop the run and make Jordan throw maybe they'll have a chance. Abilene only won two games last year so I seriously doubt it but hey it's a new season.
79. Hampton @ Ohio – Ohio is one of the favorites in the MAC this year but last year they got upset by Texas State in week 1. Could that perhaps happen again? I doubt it since Hampton was just a 5-6 team last year but Southern Virginia (where Hampton is located) is known to be rich in football talent.
78. Portland State @ Oregon State – Portland State only won three games last year but this year they looked pretty tough against BYU last week. The offense needs work but the defense is legit. Oregon State is coming off a loss to Colorado State where the Beavers looked great in the first half, only to lay an egg in the second half.
77. Stony Brook @ South Florida – South Florida will be traveling back from San Jose where the Bulls finally woke up and looked like the ranked team they're supposed to be. Stony Brook was average at best last year but maybe they can sneak up on the Bulls.
76. Southern Utah @ Oregon – Southern Utah had a decent season last year and Oregon is breaking in a brand new head coach in Willie Taggart. It's always hard to win in Eugene but if there was ever a time to give them a game I guess it would be in game one.
75. Virginia Military @ Air Force – Air Force is replacing a ton of starters so perhaps they lack experience if Virginia Military somehow keeps this game close. VMI only won three games last year so things can't get much worse.
74. Eastern Kentucky @ Western Kentucky – Eastern Kentucky is coming off a 3-8 campaign but the university has been very public about the desire to eventually join the major division. Western Kentucky brings back star QB Mike White but they're breaking in a new coach. Can Eastern Kentucky play up the level that they desire?
73. Rhode Island @ Central Michigan – This game should be a blowout but Central Michigan did collapse towards the end of last season. Rhode Island only won two games last year but they return their starting QB so there's that.
72. Stephen F. Austin @ SMU – SMU is getting a decent amount of hype this year. They missed out on a bowl last season but mustang fans are expecting one this year. Stephen F. Austin plays in the same state as SMU so maybe they're reading what I'm reading.
71. Howard @ UNLV – Tony Sanchez should have the runnin rebels offense putting up major points this year. If ever there were a week to be rusty I would think it would be week one. Howard only won two games last year so they should be better this season.
70. Sacramento State @ Idaho – Next year this will be a divisional matchup since Idaho is dropping back to the big west and the subdivision. Idaho went bowling last year and could go bowling again this year. Sacramento State should have some decent talent to keep this game close despite only winning two games last season.
69. Lamar @ North Texas – North Texas went to a bowl game last year despite only being 5-7 on the season. Lamar went 3-8 on the subdivision level but played in some close games. Can Lamar keep it close and pull of some magic?
68. Montana State @ Washington State – Look, this should be a blowout. Washington State returns Luke Falk and supposedly is the best team Mike Leach has ever had in Pullman. However Washington State has lost at home to Eastern Washington to start the season the past two years. Sure Eastern Washington is elite team from the subdivision but regardless Wazzu has had problems with the subdivision teams. Montana State only won four games last year but they do play in the same conference as Eastern Washington.
67. Presbyterian @ Wake Forest – I really like what head coach Dave Clawson is doing at Wake Forest but Wake is breaking in a new defensive coordinator. Presbyterian only won two games last year but they were a young team.
66. North Dakota @ Utah – Utah is implementing a new offensive system as they make the move from smash mouth football to the spread offense. Perhaps it will pay off in the long run but these kind of moves don't just happen overnight. North Dakota will most likely get killed in Salt Lake City but still if the Utes offense struggles and N.D. keeps it close who knows. North Dakota went 9-3 last year in the subdivision.
65. Central Arkansas @ Kansas State – Kansas State is a veteran team that should dominate this game, but it's the first game of the year and well sometimes you are rusty as a football team. Bill Snyder is coming back from on offseason cancer scare so perhaps he hasn't paid enough attention to his football team. Central Arkansas plays at the subdivision level but they're pretty darn good going 10-3 on the season last year.
64. UC Davis @ San Diego State – San Diego State loses the NCAA's all time leading rusher in Donnel Pumphrey. UC Davis only won three games last year but since they're in California maybe they have some talent in the skill positions.
63. Northern Arizona @ Arizona – This is a make or break season for Arizona head coach Rich Rodriguez. Northern Arizona was around a .500 football team last year but they were good enough to pull off some big upsets within their own division so maybe the Lumberjacks will show up to play. Arizona could also being looking past this game towards the week 2 matchup vs Houston.
62. Youngstown State @ Pittsburgh – I know Youngstown State is from a lower subdivision but they went 12-4 last year and head coach Bo Pelini (former Nebraska head coach) would love to have one against the big boys. Pittsburgh lost a ton last year including their quarterback, running back and offensive coordinator so week one is when perhaps they will be at their worst.
61. William & Mary @ Virginia – William & Mary went 5-6 last year but has always been somewhat of a decent football program. Virginia struggled all last season in Bronco Mendenhall's first season. Can William & Mary play up and keep this close? Virginia did lose to subdivision Richmond last september.
60. Incarnate Word @ Fresno State -The Jeff Tedford era begins with Incarnate Word. Although I think Tedford will excel at Fresno this is game one with his new team. Fresno State only won one game last year despite the roster having some decent talent. Incarnate Word only won three games last year so something's gotta give here.
59. Southeast Missouri State @ Kansas – Kansas finally showed signs of life last year as the Jayhawks upset the Texas Longhorns, but let's not forget this Kansas team is 2-24 in the past two seasons. SE Missouri State was awful in their own right but sometimes these lower division schools play up on the bigger stage.
58. Holy Cross @ UCONN – Uconn went back to their glory days and rehired Randy Edsall. This will be his first game back so that's always scary. The defense should be the strength of their team while the offense was pathetic last year. If the huskies struggle to score maybe Holy Cross makes this a game.
57. Liberty @ Baylor – Matt Rhule is now the head coach in Waco but with that comes quite a bit of radical change when it comes to running the offense and defense, normally changes like that don't happen overnight. Liberty's head coach is former Nebraska quarterback and one time mac coach of the year in Turner Gil. Liberty plays in the lower subdivision but next year they are moving up to majors so you know they have this game circled.
56. Southeast Missouri State @ Kansas – Kansas finally showed signs of life last year as the Jayhawks upset the Texas Longhorns, but let's not forget this Kansas team is 2-24 in the past two seasons. SE Missouri State was awful in their own right but sometimes these lower division schools play up on the bigger stage.
55. Houston Baptist @ Texas State – Houston Baptist was only 4-7 last season in the sub division so there is a chance this game is a blow out. Everettt Withers will begin year two at Texas State where his Bobcats went just 2-10 last year. Improvement is needed or this could be a close one.
54. Alabama A&M @ UAB – UAB finally brought their football program back (they ended their football program for a few years). Alabama A&M wasn't very good last year only going 4-7. UAB didn't play football last year though so anything can happen right?
53. Southeast Louisiana @ Louisiana Lafayette – Louisiana Lafayette might be taking a step back this year and SE Louisiana is a team that won seven football games last year. They need not take week one lightly.
52. Tennessee State @ Georgia State – Georgia State is breaking in a new football coach in Shawn Elliott and a new football stadium. Tennessee State went 7-4 in the subdivision level so there's some talent on their roster.
51. Southeast Louisiana @ Louisiana Lafayette – Louisiana Lafayette might be taking a step back this year and SE Louisiana is a team that won seven football games last year. They need not take week one lightly.
50. Western Carolina @ Hawaii – Hawaii had a great first year under Nick Rolovich but they'll actually be traveling further than Western Carolina since they played at Umass this past week. Western Carolina only won two games last year so things must be better right?
49. Grambling State @ Tulane – Willie Fritz begins year two at Tulane and he brings in Kansas State transfer in quarterback Jonathan Banks. I still think Tulane may still be a year away but Grambling State went 11-1 last year. The Tulane ground game should dominate the Grambling defense but it also runs a ton of clock so if Grambling can keep their offense going this could be a game.
48. Cal Poly @ San Jose State – San Jose State sure looked great last week….In the first quarter. If they can find a way to maintain that maybe the Spartans can be a bowl team. Cal Poly is coming off a home loss to Colgate this past Saturday.
47. Fordham @ Army – Army went bowling last year for the first time in some time. This year they return a ton from last years team. Army runs the triple option attack though which means it grinds the clock down. That means if they don't get touchdowns Fordham might see them in the game late. Fordham went 8-3 last year so don't underestimate them.
46. Albany @ Old Dominion – Old Dominion is fresh off a bowl victory! They'll need to replace the quarterback position which can always be scary. They'll most likely be starting a former walk on from what I hear. Albany was a 7-4 football team last year. Need I say more?
45. Kent State @ Clemson – Death Valley welcomes one of the MACs worst teams. It's the first game without DeShaun Watson and Kent State is one of the better defensive teams in the MAC conference. Plus Kent State coach Paul Haynes is literally coaching for his life this season. Stranger things have happened right?
44. UTEP @ Oklahoma – I know, I know. No mid majors ever come in to Norman, Oklahoma and upset the Sooners. I get it and I really doubt this game is even close but think about it Oklahoma is seeing Ohio State week 2 matchups in their head. They're breaking in a new head coach and UTEP who was my biggest disappointment from last season despite their awful play last season. The roster has some talent. This won't come close to happening but hey there is a reason why they play the games.
43. Charleston Southern @ Mississippi State – Mississippi State did it to us last year, when they lost to South Alabama at home in Starkville. So why not Charleston Southern? Sure, they're from the lower subdivision but this Charleston Southern team has been to the FCS playoffs the past two years.
42. Georgia Southern @ Auburn – The hype is so high at Auburn despite Jared Stidham ever playing a down for the Tigers. Auburn will have the week 2 matchup at Clemson on the mind so maybe they forget about a Georgia Southern team that for the most part has been pretty damn good over the past 20 years of college football. Plus Georgia Southern runs the Georgia Tech Paul Johnson offense which absolutely kills the clock and the gives the opposing teams offense a limited amount of time on the field.
41. Washington @ Rutgers – Rutgers was really awful last season but Jerry Kill is now the offensive coordinator for the Scarlet Knights. I'll be honest I don't think there's any chance unless there is some major injuries or some crazy weather. It will be interesting to see what Jerry Kill can do for the Rutgers offense.
40. New Mexico State @ Arizona State – Todd Graham is on the hot seat in Tempe so this is a must win. Larry Rose is one of the Sun Belt's best running backs and now he's back from injury. Arizona State had one of the worst defenses in the country last year. See the possible problem here? Most likely this will be a ugly blowout but if Rose goes off this could be a game.
39. Western Michigan @ USC – Western Michigan may have a new head coach in Tim Lester but the Broncos are 21-6 in the past two years so they're used to winning. Sure USC will most likely win but Sam Darnold and company sure have got a ton of hype this offseason. One can't help to think what would happen if the Broncos were within one score at the half. USC also has the big Stanford game the week after so perhaps they are overlooking this one.
38. Buffalo @ Minnesota – P.J. Fleck is breaking in a brand new scheme to both sides of the ball in his first year as head coach of the gophers. Buffalo is a bit of a anomaly. When you think their going to be decent they're terrible. When you think they're going to be terrible they're decent. This year they're supposed to be terrible.
37. Ohio State @ Indiana – this past offseason Indiana shockingly fired head coach Kevin Wilson who had done a great job at Indiana. Wilson is now the offensive coordinator at Ohio State. Revenge is on the mind. Indiana retained their defensive coordinator in Tom Allen and promoted him to head coach. Wilson should know the strengths and weaknesses of the Indiana team but then again Allen should know Wilsons offense pretty well.
36. North Carolina Central @ Duke – Duke returns the best quarterback in the coastal division in Daniel Jones but the defense was pretty bad last year. If that isn't improved NC Central could hang around. North Carolina Central went 9-3 last year and won their division so don't overlook this game blue devil fans.
35. Umass @ Coastal Carolina – Umass fans think they could finally go bowling this year with just a few bounces. Last week Umass should of beat Hawaii but they got too conservative in the fourth quarter and gave up big plays in the worst moments. When they look at the schedule they think "hey this is Coastal Carolina's first game in the FCS level" but let me warn you Coastal Carolina was a subdivision playoff team. Now the bad part is coastal Carolina just lost their head coach for the season due to health problems. They also lost their starting running back but they do bring in a Syracuse transfer at quarterback.
34. Utah State @ Wisconsin – Utah State went just 3-8 last year but it's a misleading 3-8. They lost 4 games by a touchdown or less. Kent Meyers is a senior QB and he's healthy and knows the system. Wisconsin could be reading into the preseason hype? I doubt this game is close but Utah State has been a decent program over the past ten years.
33. Ball State @ Illinois – Lovie Smith struggled in year one at Illinois and year two could have its challenges. This is a must win if you are a fan of the fighting Illini. Ball State is perhaps better than their record though, their in the tough side of the conference so the record could be misleading plus last season was head coach Mike Neu's first season so the team should be better and more experienced just off of that. Ball State played Indiana really tough last year and Indiana is much better than Illinois. This could be a game.
32. Charlotte @ Eastern Michigan – Eastern Michigan went bowling for the first time since 1987 last year and fans are expecting another bowl game. Charlotte had their problems last season but the team really improved with each week. Just throwing this out there but could Charlotte be this year's Eastern Michigan? I doubt it but it could be a close one.
31. Florida International @ Central Florida – Scott Frost did great in year one in Orlando but now there is some big expectations. Florida International is breaking in seasoned veteran coach Butch Davis formerly from Miami in the late 90s. Davis has built winners before so why not now?
30. UL Monroe @ Memphis – Memphis is loaded this year and supposed to be a favorite in the American west division. Louisiana Monroe ended the season strong and could be underrated in the sun belt this year.
29. Akron @ Penn State – I know Penn State really turned a corner last year. If you ask me they should of been the team in the playoffs when the season ended. I know Trace McSorley & Saquon Barkley are back for another year, but with that comes quite the hype. Plus they could be looking past Akron and looking for revenge against cross state rival Pittsburgh whom they play the following week. Akron also should be much improved from last season and bowling come December.
28. Miami (OH) @ Marshall – this is an intriguing game. Miami (OH) started last season going 0-6 then won six in a row and went bowling where they should of upset Mississippi State if not for a blocked field goal as time expired. Marshall had a terrible year last season and surprisingly retained their coach Doc Holliday who is coaching for his job this season. For Miami OH this could be a let down game for a team that is one of the favorites of the MAC and for Marshall fans this could be the beginning of the end if they don't win.
27. Tulsa @ Oklahoma State – With Bob Stoops stepping down at Oklahoma many experts think this is Oklahoma State's best chance to win the Big 12 and potentially make the college football playoffs. Tulsa won ten games last year and although they are replacing the quarterback position the roster has some decent talent. Remember what Central Michigan did to OK State last year despite the awful call by the refs?
26. Arkansas State @ Nebraska – Nebraska fans are already split on head coach Mike Riley. Arkansas State was red hot at the end of last season and bring back their star quarterback and Oklahoma transfer in Justice Hansen. This Arkansas State team has some nice talent on both sides the ball. Can the Red Wolves keep it close? Keep an eye on Nebraska QB Tanner Lee, Lee was a transfer from Tulane that is getting a lot of buzz this offseason.
25. Bowling Green @ Michigan State – I'm really not sure what to expect from this game. Michigan State had a terrible offseason and now it appears their coach is on the hot seat. Bowling Green was awful early on last year but then started to put it all together at the end of the year. Plus the Falcons bring in some grad transfers that could add some nice experience this year.
24. Temple @ Notre Dame – Matt Rhule is gone and now at Baylor but Temple hired Geoff Collins as their new head coach. Collins was Florida's defensive coordinator before getting the owls gig. Temple returns a pretty damn good defense that could keep them in this game. Notre Dame head coach Brian Kelly is on the hot seat. Let the owls keep this close with their defense and anything can happen.
23. Northern Iowa @ Iowa State – Northern Iowa beat Iowa State last year so if you think the Cyclones have this in the bag then you're an idiot. I do think Iowa State is a much better team this year than last year but Northern Iowa has been a great subdivision team for decades now.
22. Houston @ UTSA – Major Applewhites first game at head coach could be a dangerous one as UTSA came on late last season and has done a great job recruiting of late. Houston might be thinking about their matchups vs Texas Tech and Arizona more than this one as well. Don't sleep on UTSA they have some nice talent.
21. South Alabama @ Ole Miss – Ole Miss just had everything that could possibly go wrong go wrong. South Alabama is a decent sun belt team that will have a chip on their shoulder. Remember this South Alabama team came in to Starkville, Mississippi last year and knocked off Mississippi State so why not a problematic Ole Miss team?
20. Navy @ Florida Atlantic – Navy is the favorite here but Florida Atlantic has the benefit of having the entire offseason to prepare for Navy's offense. Plus Florida Atlantic has the hype of being at home and introducing new football head coach Lane Kiffin who not only brings in Baylor's high powered offense but they also bring in Florida State transfer De'Andre Johnson who is a big time talent.
19. Nevada @ Northwestern – the spread is already pretty high considering I can't remember the last time Northwestern really blew anyone out. Remember this team lost to western Michigan and eastern Illinois from the subdivision level last year. There is big expectations this year for northwestern in what many consider is head coach Pat Fitzgerald's best team he's ever had. Nevada has a Alabama transfer at quarterback in David Cornwell plus a new coach implementing the air raid offense in Jay Norvell. This could be much closer than the experts think.
18. Eastern Washington @ Texas Tech – If you don't know by now Eastern Washington has been a staple of the subdivision playoffs the past decade or so. Eastern Washington has beat Washington State in Pullman to start the season off the past two years so why not Texas Tech?
17. James Madison @ East Carolina – Surprisingly enough James Madison is actually favored by 5.5 points at the moment. James Madison is from the subdivision level but went 14-1 last year and won the National Championship. East Carolina struggled last year in Scottie Montgomery's first season in Greenville. ECU brings in a ton of transfers from Duke, Tennessee, Clemson, Minnesota & Auburn though that should have them greatly improved. JMU has just suspended several players though.
16. Vanderbilt @ Middle Tennessee – If the SEC gets owned in the big time matchups during the first week this one could be the icing on the cake. Vanderbilt barely beat Middle Tennessee last year, in fact they were outgained by Middle Tennessee but somehow Vandy managed to win the game. This year the game is in Murfreesboro and Mid Tenn is much more healthier. At the moment I see The spread as Vanderbilt -4 but this could be a blow to the SEC if they lose a game to the conference USA. Vandy also needs this game if they want to go bowling.
15. Boston College @ Northern Illinois – Northern Illinois had a surprisingly down year last season and everything I read about them is emphasizing revenge. What better way to set out on a revenge season than to get a home game against a power 5 ACC opponent. This game screamed trap game for me the minute I viewed the college football schedule. Boston College is a hard nosed football team that is favored by 3 but Northern Illinois should have quite the chip on their shoulder.
14. Troy @ Boise State – This is a very interesting game to me. Head coach Neal Brown is really high on his Troy team this year and Boise could potentially be looking past them as the Broncos play at Washington State in week two. Boise returns their star QB in Brett Rypien and should be on the radar for a mid major to potentially run the table. Troy brings back their star quarterback in Brandon Silvers who should have the Trojans ready to pull the upset. Remember Troy almost beat Clemson last year. If I were a Boise State fan this game would scare me.
13. Maryland @ Texas – Tom Herman is coaching his first game at Texas. The team has a ton of talent but the expectations are always crazy in Austin. D.J. Durkin really exceeded expectations in his first year at Maryland, taking the Terps to a bowl game. Durkin then recruited surprisingly really well this past year. They also bring in former North Carolina quarterback Caleb Henderson who has some talent. Can Durkin continue the momentum and do the almighty in Austin?
12. California @ North Carolina – UNC is a double digit favor in this one at the moment despite the fact they're replacing quite a lot. California is breaking in new head coach Justin Wilcox who was previously was the Wisconsin defensive coordinator. Wilcox is doing a real overhaul on schemes on both sides of the ball but he seems to be really thrilled with some of the already existing talent at Cal.
11. Louisville vs Purdue – The spread is pretty big on this one with Louisville returning their heisman trophy winner in Lamar Jackson. Purdue has a star QB themselves that you probably haven't heard about in David Blough. Blough has a gun and now finally has a coach that can really make a difference in Jeff Brohm. Brohm also used to be the offensive coordinator for Louisville head coach Bobby Petrino while they were at Western Kentucky. Louisville struggled towards the end of last season so maybe the secrets out?
10. Wyoming @ Iowa – Craig Bohl is quietly doing an amazing job of making the Wyoming football program relevant. Bohl did the same when he was at North Dakota State with a quarterback named Carson Wentz. Now he's at Wyoming and guess what? He's got another stud quarterback that is showing up all over the NFL 1st round radar in Josh Allen. Iowa loses quite a lot but the defense should be the strength of the team. I expect Wyoming to give the Hawkeyes all they can handle and maybe even steal the game.
9. Colorado vs Colorado State – This could be a real scary game for the Buffs. The Rams looked great last week in a blowout win against Oregon State. Colorado State has NFL talent at QB, RB & Wideout and ended CSU scored over 40 points in six of their last seven games. Mix that with the fact that Colorado only returns three starters on the defense and this could be a big upset. The Colorado offense is loaded so this could be a shootout but regardless I think it's a very scary matchup for favorite Colorado Buffaloes.
8. BYU vs LSU – Originally i was really high on BYU coming into the season but after their poor performance at home against Portland State I'm thinking otherwise. Perhaps I'm wrong but this Cougar team is experienced enough to give LSU a game but it can't lay an egg like last weekend. LSU is breaking in a new offense under Matt Canada. Sometimes things take some time to fully grasp.
7. South Carolina vs NC State – NC State is getting a ton of preseason love for a team that last year lost to my East Carolina Pirates who went just 3-9. When I look at the NC State team on paper I see why they are so highly touted this year. One thing NC State hasn't really had to deal with over the past few years is being the favorite to win big games which is all the reason why South Carolina could play the spoiler role. South Carolina exceeded expectations last year under first year coach Will Muschamp and they also found their future QB in freshman Jake Bentley so what better position to be in than a decent underdog at a neutral site game against a team everyone is high on. I'd be mighty nervous if I were a fan of the Wolfpack.
6. Tennessee vs Georgia Tech – Tennessee should be happy they have all offseason to prepare for the Georgia Tech option attack. Butch Jones better take full advantage of that because he's already on the hot seat and if Georgia Tech finds a way to win this game then Tennessee might fire Jones before he ever gets into October. (Games at Florida and vs Georgia in September) Georgia Tech had success against the SEC last year beating Georgia and destroying Kentucky in the bowl game. Tech also returns a ton on both sides of the ball and despite the fact they lose their QB from last season, the GT offense is easier to plug in other QBs than other pro style offenses.
5. West Virginia vs Virginia Tech – Virginia Tech is the favorite here despite the fact they're probably going to be starting a freshman quarterback. Virginia Tech defensive coordinator Bud Foster has his defense pretty loaded yet again but I can't help but think a freshman QB making his first start in a game this big? Sure, West Virginia is replacing a lot on both sides of the ball but they also have former Florida quarterback Will Grier starting his first game at WVU. Grier really impressed me when he was at Florida so i'd have to favor WVU on the quarterbacks. If the game is close in the 4th i'd favor the mountaineers to pull the upset.
4. Appalachian State @ Georgia – Georgia is the favorite to win the SEC east, they have a week 2 matchup at Notre Dame that I'm sure they've focused some attention on but let me tell you Appalachian State will beat you if you do not bring your A game. App State is 27-5 in their last 32 games and should have beat Tennessee in Knoxville if their kicker could make an extra point. They have a senior experienced QB in Taylor Lamb and a star running back in Jalin Moore and if App State wins this game they'll be favored in every other game this season which means they'll know how important this game is. Georgia should win the game but last year Georgia struggled with the O-Line and had inconsistency at the QB position. They can't afford to have that happen against App State or they will lose.
3. Michigan vs Florida – I could honestly see both these teams being surprise playoff teams that's why this game is so important. For Florida they only have 3 real road games all year so if they get by Michigan they have a great schedule that could set them up in the SEC championship. Michigan is a very young team that if they can find a way past Florida should have them grow up on a weekly basis so that when they hit the meat of their schedule they'll no longer be inexperienced. Right now Michigan is the favorite which I was surprised at, especially considering Michigan's lack of experience and Florida getting grad transfer Malik Zaire from Notre Dame.
2. Texas A&M @ UCLA – This is my number two game of the weekend strictly because both coaches are on the hot seat and both will be coaching for their jobs. The loser is in big trouble especially when you consider each teams other early season games. A&M is likely starting a freshman QB so Sumlin can't feel too about that. UCLA needs to find their running game that disappeared last season.
1. Alabama vs Florida State – There's no doubt this is the biggest game come opening day but it's still a huge game because the loser of this matchup will have less room for error the rest of the season. The game is probably a bigger game for Florida State than it is for Alabama strictly because Florida State plays a much tougher schedule but both do have some tough matchups. If Alabama loses that makes the season finale vs Auburn and the LSU games absolutely huge. Bama is the favorite but Florida State is loaded and it should be a close game. Might come down to which of the sophomore QBs play better.