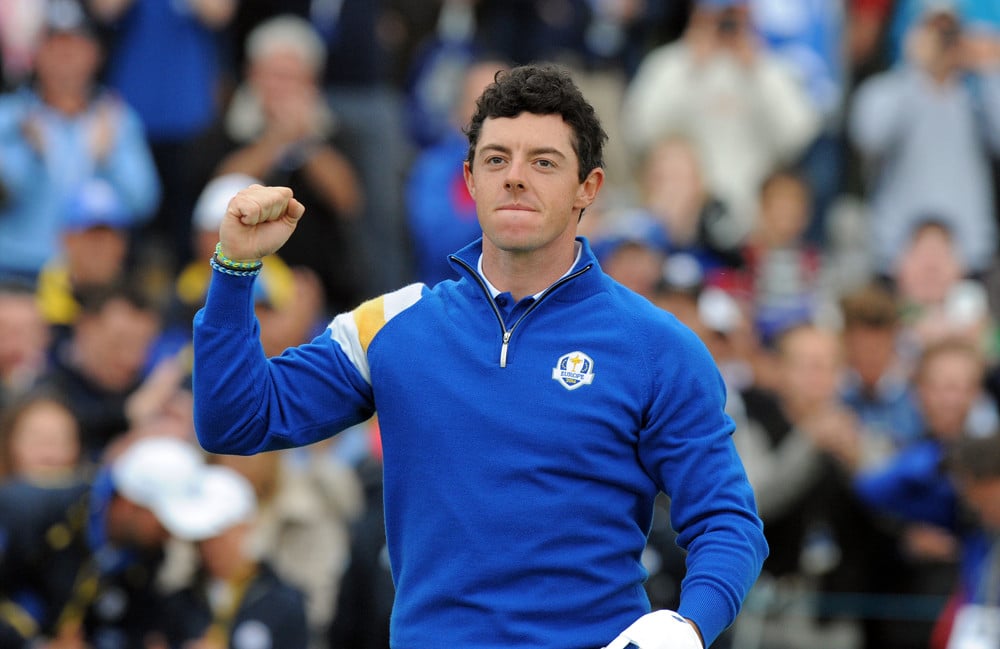 One of the most anticipated and intense golf events on the calendar tees off this week. A stacked United States squad takes on a hungry European team for the 2023 Ryder Cup at Marco Simone Golf and Country Club in Rome, Italy. As always, here is your early deep dive on the 2023 Ryder Cup and a preview of how to bet.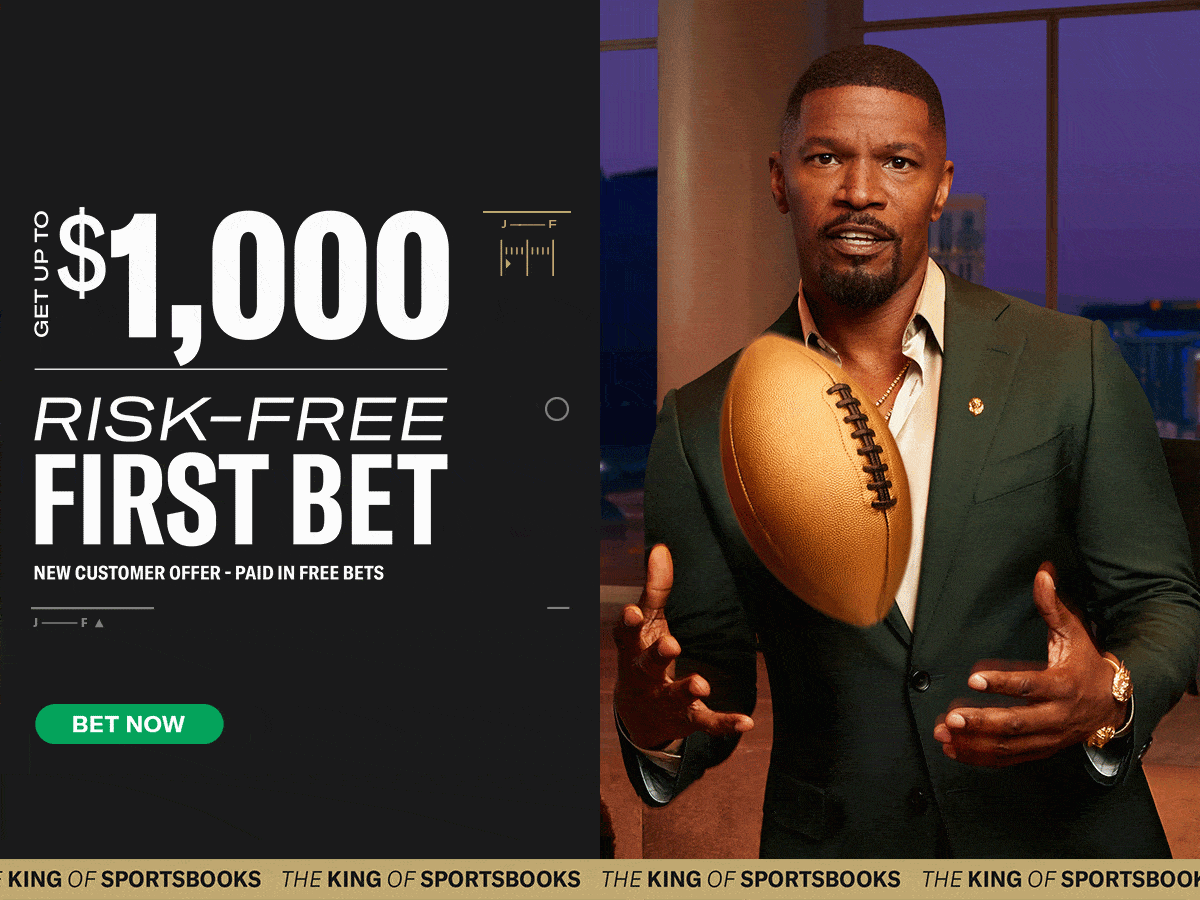 2023 Ryder Cup Preview
The Teams
Here are the players on each team, including career Ryder Cup and Presidents Cup record, recent finishes, and performances against the field (note: Strokes Gained statistics for DP World Tour events have been adjusted for strength of field by DataGolf. PGA Tour events are raw strokes gained):
United States
Scottie Scheffler – 2nd Ryder Cup (2-0-1), 1 Presidents Cup (0-3-1)  

Tour Championship – T6 (-0.99)
BMW Championship – T2 (+3.11)
FedEx St. Jude – T31 (+0.14)

Wyndham Clark – Ryder Cup Rookie, no Presidents Cups

Tour Championship – 3rd (+1.76)
BMW Championship – T15 (+0.86)
FedEx St. Jude – T66 (-2.36)

Brian Harman – Ryder Cup Rookie, no Presidents Cups

Tour Championship – 23rd (-1.24)
BMW Championship – T5 (+2.11)
FedEx St. Jude – T31 (+0.14)

Patrick Cantlay – 2nd Ryder Cup (3-0-1), 2 Presidents Cups (6-3)

Tour Championship – 5th (+1.01)
BMW Championship – 15th (+0.86)
FedEx St. Jude – 2nd (+2.39)

Max Homa – Ryder Cup Rookie, 1 Presidents Cup (4-0)

Fortinet Championship – T7 (+2.31)
Tour Championship – T9 (+0.26)
BMW Championship – T5 (+2.11)

Xander Schauffele – 2nd Ryder Cup (3-1), 2 Presidents Cups (6-3)

Tour Championship – 2nd (+3.51)
BMW Championship – T8 (+1.61)
FedEx St. Jude – T24 (+0.39)

Brooks Koepka – 4th Ryder Cup (6-5-1), 1 Presidents Cup (2-2) 

LIV Bedminster – T38 (-1.35)
LIV Greenbrier – T38 (-1.87)
Open Championship – T64 (-0.57)

Jordan Spieth – 5th Ryder Cup (8-7-3), 4 Presidents Cups (13-5-1)

Tour Championship – 27th (-1.49)
BMW Championship – T34 (-0.89)
FedEx St. Jude – T6 (+1.39)

Collin Morikawa – 2nd Ryder Cup (3-0-1), 1 Presidents Cup (2-1)

Tour Championship – T6 (+1.26)
BMW Championship – T25 (+0.11)
FedEx St. Jude – T13 (+1.14)

Sam Burns – Ryder Cup Rookie, 1 Presidents Cup (0-3-2)

Tour Championship – T9 (+1.26)
BMW Championship – T15 (+0.86)
FedEx St. Jude – T52 (-0.86)

Rickie Fowler – 5th Ryder Cup (3-7-5), 2 Presidents Cups (5-3-4)

Tour Championship – T16 (+0.01)
BMW Championship – T25 (+0.11)
FedEx St. Jude – T58 (-1.11)

Justin Thomas – 3rd Ryder Cup (6-2-1), 3 Presidents Cups (10-4-3)

Fortinet Championship – 5th (+2.81)
Wyndham Championship –  T12 (+2.14)
3M Open – CUT (-0.17)
There are only two true rookies on the team who haven't played either a Ryder Cup or Presidents Cup. There are an additional two players who haven't played in a Ryder Cup. Otherwise, the Americans have plenty of players with Ryder Cup experience.
And for the most part, it is a positive Ryder Cup experience. Much of the team is back from the 2021 Ryder Cup squad that laid waste to the Europeans at Whistling Straits. That, along with the usual dominance the Americans have in the Presidents Cup, boosts up their overall team match play record in their careers.
Probably the biggest reveal of this listing is how little competitive golf the Americans have played recently. Only Max Homa and Justin Thomas competed at the Fortinet Championship last week. And Brooks Koepka will play this week at LIV Chicago. Otherwise, nine of the 12 representatives of Team U.S.A. haven't teed it up in a competitive environment in about a month.
And it's not like the team was in terrific form during that time, either. Overall, Max Homa, Patrick Cantlay, and Xander Schauffele's performances in the FedEx Cup playoffs were very solid. And while Justin Thomas, the most controversial pick for the Americans, did not make the FedEx Cup playoffs, he has shown some signs of life in his last two events.
But otherwise, though, there isn't a lot to hang your hat on with the last you saw of most of Team U.S.A. Scottie Scheffler's putting woes continue to be a problem, and he wasn't as sharp in the FedEx Cup playoffs as he had been all year. Rickie Fowler showed little form in the FedEx Cup playoffs. Sam Burns, Wyndham Clark, Brian Harman, and Jordan Spieth were very up and down. Collin Morikawa got off to a great start at the Tour Championship before fading badly on the weekend. And Brooks Koepka has been downright awful in his last few starts.
Maybe the lack of golf is enough to shake off some of the bad form surrounding several members of Team U.S.A. and find their game. And as Zach Johnson pointed out recently, considering how hilly and demanding Marco Simone is they'll be fresh out of the gates. But there are not many instances in professional golf where playing less is a net positive.
Especially, as we'll discuss next, their opponent is firing on all cylinders heading into the tournament.
Europe
Rory McIlroy – 7th Ryder Cup (12-12-4)

BMW PGA Championship -T7 (+2.19)
Irish Open – T16 (+0.97)
Tour Championship – 4th (+0.51)

Jon Rahm – 3rd Ryder Cup (4-3-1)

BMW PGA Championship – 4th (+2.94)
Tour Championship – T18 (-0.99)
BMW Championship – T66 (-0.64)

Robert MacIntyre – Ryder Cup Rookie

BMW PGA Championship – T45 (-0.06)
Omega European Masters – T55 (-1.27)
Real Czech Masters – T4 (+1.21)

Viktor Hovland – 2nd Ryder Cup (0-3-2)

BMW PGA Championship – 5th (+2.69)
Tour Championship – WIN (+3.51)
BMW Championship – WIN (+3.61)

Tyrrell Hatton – 3rd Ryder Cup (2-4-1)

BMW PGA Championship – T2 (+3.19)
Irish Open – CUT (-1.64)
Tour Championship – T16 (+0.76)

Matthew Fitzpatrick – 3rd Ryder Cup (0-5)

BMW PGA Championship – T18 (+1.44)
Omega European Masters – T3 (+1.98)
Tour Championship – T9 (+0.26)

Tommy Fleetwood – 3rd Ryder Cup (4-2-2)

BMW PGA Championship – 6th (+2.44)
Tour Championship – T6 (+0.76)
BMW Championship – T25 (+0.11)

Sepp Straka – Ryder Cup Rookie

BMW PGA Championship – T10 (+1.94)
Tour Championship – T14 (+1.01)
BMW Championship – T37

Justin Rose – 6th Ryder Cup (13-8-2)

BMW PGA Championship – T36 (+0.19)
BMW Championship – T22 (0.36)
FedEx St. Jude – T20 (+0.64)

Shane Lowry – 2nd Ryder Cup (1-2)

BMW PGA Championship – T18 (+1.44)
Irish Open – T3 (+1.72)
Real Czech Masters – CUT (-1.71)

Nicolai Hojgaard – Ryder Cup Rookie

BMW PGA Championship – T64 (-1.06)
Omega European Masters – T5 (+1.73)
Real Czech Masters – 3rd (+1.46)

Ludvig Aberg – Ryder Cup Rookie

BMW PGA Championship – T10 (+1.94)
Omega European Masters – WIN (+2.73)
Real Czech Masters – T4 (+1.21)
Like most European teams, they're very top heavy. Rory McIlroy, Jon Rahm, and Viktor Hovland comprise three of the top 4 players in this entire competition. While Jon Rahm pulled his weight at the 2021 Ryder Cup, neither Rory nor Hovland contributed much of anything. That's one reason why Europe got trounced in 2021. They'll need to contribute much more if Europe hopes to take back the Ryder Cup.
But there are two big differences between this year's European Ryder Cup team and the one they trotted out in 2021. First, this team is much stronger overall than the 2021 squad was. 2021 featured several European Ryder Cup players who possessed big star power but were on the back sides of their careers. Older players like Paul Casey, Ian Poulter, Lee Westwood, and Sergio Garcia made up the core of Europe in 2021. All but Sergio failed to deliver.
This year's team, however, is mostly devoid of the old guard and instead features several great players at the primes of their careers. The middle core of Europe consists of players like Tommy Fleetwood, Tyrrell Hatton, Matthew Fitzpatrick, and Shane Lowry. These four are much more likely to live up to expectations than the quartet of Casey, Poulter, Westwood, and Garcia did in 2021.
In addition, the European team features a couple of exciting young players with huge potential for some excitement at this year's Ryder Cup. While Nicolai Hojgaard and Ludvig Aberg can, at times, be a bit volatile, each brings vibrant energy to a European team that was thought to be barren of young talent. These two players can be very capable in a Fourball setting with less pressure on their shoulders, but the potential for a high ceiling with lots of birdies.
Also, some of the lesser herald members of Team Europe have a ton of success at Marco Simone. Both Nicolai Hojgaard and Robert MacIntyre, two rookies, have wins at the Italian Open at Marco Simone. That should help make them comfortable in this pressure packed environment. And almost everyone on Team Europe has played in an Italian Open at Marco Simone. While the golf course is fairly straight forward, Team Europe does hold an edge in knowing how it plays in a competitive environment.
Another key difference to this year's European Team is that this team is coming into this event in much better form than the 2021 team was. Most of the 2021 team was not having strong seasons on both the PGA Tour and the DP World Tour. But heading into 2023, that is certainly not the case.
Not only have the recent results of almost everyone on the 2023 European Ryder Cup team been tremendous, but their games should be sharp from all the recent play they've had. While it's a bit unknown what form the Americans have after a long layoff, the Europeans are riding a ton of positive momentum from their recent success.
Overall, this is one of the stronger European teams they've trotted out against the Americans.
The Golf Course
This year's Ryder Cup will be held at Marco Simone Golf and Country Club. In 2015, it beat out bids from Germany, Austria, and Spain to host the 2023 Ryder Cup. The golf course was named after the castle of Marco Simone, which can be seen behind the 5th green. In 1989, the golf course was built by Jim Fazio (the older brother of Tom Fazio) and David Mezzacane.
However, the golf course was in need of significant renovation before it would be suitable to host such a prestigious event. For example, power lines frequently bisected several holes around the golf course. Both the routing and design of the golf course just wasn't up to snuff to hold the best team golf event in the world. And it wasn't conducive to building the necessary infrastructure to host thousands and thousands of fans on site.
As such, Europe Golf Design, with lead architect Dave Sampson, with consultation from Tom Fazio II (Jim's son and the in-house designer for Trump Golf), spearheaded a massive overhaul of the golf course that completely transformed it. Not only was the golf course design completely changed, but the property now could comfortably fit in 250,000 spectators, complete with the necessary grandstands and hospitality tents.
Here's a few videos one should watch to get an idea of what's in store for the players at the 2023 Ryder Cup.
First, here is the hole-by-hole description from Golf Digest of Marco Simone Golf and Country Club, with an in depth description of each hole by Iona Stephen:
Next, here are highlights from the final round of the 2023 Italian Open, won by Adrian Meronk at Marco Simone:
Finally, here's what happens when one near scratch handicap golfer and one mid-handicapper take on Marco Simone (spoiler alert – lots of bad golf):
If I could sum up this golf course with an analogy, it's like going to Dave and Busters. There are a ton of bells and whistles, giant arcade games, neon bowling, a thumping nightclub, giant flat screens everywhere that always has a game on, Bar Trivia, vibrant sugary cocktails with cool names, and maybe even an ax throwing station. Dave and Busters has everything one needs to experience full sensory overload.
But the overall customer service experience is mediocre. Getting a drink timely can be quite a chore. The beer selections with manager pours are limited to your mass produced brands, with maybe a local brew on tap (if you're lucky). And the quality of the food menu is more akin to your TGI Fridays than your favorite local steakhouse or tavern.
Sure, dumping $25 into the Time Crisis arcade game seems like an awesome time. But more often than not, after 5 hours at Dave and Busters, one walks out overstimulated, $175 lighter in the wallet, and in need of Visine and Tums.
And that's kind of like what's offered at Marco Simone. Want holes that ask players to hit hero shots over water? There's a hole for that. Want holes with comically contoured greens and severe collection areas? There's a hole for that. Want holes that bottle neck to 15 yards wide? There's a hole for that. Want holes with punishing rough that'll make these guys look like 15 handicappers hitting out of it? Every hole has that!
And while all this produces a very stern test of golf, it also has produced some cartoon or circus golf at the Italian Opens it has held. And that's not just my take  – many players who first played the new Marco Simone have similar criticism for it too.
But the Ryder Cup is about excitement. It's a spectacle. And while sometimes the most well designed golf courses don't produce the most exciting golf to watch, the opposite is often true too. Sometimes, really bad golf courses produce exciting tournaments.
And there are several holes where excitement is to be had. Specifically, there are several opportunities to feature drivable Par 4's for major swings in matches. Here are the examples of where some of the most exciting golf can be found at Marco Simone:
5th Hole – 376 Yards

From the back tees, almost everyone lays up short of the water to set up a wedge into the green. But for the times the forward tees are used, that presents an opportunity to try and drive over the water hazard and onto the green. This was something that longer hitters like Nicolai Hojgaard and Adrian Meronk were able to do at the 2023 Italian Open. But for shorter hitters like Alexander Bjork, they're still forced to lay up.
11th Hole – 330 Yards
The hole plays about 40 feet uphill, so unless players have a helping tailwind, the prospect of actually driving the green is a tough ask. Still, longer hitters can try and bite off as much of the dog leg as possible to get their tee shot as close to the green as possible for an up and down.
Doing that, however, means players have to take on several dangers down the left side of the hole. The rough over on the left is some of the most penal on the golf course. And there's a small pond and a creek that penalizes any errant misses to the left.
In the final round of the 2023 Italian Open, Adrian Meronk was able to successfully carry it up into the greenside bunker for an easy up and down for birdie. Alexander Bjork, however, hit a poor drive that was fortunate to avoid the water but unfortunate to find itself in the hay. He took a double bogey on the hole.
16th Hole – 352 Yards
This hole could provide for some late match swings. From the back tees, it takes a 298 yard poke to carry it over the creek that bisects the hole. But for the Italian Open, the forward tees were exclusively used to make this a drivable Par 4 all four rounds.
Longer hitters like Adrian Meronk and Nicolai Hojgaard very easily hit over all the trouble to the front of the green at the 2023 Italian Open. Alexander Bjork, once again, was still forced to lay up short of everything even with the forward tees. Each outscored Alexander Bjork on the hole over the course of the tournament.
In addition, there are plenty of opportunities for catastrophes on the golf course. While the rough won't be quite as severe as what players faced at the Italian Open, there are still plenty of opportunities for horrible lies in thick fescue should players hit errant drives. And the severe contouring of the greens and steep collection areas should make for some comedy of errors. Much like fans sometimes watch NASCAR for the crashes, seeing the pros face similar adversity as the weekend warriors do can be quite the viewing experience.
And while the topography of the golf course is a little unfair, it lends itself to creating an amphitheater environment for the fans. There are several hills and mounds where fans can congregate to watch golf, and that allows the sound to reverberate around the golf course. Fan energy and excitement are a vital part of making the Ryder Cup a tremendous television product.
In terms of agronomy, the fairways are paspalum, which should be out in full force with the warmer climate seen in Rome this Summer. The rough, however, is thick and gnarly fescue. However, how penal it is remains to be seen. Lastly, the greens are bentgrass. With how severely contoured they are, however, don't expect them to run all that fast on the stimpmeter.
While most golf course architect snobs wouldn't dare list Marco Simone as one of the top golf courses in the world, it has the characteristics needed to produce an exciting competition. And that's all that truly matters for a worthy Ryder Cup venue.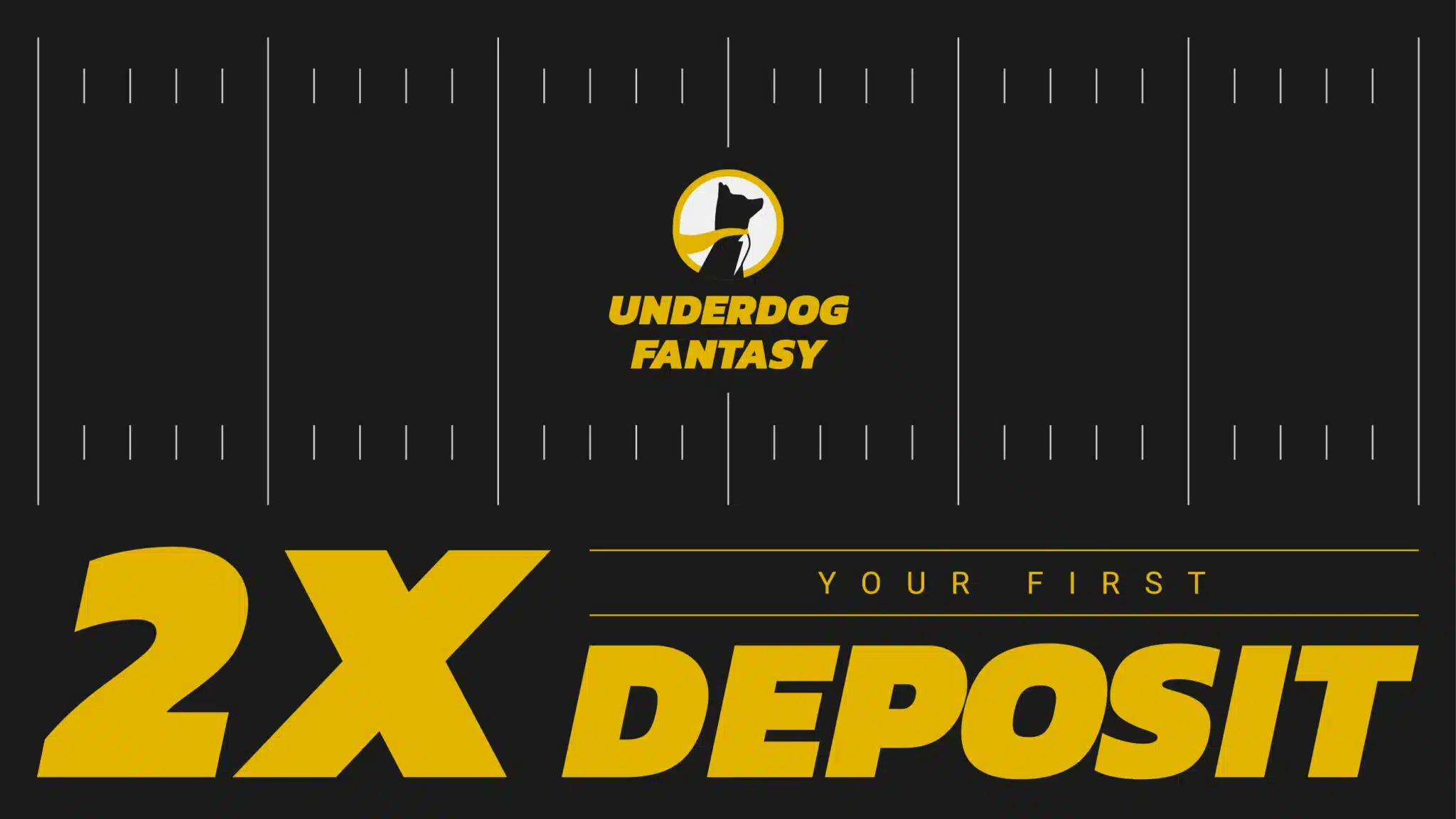 Betting Strategies
Betting on the Ryder Cup is different than betting on a normal golf tournament. Not only do gamblers have to contend with the normal unforeseen circumstances that can derail bets, but a lot of what happens in the Ryder Cup is determined by the captain. Their decisions, both rational and illogical, can detonate even the most thought out and reasonable bets before the Ryder Cup begins.
Unfortunately, trying to guess how the captains will make pairings is vital towards betting things like over/unders on points scored or who will be the top scorer on each team. Handicapping this involves two things:
1. Guessing who will be paired with who.
Forecasting which players will get paired up, and then handicapping if that's a strong pairing or not, will give one an edge to bet these lines.
Fortunately for anyone looking to place prop bets on the Americans, they've blatantly telegraphed what they'll do in terms of pairings.
Based on past history and how they've scheduled the press conferences, these appear like the primary pairings for the Ryder Cup:
Jordan Spieth & Justin Thomas
Scottie Scheffler & Sam Burns
Xander Schauffele & Patrick Cantlay
Max Homa & Collin Morikawa
Brooks Koepka & Brian Harman
Wyndham Clark & Rickie Fowler
There's some wiggle room to cross-pollinate here. The quartet of Schauffele, Cantlay, Homa, and Morikawa can be pretty interchangeable. Spieth and Scheffler also could be an intriguing pairing. But for the most part, the six primary pairings above will be the most common.
Historically, the Americans throw out their strongest pairings right out of the gate, irrespective of format. Because Foursomes are first, however, they might send out a pairing it otherwise wouldn't.
Here's how I think Day 1 will go for the Americans:
AM Foursomes
Scottie Scheffler and Jordan Spieth
Xander Schauffele and Patrick Cantlay
Collin Morikawa and Max Homa
Brooks Koepka and Brian Harman
PM Fourball
Scottie Scheffler and Sam Burns
Xander Schauffele and Patrick Cantlay (also could work in Morikawa, Homa, or both here).
Jordan Spieth and Justin Thomas (Pairing Cantlay with JT a possibility if Spieth falls on his face in the morning)
Wyndham Clark and Rickie Fowler
Players like Wyndham Clark and Sam Burns don't really belong in alternate shot considering how erratic they can be off the tee to put their partner in a world of trouble. Yet they're volatile enough to pile up lots birdies. And with the shape of Justin Thomas' game, he's better off playing his own ball than potentially sabotaging his more competent playing partner. All three are better off in Fourball.
Conversely, shorter hitters like Collin Morikawa and Brian Harman might be at a disadvantage playing their own ball, considering the advantages distance has at the course (more on that in a bit). They're better off being paired with a longer hitter who'll pair nicely with them in an alternate shot.
As for the Europeans, however, that remains a mystery. There really hasn't been a consistent pattern with how they set pairings because of how analytically based they are on their decisions. The European captains are often pretty cagey with their decisions and keep things close to the chest. Guessing how they'll construct lineups is a mystery.
2. Guessing how many sessions players will play
This is a key aspect to correctly handicap the Ryder Cup. The ability to guess correctly on how often or little players will play at the Ryder Cup can give you an edge.
Again, however, this is at the discretion of the captain. Bettors are at their mercy. However, it's widely assumed that given how physically demanding Marco Simone will be on the body, no one will play all five sessions. Everyone will sit out at least once prior to Sunday Singles to keep everyone as fresh as possible.
It's probably safe to assume the top players, Scheffler, Rory, Rahm, Hovland, Xander, Cantlay, etc., will play in at least four matches. And likewise, lesser players like Harman, MacIntyre, and Rose are almost assuredly playing three matches or less. It's probably even safe to assume that Brooks Koepka won't be asked to go 36 holes in a day, given his wear and tear and injury history. But otherwise, it's entirely up to the captain to decide the fate of your Ryder Cup prop bets.
Another angle one could take is to look at what skillsets the golf course favors. Based on an analysis of the Italian Opens, as well as charting out the golf course tee-to-green, two things stand out in terms of what Marco Simone favors.
#1: Long Approach Shots
Though it is only about 7,200 yards on the scorecard, Marco Simone plays a lot longer than one would think. The scorecard yardage is deceptive because of a couple of short Par 3's and 4's. But otherwise, most players face a disproportionate shots from over 150 yards at Marco Simone, with a significant amount coming from over 175 yards.
Considering how severely contoured the greens are and how difficult some of the greenside surrounds are at Marco Simone, the ability to hit long approach shots accurately will go a long way towards getting ahead in a match.
#2: Elite Driving.
There are a few reasons why elite driving, demanding both length and accuracy, is vital at Marco Simone.
First, with how thick and penal the rough is at Marco Simone, keeping the ball in the fairway is critical to try and set up a good look into the green to get ahead of your opponent. Unlike at some other venues, the penalty for wayward misses gets worse and worse the farther offline one is. And there isn't a lot of room between the fairway and some very nasty rough.
Second, the paspalum lends itself to promoting long and accurate driving for two reasons. First, paspalum is a very slow turf. Once the ball hits the turf, the grass tends to grab it and stop much roll out. As such, players who possess significant carry distance will benefit more than short hitters, who would benefit more from a firmer and faster turf.
But on the flip side of the coin, players who are able to find the fairway once the ball hits the ground has a much better chance of keeping it in the short grass than if they were playing on a firm ryegrass or bermuda surface. Because of its grabby nature, tee shots that initially hit the fairway have a great chance of staying there. That promotes the necessity for accuracy, too, especially with how dicey things can get in a hurry just a few yards offline.
And lastly, there are several opportunities for players to use their length to their advantage. This is primarily seen on the shorter Par 4's, with longer hitters more adept at hitting it closer to the green as opposed to shorter ones who often are forced to lay up.
Length is also advantageous on holes where players can take on the dog legs and shorten up holes. Despite bottlenecking of fairways in some spots, longer hitters were able to carry it over the dog legs to shorten up their approach shots, whereas shorter hitters were unable to take advantage of this.
Taking both into account, here's how each team stacks up in terms of driving and long approach shot performance heading into this year's Ryder Cup: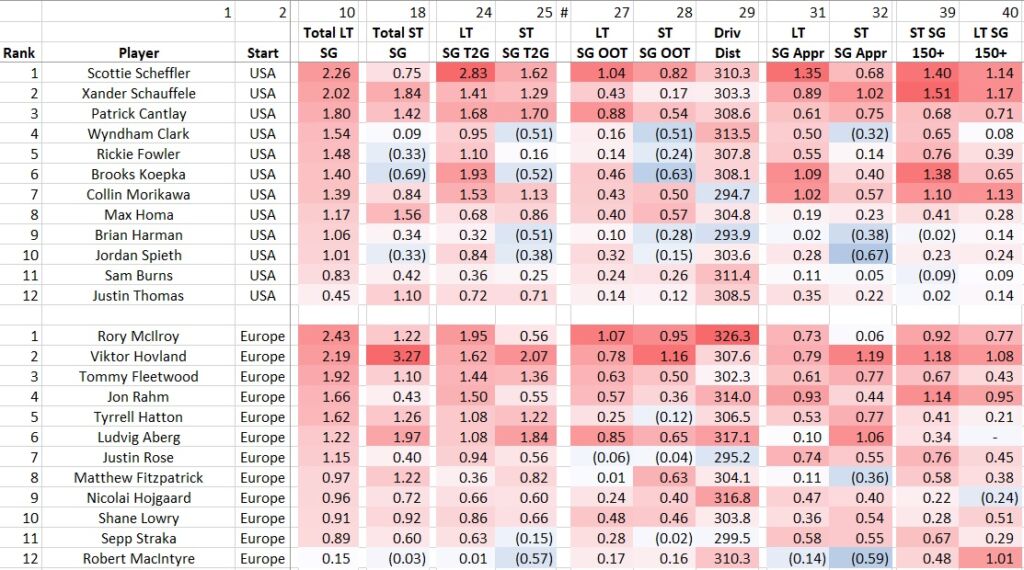 The United States has players that check a lot of these boxes. Scottie Scheffler, Xander Schauffele, and Patrick Cantlay possess elite skill sets in both areas. Brooks Koepka and Collin Morikawa are also tremendous with their longer irons. Max Homa has driven the ball very well this year and has improved a bit with his longer approach shots in 2023. And the team has a lot of length with the likes of Wyndham Clark, Sam Burns, Rickie Fowler, and Justin Thomas.
But the Europeans are just as adept in these categories and probably did a much better job with its captain's picks addressing these key areas than the Americans did. Europe's top three players in Rory, Rahm, and Hovland, are elite in both categories. But many of Europe's role players, from Tommy Fleetwood down to Sepp Straka, are very good in at least one of these categories. Luke Donald did a tremendous job with his captain's picks to make sure he picked players with these particular strengths.
On paper, the teams appear to be very evenly matched. And that's reflected in the current odds, with the Americans only a slight favorite against the Europeans. It's been over 10 years since we've seen a closely contested Ryder Cup. Maybe 2023 will finally deliver on some much needed Sunday drama.