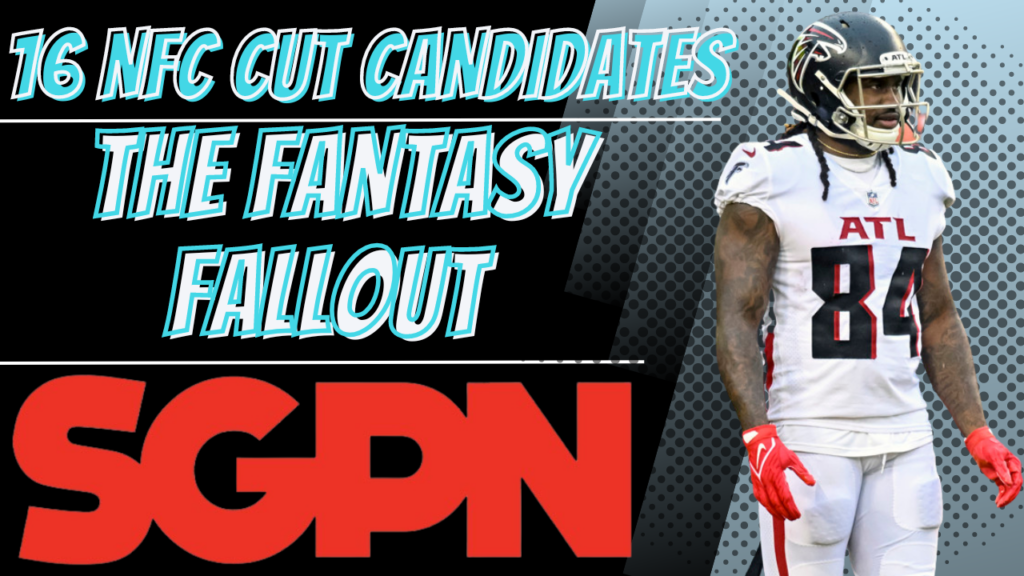 We have already seen some surprising NFL cuts. Who are the next cut candidates? We are going to look at each team in the NFL. This article will examine the 16 NFC teams and what fantasy-relevant players could get cut.
We have already seen Dalvin Cook and DeAndre Hopkins cut this offseason. Last year we had rumors that the Chargers could move on from Keenan Allen. We saw Aaron Jones and Joe Mixon take pay cuts recently. This is a business, and a lot of analytics lead teams are saying to move on from older, more expensive players. Let's look at some potential cut candidates and discuss the fantasy fallout.
All contract numbers and implications are from Spotrac.com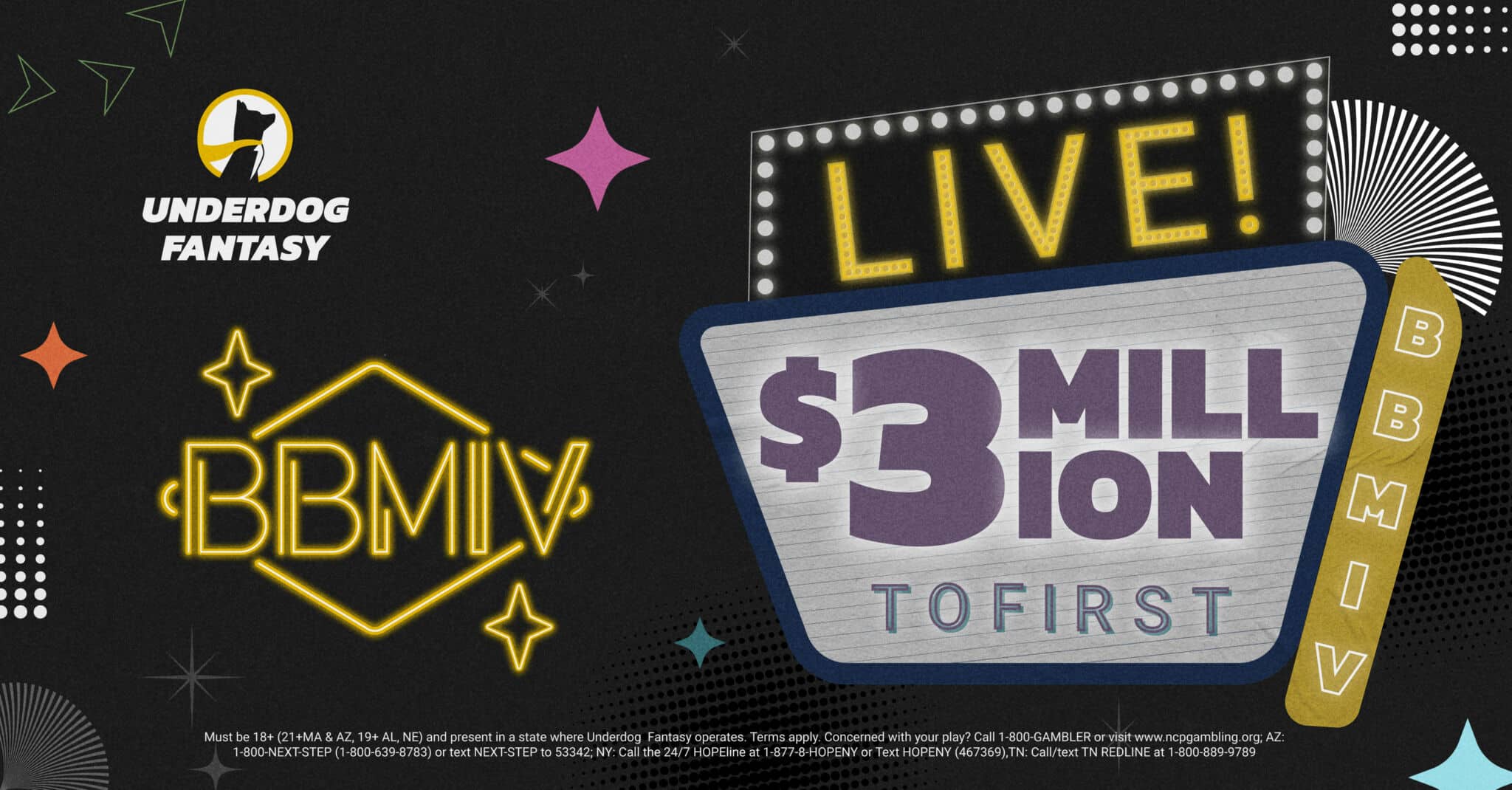 MORE SGPN FANTASY FOOTBALL CONTENT
Follow SGPN Fantasy Football on Youtube
NFL Cut Candidates from the NFC and the Fantasy Fallout
NFC East 
Dallas Cowboys – RB, Ronald Jones
Cap Hit: $1,092,500
Dead Cap: $302,500
Savings: $790,000
Beneficiary: RB, Malik Davis
Malik Davis was very productive last year when called upon. Davis has a strong chance of being the #2 RB in this offense. McCarthy's #2 RB has gotten plenty of work based on his past. He will be cut if Jones doesn't do enough to earn it. The team could also choose to bring back Ezekiel Elliot or bring in another veteran. Davis is younger and makes more sense financially. Davis is a player that you should be stashing in your leagues.
New York Giants – WR, Jamison Crowder
Cap Hit: $1,093,500
Dead Cap: $152,500
Savings: $941,000
Beneficiary: WR, Jalin Hyatt
Robbie "Chosen" Anderson has not been relevant in years, and the Cardinals quickly moved on from him after trading for him. He is currently slated as a second-string player with Miami. He does have the speed they like. The cap savings make too much sense when the team has Tyreek Hill and Jaylen Waddle and would likely keep special teams contributors Braxton Berrios as well as Cedrick Wilson over Anderson. Berrios is currently listed as the slot WR and will split time with Cedric Wilson in 2023.
Philadelphia Eagles – RB, Trey Sermon
Cap Hit: $1,102,994
Dead Cap: $0 ($451,976 paid by the 49ers)
Savings: $1,102,994
Beneficiary: RB, Boston Scott
The Eagles could save about $2 million by moving on from Quez Watkins. He does have a role on this team, even with the addition of Zaccheaus. The backfield got more crowded when they added D'Andre Swift. Sermon is still on his rookie contract, and it wouldn't cost the Eagles anything to move on.
Washington Commanders – RB, Jonathan Williams
Cap Hit: $1,092,500
Dead Cap: $152,500
Savings: $940,000
Beneficiary: RB, Chris Rodriguez Jr.
Logan Thomas made a ton of sense financially. He has not been the same since his ACL injury, and he would save Washington over $5 million. He is still a candidate but also a restructured candidate. It all depends on how they feel about John Bates and Cole Turner.
Jonathan Williams filled in last year when needed, but the team drafted running backs in back-to-back years. The draft capital used for Chris Rodriguez suggests that he will be higher on the depth chart. Rodriguez is a powerful back that could find a role behind Brian Robinson and Antonio Gibson early.
NFC North  
Chicago Bears – WR, Velus Jones Jr.
Cap Hit: $ 1,228,620
Dead Cap: $833,688
Savings: $394,932
Beneficiaries: WR, Tyler Scott
The Bears have the most cap in the league right now and are not pressed to make any cuts. This is also the team that had the worst record in the NFL last season, and their roster is churning. They could surprise us and cut Chase Claypool. It would cost them pride as well as ego. As far as a salary cap, his dead cap belongs to the Steelers, and they could cut him without a financial loss. They would have to live with the fact they gave up pick 32 for him to play half a season.
The Bears could move on from D'Onta Foreman. Foreman could also ask to move on if he feels like his role isn't going to be big enough. He has a dead cap of $1 million on a $2 million contract. The team could move towards a combination of Herbert and Johnson. Foreman has played well the last two seasons and would have a market if he became free.
The real choice is Velus Jones. The Bears shocked us by making the pick as early as they did, but they could move on with very little financial loss. The team has added a lot of wide receivers, and the room is getting crowded. It will be between St. Brown and Jones, Jones has done far less, and Tyler Scott can handle return duties. Scott's arrival tells me that Jones is soon to be out.
Detroit Lions – RB, Justin Jackson
Cap Hit: $1,080,000
Dead Cap: $0
Savings: $1,080,000
Beneficiaries: RB, Craig Reynolds
The Lions added Jahmyr Gibbs and David Montgomery this off-season. Craig Reynolds has filled in admirably and been called upon when needed in the past. Justin Jackson could be the odd man out here. The team also has Jermar Jefferson and Mohamed Ibrahim.
Green Bay Packers – RB, Patrick Taylor
Cap Hit: $940,000
Dead Cap: $0
Savings: $940,000
Beneficiaries: RB, Lew Nichols
I will be honest; I struggled here. I do not think they get rid of Degura due to his ability as a blocker. They have completely turned over their wide receiver room in the last two seasons. The team could look to younger options like Tyler Goodson and Lew Nichols over Taylor this offseason.
Minnesota Vikings – WR, Jalen Reagor
Cap Hit: $2,419,638
Dead Cap: $2,419,638
Savings: $0
Beneficiaries: WR, Jalen Nailor
The Vikings fans saw the issues with drops and other miscues from Reagor that the Eagles fans were happy to be rid of. This move doesn't do much for the Vikings financially, but the frustrations with him Reagor could lead to him looking for work. Someone that could step in is Jalen "Speedy" Nailor. Nailor has impressed this offseason and has even been getting some work with the first team. I am not saying he is going to start.
He will not. But this speaks highly of how the team feels about him. We all saw him run the wrong route on the series Quarterback. That happened often last year. He also had fumbles and drops that were costly.
NFC South 
Atlanta Falcons – RB, Cordarelle Patterson
Cap Hit: $5,500,000
Dead Cap: $3,750,000
Savings: $1,250,000
Beneficiary: RB, Tyler Allgeier
The team-cutting Caleb Huntley makes me less confident in this one. This team just found something with Tyler Allgeier and, of course, used a first-round pick on Bijan Robinson. Patterson is still useful as a returner, but the team could save money by moving on. Patterson could find work easily with his return skills and his pass-catching skillset.
Carolina Panthers – WR, Laviska Shenault
Cap Hit: $1,659.464
Dead Cap: $0
Savings: $1,659,464
Beneficiary: WR, Jonathan Mingo

This team has completely turned over all skill positions on offense. The new coaching staff will be looking to make some changes, and Laviska seems to be on the way out. The team added both D.J. Chark and Adam Thielen in free agency before adding Jonathan Mingo in the draft. Laviska with be fighting with Terrace Marshall Jr. and Shi Smith for that last spot.
New Orleans Saints – WR, Tre'Quan Smith
Cap Hit: $3,400,000
Dead Cap: $1,700,000
Savings: $1,700,000
Beneficiary: WR, Rashid Shaheed
The team found two good wide receivers in last year's draft. Chris Olave is obviously the headliner, but Rashid Shaheed had a very nice rookie year as well. His emergence and the return of Michael Thomas could find Smith on the outside looking in. Smith has been on the team for a while now, and it might be time to move on.
Tampa Bay Buccaneers – RB, Ke'Shawn Vaughn
Cap Hit: $1,465,713
Dead Cap: $254,727
Savings: $1,210,986
Beneficiary: RB, Chase Edmonds
Both running backs, Vaughn and Edmonds, could find themselves on the chopping block. Edmonds has no guaranteed money. The team chose not to draft a running back but signed undrafted free agent Sean Tucker to a guaranteed contract. The expectations are not high for this team this year, but they are trying to figure out who will be part of their future.
NFC West  
Arizona Cardinals – TE, Zach Ertz
Cap Hit: $11,605,000
Dead Cap: $14,500,000
Savings: -$3,105,000
Beneficiary: TE, Trey McBride
This is another team with very few expectations. Why would they move on from one of their best players and lose money? We could see a situation where Ertz requests out of town with his career coming to a close and the team in rebuild mode. The team also wants to see what they have in Trey McBride.
Instead of playing the older player coming off of the ACL injury, the analytics would point to playing McBride. McBride did not play well in the few games he played last year. We should not judge him based on a couple of games. The Cardinals will want to see him in the starting role, and we should see a lot of him this season.
Los Angeles Rams – WR, TuTu Atwell
Cap Hit: $2,150,000
Dead Cap: $150,000
Savings: $2,000,000
Beneficiary: WR, Puka Nacua

This was a pick that shocked a lot of people. A team with very few picks seemed to reach for an undersized player. We saw a similar thing happen with Andy Isabella. Isabella just got cut, and Tutu is not far behind. The Rams will want to see what they have in new additions Puka Nacua and DeMarcus Robinson.
San Francisco 49ers – RB, Ty Davis-Price
Cap Hit: $1,161,033
Dead Cap: $671,478
Savings: $489,555
Beneficiary: RB, Jordan Mason
The 49ers are known for finding talent in running backs, but it is typically the Day 3 or undrafted kind. They surprised a lot of people when they gave Davis-Price third-round draft capital last year. They did the same with Trey Sermon, who they moved on from early. The team could add a veteran like Ezekiel Elliot or Kareem Hunt, but they have shown they prefer Mason over TDP.
Seattle Seahawks – WR, Dee Eskridge
Cap Hit: $1,623,683
Dead Cap: $844,910
Savings: $778,773
Beneficiaries: WRs, Matt Landers & Dareke Young
This team has a lot of very interesting names from a prospect's perspective. This team has Cad Johnson, Matt Landers, and Jake Bobo. Eskridge was expected to jump right into this offense based on his draft capital, and in two seasons, he has 17 receptions, 122 yards, and a touchdown.
This is more than I have, but not ideal for a second-round player. Training camp reports are that Dareke Young is playing over Eskridge already. Matt Landers and Young both bring great size to the position. Eskridge would be a surprise cut, but if the team wants to see what they have in these cheaper options, he will be gone.