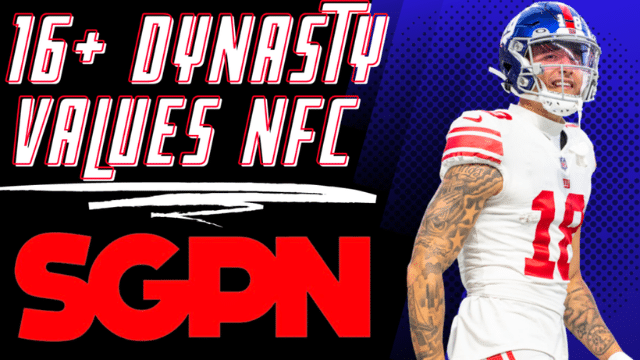 SGPN brings back 16 Dynasty Values from each NFC team. The NFL offseason is almost over, and we have a good idea of what rosters will look like. The Average Draft Position (ADP) has been liquid with the free agent moves and NFL Draft.
We are finally starting to see it settle, and now we can see some true value. Dalvin Cook, DeAndre Hopkins, and a few other veteran free agents are lurking to shake things up. We will see some movement, but there are not many more moves to make.
I am looking at ADP per DLF for this article. This is a two-part series covering both the AFC and the NFC. I am looking at players outside of the top 100 ADP to look at some values. You could grab these players late in your startups, trade late rookie picks for them, or buy low in general. Here is at least one value for each team in the NFC.
Trade Tip: Picks do not get hurt, arrested, or suspended. Don't worry so much about acquiring every rookie in the draft. Acquire future picks and use them in the season to bolster your roster.
*ADP is from June DLF Superflex Dynasty Startups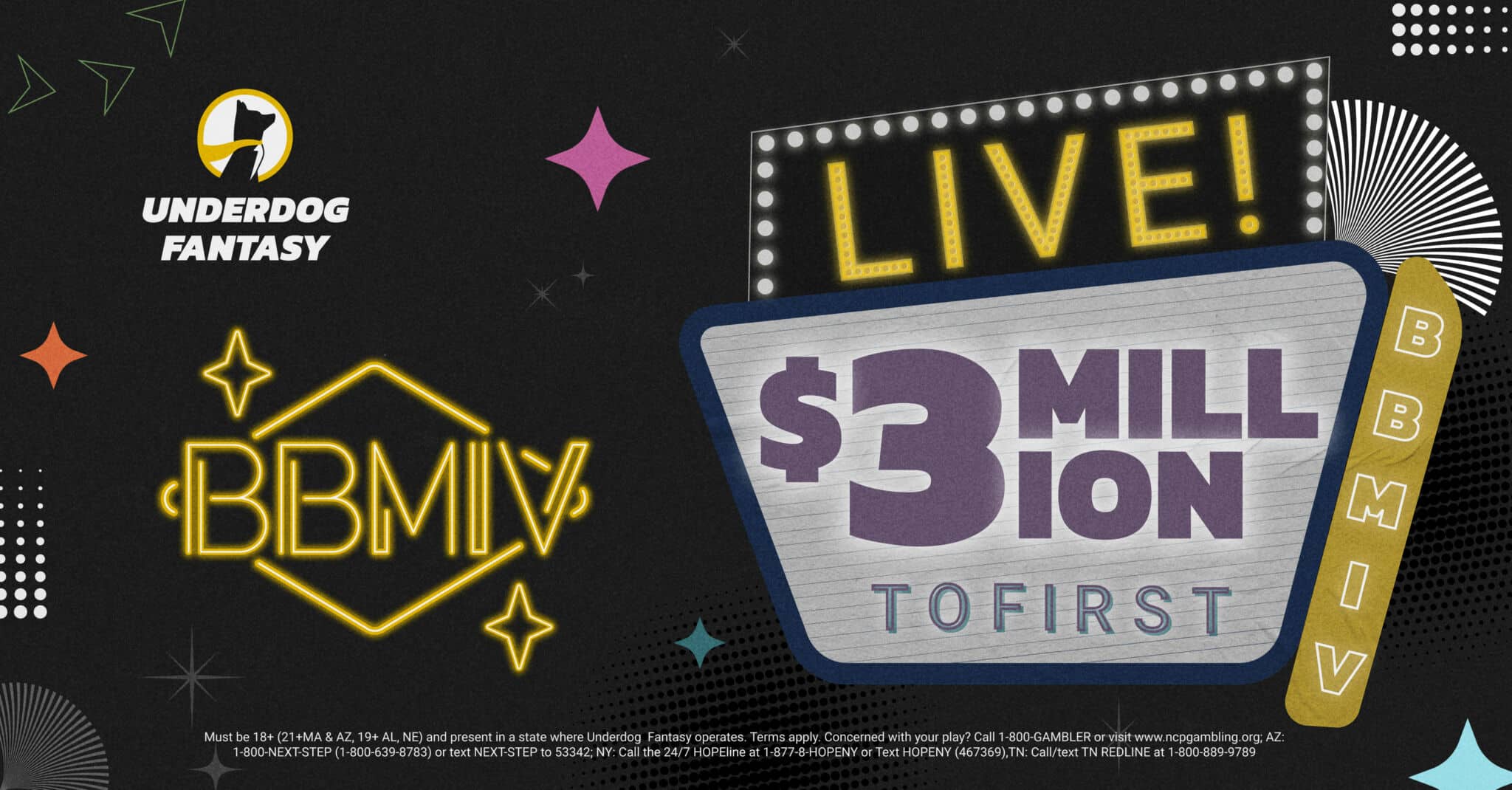 MORE SGPN FANTASY FOOTBALL CONTENT
Follow SGPN Fantasy Football on Youtube
16 Dynasty Values: One for Every NFC Team
Chicago Bears – RB – Khalil Herbert: ADP 143 (RB43)
The Chicago Bears backfield is left for interpretation right now. You can see this in the ADP; some people think it will be Foreman or Johnson. It is honestly hard to say with certainty, as Herbert has struggled in pass protection as well as drops. Herbert has also flashed with some big games; he was a solid fantasy producer with Montgomery out last year.
Herbert outperformed Montgomery behind the same crappy offensive line and in the same low-scoring offense. Montgomery has moved on, and the team has made improvements to the offensive line as well as added D.J. Moore. If Herbert ends up being the starter, getting him at RB43 is a killer value.
Minnesota Vikings – RB – Kene Nwangwu: ADP N/A (N/A)
The entire Vikings backfield could be on this list, honestly. Alexander Mattison is still coming in at a decent dynasty value. DeWayne McBride was a fourth round pick in rookie drafts. Kene Nwangwu did not even make the top 285 picks. This is a good offense, and the lead back will be a viable fantasy play. It does appear to be Mattison, but who is the handcuff, and who is second in command?
We will know more when depth charts are released. Mike Clay has Nwangwu as the second RB, with a similar volume to Ty Chandler. Both are stashes. Nwangwu is cheaper. He also has a little bit better draft capital, fourth vs fifth.
Nwangwu also has rare size and speed at 6'1″ and 210 lbs with blazing speed. I would stash either player if available. Both are great NFC Dynasty targets at their cost.
Green Bay Packers – TE – Tucker Kraft: ADP 215 (TE29)
Tucker Kraft was Daniel Jeremiah's 56th prospect in this class. He also got third-round draft capital; if he landed on the Lions like Sam LaPorta, he would be rising up boards. Instead, he got drafted behind Luke Musgrave (second-round), and he is a fourth-round rookie pick.
Mark Andrews was drafted after Hayden Hurst, don't ignore good players. Kraft is a solid player, and his value right now brings zero risk to invest. I considered Romeo Doubs here; he is going fairly cheap and is another player to grab if the price is right.
Detroit Lions – RB – David Montgomery: ADP 112 (RB32)
This is not as deep of a dive, but this is a player who has some league-winning upside. We saw what Jamaal Williams did in this offense last year. Montgomery is a younger version of that and a better runner. David Montgomery will play behind the best offensive line he has ever played behind and will get a healthy workload. Mike Clay has him projected for an RB25 finish.
His projections for Montgomery are 777 yards rushing, 276 receiving, and eight total touchdowns in 14 games. This is a mild projection; Jamaal Williams had over 1,100 yards from scrimmage with 17 touchdowns last year. If Montgomery gets a similar workload, 1,000 all-purpose and 10 is a very real possibility in 17 games.
New York Giants – WR – Isaiah Hodgins: ADP 199 (WR75)
The Giants took their coach and general manager from the Bills. Their familiarity with Hodgins helped them find a gem when he was dropped from the Bills last season. Hodgins became the Giants' #1 WR out of nowhere last season. In the first round of the playoffs, Hodgins caught eight passes for 89 yards and a touchdown. Yes, the Giants added some pass catchers this off-season.
Most notably, adding Darren Waller via trade and drafting Jalin Hyatt. There are a lot of jokes about the Giants having 17 small slot wide receivers. Hodgins plays outside, is a red zone threat, and is 6'3″. Scoop up Hodgins on the cheap, or get him as a throw-in on a trade. He is also rumored to be dating Margot Robbie, so adjust your rankings accordingly.
Dallas Cowboys – RB – Malik Davis: ADP 203 (RB62)
Mike McCarthy is taking over as play-caller for the Dallas Cowboys. What we know about McCarthy in the past is that he deploys a multiple back system. In 2017, the top three rushers had 153, 81, and 71 carries. Then in 2018, a similar split with 58% of carries going to the RB1, 26.2% to the RB2, and 16% to the RB3. The RB2 actually had 26.2% of carries in both seasons.
Last year Davis played well in spot duty, with 4.2 yards per rushing attempt with 2.1 yards after contact. Over 10% of his rush attempts went for over 10 yards, and he showed some big play ability. Ronald Jones is there, and veteran backs are lurking, but I would add Davis, just in case.
Philadelphia Eagles – RB – Rashaad Penny: ADP 159 (RB45)
The Eagles signed Rashaad Penny before knowing that D'Andre Swift would be available. It was no surprise they added a back. I got to attend the media session at the combine, and I interviewed Devon Achane, Tyjae Spears, and Jahmyr Gibbs, who all said they met with the Eagles.
A lot of backs, including Bijan Robinson and Kendre Miller, also reported meeting with the Eagles. This will be a committee, but the arrival of D'Andre Swift has caused Penny to become a massive value. Scoop him up, and he will be the early down back for this team and likely get the goal-line carries when Hurts doesn't.
Washington Commanders – RB – Antonio Gibson: ADP: 111 (RB30)
The Commanders all but gave up on Antonio Gibson last offseason. The unfortunate season-ending and possibly career-ending neck injury to J.D. McKissic and the gunshot injury to Brian Robinson forced Gibson into playing.
Gibson played really well and saw an increase in targets with McKissic out. Eric Bienemy joins the team, and Gibson has the chance for somewhat of a fresh start. Gibson has already shown that he can be a top-10 fantasy football back. He could end up closer to RB15 than this RB30 price. Gibson is also a free agent next year and is only 25.
Los Angeles Rams – TE – Tyler Higbee: ADP 229 (TE30)
Tyler Higbee was quietly the TE6 in PPR formats. He had eight finishes inside the top 15, including five inside the top 10 and three inside the top five. The team has really not added much for target competition, and Cooper Kupp is coming off of an ACL tear. Higbee should easily see 100 targets again in 2023, and he has been all but forgotten.
At a position that is really hard to find, Higbee is a solid depth piece or a bridge if you have a young tight end. Bonus adds are Puka Nacua and Zach Evans; both are stashes in the third or fourth round of your rookie drafts. This is a rebuilding roster, and they could earn opportunities easily as this team's future roster takes shape.
San Francisco 49ers – RB – Elijah Mitchell: ADP 172 (RB47)
Christian McCaffrey was able to stay healthy for 2022 and was back to himself. Elijah Mitchell burned people last year. He missed time with an injury in week one, and then McCaffrey came in and zapped his value away. We did see the team use Mitchell a lot near the end of the season as they tried to save McCaffrey.
We could see some more of that this year, but we also have an extremely valuable handcuff in Mitchell. When healthy and the lead runner, he is a top-12 fantasy football running back and is a key handcuff in dynasty formats.
Seattle Seahawks – WR – Tyler Lockett: ADP 121 (WR45)
Tyler Lockett is the new Brandin Cooks. Every year he is underappreciated, and it has continued. He does not have a lot of long-term value; I get it. He is a win-now target and a damn good one.
Lockett offers a rare upside for a smaller wide receiver, and we have seen some huge games from him. But he is also a safe floor WR. He leads the league in open targets, he was open on 67.5% of his routes, and the next best was 62.4%. Go get Lockett late and go win that ship in Dynasty this year. He is an amazing NFC target based on his value!
Arizona Cardinals – RB – Keontay Ingram.: ADP 237 (RB71)
There is a lot of talk about how James Conner will get the ball a billion times. A few issues with this. First, Kyler Murray will not be there for most of the season. This is going to be a bad team and a low-scoring offense. Second, Kliff Kingsbury is gone, and we don't know what this new offense will look like.
You can't use recent offensive philosophy and trends to predict. Third, Conner has a long history of injuries and not staying healthy. If he gets 30 touches a game, how long can he last? Currently, Ingram is the handcuff and could get the opportunity to fight for that future role. He is basically free. Go check your waivers.
New Orleans Saints – WR – Rashid Shaheed: ADP 187 (WR73)
The 2022 rookie WR class was way better than advertised. We saw some great rookie seasons from Chris Olave and Garrett Wilson. We saw some really promising things from Drake London, George Pickens, Christian Watson, Jahan Dotson, and Treylon Burks. Greg Dortch surprised us and became a household name in fantasy football.
Quietly Rashid Shaheed was also really good, with 3.31 fantasy points per target. He caught 28 of his 34 targets; he also had four rushes with one rushing touchdown. The return of Michael Thomas has buried his cost; go stash him in Dynasty.
Tampa Bay Buccaneers – TE – Cade Otton: ADP 230 (TE31)
The Buccaneers have quickly gone from the Super Bowl to the Caleb Williams sweepstakes. It doesn't look good, and it is hard to find too much to be excited about. Undrafted free agents Sean Tucker and Rakim Jarrett could make this list; they are both really cheap rookie picks.
Tucker is in the fourth, and Jarrett is undrafted. But Cade Otton is a player that showed promise in his rookie year. Tight ends are hard to find, and it usually takes two years for them to cook. Otton is a talented prospect that is a solid stash now while they figure out this quarterback situation.
Atlanta Falcons – RB – Cordarelle Patterson: ADP 254 (RB77)
Tyler Allgeier is also becoming quite valuable, but Cordarelle Patterson might be on your waivers soon. Patterson is interesting; he could be a cap casualty here soon. He could gain value quickly in the right situation. This is a super deep cut, and I would have to have a pretty big bench to make this move. But there really aren't many other values here.
Kyle Pitts, Bijan Robinson, and Drake London are far from values right now. Desmond Ridder is also in the top 100. He is pick 82 between Amari Cooper and Terry McLaurin in Superflex Rookie Startup ADP.
Carolina Panthers – WR – Adam Thielen: ADP 178 (WR69)
The Panthers have patched together a team for Bryce Young. They signed D.J. Chark, Hayden Hurst, and Adam Thielen. They drafted Jonathan Mingo, and last year they traded for Laviska Shenault. We don't know how this group will be deployed, but as of now, Thielen is projected to be working the slot.
This is a great spot for him at this stage in his career, and it gives Bryce a safety blanket near the line of scrimmage. This team does not have a true WR1, and Thielen could find himself heavily targeted this year. At WR69, it is worth the shot in Dynasty.