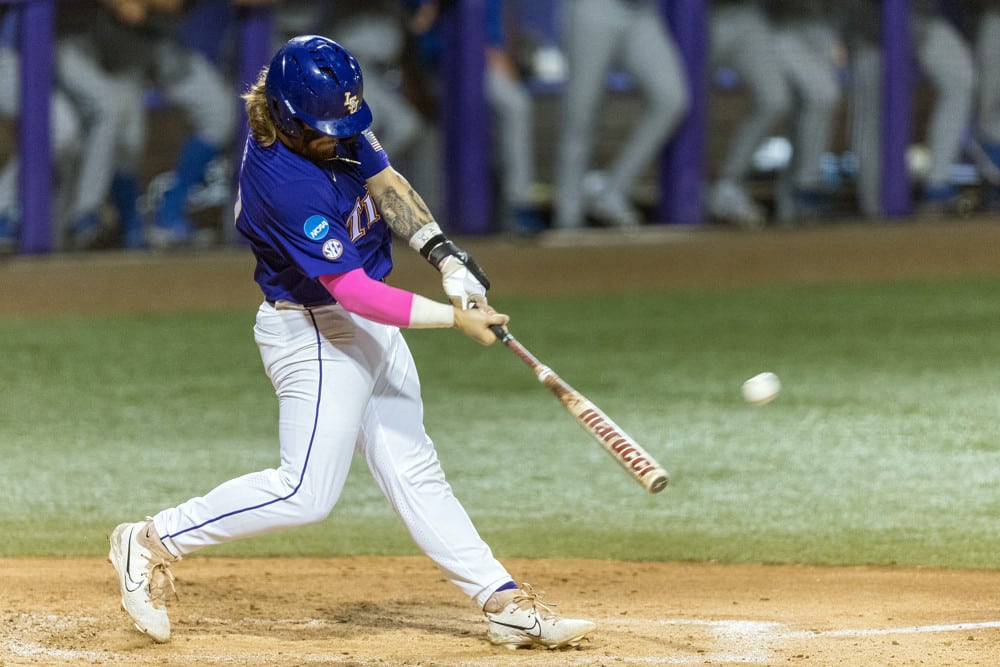 LSU Baseball fans have been living it up in Omaha, Nebraska, over the last week. The Tigers are taking over the bar scene and on the field in the College World Series. Some of the credit needs to go to the Transfer Portal and to LSU booster and Raising Canes Founder/CEO Todd Graves.
The unanimous #1 team in the preseason has lived up to the hype and then some. Wednesday night, more than two million people witnessed the Transfer Portal and NIL at its best. LSU defeated Wake Forest in walk-off fashion 2-0 after a Tommy White home run. That came after Paul Skenes pitched eight scoreless innings, followed by three scoreless innings from Thatcher Hurd.

More than Jell-O Shots: How Todd Graves is Helping LSU Earn Money on and Off the Field
LSU Baseball Dominated The Transfer Portal
LSU head coach Jay Johnson has been rebuilding programs his whole career. Johnson was with San Diego as an assistant, where he helped the program appear in six NCAA Tournaments in his eight seasons. Then he helped turn around both Nevada and Arizona before LSU. Nobody hammered the Transfer Portal as hard or as well as Johnson and LSU did prior to the 2023 season. Not to discredit Johnson, but the Transfer Portal has made rebuilds much easier.
The Stars Of The Game
LSU brought in the 2022 National Freshman of the Year, Tommy White, from NC State. He broke the All-Time NCAA Freshman home run record and earned the nickname "Tommy Tanks" during the year with 27 tanks. This season Tommy White is hitting .370 with 100 RBI and 23 HR. He has been tremendous providing protection in the lineup behind Dylan Crews.
Two-time All-American two-way star Paul Skenes jumped ship from Air Force to LSU. The Tigers did amazing work in transforming Skenes into a true starting pitcher. Skenes' fastball has jumped up nearly ten mph. The 6'7 RHP also credits the program's nutrition and sleep regimens with helping him truly evolve his game. In the Wake Forest CWS game, Skenes punched out nine and broke the All-Time SEC single-season strikeout record (209).
Both Thatcher Hurd and Christian Little were also highly coveted Transfer Portal gets for LSU. Little, from Vanderbilt, didn't live up to expectations. Hurd, from UCLA, overcame an up-and-down season to thrive as the Tigers third best pitcher in the postseason. On the season, Hurd has a 5.97 ERA, but lately, he has stepped up his game in the biggest moments. The three-inning masterclass against the nation's best offense in Omaha under the bright lights would highlight that.

LSU's Fanbase Is Spending The Most Money In Omaha Too
After the game, fans that were in Omaha for the College World Series hightailed over to Rocco's Pizza. The downtown bar holds a Jell-o Shot Contest where LSU fans have already embarrassed the competition. Raising Canes Founder and CEO Todd Graves' big purchase pushed LSU passed the original Rocco's record, but Tigers fans haven't stopped.
The Guinness World Record for Largest Round of Shots Bought was set in 1983. Merle Haggard bought a round of 5,095 shots for Billy Bob's a concert hall and bar in Fort Worth, Texas. Monday, June 19th, Graves bought 6,000 Jell-o shots at five bucks a pop for LSU fans. It snapped a 40-year-old record held by country music superstar Merle Haggard. Also, it allowed the Sports Gambling Podcast to cash a bet.
Portions of the proceeds from Rocco's Jell-o Shot Challenge go to Food Bank for the Heartland in Omaha and local food banks of choice from all eight College World Series participants. Through the first seven days of the College World Series, more than 50,000 Jell-o shots have been purchased. My math is a bit sketchy, but that's more than 250 Grand, with portions divvied out to food banks in America.
Are There Morals To The Transfer Portal And NIL?
At this stage, the Transfer Portal is still relatively new, and the NCAA is figuring out how to police it. How it works is pretty simple, and there are two common methods of Transfer Portal use. First, a player may outperform his program's ceiling and look to transfer to a bigger program. The teams with a lot of money to devote to athletics reel in the biggest fish from other programs. Second, cast-offs from power schools jump into the portal, looking for new opportunities.
This is the case in a lot of NCAA sports. Is it good or malpractice? Hopefully, without tampering and NIL driving all decisions, it can be both. Parity is good in college sports. The Transfer Portal can give, but it can also take. This year's College World Series field of eight teams has some really good examples.
LSU and Florida both landed top-tier talent from the Transfer Portal. The Gators picked up sure-fire first-round pick Hurston Waldrep to solidify their starting rotation. Oral Roberts also used the Transfer Portal to improve their team and get to Omaha by grabbing some big recruits out of high school players who were leaving their former programs or pulling in some Junior College/DII/DIII studs.
First baseman Matt Hogan previously attended Vanderbilt and South Carolina. Catcher Jacob Godman transferred in from NC State. Designated hitter Drew Stahl came from Minnesota. The Golden Eagles brought in a number of players from Eastern Oklahoma State, including their centerfield star Jonah Cox and second baseman Omaha Hero Blaze Brothers.
The College World Series Finals
The star-studded preseason favorite LSU baseball team will take on Florida in the College World Series finals this weekend. The National Championship series features each of the top 3 2023 MLB Draft prospects. No. 1 Dylan Crews LSU, No. 2 Paul Skenes LSU, and No. 3 Wyatt Langford UF. Also, the three nominees for the Golden Spikes Award (College Baseball's Heisman) will also play for the National Title. Those three nominees are Crews and Skenes from LSU and Jac Caglianone from Florida. This CWS Championship series should be one for the books.
The College Baseball Experience
If you're interested in more College World Series picks, tune into SGPN's The College Baseball Experience, where Noah Bieniek and Colby Dant will run through everything that is being offered by sportsbooks. Oh and maybe we'll talk some more about jell-o shots and teams like LSU being dominant.
RELATED CONTENT