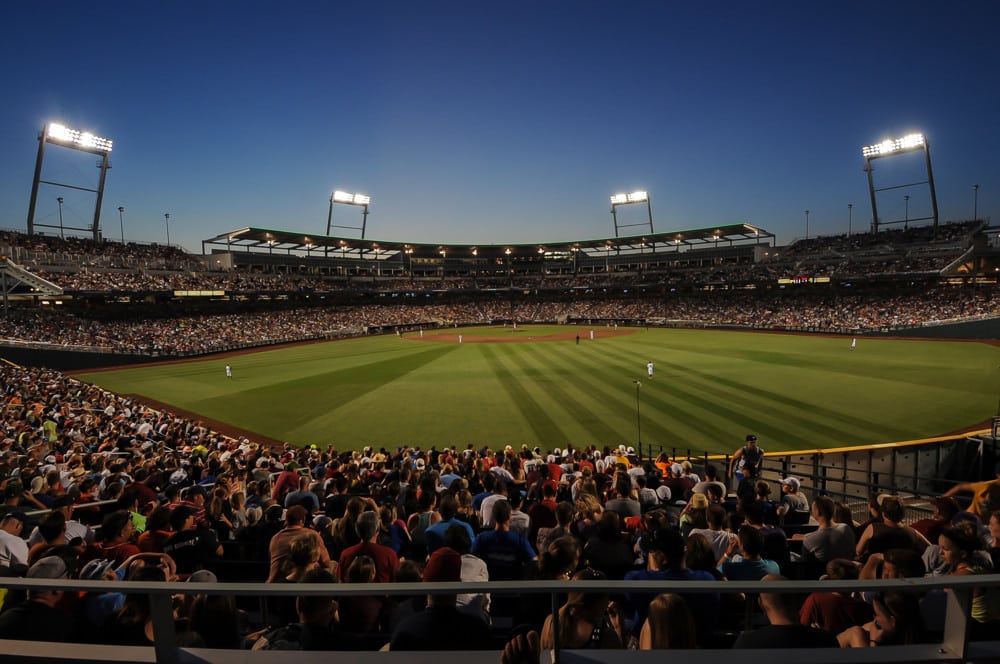 The 2023 NCAA Baseball Tournament is now in its home stretch. On Friday, June 16th, the College World Series will begin, and the field of eight teams is nearly perfect. We have the number one overall seed, preseason favorites, a clear dark horse, and our first 4-seed since 2012. Then, add in plenty of individuals that are valued MLB Draft prospects.
Omaha demands attention, and this year the CWS will get it. Now let's have some fun and power rank the teams. Below are my remaining NCAA Baseball rankings, along with their College World Series betting odds.

There are two 4-team double-elimination College World Series brackets.
Bracket #1: Florida, Virginia, TCU, Oral Roberts
Bracket #2: Wake Forest, Stanford, LSU, Tennessee
Once a winner of each bracket is determined, the College World Series finals will take place in a best-of-three series format.
If you're looking for daily game-by-game picks and bets, I strongly encourage you to check out the Sports Gambling Podcast Network's "The College Baseball Experience." It's a podcast that uploads daily betting shows, giving analysis on every game throughout the NCAA Baseball Tournament. Oh, I host it!
---
2023 College World Series Betting Odds: NCAA Baseball Power Rankings
1. Wake Forest (+275 DraftKings)
Strengths
Well, quite literally, the Wake Forest Demon Deacons are the most complete team in college baseball this year. On the pitching side, Wake Forest has the best Team ERA in the country (2.84), only allowing 6.61 hits per game (1st), allowing 2.74 walks per game (2nd), striking out 12.2 batters per game (1st), a 1.04 WHIP (1st), and the most shutouts thrown by a team all season (1st).
At the plate, there's a reason why the Demon Deacons have been nicknamed "Rake Forest" over the years. The Deacs are the highest-scoring team in the field of 8, scoring 9.4 runs per game (4th). Wake Forest also has a .309 team batting average (19th), a .432 on-base percentage (3rd), and a .556 slugging percentage (6th).
Lastly, Wake is blasting 2.08 home runs per game. That's the second most of the eight remaining teams and 3rd in the country; however, they aren't reliant on the long ball. Traditionally Charles Schwab Field in Omaha plays as a very big park, so you need to drill line drives into the gaps. The Demon Deacons have by far the smallest home ballpark, but they averaged 2.06 doubles per game which is 65th in the country and 4th out of 8 Omaha attendees.
Weaknesses
It's a big stretch for anybody to try and poke holes into this Wake Forest ballclub on the field. My biggest question for Wake Forest will be how they handle the hostile environment. Being a small private school, their fanbase is not as large as LSU's or Tennessee's, who are in Wake's bracket. Also, they lack any experience in the College World Series. The last time Wake Forest's program got to the College World Series was back in 1955 (they won the National Championship).
Key Hitters
1B Nick Kurtz: .370 AVG, 1.361 OPS, 69 RBI, 75 R, 24 HR, 10 2B
3B Brock Wilken: .357 AVG, 1.352 OPS, 80 RBI, 88 R, 30 HR, 15 2B
2B Justin Johnson: .341 AVG, 1.092 OPS, 76 RBI, 60 R, 16 HR, 15 2B, 7 SB
Key Pitchers
SP1 Rhett Lowder: 15-0, 1.92 ERA, 131 K, 23 BB, 108 IP
SP2 (LHP) Josh Hartle: 11-2, 2.80 ERA, 131 K, 20 BB, 96.1 IP
RP (LHP) Sean Sullivan: 5-3, 2.64 ERA, 108 K, 18 BB, 64.2 IP
2. Florida (+450 DraftKings)
Strengths
Florida's power pitching and power hitting are their biggest strengths against the rest of the teams in the College World Series. In their last 16 games, the Gators starting pitchers have an ERA of 2.40. The pitching staff is 7th in the nation striking out 10.8 batters per game.
In the batter's box, Florida is top-10 in slugging percentage (.546) and home runs per game (1.98). Lastly, head coach Kevin O'Sullivan has been around the block in Omaha, Nebraska, a few times. O'Sullivan has brought Florida to the College World Series in 11 of the past 14 years.
Weaknesses
When you live and die by power on the mound at the plate, you also sacrifice accuracy and contact, respectively. The Florida pitching staff's strike-throwing ability is not up to par with the rest of the teams in Omaha. The Gators staff has walked 10.7% of batters they've faced this season which is 7th out of 8 Omaha attendees. There are also a lot of swings and miss in the Gators' offensive game. Striking out 19.5% of the time also slots Florida 7th out of 8 teams.
Key Hitters
LF/CF Wyatt Langford: .373 AVG, 1.267 OPS, 48 RBI, 76 R, 18 HR, 24 2B, 9 SB
1B Jac Caglianone: .336 AVG, 1.168 OPS, 84 RBI, 70 R, 31 HR, 13 2B
SS Josh Rivera: .362 AVG, 1.098 OPS, 68 RBI, 66 R, 17 HR, 9 2B
Key Pitchers
SP1 Brandon Sproat: 8-3, 4.69 ERA, 120 K, 40 BB, 96 IP
SP2 Hurston Waldrep: 9-3, 4.15 ERA, 142 K, 48 BB, 93.1 IP
RP Brandon Neely: 13 SV, 3.66 ERA, 64 K, 17 BB, 46.2 IP
3. Virginia (+600 DraftKings)
Strengths
Virginia's offense is top-notch. The Cavaliers have led the country in batting average for multiple months this season (.335). 9.8 Runs per game for this club is good for 8th in the country and 3rd out of the eight CWS teams. UVA hitters excel at driving the gaps. The Cavs have hit 2.68 doubles per game which is also the best in the country. The lineup isn't prone to striking out either (14.9% K-rate), by far the lowest among the field.
Weaknesses
Compared to the rest of the field, the clear weakness for Virginia is their power-hitting. In saying that, historically, teams that have a great offense but aren't home-run-dependent have done quite well in Omaha. Hitting 1.3 home runs per game certainly isn't terrible, but in this year's field, it slots them 8th, and their slugging percentage (.531) is 7th of the 8 CWS teams but 17th in the nation.
Key Hitters
C Kyle Teel: .418 AVG, 1.162 OPS, 69 RBI, 67 R, 13 HR, 23 2B
3B Jake Gelof: .337 AVG, 1.166 OPS, 89 RBI, 71 R, 23 HR, 23 2B
1B Ethan Anderson: .377 AVG, 1.115 OPS, 65 RBI, 69 R, 14 HR, 25 2B
Key Pitchers
SP1 Nick Parker: 8-0, 3.88 ERA, 78 K, 21 BB, 75.2 IP
SP2 (LHP) Connelly Early: 12-2, 3.06 ERA, 98 K, 20 BB, 82.1 IP
SP3 Brian Edgington: 9-3, 3.47 ERA, 92 K, 21 BB, 85.2 IP
4. LSU (+600 DraftKings)
Strengths
To start, LSU has a very potent offense. The Tigers have the best slugging percentage in the field at .569 (2nd) while having a .438 on-base percentage (2nd) and hitting 2.11 home runs per game (2nd). LSU is the 2nd highest-scoring team in Omaha this year, putting up 9.3 runs per game (5th). Each of the top two 2023 MLB Draft Prospects play for LSU as well, Dylan Crews and Paul Skenes. That'll play.
Weaknesses
Paul Skenes has been the most dominant starting pitcher in the country this year. After Skenes, the Tiger's pitching staff has some question marks. From losing their projected 2nd best starting pitcher Grant Taylor in the preseason to losing their best two relievers during the season, Chase Shores and Garrett Edwards, the pitching staff for LSU has been hit by the injury bug hard.
This squad also carries very heavy expectations. Head coach Jay Johnson brought in the #1 Transfer Portal and #1 Freshman recruiting classes. How will the Tigers handle the weight now that they've made it to college baseball's Mecca once again?
Key Hitters
CF Dylan Crews: .433 AVG, 1.303 OPS, 64 RBI, 89 R, 17 HR, 14 2B
3B Tommy White: .377 AVG, 1.189 OPS, 97 RBI, 59 R, 22 HR, 22 2B
C Hayden Travinski: .427 AVG, 1.374 OPS, 29 RBI, 27 R, 10 HR, 5 2B (Only 34 games)
Key Pitchers
SP1 Paul Skenes: 12-2, 1.77 ERA, 188 K, 18 BB, 107 IP
SP2 Ty Floyd: 7-0, 4.50 ERA, 93 K, 32 BB, 78 IP
SP3 Thatcher Hurd: 6-2, 6.49 ERA, 71 K, 34 BB, 51.1 IP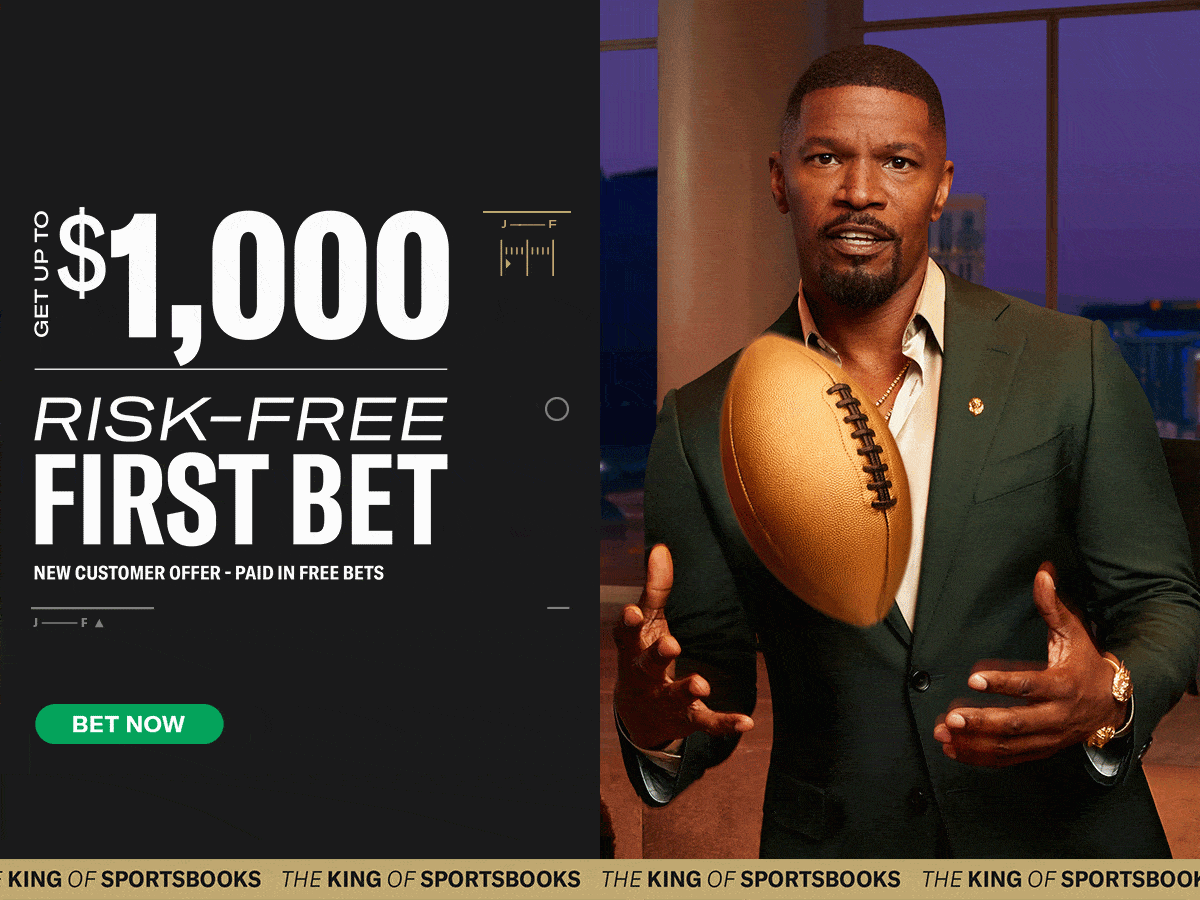 5. Tennessee (+800 FanDuel)
Strengths
Tennessee has one of the most talented pitching staffs in the country. From top to bottom, the Volunteers have kids gassing high 90s and multiple arms touching triple digits with nasty wipeout sliders. As a team, they have a 3.57 ERA that's 2nd in the country, only behind Wake Forest. The Vols have a 1.15 WHIP (2nd), striking out 11.9 batters per nine innings (2nd) while only walking 2.89 per game (4th). Tennessee's bullpen has been incredible, with just a 0.76 ERA (2 ER) in 22 NCAA Tournament innings pitched.
Weaknesses
For most of this season, Tennessee's offense has been dreadful. The Volunteers have the worst scoring offense putting up just 7.6 runs per game (54th). Tennessee's lineup is the definition of "home run reliant." During the regular season, they benefit from a small home park that is only 390 feet to centerfield. The Chuck will swallow up a lot of the baseballs that this team will be used to seeing as homers. The worst team batting average (.284) of the 8 CWS teams is also a red flag.
Lastly, there's one setback when you have a pitching staff that thrives from velocity. A well-known saying in the baseball world, "The faster the ball comes in, the harder it goes out," applies to Tennessee, allowing the 2nd most home runs per game in the field. Then again, homers aren't the winning formula in Omaha, so this shouldn't hurt them much.
Key Hitters
LF Jared Dickey: .325 AVG, .924 OPS, 51 RBI, 54 R, 12 HR, 6 2B
2B Christian Moore: .313 AVG, 1.085 OPS, 48 RBI, 66 R, 17 HR, 12 2B
3B Zane Denton: .274, .997 OPS, 58 RBI, 42 R, 16 HR, 9 2B
Key Pitchers
SP1 Andrew Lindsey: 3-3, 2.79 ERA, 69 K, 18 BB, 67.2 IP
SP2 Chase Dollander: 7-6, 4.50 ERA, 118 K, 28 BB, 86 IP
SP3 Drew Beam: 9-4, 3.78 ERA, 79 K, 21 BB, 78.2 IP
6. TCU (+850 FanDuel)
Strengths
If there was one team's game that suits Charles Schwab Field in Omaha best, it's TCU. The Horned Frogs' home ballpark, Lupton Stadium, is actually bigger in the power alleys than The Chuck. TCU's biggest strength is their baserunning. With 2.17 stolen bases per game (13th), it's by far the most in the field.
Small ball plays well in big ballparks, and if TCU is able to take the extra 90 feet and work in some bunts, I think that is key to their success in the College World Series. In their last 21 games, the Frogs are 19-2 with a .350 team batting average and a .995 OPS. TCU's bats are HOT.
Weaknesses
TCU has Omaha's 2nd worst pitching staff (4.73 ERA 51st). Their Ace is a true freshman, and outside of their top 4]four arms, the staff's depth is bare.
Key Hitters
3B Brayden Taylor: .314 AVG, 1.096 OPS, 69 RBI, 75 R, 23 HR, 14 2B
1B Cole Fontenelle: .347 AVG, 1.099 OPS, 52 RBI, 63 R, 13 HR, 21 2B
2B Tre Richardson: .315 AVG, .856 OPS, 59 RBI, 56 R, 6 HR, 16 2B
Key Pitchers
SP1 Kole Klecker: 10-4, 3.84 ERA, 69 K, 28 BB, 86.2 IP
SP2 Sam Stoutenborough: 5-0, 4.52 ERA, 55 K, 16 BB, 65.2 IP
RP Luke Savage: 5-3, 2.50 ERA, 23 K, 10 BB, 36 IP
7. Stanford (+1500 FanDuel)
Strengths
The Stanford Cardinal is the inverse of the Tennessee Volunteers. Stanford has a super-talented position group. The Cardinal is top 15 in the nation in multiple important offensive categories. 8.5 runs per game (11th), .319 batting average (9th), .546 slugging percentage (8th), 1.89 home runs per game (11th).
Weaknesses
Stanford's pitching staff has been brutal outside of their Ace, Quinn Mathews. Why has Mathews thrown +110 pitches on 14 different occasions this season? Well, it's because it is hard to trust anybody behind him. They really struggle with their control, walking 4.97 batters per nine innings. The Cardinal also has a 5.25 Team Era (128th) and a 1.55 WHIP (108th). That is just not a recipe for long-term success in Omaha.
Key Hitters
3B Tommy Troy: .397 AVG, 1.190 OPS, 58 RBI, 74 R, 17 HR, 17 R
LF Alberto Rios: .387 AVG, 1.206 OPS, 71 RBI, 69 R, 18 HR, 23 R
DH Braden Montgomery: .336 AVG, 1.078 OPS, 60 RBI, 69 R
Key Pitchers
SP1 (LHP) Quinn Mathews: 10-4, 3.60 ERA, 152 K, 39 BB, 120 IP
SP2 Joey Dixon: 7-0, 4.86 ERA, 86 K, 40 BB, 79.2 IP
RP Drew Dowd: 9-3, 4.76 ERA, 85 K, 33 BB, 62.1 IP
8. Oral Roberts (+3000 FanDuel)
Strengths
Oral Roberts has the best fielding percentage in the country (.984). Yes, defense matters, especially in college baseball. After all, these are amateur baseball players, they're not paid professionals, and defensive miscues (and walks) are very common in the college game. Plus, ORU's .323 batting average is the 2nd best in the field of 8 CWS teams.
Weaknesses
This year's College World Series field is extremely strong compared to years past. Oral Roberts comes from The Summit League. Their conference is 28th in RPI out of 30 conferences. Also, their Super Regional opponent, Oregon, was an amazing, very favorable draw for the Golden Eagles. Throughout the NCAA Tournament, Oral Roberts has won high-scoring games as their strong starting rotation on paper (3.97 Team ERA) hasn't lived up to those expectations.
Key Hitters
CF Jonah Cox: .420 AVG, 1.148 OPS, 67 RBI, 69 R, 11 HR, 16 2B
RF Matt Hogan: .332 AVG, 1.155 OPS, 70 RBI, 59 R, 18 HR, 12 2B
SS Mac McCroskey: .310 AVG, .909 OPS, 47 RBI, 59 R, 13 HR, 10 2B
Key Pitchers
SP1 Jakob Hall: 8-3, 3.56 ERA, 91 K, 15 BB, 93.2 IP
RP Cade Denton: 15 SV, 1.85 ERA, 78 K, 11 BB, 58.1 IP
SP2 Harley Gollert: 10-1, 4.30 ERA, 88 K, 31 BB, 88 IP