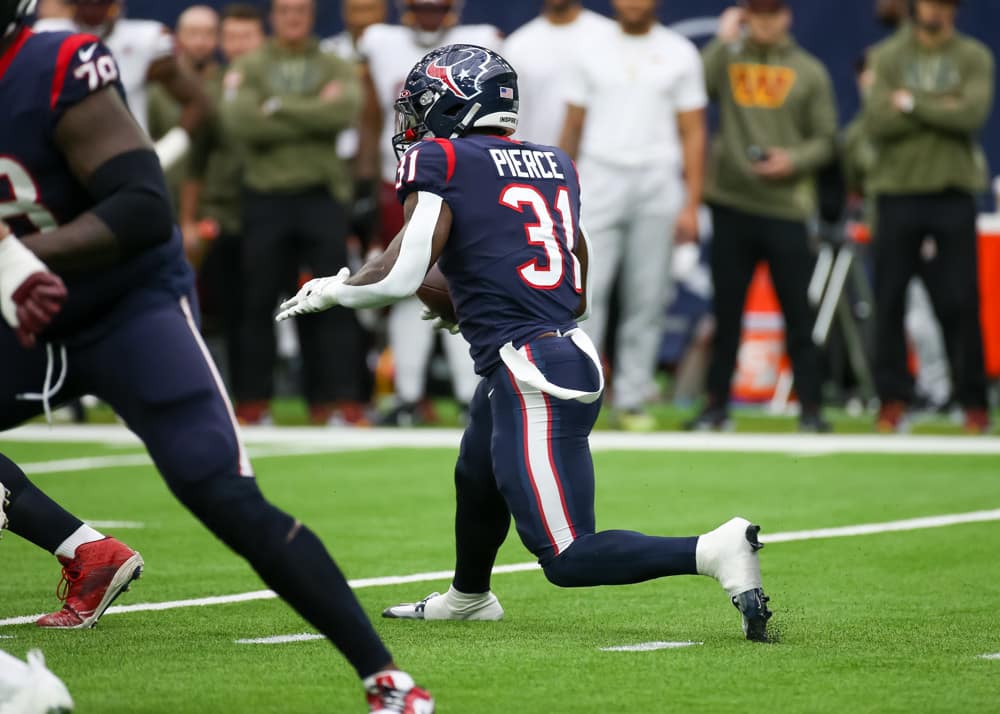 Most Rushing + Receiving Yardage NFL Futures Bets
The guys (@GamblingPodcast) break down their favorite NFL futures bets when it comes to most rushing yards and most receiving yards. They also announce this week's Real Men Of Degens Isaiah Rodgers, the Colts CB who is facing discipline for gambling on the NFL. Sean and Ryan talk George Pickens, Miles Sanders, Dameon Pierce and Chris Olave as they break down the NFL most receiving yards odds and NFL most rushing yards odds.
(10:15) NFL Rushing Yardage Leader History
Rushing yardage is largely tied to the number of carries someone is going to get. The most yards in the league is typically a young man's title, with a player under 6 years in the league often winning.
(14:30) NFL Rushing Yards Leader Odds
At 100-1, James Cook could somehow get his name in the hat if there is unfortunately an injury to Josh Allen and the Bills still try to run the ball heavy. AJ Dillon can make a run at the title if there is a departure of Aaron Jones or an injury. Brian Robinson has a chance since the Commanders seem to be all out on Antonio Gibson. He had 205 carries last year and this was after he came back from getting shot.
Javonte Williams is being talked about being back Week 1 and is at 40-1 odds, but its hard to believe he will be ready this quick. Najee fits the bill as a title winner, especially because the Steelers pound the rock which will benefit him if he stays healthy. Dameon Pierce has the offensive scheme and the youth to bring this title home and should be watched with a close eye.
Cam Akers finished out the season well last year and could carry this momentum despite the team trying to trade him last year. Miles Sanders has all of the external tools to win the title this season because of a weaker division and Frank Reich was the Head Coach when Jonathan Taylor won it in 2021. Saquon sat out one game last year but still racked up 295 carries.
(41:16) NFL Rushing Yard Leaders Bets
Sean: Miles Sanders 20-1, Dameon Pierce 30-1, Najee Harris, 30-1, James Cook 100-1
Kramer: AJ Dillon 65-1, Dameon Pierce 30-1, Najee Harris 30-1, Nick Chubb
(43:50) NFL Receiving Yardage Leader History
Similar to rushing, the number of catches is an indicator of the yardage. In recent history, only two people have won the title without leading the league in catches. No tight ends or running backs have ever won this award. A rookie has also never led the NFL in receiving yards.
(47:22) NFL Receiving Yards Leader Odds
OBJ is old now and is unlikely he can really rack the yardage for this title. Sutton is in the Sean Payton offense and can assume the Michael Thomas role but its unlikely due to the mouths in the Broncos receiver room and Russell Wilson not being good at football.
George Pickens can benefit from a Kenny Pickett step in the right direction and jump his production. Michael Pittman Jr has the talent to win this title but his uncertain quarterback play knocks him down. DeAndre Hopkins doesn't have a home yet and it is getting unlikely that where he goes will be an environment where he can get league leading yardage.
Davante Adams goes against the age theory but the situation in Vegas is shaky. Last year Garrett Wilson was 15th in yards with a quarterback carousel. Of the top four, Jefferson is likely to do the best for his situation and he will be playing in a dome.
(1:13:59) NFL Receiving Yard Leaders Bets
Kramer: Garrett Wilson 20-1, Tee Higgins 30-1, Calvin Ridley 45-1, George Pickens 80-1
Sean: AJ Brown 16-1, Chris Olave 30-1, Calvin Ridley 45-1, George Pickens 80-1
Podcast Transcription