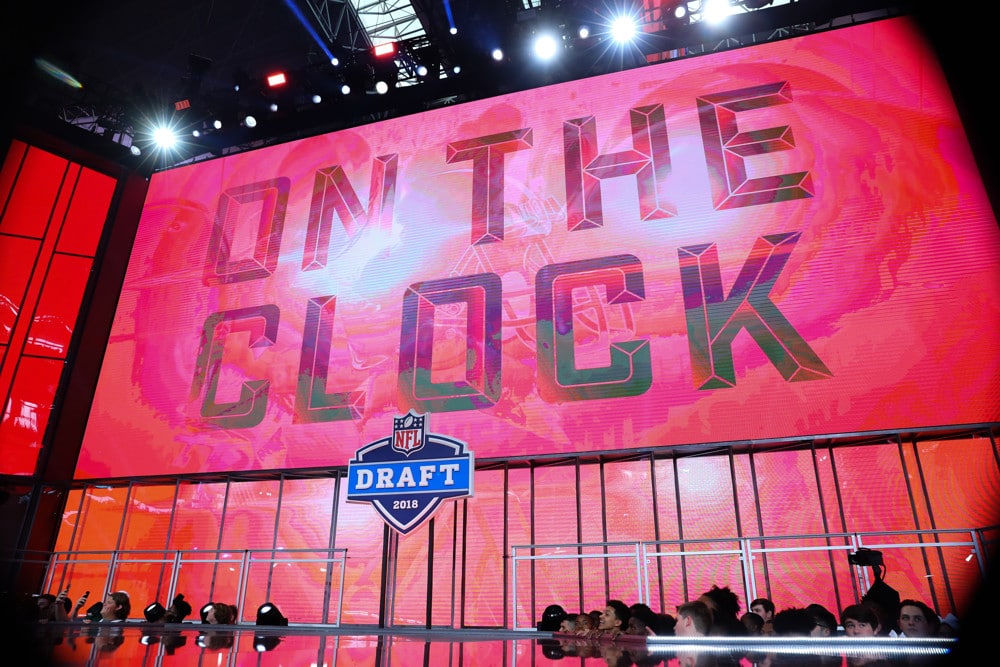 The 2023 NFL season is fast approaching, and dynasty fantasy football season is in full throttle. With so many new leagues starting, I wanted to dive into my favorite tips and tricks to take into every dynasty fantasy football draft. The first couple of years of a dynasty league can be won and lost on draft day, and these strategies should be keys to success for every fantasy football manager.

MORE SGPN FANTASY FOOTBALL CONTENT
Follow SGPN Fantasy Football on Youtube
Dynasty Fantasy Football Draft Strategies
Draft for Value, Not for Need
Fantasy managers should always take the best player available in a dynasty draft. Later, a trade can be made to fill a positional need or a last starting spot. Fantasy managers, instead, should focus on accumulating as much capital as possible during the initial dynasty draft.
This will give you a solid base of capital to build off of for years rather than reaching on a tight end or running back. People forget fantasy football teams are only scoring points a short time of the year. The rest of the time, we are playing the market, and managers should treat their team like their bank account. Focus on accumulating as much value as possible and worry about who is starting come August.
The Number of Starting Spots is Huge
The number of starting spots in a dynasty league greatly impacts a player's value in a draft. Less starting spots will add value to the quarterback and tight end positions. This is because they comprise a larger percentage of the starting lineup and should have more value in a draft as a result.
More modest producers are less likely ever to enter your starting lineup too. If a fantasy manager can only start two wide receivers and a single flex, then those ranked outside the top 36 at the position aren't ever likely to be strong contributors. Along with quarterback and tight end, draft backup running backs in these settings too, who are an injury away from being an immediate flex play.
League Settings are Critical
There seems to be a fantasy manager in every draft who goes
"I didn't know it was tight end premium."
Don't be this person, as it is so easy to take five minutes to familiarize yourself with the league settings. Whether or not the league is PPR, TE Premium, Superflex, or has points per carry settings will have a huge impact on someone's fantasy value. For instance, a .25 points per carry premium could give a player such as Derrick Henry an extra five points per game.
Pay attention, as fantasy managers should use any added quirks a league has to their advantage. Unfortunately, ADP lists on sites won't adjust to more unique settings, and players can fall in drafts as a result.
My 3 Dynasty League MUSTS:

(Disclaimer: This is not for all fantasy football, just Dynasty)

1. Buy-ins are crucial to ensure investment

2. Startup trades are dumb and could ruin league balance from the jump

3. Situational vetoes could be necessary for longterm league health

— Toofpete (@JoshBeardRadio) May 22, 2023
Be Active
Even in a slow draft, fantasy managers shouldn't allow a chance to make their team better pass them by. The first couple of years of a dynasty league can be won and lost in the initial draft. However, with trades, a savvy manager can come away from a draft with a treasure chest of value.
There are a lot of bad trades that happen in nearly every dynasty draft. I don't encourage anyone to send out bad trade offers. However, if someone's going to make a mistake on draft day, you might as well make it to your benefit.
This also allows managers to better understand the decisions and tendencies of other managers in the league. This can affect trade decisions and whether a manager wants to move or stay put in a draft spot.
Tight Ends are a Trap
Every season dynasty fantasy football managers tell themselves that this year will be different for the tight end position. But, unfortunately, each season, the position ends up disappointing. Most players are largely touchdown dependent, and there are very few consistent contributors.
Players such as Mark Andrews, George Kittle, Darren Waller, T.J. Hockenson, and Kyle Pitts have been drafted very early in dynasty drafts in recent years. While there have been some bright spots, they have largely disappointed as early dynasty selections. Focus on other positions, and build the tight end room in the double-digit rounds of drafts.
Handcuff Running Backs are Key
Rather than draft wide receivers later in drafts that aren't going to make a difference at a saturated position, fantasy managers should target backup running backs instead. These players are just an injury away from automatically being a top 30 player at the position. Then, when health becomes a factor later on in the season, fantasy managers will be happy they had these handcuffs available.
*Supeflex Note* – Two Elite Quarterbacks
This is only for Superflex drafters, but I love beginning with two elite quarterbacks. The best signal callers have long careers and score the most fantasy points by position. Due to the fact, there are so many productive players, though, they are devalued in 1QB formats. However, that is mitigated by the ability to start two quarterbacks.
The difference between the best such as Jalen Hurts, and an average QB2 was around ten fantasy points per game last year. Even a mid-tier QB1 added around five to six more fantasy points. So there is ultimately a large advantage to be had for those who have two strong signal callers.
As a result, it is nearly impossible to win in Superflex leagues without two quarterbacks. There is also a lot of roster turnover between average and below-average players. Without two strong starters, fantasy managers also run the risk of having to find a new quarterback every off-season, which is notoriously a very difficult position to trade for in Superflex leagues.