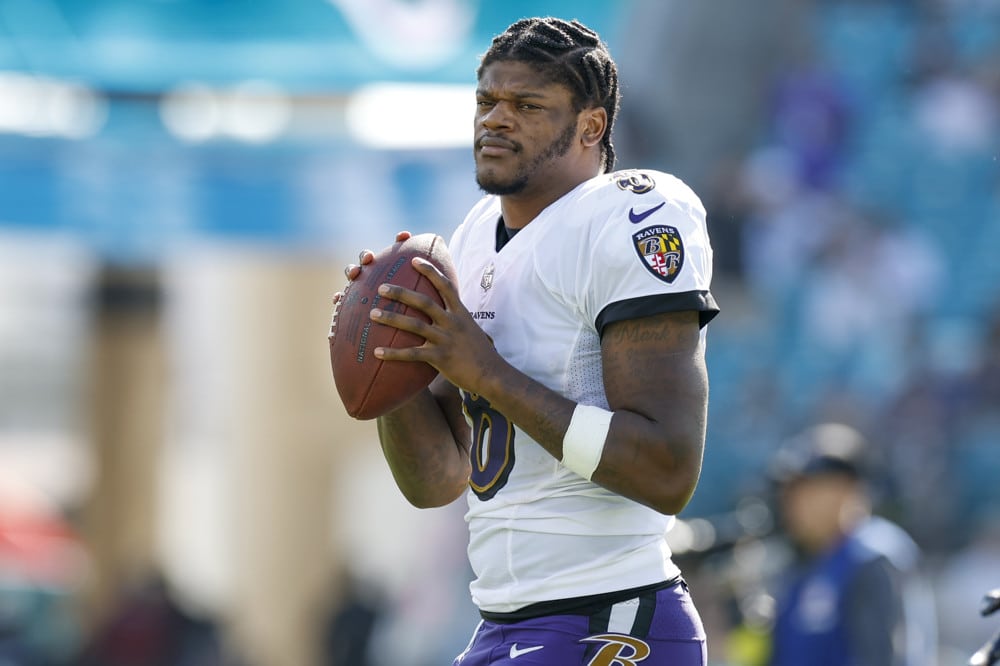 NFL MVP Picks + Derek Stevens

The guys (@GamblingPodcast) recap the Celtics blowout loss and then are joined by Derek Stevens (@DerekJStevens) from Circa Sports to talk Circa Survivor, the As coming to town and the Super Bowl in Las Vegas. Then they give out their 2023 NFL MVP picks.
(2:00) Celtics vs Heat Recap
Jimmy Butler is taking the world by storm as he leads the Heat to another win over the Celtics to bring the series to 3-0. The bet of Heat to win the series made last week is looking very strong as the Celtics are looking very weak.
(8:32) Nuggets vs Lakers Pick
Every time the Lakers have been down 3-0, they have been swept. Nuggets +135 on the ML tonight looks quite promising.
(8:55) Derek Stevens Interview
Derek, along with being the owner of Circa Las Vegas, is known for his laminated schedule grades which he says will be down by next week. He discussed how the Raiders are going to have some really good home games due to the fan bases that will be traveling to Vegas. This along with hosting the Super Bowl will create massive tourism revenue for the city.
The Lions are a little bit of a public darling right now which is unusual for them but they will have ample opportunity early on to prove if the hype is valid. A number of other teams have plenty of money flooding in on them such as the Seahawks and Ravens, two exciting teams.
The Oakland A's coming to town is going to create good revenue from tourism as well since fans would love to take a road trip to see their team play and also bet.
(34:31) NFL MVP Picks
This award is essentially a quarterback award since one has won each year since 2007. The expectations are just too high for other positions as for example running backs probably need to break the single season rushing touchdown record just to get respect. Christian McCaffrey at 200-1 is worth to look at since the quarterback play will definitely be questionable for the 49ers.
For a defensive player, they likely need to have more than 22 sacks or score at least 6 touchdowns to win the award.
The NFC is more wide open for a player to dominate the conference which might make it easier to pick someone to go off. Justin Jefferson is another non-quarterback to consider since he is a stud and his quarterback play probably won't hinder his ability nor will it overshadow him, and the media doesn't love Kirk much anyway.
Derek Carr is 40-1 and for him to win MVP, a lot more needs to happen than what is valued at 40-1. Geno Smith has arguably fooled the media into loving him despite a bad second half of the season and he is still priced at 30-1. Justin Fields has an opportunity to win if he can put up the points to outpace his poor defense. However, an MVP usually has 13 wins and it is hard to imagine the Bears winning this many games.
As the odds dwindle, the likelihood stays the same. Of all the favorites with odds under 20-1, Trevor Lawrence seems like the most exciting bet as he has the progression to really leap into an MVP season. Lamar Jackson also deserves his flowers as he now has weapons and takes the Ravens to that next level.
(1:11:37) 2023 NFL MVP Picks
Kramer: Tyreek Hill 150-1, Sam Darnold 100-1, Daniel Jones 75-1, Lamar Jackson 15-1
Sean: Christian McCaffrey 200-1, Matt Stafford 60-1, Jalen Hurts 12-1
2023 NFL MVP Odds
| | |
| --- | --- |
| Team | Odds |
| Josh Allen | 700 |
| Joe Burrow | 700 |
| Patrick Mahomes | 700 |
| Justin Herbert | 900 |
| Jalen Hurts | 1200 |
| Lamar Jackson | 1500 |
| Aaron Rodgers | 1600 |
| Trevor Lawrence | 1600 |
| Dak Prescott | 1600 |
| Tua Tagovailoa | 1600 |
| Justin Fields | 2000 |
| Deshaun Watson | 2500 |
| Jared Goff | 2500 |
| Jordan Love | 3000 |
| Geno Smith | 3000 |
| Russell Wilson | 4000 |
| Derek Carr | 4000 |
| Kenny Pickett | 4000 |
| Brock Purdy | 4000 |
| Kirk Cousins | 5000 |
| Trey Lance | 5000 |
| Matthew Stafford | 6000 |
| Mac Jones | 6000 |
| Sam Howell | 7500 |
| Daniel Jones | 7500 |
| Ryan Tannehill | 10000 |
| Kyler Murray | 10000 |
| Justin Jefferson | 10000 |
| Jimmy Garoppolo | 10000 |
| Sam Darnold | 10000 |
| Derrick Henry | 15000 |
| CJ Stroud | 15000 |
| Bryce Young | 15000 |
| Tyreek Hill | 15000 |
| Cooper Kupp | 15000 |
| Desmond Ridder | 15000 |
| Bailey Zappe | 15000 |
| Deebo Samuel | 15000 |
| Ja'Marr Chase | 15000 |
| Anthony Richardson | 15000 |
| Christian McCaffrey | 20000 |
| Zach Wilson | 20000 |
| Saquon Barkley | 20000 |
| Stefon Diggs | 20000 |
| T.J. Watt | 20000 |
| Micah Parsons | 20000 |
| Myles Garrett | 20000 |
| Aaron Donald | 20000 |
| Davante Adams | 20000 |
| Nick Bosa | 20000 |
| CeeDee Lamb | 20000 |
| Travis Kelce | 20000 |
| Bijan Robinson | 20000 |
| Aidan Hutchinson | 24000 |
| Carson Wentz | 30000 |
| George Kittle | 30000 |
Podcast Transcription