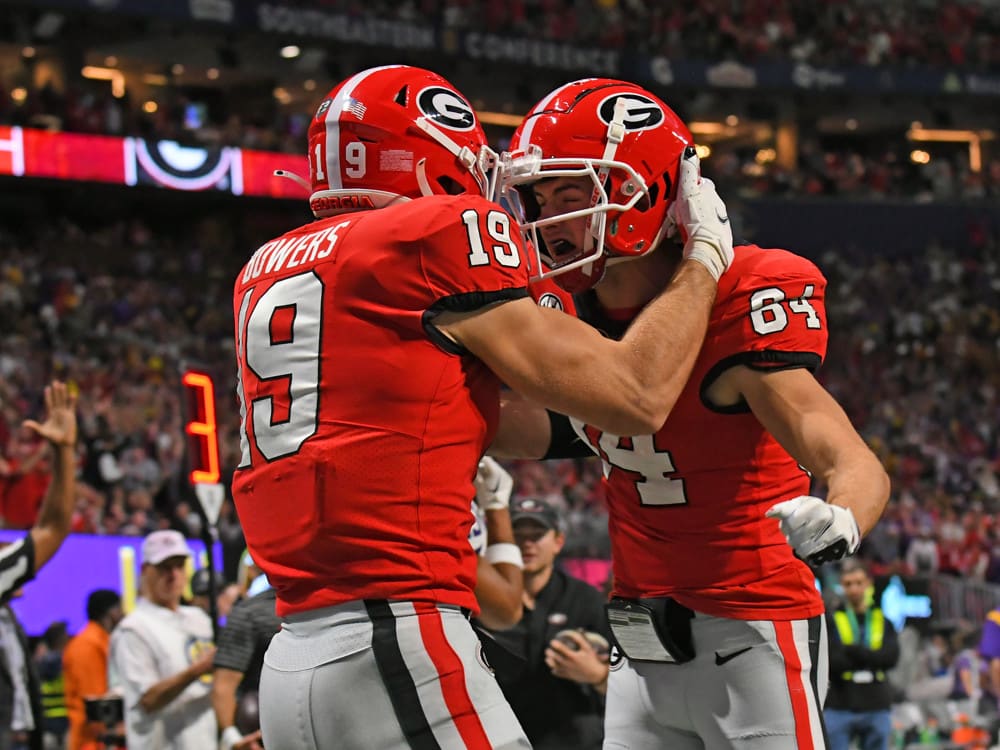 Is it too early for a college football top 25? Probably – but that's not going to stop us! Georgia may have been a favorite last year, but no one expected to see the Horned Frogs in the National Championship. Will Georgia threepeat? Who will be this year's TCU? Here's an early look at our top 25.
Go here for more NCAAF Content!
An Extremely Early College Football Top 25
1. Georgia Bulldogs (National Championship Odds: +250)
The reigning national champions head into the 2023 season with the country's second-best recruiting class. Even so, a decision must be made about who will be the starting quarterback. Carson Beck and Brock Vandagriff are both vying for the role, hoping to lead the team this coming season. However, the new recruits, edge rusher Damon Wilson from Venice and linebacker Raylen Wilson from Tallahassee, both five-star prospects, will strengthen the defense and make an impact.
The Bulldogs will have several returning game-changers from last year. This includes Ladd McConkley at wide receiver and Brock Bowers at tight end. They made crucial plays in the championship run, and most of the offensive line is coming back to protect the quarterback. However, Georgia's weak schedule may hurt its resume. Three out of the first four games are home contests against Tennessee Martin, Ball State, and UAB. The first significant challenge will be a visit to Auburn in September.
2. Alabama Crimson Tide (National Championship Odds: +500)
Despite last season being an off-year for Nick Saban's Crimson Tide, their top-ranked recruiting class on both sides of the ball and three four-star transfers give them an excellent chance to return to glory. In addition, seven five-star recruits, led by safety Caleb Downs from Mill Creek in Hochton, GA, and offensive tackle Kadyn Proctor from Southeast Polk in Des Moines, IA, are set to join the team.
Although Alabama is only bringing back nine starters from last year, they have a deep pool of talented players, and the "next man up" is expected to be ready to play. Keep an eye on seniors Jace McClellan at running back and Jermaine Burton at wide receiver. The schedule won't be easy, with a visit from the Longhorns on September 9th and a game against Ole Miss on September 23rd, testing Saban's team early in the season.
3. Ohio State Buckeyes (National Championship Odds: +700)
Ohio State came within seconds of making it to the national championship last year but lost due to a missed field goal as the clock struck midnight on New Year's Eve. This year, head coach Ryan Day aims to make things right as Ohio State emerges as the non-SEC favorite to make the championship game. In the brutal Big 10, Kyle McCord is favored to replace CJ Stroud as the starting quarterback, with wide receivers Marvin Harrison Jr and Emeka Egbuka expected to be his go-to targets for big touchdowns.
Although Ohio State has only one five-star recruit in 2023, they make up for it in quantity, with eighteen four-star recruits joining the roster, giving them a top-five recruiting class. In addition to the classic end-of-year clash with Michigan, the Buckeyes will face a mid-September test when they travel to South Bend to play against Notre Dame.
4. LSU Tigers (National Championship Odds: +1800)
The pressure is on for second-year head coach Brian Kelly to deliver some wins for the LSU Tigers. The team boasts a wealth of veteran talent on offense, led by Jayden Daniels, who returns to LSU this year as the quarterback after taking them to the SEC Championship game last season. Daniels is supported by experienced players such as Josh Williams and John Emery at running back and Malik Nabers and Brian Thomas Jr at wide receiver, who hope to use their experience to their advantage.
LSU will face an immediate challenge this season with a Week 1 road game against the Florida State Seminoles. If they can come through that tough test unscathed, they will likely be favorites to run the table until their November 4th road game against Tuscaloosa. LSU will need to overcome Alabama again to have any hope of repeating its appearance in the SEC Championship.
5. Michigan Wolverines (National Championship Odds: +1100)
Jim Harbaugh is back and once again looks to make a push towards a National Championship appearance. Ohio State will have to come to The Big House this year, giving Michigan a boost to repeat as Big 10 Champions. The schedule is to Michigan's advantage – they do not race an actual test until mid-November, with games against Perdue and Penn State leading up to the showdown with the Buckeyes.
This season, Michigan's slightly disappointing recruiting class is ranked outside the top 15. Fortunately, the Wolverines have plenty of experienced players on offense to rely on. Balek Corum is one of the best running backs in college football, and JJ McCarthy returns at quarterback with seniors Cornelius Johnson, Roman Wilson, and AJ Henning as his receivers. The offensive line is also filled with fourth and fifth-year starters to protect the quarterback.
6. USC Trojans (National Championship Odds: +1600)
Lincoln Riley sits in one of the highest-pressure coaching seats in the nation, hoping to get USC back to the days of Pete Carroll, Matt Leinart, and Reggie Bush. Heisman winner Caleb Williams comes into this season healthy and is ready to make up for the loss in the Pac-12 championship. Look for USC to come hungry to bring the program back to glory this year.
Heading into the 2023 season, USC boasts the sixth-ranked recruiting class, featuring three five-star recruits, including lead tight end Duce Robinson from Pinnacle in Phoenix, AZ, and Zachariah Branch from Bishop Gorman in Las Vegas. USC's transfer market haul was also impressive, ranking second only to Deion Sanders' Colorado Buffaloes. With a favorable start to the season, this talented squad of recruits and transfers will have ample time to gel before their much-anticipated matchup against the Fighting Irish on October 14th.
7. Florida State Seminoles (National Championship Odds: +2000)
Head Coach Mike Norvell and the Florida State team are highly motivated to win the Atlantic Division and secure a spot in the ACC Championship game, with the Clemson Tigers being their primary obstacle. The team faces two significant challenges early on in the season. This starts with a home game against LSU Tigers in Week 1, followed by a trip to Clemson three weeks later. If they can successfully navigate through these games in September, their path to the ACC Championship becomes smoother.
With 16 returning starters, including Heisman candidate Jordan Travis at quarterback, the Seminoles have a strong foundation for success this season. Travis aims to emulate the success of former Seminole QBs Jameis Winston, Dwayne Haskins, and EJ Manuel as first-round NFL draft picks. In addition, highly touted wideout Hykeem Williams from Fort Lauderdale leads Florida State's top 20 recruiting class. This is on top of the seven four-star transfers adding depth to the team.
8. Clemson Tigers (National Championship Odds: +2000)
As the 2023 college football season approaches, Clemson fans have reason to be optimistic. The Tigers have an advantage over ACC rival Florida State, partly thanks to their impressive recruiting class. Although there are no guarantees that five-star recruit Peter Woods and four-star recruits Vic Burley and Stephiylan Green will earn playing time, head coach Dabo Swinney is committed to developing a dominant defense. On the offensive side, 2022 five-star recruit Cade Klubnik is expected to take charge of the team as quarterback.
Clemson's first game of the season will be against Duke in Durham. Clemson will surely go into this game as the favorite, but this game could be closer than the betting lines may project. However, the real test for Clemson will come on September 23rd, when they face off against the Seminoles. This game has been circled on the calendar for a while, and the winner of this game will likely become the favorite to win the ACC and potentially even contend for the national title.
9. Texas Longhorns (National Championship Odds: +3000)
Is Texas back? Maybe. The Longhorns, led by head coach Steve Sarkisian, are determined to reclaim their former glory by winning the Big 12 and earning a spot in the playoffs. However, they face a challenging start to their season, with a matchup against Alabama on September 9th and a game against Oklahoma in the Red River Rivalry just a month later.
Texas has bolstered its roster with a top-five recruiting class, featuring five-star quarterback recruit Arch Manning, the nephew of NFL legends Peyton and Eli Manning. Manning will compete with Quinn Ewers, the expected starter, for the starting quarterback position. Additionally, Georgia transfer Adonia Mitchell is expected to have an immediate impact as he vies for a starting position. The Longhorns are aiming high and have the talent to make a splash in the Big 12 this season.
10. Tennessee Volunteers (National Championship Odds: +3000)
Tennessee started strong last season with a win against Alabama and a shot at the playoffs before faltering against Georgia and South Carolina towards the end of the season. In 2023, the Volunteers face early challenges with a September 16th trip to Gainesville to play the Gators, followed by consecutive games against Texas A&M and Alabama in mid-October.
This team boasts a plethora of returning talent, led by quarterback Joe Milton III. Although he lost his starting position to Hendon Hooker last year, Milton looks to redeem himself this year and lead his team to glory in the SEC East. Other key returnees include tight end Jacob Warren, the entire backfield from last year, and significant offensive and defensive contributors.
Tennessee also had a strong offseason, adding a top-10 recruiting class featuring 12 four-star recruits and several impactful transfers, such as Gabe Jeudy-Lally from BYU. With a solid mix of established talent and promising newcomers, the Vols have the potential to make some noise in the SEC this season.
11. Penn State Nittany Lions (National Championship Odds: +2500)
Penn State has been consistently in "the middle of the pack" in the Big 10 and the college football top 25 for the last decade and will be fighting to compete with Ohio State and Michigan. In 2023, Penn State will face tough competition in the Big 10 and must win either the Ohio State or Michigan game to contend for the Big 10 Championship. However, the Nittany Lions have an early opportunity to prove themselves in a September 2nd game against West Virginia.
Penn State's top-15 recruiting class features 18 four-star recruits, including two standout offensive linemen in, J'ven Williams from Reading, PA, and Alex Birchmeier from Ashburn, VA. The team has also added talent from the transfer market, with wideout Dante Cephas joining the team from Kent State to bolster the passing game as a potential starter in the season opener.
With their talented recruiting class and additions from the transfer market, Penn State looks poised to improve its position in the Big 10 and make a run for the championship game. The matchups against Ohio State and Michigan will be crucial, but the Nittany Lions have the potential to surprise their opponents and make a statement in the conference.
12. Notre Dame Fighting Irish (National Championship Odds: +3000)
The Fighting Irish had a strong finish to their season last year despite an early loss to Marshall, and now second-year head coach Marcus Freeman aims to avoid a similar setback. The team has a soft start to the season before facing tough mid-season matchups against Ohio State, USC, and Clemson. However, if they can achieve double-digit wins, the Fighting Irish will have a solid chance at a big-time Bowl game.
Quarterback Sam Hartman comes to Notre Dame from Wake Forest for his final season, eager to lead his team to a college football playoff appearance. With his coach, team, and the nationwide fan base behind him, Hartman aims to make a statement and leave his mark on Fighting Irish history. Notre Dame's top-15 recruiting class includes 19 four-star recruits. They've also found success in the transfer portal by adding four-star linebacker Javontae Jean-Baptiste from Ohio State.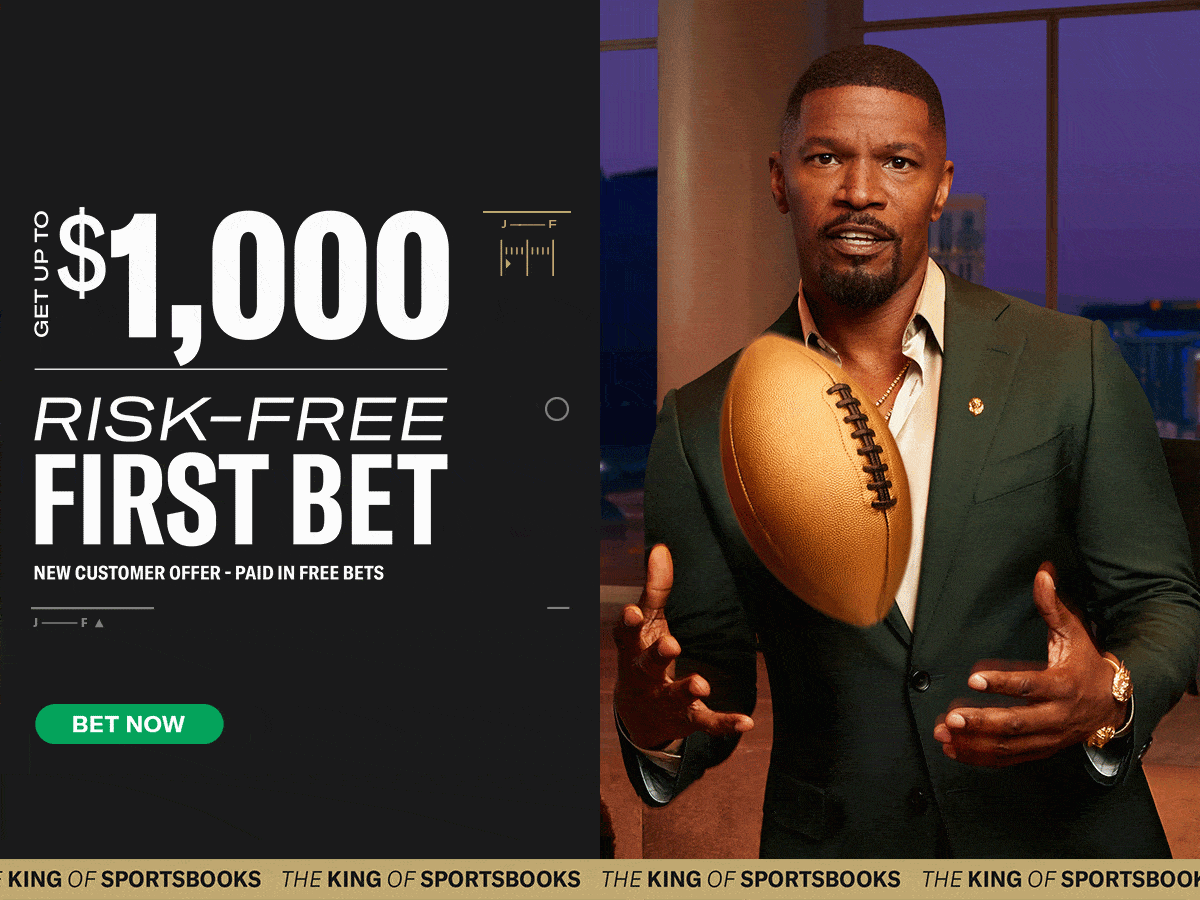 13. Oklahoma Sooners (National Championship Odds: +6600)
Head coach Lincoln Riley had a successful offseason with notable moves in both the recruiting and transfer markets. The Sooners' recruiting class ranks fifth overall, featuring talented players such as quarterback Jackson Arnold, edge rusher Adepoju Adebawore, and safety Peyton Bowen. Dillon Gabriel is expected to start as quarterback for his senior season. Even so, freshman Jackson Arnold is eager to showcase his skills and may be given a chance to prove himself.
In addition to their recruiting class, Oklahoma made significant additions to their team through the transfer market. This includes seven four-star players, such as wideout Andrel Anthony from Michigan and defensive lineman Rondell Bothroyd from Wake Forest.
The schedule looks simple for the Sooners. They should be double-digit favorites in every game to start the season up until the Red River Rivalry clash with the Texas Longhorns on October 7th. Then, if they can come away with a win, it'll be time to settle in and chip away at conference wins in hopes of a chance at a playoff appearance.
14. Utah Utes  (National Championship Odds: +6000)
The reigning Pac-12 champion Utah is determined to defend its title with the help of Senior quarterback Cam Rising, who has proven to play the underdog role exceptionally well. Despite the tough competition from Caleb Williams and the Trojans, Utah is confident in its ability to defy the odds once again. Rising will be supported by familiar pass catchers. These include tight end Brant Kuithe and wide receiver Devaughn Vele. Both are returning this year for their senior season.
On the other side of the ball, Utah has strengthened its defense in the transfer market. This includes several additions, headlined by edge rusher Logan Fano from BYU. In addition, new coming cornerback Miles Battle from Ole Miss and linebacker Levani Damuni from Stanford also stand out. All of these additions will help bolster coordinator Morgan Scalley's defense.
Utah has a challenging schedule with games against Florida and Baylor to kick off the college football season, followed by a four-game stretch against USC, Oregon, and Washington towards the end of the season. This tough schedule will provide the Utes with ample opportunities to demonstrate their worth in the college football ranking.
15. Texas A&M Aggies (National Championship Odds: +6000)
Texas A&M failed to meet expectations last season, including an embarrassing loss to Appalachian State at home. The Aggies' schedule this year is a tough one, with road games against Miami, Arkansas, and Tennessee, as well as hosting Auburn and Alabama, all by mid-October. The offense is young, with projected starting quarterback Conner Weigman and starting wide receivers Evan Stewart and Noah Thomas being sophomores seeking to gain experience to take them to the next level.
In an effort to get back on track, Jimbo Fisher's team has a top-15 recruiting class featuring two five-star recruits: running back Rueben Owens from El Campo, TX, and defensive lineman David Hicks from Katy, Texas. The Aggies have also strengthened their defensive backfield through transfers, adding three four-star corners, including Sam McCall from Florida State, Tony Grimes from UNC, and Josh DeBerry from Boston College.
16. Ole Miss Rebels (National Championship Odds: +15000)
On the heels of securing the massive contract extension, head coach Lane Kiffin is under pressure to prove his worth on the field. Ole Miss faces a challenging start to the season, with tough games against Tulane, Alabama, and LSU in September. The team will rely heavily on explosive running back Quinshon Judkins, who is back for his sophomore season and is expected to lead the team once again. Meanwhile, the quarterback competition between Jaxson Dart, Spencer Sanders, and Walker Howard is a key area to watch.
During the offseason, Ole Miss did not make significant moves in recruiting. Only one standout player, five-star linebacker Suntarine Perkins from Raleigh, MS, joined the team. However, Ole Miss compensated for their lack of progress in recruiting by making significant acquisitions in the transfer market. Chris Marshall from Texas A&M and Tre Harris from Louisiana Tech are expected to start at wide receiver. Additionally, Caden Preiskorn from Memphis is anticipated to take over the tight-end position.
On the defensive side, Zamari Walton from Georgia Tech and John Saunders Jr from Miami, OH, will fill the cornerback positions. Jeremiah Jean-Baptise from UCF and Monty Montgomery from Louisville is looking to make a positive impact at linebacker.
17. Oregon Ducks (National Championship Odds: +3500)
Bo Nix returns as Oregon's quarterback for another season. Hopes of winning the Heisman and leading the team to the Pac-12 Championship are high. However, this year, there are many new faces on the team, as Oregon had a significant recruiting haul during the offseason. Jurrion Dickey, a wideout from Menlo-Atherton in California, is the most notable addition among the 19 four-star recruits.
On offense, transfers Treashon Holden from Alabama and Ajani Cornelius from Rhode Island are expected to start at wide receiver and right tackle, respectively. On the defensive side, Evan Williams from Fresno State, Khyree Jackson from Alabama, and Tysheem Johnson from Ole Miss want to make an impact.
Aside from a September 9th game against the Texas Tech Red Raiders, the Ducks' schedule lacks any significant out-of-conference challenges. The team will face tough familiar opponents in Washington and Utah in October as the Pac-12 grind begins. The regular season will conclude with a home game against USC on November 11th. A few wins here would lock in their place in the college football top 25.
18. Washington Huskies (National Championship Odds: +4000)
Quarterback Michael Penix Jr will be the center of attention as he aims to make a name for himself in the Heisman trophy race and boost his NFL draft prospects for 2024. Caleb Williams may struggle due to his injury from last season. If he does, Penix and the Huskies could be in contention for the trophies they desire. At the same time, Washington won't face any high-profile out-of-conference opponents this season. However, they will face familiar and challenging in-conference rivals such as Oregon, Utah, and USC.
Washington may not have any five-star recruits, but they secured eight four-star prospects in the offseason. The team will benefit from a large number of returning starters from last season. Many of these players are expected to play pivotal roles this season. Jabbar Muhammad from Oklahoma State is expected to be a starting cornerback. He should make a significant impact after being acquired through the transfer market.
19. TCU Horned Frogs  (National Championship Odds: +12500)
Although last season's runners-up TCU aren't favored to have another shot at a National Championship, they have proven that they can't be counted out. With 11 returning starters from last year's team, head coach Sonny Dykes has demonstrated his ability to lead the team to victories in the competitive Big 12 conference.
TCU's schedule doesn't feature any marquee matchups this year. Even so, they will be tested by their familiar conference rivals, including Texas and Oklahoma, in the final three weeks of the season. In addition, the team's roster will look a bit different next season due to acquisitions from the transfer market. JP Richardson from Oklahoma State and JoJo Earle from Alabama are expected to start at wide receiver. Trey Sanders from Alabama is anticipated to be the starting running back.
20. North Carolina Tar Heels (National Championship Odds: +12500)
Drake Maye is poised to establish himself as one of college football's top quarterbacks this season, rivaling only Caleb Williams. After winning the ACC's Coastal Division last year, North Carolina is expected to defend its title in 2023. The Tar Heels' manageable schedule and new transfers should help them achieve their goals this year. This includes the addition of players Devontez Walker from Kent State at wide receiver and Ajijah Huzzie from East Tennessee at linebacker.
21. Wisconsin Badgers (National Championship Odds: +7000)
Luke Fickell's appointment as the new head coach has raised expectations for Wisconsin to compete for a Big 10 championship appearance in the 2023 season. They play in the Big 10 West division, which should be winnable. Wisconsin's most significant acquisition from the transfer market is Tanner Mordecai. Mordecai is slated to start at quarterback this season after coming over from SMU. Wisconsin will face an intriguing out-of-conference challenge on September 9th when they visit Washington State.
22. UCLA Bruins (National Championship Odds: +10000)
It will be tough to contend with powerhouses like Oregon, USC, and Utah for a shot at the Pac-12 championship. UCLA will need to secure some significant victories, and Top 5 recruit Dante Moore will lead the charge. Moore, a highly-touted freshman quarterback, aims to make an impact early in his college career for the Bruins. With the help of a significant influx of transfers, including J. Michael Sturdivant from Cal, who is expected to start at wide receiver, UCLA hopes to turn some heads and pull off some upsets this season.
23. Kansas State Wildcats (National Championship Odds: +20000)
After winning the Big 12 title last year, Kansas State is ready to defend its championship this season. The Wildcats have 12 returning starters, giving them a strong foundation to build on their success from 2022. Will Howard will lead the team at quarterback for his senior season.
Howard will have some new weapons to work with, including star running back Treshaun Ward. Ward is expected to be the starting running back after transferring from Florida State. In addition, Keagan Johnson from Iowa is another big recruit who could become a crucial receiver for the Wildcats.
24. Tulane Green Wave (National Championship Odds: +25000)
Tulane was one of the strongest teams outside of the Power Five conferences last year. They finished the previous season on a high note by defeating USC in the Cotton Bowl. This season, the team will rely on quarterback Michael Pratt to lead them to another AAC championship. The Green Wave has a chance to make a statement with a win over Ole Miss in their matchup on September 9th. A win here could put them in the national spotlight and up the college football rankings.
25. Colorado Buffaloes (National Championship Odds: +30000)
Is anyone ready to doubt what Deion Sanders can do? 2023 should be a rebuilding year for the Buffaloes. Even so, new head coach Deion Sanders has already proven his recruiting prowess and is eager to defy expectations by causing some upsets in the Pac-12. Colorado's transfer market is also thriving. 38 transfer commitments have come in for next year – no other team has come close to this number. This is a testament to Sanders' ability to attract college stars to join him in building something special in Boulder.