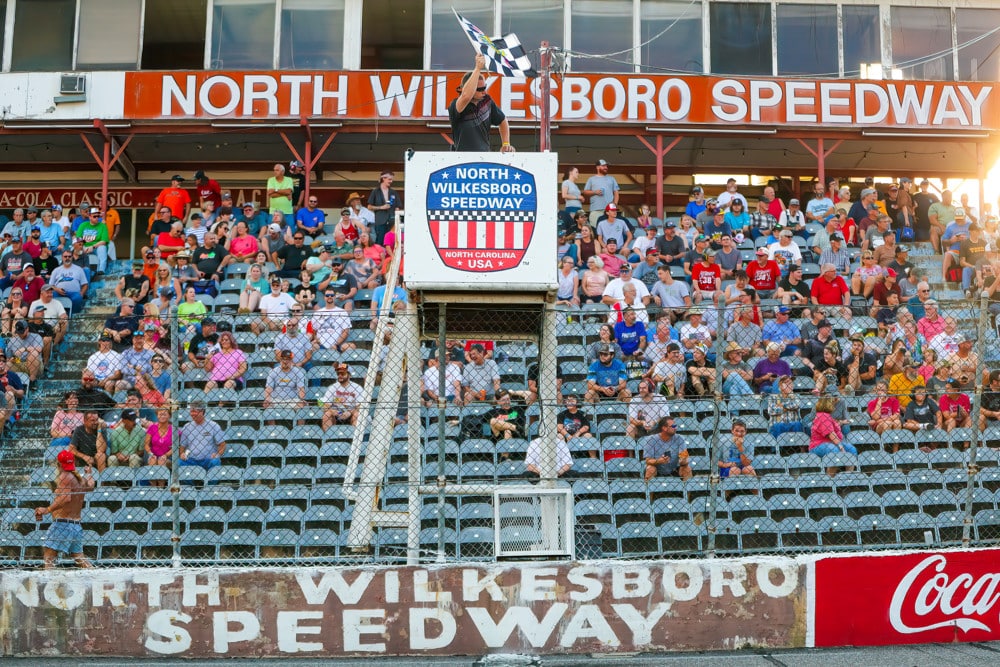 Welcome to the All-Star break! The once-left-for-dead North Wilkesboro Speedway has been resurrected and brought back to life. North Wilkesboro Speedway is located 80 miles north of Charlotte, North Carolina, where most teams call home. The track was on the schedule 75 years ago for NASCAR's first season.
After Jeff Gordon won in 1996, the track shut down. North Wilkesboro reopened in 2010, but in the spring of 2011 was closed and left to rot away as just a part of history. Dale Earnhardt Jr led the push to get North Wilkesboro scanned for Iracing to allow its legacy to live on in the simulation world.
After passing the American Rescue Plan Act, Speedway Motors president Marcus Smith and constant pushing from Dale Jr decided to bring the track back for some Late Model races before tearing the surface up and repaving it. However, after the smashing success of those races, NASCAR stepped in, and plans to host the NASCAR Craftsman Truck Series along with the sport's annual All-Star event as they celebrate their 75th anniversary quickly fell into place.
Below is the format for the events around All-Star week. Be sure to double-check whether you are betting on the All-Star main event or the "Open" event held before the All-Star race. I will use my $5,000 budget and five best bets between both races. Also, be sure to check out the Darlington recap episode of the NASCAR Gambling Podcast for our interview with Bob Pockrass here!
Go here for free NASCAR picks!
NASCAR All-Star Race at North Wilkesboro Speedway Best Bets and DraftKings DFS Picks
$1,000 – All-Star Open Ford vs. Chevy (Ford -110 Caesars)
For this bet, it's just simply more options. Hendrick has confirmed Josh Berry will be in the 48 car as Alex Bowman remains sidelined with an injury. Josh is co-favorite with Ty Gibbs to win the race. Other than that, the Chevrolet camp doesn't have a ton of other drivers I expect to see upfront. After Berry, it's AJ Allmendinger, Justin Haley, and Noah Gragson.
On the Ford side of things, even though they've struggled on the speed at intermediate tracks lately, that should be less of a concern here at this ⅝ mile track. Instead, Ryan Preece, Aric Almirola, Harrison Burton, Michael McDowell, and Todd Gilliand are stronger options.
$1,000 – All-Star Open Ty Gibbs Top 3 (+140 Caesars)
The best two cars in this field are Josh Berry and Ty Gibbs. There are a few other drivers who could give them a run for their money, but these drivers are in the most elite equipment in Hendrick and Gibbs cars, respectively.
Also, this is a win or finish second to get in the race. No points, no saving equipment. Go out there and give it your all in a short shootout winner takes all. This is the perfect situation for Ty Gibbs to excel. Look for the driver of the #54 to be upfront the entire open race.
$1,500 – All-Star Race Martin Truex Jr Over Ross Chastain (-114 Barstool)
How can you trust Ross Chastain to get you a solid finish right now? I cannot. He'll likely have a fast car, but he's got a lot of enemies, and his aggressive style might not play out as well on this type of track.
Truex, on the other hand, has been a new driver this year. Last season we'd often joke on the NASCAR GAMBLING PODCAST about Truex being retired or checked out. That's not the case in 2023. Truex went to victory lane at the Clash and snapped his winless streak at Dover earlier this season.

$1,000 All-Star Race Kevin Harvick Top 5 Finish (+130 Barstool)
Kevin Harvick is giving it one last ride this weekend in the #29 car that he came into the Cup Series with. Mr consistency delivers solid finishes most weeks. He struggled a little at a couple of recent intermediate tracks, but I don't see that being an issue this weekend for the Veteran driver.
$500 Joey Logano to Win the All-Star Race (+1400 Superbook)
The Inaugural Clash at the Colosseum, Gateway, Bristol Dirt, the first championship in the Next Gen era. Joey Logano and first-time events go together like peanut butter and jelly. I'm all aboard the Joey train this weekend and love riding this narrative. Plus, we've all seen how the defending champ can jump up and run a great race seemingly out of nowhere.
NASCAR All-Star Race DraftKings DFS Driver to Watch
Only Sunday's main event, the 200-lap All-Star race, counts for this weekend's DFS slate. Therefore, you'll want to wait until after the "Open" race is completed to finalize your lineups. The top two finishers from the "Open," along with the fan vote winner, will be the final three starters in the All-Star race. I'd highly suggest playing at least one, if not two, of those drivers, as they'll have the most place differential upside and lowest floors in Sunday's main event.
William Byron ($9,100)
Salaries are a little low this week as there are fewer options to play in the main race. However, for the only driver to visit victory lane three times this season, this price is a steal for William Byron. Byron will be in the Kyle Busch Motorsports Truck for this weekend's Craftsman Truck Series race. That will give the young star extra practice laps to learn this track. Byron has the speed week in and week out to dominate any track any week.
Bubba Wallace ($6,900)
Wallace checks in at a nice $6,900 price tag that is almost disrespectful for how well Bubba has been running as of late. Not counting superspeedway races (which are always throw-aways in DFS), Bubba had five straight runs of 12th or better. Bubba continues to show week in and week out that he's got the speed to compete and is getting better at scoring solid finishes. At this cheap price, Bubba has the upside to even win this race and is someone that needs to be considered when building your lineups.