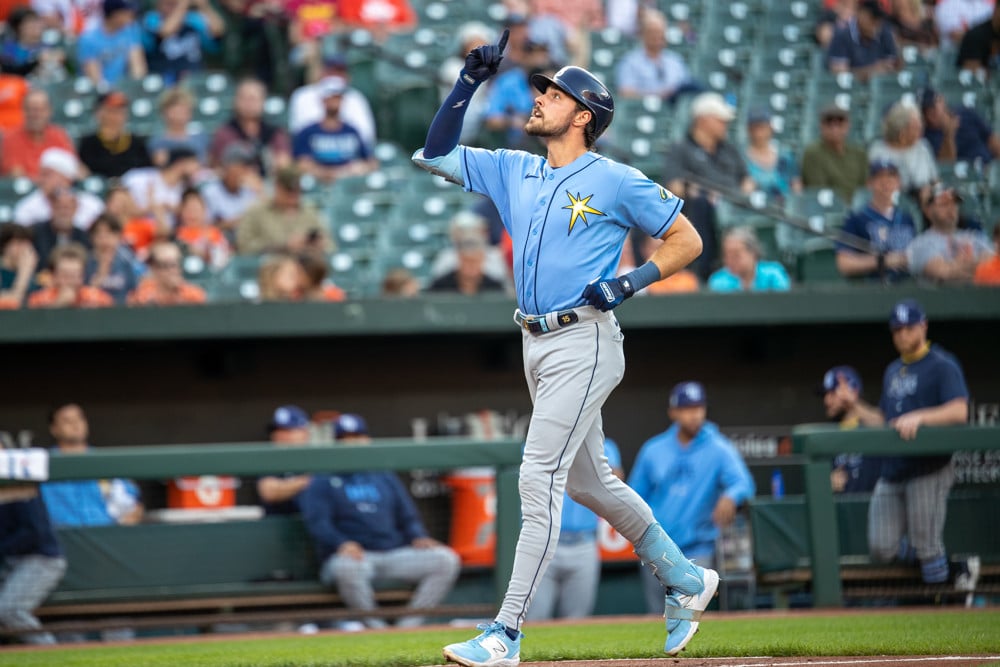 Forty-plus games into the MLB season is a good time to take stock of some of the league's biggest surprises. More importantly, for us fantasy baseball players, it's a good time to evaluate whether a player's hot start is likely to continue or not. Sell high, buy low is the name of the game. Here are ten of the biggest fantasy baseball surprises a quarter of the way into the season.
*All stats through May 13th
Go here for daily free MLB picks!
Biggest Fantasy Baseball Surprises – Sustainable or Not?
Eduardo Rodriguez – Detroit – SP- Current Yahoo Rank: 6 – Preseason Rank: 209
(4 W, 47 K, 1.57 ERA, 0.79 WHIP)
After a mostly lost season last year in Detroit due to an injury and then a prolonged absence due to a personal issue, Eduardo Rodriguez has flown out of the gate in 2023 as the third-best fantasy pitcher in the majors. He's won three straight starts and has allowed only two runs total over his last six starts. His ERA and WHIP are both second-best in MLB.
Sustainable or Not: Not. His numbers are so far off his career averages (4.02 ERA, 1.29 WHIP), and with this already his eighth season in the majors, I don't see him continuing his dominance. However, when you look at his advanced stats as well, he's pretty much the same pitcher he's always been, so regression to the mean is probably forthcoming.
Josh Lowe – Tampa Bay – OF- Current Yahoo Rank: 10 – Preseason Rank: 531
(.318, 22 R, 9 HR, 28 RBI, 6 SB)
Currently sitting 12th in the majors in home runs, 15th in RBIs, and ninth in batting average (if he had enough at-bats to qualify), Josh Lowe is having himself a season down in Tampa Bay. Having only played two and then 52 games in his first two stints in the big leagues, Lowe already has career highs in almost every stat category.
Sustainable or Not: Sustainable. Maybe not at this high of a level – his OPS would be second-best in the majors if he had the at-bats, but the 13th overall pick in 2016 raked in the minors and now, at 25 years old, is putting it together on the big stage.
Justin Steele – Cubs – SP- Current Yahoo Rank: 16 – Preseason Rank: 162
(6 W, 39 K, 1.82 ERA, 1.03 WHIP)
This past Wednesday, his last start, was the first time in 15 starts that Justin Steele allowed more than two earned runs, an incredibly dominating run of pitching. He's second in the majors in wins, fourth in ERA, and 17th in WHIP. In addition, he's been exceptional at forcing weak contact.
Sustainable or Not: Sustainable. Steele was a solid piece of the Cubs' rotation last season, and this year he's taken the next step. His lack of swing-and-miss stuff might cause a bit of a dip in his production, but he should remain a solid fantasy option the whole season.

Brent Rooker – Oakland – OF- Current Yahoo Rank: 17 – Preseason Rank: 1738
(.316, 19 R, 11 HR, 29 RBI, 1 SB)
From 1738th ranked in the preseason to 17th ranked now, Brent Rooker has crazily exceeded expectations. He's tenth in the majors in batting average, fourth in homers, tenth in RBIs, and his OPS of 1.091 leads the majors. All this from a guy who has never had more than 189 at-bats in a season.
Sustainable or Not: Not. This sudden improvement from a 28-year-old can't be legit, can it?! You've got to expect him to come down to earth eventually. On the other hand, his May numbers are quite down from his April ones, so this might be the time to sell high if you can.
Sonny Gray – Minnesota – SP- Current Yahoo Rank: 18 – Preseason Rank: 165
(4 W, 56 K, 1.39 ERA, 1.09 WHIP)
Sonny Gray is the outlier on this list, as the previous guys mentioned are all making a name for themselves for the first time in the majors, while Gray has already pitched in two All-Star Games. Still, the 33-year-old hurler is having the best season of his career thus far, leading the majors in ERA while also ranking 11th in wins and tenth in strikeouts.
Sustainable or Not: Not. He was a solid pitcher last season, so he'll probably remain that way this year, but he's being hit too hard this season for his fantasy numbers to remain as elite as they've been thus far.
Nathan Eovaldi – Texas – SP- Current Yahoo Rank: 30 – Preseason Rank: 179
(5 W, 56 K, 2.70 ERA, 0.99 WHIP)
Veteran Nathan Eovaldi is on a blazing hot streak, not letting up a run in three straight starts and striking out 12 Athletics his last time on the bump. His five wins are sixth best in the majors, his ERA is 19th, he's tenth in K's, and his WHIP comes in at 13th. His first season in Arlington has been his best, even topping his 2021 All-Star campaign with Boston.
Sustainable or Not: Sustainable. Diving into his advanced stats and looking at his past seasons, I think Eovaldi can remain one of the top fantasy pitchers this season.
Others worth noting: Yennier Cano (sustainable), Jonah Heim (sustainable), Tyler Wells (not), Patrick Wisdom (not)