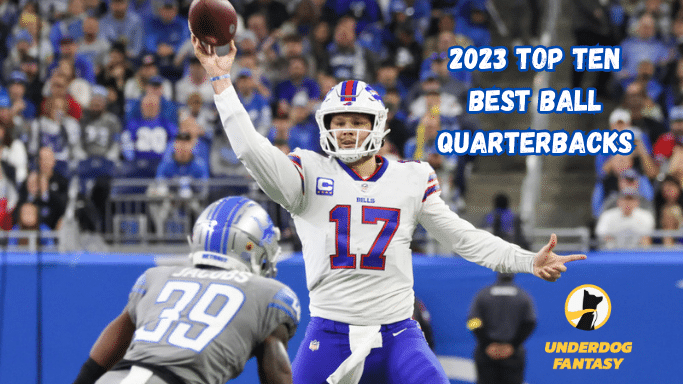 SGPN is here with our Top 10 Best Ball Quarterbacks on Underdog for the 2023 season. Some recent developments in the NFL have shaken up the top ten QB Rankings.
Follow along for key differences from my rankings as opposed to Underdogs. Then, differentiate your QB shares to ensure various outcomes and options to stack with position players. There will be roster updates in the coming months. SGPN will be here through each off-season checkpoint reacting and advising on the shifting market.
Underdog is now hosting Best Ball Mania IV. This season-long fantasy football contest offers 15 Million Dollars in total Prizes! You'll want to review Underdog Rankings, compare them with ours, and create your template to get ahead of the competition. This approach will assist you whether you're drafting one team or up to the max entries of 150.
First place will walk away with an incredible $3,000,000! The stakes keep getting higher and higher. Underdog is undoubtedly where you'll want to spend the offseason preparing for your 2023 redraft and dynasty leagues.
You get to keep pace with the player market while honing your draft skills while simultaneously entering yourself into one of if not the biggest prize pools in fantasy football history! You can use promo code SGPN to sign up on Underdog to receive a 100% Deposit Match up to $100!

MORE SGPN FANTASY FOOTBALL CONTENT
Follow SGPN Fantasy Football on Youtube
2023 Top 10 Best Ball Quarterbacks
1. Jalen Hurts – Philadelphia Eagles
Bye Week: Week 10
Week 17 Matchup: Arizona Cardinals @ Home
Jalen Hurts enters the 2023 season as my Best Ball QB1. He is Underdogs QB3. Josh Allen is the QB1 through Underdog Rankings. However, Hurts has more upside because of his direct running game involvement. The Eagles' playbook sets him up with many direct and designed runs.
Although the Eagles added D'Andre Swift and Rashaad Penny to an already crowded backfield, Hurts will still get more friendly usage in the red zone and on the goal line. I expect both QBs to push for 40+ total TDs. However, Hurts has a safer floor and more upside regarding rushing production.
It's super close here but Hurts is on the upswing of his career and feels like a safer bet to have a higher FFPG this season. It should be noted that Allens' numbers have declined in back-to-back seasons as well; that trend shouldn't warrant a QB1 designation.
The Eagle's offense is the deepest in the NFC and will dominate on the scoreboard again this season. The Eagles will continue to use Hurts as a runner with ease, and now that Tom Brady is retired, Hurts reigns as king of the "One Yard Run."
The Eagles have that play on auto mode with Jalen Hurts under center, making him their best potential goal-line threat. Hurts will likely bring back double-digit rushing touchdowns again in 2023.

2. Patrick Mahomes – Kansas City Chiefs
Bye Week: Week 10 
Week 17 Matchup: Cincinnati Bengals @ Home
Patrick Mahomes is an absolute fantasy football monster and arguably my 2nd QB1. However, Hurts is ahead of him because of his rushing upside and confidence to meet or exceed similar touchdown totals. The Philadelphia and Kansas City offenses will score a ton this year. Both teams led their conferences in total points scored last season, and even if each team falls from the top, they will stay within the top five.
Mahomes is a threat to hit 5k passing yards and 45+ total touchdowns each season; his high range of outcomes puts him at QB1, so getting him as the QB 1-3 off the board in Best Ball Mania IV is going to be well worth the high-value cost he comes with.
He's currently coming off the board anywhere from pick 14-22. So you can pair him with Kelce in the first two rounds and target friendly late-round players like Marquez Valdes-Scantling, Jerrick McKinnon, Kadarius Toney, Rashee Rice…and maybe Richie James?!
Mahomes and the Chiefs landed a great Week 17 matchup against the Cincinnati Bengals. This matchup has evolved into a heated rivalry over the past few seasons. I see a lot of fuel from both sides in that game and expect plenty of fireworks.
So if you don't end up with KC stacks, you can always target Bengals players in hopes of bringing back points in a high-scoring matchup to potentially cash your $3M Check!

3. Josh Allen – Buffalo Bills
Bye Week: Week 13
Week 17 Matchup: New England Patriots @ Home
Josh Allen is the QB1 on Underdog. However, he always goes somewhere different in my drafts, never the same in back-to-back drafts. One draft he'll go first, then subsequent third, and so on. Always 1-3 and never any lower. I want to target him specifically when I draft Stefon Diggs in round one, but I have no problem drafting Allen at his ADP of pick 18 without him.
You can still target stacking options later in the draft, like Gabe Davis, Khalil Shakir, Trent Sherfield, James Cook, Dalton Kincaid, Dawson Knox, and Damien Harris. Buffalo's talent levels are rising, so there are many reasons to like Allen early in your best ball draft.
While Allen's numbers have regressed in consecutive seasons, he's bound to come back around and stabilize his numbers. While the recent decline keeps him outside my QB1 spot, I'm still foaming at the mouth whenever this fantasy unicorn lands in my lap. His high range of outcomes are numbers you see in video games.
I'm confident Allens' production will return to normalcy this season. I expect fewer rushing touchdowns, but I also predict fewer interceptions and more touchdowns; all good things! Don't be shy about drafting him; last year was a down year for him, and he was still a top-three QB!

4. Joe Burrow – Cincinnati Bengals
Bye Week: Week 7
Week 17 Matchup: @ Kansas City Chiefs
Underdog has Joe Burrow at QB6, so I've moved him up two spots ahead of Lamar Jackson and Justin Fields. I want another elite passer in my top five rather than being completely stacked with rushing upside QBs.
Justin Fields, Lamar Jackson, Josh Allen, and Jalen Hurts all finished with 750+ rushing yards last season, and betting them all to repeat that feat feels expensive. On the other hand, Burrow nailed 40 total touchdowns last season, and I expect him to cross that threshold this year.
The Bengals bring back Ja'Marr Chase, Tee Higgins, and Tyler Boyd for Burrow's fourth season in the league. This tandem has a lot of experience and chemistry, so whereas Lamar Jackson and Justin Fields need to gain the acquaintance of their new teammates and targets, Burrow and the Bengals are already wheels up for Week 1.
Burrow plays in the AFC North, a division I believe will be super competitive; I expect Burrow to be a best ball threat each week, including a potential division-winning NFL Week 17. I don't see any team running away with this division.
We could see Burrow leap the top three players in Hurts, Mahomes, and Allen this upcoming season. Burrow's high range of outcomes is similar to what you would have expected from Peyton Manning in his prime. Burrow had the highest PFF passer rate last season (91.0); he's quietly coming for this league!
We've only scratched the surface with Burrow; he has elite weapons at receiver and running back, and the offense is bound to score many points. In addition, Burrow is an easy riser and gives me more confidence to hit prominent passing and touchdown thresholds than Jackson and Fields.

5. Lamar Jackson – Baltimore Ravens
Bye Week: Week 13
Week 17 Matchup: Miami Dolphins @ Home
Lamar is Underdogs QB4, so I have him back one spot from their board. My reservation about Lamar is the weapons added at WR; I don't trust Odell Beckham Jr. to deliver WR1 numbers. But there's no actual argument to prove he can't. OBJ was out all of last season, and we still have months until the kickoff of the 2023 season; he should be able to enter Week 1 as a starter.
My hope is that OBJ helps shield Mark Andrews from double or exclusive coverage from opposing defenses. There is a reality where OBJ helps elevate the offense, and Lamar benefits from it. But I also see a reality where OBJ can be a cancer to the locker room and Lamars development as a passer. You're drafting Lamar this early because of his rushing upside; he finished second in QB rushing yards while playing just 12 games last season.
While Lamar doesn't need a relevant receiver to be reliable in fantasy, he will need elite passing numbers similar to his MVP season to be the QB1 and hit his highest range of outcomes. Lamar's sophomore year was the only season he recorded 40+ total touchdowns.
You're betting on that production level with third and fourth-round draft capital. I'm less bullish on him meeting this threshold versus the market; I see him earning 32-39 total TDs this year with an entire season played.

6. Justin Fields – Chicago Bears
Bye Week: Week 13
Week 17 Matchup: Atlanta Falcons @ Home
It's exciting as a Bears fan to see Justin Fields being held in such high regard in the fantasy football community. However, I wouldn't be impartial if I recommended people draft Justin Fields over Joe Burrow. I've pulled Burrow up, which knocks Jackson and Fields down a notch on the QB board.
Fields comes in as my QB6, and it's a huge bet on his progression as a passer and affirmation as a runner. In addition, the Bears sold the top pick in the 2023 draft for DJ Moore, a huge WR upgrade that should benefit Fields immensely.
Fields was used as a direct runner, but most of his rushing upside came from him running for his life, scrambling behind the line of scrimmage. Fields' passing numbers should move forward, but does that mean some of his scrambling upside fades with it? I think it does.
While I expect more passing yards and touchdowns, I expect some decline in his rushing totals. I could still see Fields rushing for 800+ yards, but it depends on how aggressive this Bears offense will get and how soon he can efficiently connect with his new targets.
Look for Fields to have some big weeks in 2023. But remember that this offense will be a whole new experiment and may take some time to get in tune and build chemistry. You could see the team lean into the run game early on as they now have three running backs they like, plus the returning QB rushing leader from last season.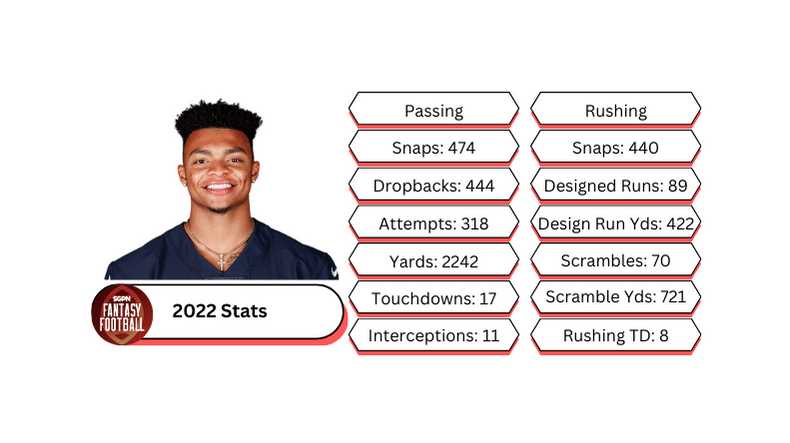 7. Trevor Lawrence – Jacksonville Jaguars
Bye Week: Week 9
Week 17 Matchup: Carolina Panthers @ Home
I am buying a ton of the Jacksonville players in best ball this year. It all starts with grabbing Trevor Lawrence to begin one of the friendlier potential team builds. The public tends to agree as Trevor Lawrence is Underdogs QB8; I've bumped him ahead of Justin Herbert now. I'm more bullish and confident in my Jaguars stacks over the Chargers.
The Jaguars traded for Calvin Ridley last season. Ridley returns from a suspension resulting from gambling activity. He is a huge boost to Lawrence. Lawrence took an incredible leap in production from year one to year two. He doubled his passing touchdowns and reduced his interception numbers in half in just one season. I expect Lawrence to continue his upward climb and progress as a passer.
Everyone said Trevor Lawrence was the next big thing, and now he feels like he might be. His high-range outcomes are certainly within the top five conversations. However, with weapons like Calvin Ridley, Christian Kirk, Evan Engram, and Travis Etienne, QB1 doesn't feel 100% out of the question. Still a slim chance, given the talent at the position, but the narrative is there!
8. Kirk Cousins – Minnesota Vikings
Bye Week: Week 13
Week 17 Matchup: Green Bay Packers @ Home
Kirk Cousins is a great discount in Best Ball drafts this summer. He's coming off the board as QB13 in Best Ball Mania IV. However, Cousins has consistently outplayed this ADP. In 2022 Cousins finished with a PFF Grade of 79.9, ranking him 9th in the NFL. Additionally, five of the QBs ranked ahead of him were either not full-time starters or healthy for each game in 2022.
Recency bias has QBs like Anthony Richardson (QB10) and Deshaun Watson (QB9) ahead of him. But they aren't checking any "What have you done for me lately?" boxes and don't offer equal confidence levels in projected production. So I've also moved him ahead of Dak Prescott and Tua Tagoviloa.
In 2022 Tua dealt with injury issues, and Dak couldn't stop himself from throwing interceptions. The Miami and Dallas offenses will be formidable with these QBs; however, I can see realities where those QBs are solid but revert to their 2022 narratives and offer less upside.
Cousins scored 305 fantasy last season and 307 the year prior via Underdog scoring. That's awesome consistency you're getting at the start of QB2 territory in the draft room; of the 12 QBs ranked ahead of him, just five recorded more fantasy points last year.
It's hard to imagine Cousins not exceeding or meeting these thresholds with his skillset and Kevin O'Connell's pass-heavy offense. Combine that with Dalvin Cook being on his way out the door. As a result, this offense could continue to lean on the passing offense even more than it already has.

9. Justin Herbert – Los Angeles Chargers
Bye Week: Week 5
Week 17 Matchup: @ Denver Broncos
Justin Herbert had his worst season of production last year. So while I'm still very high on him, it's hard to predict QB1 as a likely outcome for 2023. His top targets, Keenan Allen and Mike Williams, are constantly banged up, and Austin Ekeler put in a formal trade request.
It's hard for me to be bullish about this group now. We could see developments throughout the summer that could elevate Herbert's status, but I'm bringing him down my board for a few spots for now.
Herbert clocks in as Underdog QB7, so I have him back just two spots. However, we shouldn't forget about the potential production we can get from Herbert; just two years ago, he put up 395 fantasy points on Underdog on the back of 40+ total touchdowns and 5,000+ passing yards.
We felt more comfortable about the group around him that season. Even last year, he managed to throw for 4500+ yards, but unfortunately, he threw just 25 touchdowns.
Herbert played through a Shoulder Labrum Tear last year. However, he had surgery in January of this year and should be good to bounce back this upcoming season. His resume is still good enough to keep him in the top ten conversations; let's see how the rest of this offseason plays out for the Chargers; there's likely a move in Herbert's stock approaching.
10. Dak Prescott – Dallas Cowboys
Bye Week: Week 7
Week 17 Matchup: Detroit Lions @ Home
Dak Prescott is Underdogs QB11, but I believe Dak will receive upward mobility in ADP in the coming months. Anthony Richardson is QB10 on Underdog, and I don't blink at the opportunity to draft Dak over Richardson. Dak is a seasoned veteran in an offense that will pass the ball a lot.
The farther we move from the NFL draft, the more Richardson will fall down the board. It may not be far from the top ten, but it's hard for me to believe the public will continue to value Richardson over QBs like Dak or my previously mentioned Kirk Cousins.
Like Herbert, Dak was affected by an injury last season, missing five games due to a hand-thumb fracture. Prescott had a plate inserted in his hand to stabilize the joint to avoid heading to the IR. While his numbers weren't impressive last season, Dak did receive a huge upgrade at receiver in Brandin Cooks. While Ezekiel Elliott is likely not returning to Dallas, the Cowboys will make an RB move that gives you more faith in this offense and Dak Prescott.
Another key factor moving Dak up the board is his Week 17 matchup against the Detroit Lions. It's expected for both teams to battle for a playoff spot in a wide-open NFC. When I look at the Week 17 schedule, Dallas and Detroit gleam with points and scoring opportunities. I'm looking to get heavily involved in this game and will likely look to push more Cowboys and Lions players into my queue.
Ideally, you'd have Dak paired with an Elite QB from the top three on this list, the separation of ADP is about 70 picks. Dak played just 12 games last season but went 8-4 in that stretch. You'll be in a great position getting him at his ADP if he can pull his weight through 17 starts.