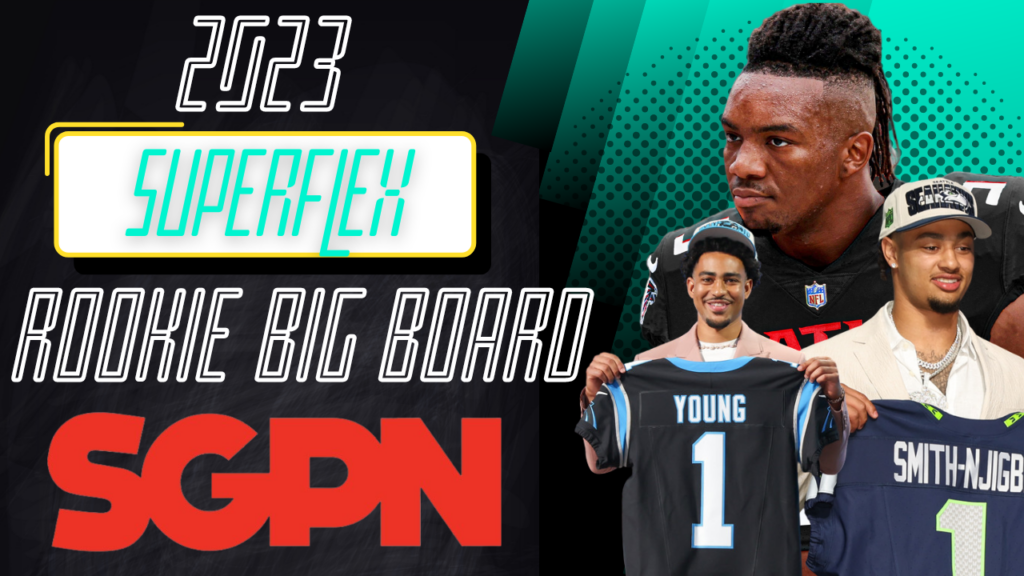 The 2023 NFL Draft is over, and we finally know where these rookies will play. We have been arguing for months about these players, and people are already doing victory laps. Many of us have rookie drafts going on right now or this week! The order in which players were picked, and the landing spots will help determine where they land in the rankings.
Every year we love a ton of players, and after the draft, we see that list shrinks. We also see players that we didn't love get some great landing spots or surprising draft capital. Navigating through all of this can be tough. So let's talk about the process and what to consider when adjusting.

MORE SGPN FANTASY FOOTBALL CONTENT
Follow SGPN Fantasy Football on Youtube
Superflex Rookie Rankings: Risers and Fallers (SF Mock Draft included)
Why Does Draft Capital Matter?
Quarterbacks
Seeing players you like go Day 3 or even go undrafted is a crusher. It is essential not to have a take-lock. Poor draft capital is a good indicator you need to move them down your rankings. Draft capital does matter and, in most cases, is more important than the landing spot. Let's start with quarterbacks that have about a 50% hit rate to be top 24 in Year 1.
According to Mike Kash, there is about a 30% hit rate on the top 12 performances. The chances of being top 12 or top 24 drop by over 50% for quarterbacks drafted in Round 2.
Running Backs
Historically running back is the one position you can count on in year 1 of a dynasty. The early impact drives them up draft boards even with the short shelf life of the position. We have seen running backs like Saquon Barkley or Najee Harris finish top 5 as a rookie or even RB1. First-round running backs are becoming fewer and fewer, but we had two in this class. Most of the top running backs in the league were drafted in Round 2 or 3.
The success rates drop each round. The first three rounds range from 25-50%, and this drops to less than 10% for running backs dropped in the 4th Round. It drops more the later they are drafted. There are outliers like Dameon Pierce and Tyler Allgeier.
Wide Receivers
Until recently, we had not seen as much early success from wide receivers as we had from running backs. Recently, we have gotten pretty spoiled with guys like Ja'Marr Chase, Justin Jefferson, and Jaylen Waddle. As a result, we are seeing a higher hit rate crossed the board. The numbers for hit rate year 1 are much lower than running backs.
We do see a higher hit rate from Round 1 to Round 2 and so forth. The hit rate drops significantly by the time you get to Round 4. The only Day 3 wideout to perform year one recently was Amon-Ra St. Brown.
Tight Ends
Tight ends typically do not produce year 1. Over the past two decades, we have only seen four tight ends finish in the top 12. The most recent was Kyle Pitts in 2021. Before that, you had to go all the way back to Evan Engram's rookie season. The other two were Jeremy Shockey and Rob Gronkowski! So you should not expect a lot from a tight end in year 1, but you still want to target tight ends drafted in the top 3 rounds.
How do you factor in landing spots?
Landing spots are important for early success, and early success is absolutely what we are looking for. We want to react to landing spots, and we also need to factor in draft capital. We can overreact when we see a good situation, and it makes more sense when both players have similar draft capital.
Last year we saw Treylon Burks get launched up draft boards ahead of Garrett Wilson, Chris Olave, and Jameson Williams. We saw Justin Jefferson get passed up on in his class and A.J. Brown. There are countless examples, and yet people fall into the traps each year. Use this to your advantage, stick to your board, and reap the rewards. Those of us who got Justin Jefferson in the 1.07-1.09 range and then did the same with Garrett Wilson are good examples.
Here are my Updated Superflex Rookie Rankings
Biggest Risers
QB – Anthony Richardson, IND
Overall Rank: #2
Position Rank: QB1
Anthony Richardson has been a polarizing prospect this offseason. Some people already had him as the top quarterback, and some had him over Bijan even before the draft. So I was being cautious and needed to see it before I believed it. Richardson was my #3 going into the draft, and I am since moved him to the #1 spot.
The landing spot is ideal; he got the draft capital needed to justify the move. If all 3 of the top quarterbacks play year 1, he is very likely the top fantasy producer just based on his rushing upside, especially in 4-point passing touchdown-scoring leagues. I love the pairing with coach Shane Steichen and the rushing upside is just too good to pass up. Adding Josh Downs with Michael Pittman and Alec Pierce gives him the best WR room of the top 3 quarterbacks.
RB – Kendre Miller, NO
Overall Rank: #9
Position Rank: RB3
Kendre Miller has been hanging out in the top 5 range for me all off-season and for a lot of people. Miller isn't as exciting as some of the other players, but I like him a lot. I think he offers some value in the passing game on top of being one of the best rushers in the class. This is not an ideal landing spot for year 1, as he is third on the depth chart. If the team were to move on from Alvin Kamara, that would change things tremendously. However, Kamara's age does show a path for Miller in the near future.
RB – Roschon Johnson, CHI
Overall Rank: #12
Position Rank: RB4
Roschon Johnson didn't exactly get the draft capital we wanted. Johnson ended up being a 4th round pick. But, he was the 8th running back off of the board. Johnson could make a case for the RB3 in this class right now with Kendre Miller and Zach Charbonnet.
You could argue that he has a clearer path to success behind D'Onta Foreman and Khalil Herbert. The injury concerns Tyjae Spears could make an argument to go Johnson over Spears. Achane and Johnson are polar opposite body types. Johnson has moved from a late 2nd round pick to a late 1st-round pick following the draft.
RB – Devon Achane, MIA
Overall Rank: #14
Position Rank: RB5

The Miami Dolphins were one of the best landing spots. Although they were rumored to be trading for Cook or Swift, they did not. Instead, they drafted Devon Achane. Achane got a top landing spot and round 3 draft capital. Those that already had him in their top 5 may not be moving him up. I have my reservations and had him lower than the consensus pre-draft.
I still have reservations about his usage. Daniel Jeremiah said he would not be a high-volume player when he was drafted. That may be true, but this won't keep drafters from taking him early. The upside and the landing spot are too exciting.
WR – Rashee Rice, KC
Overall Rank: #17
Position Rank: WR6

Rashee Rice is a player that you probably were higher on than I was before the draft. But Rice checks the box for both landing spot and draft capital. I have to move him up and listen to what the NFL Draft is telling me. Rice was the 7th WR taken, and he landed with Patrick Mahomes. Reports that he has been working out with Patrick Mahomes before the draft might drive the price up too high for me. But I am moving him up my boards, and if the price is right, I will be buying.
WR – Jonathan Mingo, CAR
Overall Rank: #16
Position Rank: WR5

Jonathan Mingo was another player that was a late riser in the draft process. Mingo was the 5th WR off of the board and proved that it was not just smoke. Mingo goes to the Panthers, where he is the only long-term option currently. Bryce Young needed a weapon, and Mingo offered him a safe security blanket in the big-slot role.
Mingo doesn't have elite production, but he has elite traits. His ability to produce after the catch and make tough catches over the middle will help a rookie quarterback. My expectations year are lower, but I do like the pairing long-term. Mingo will be going much higher in your drafts than he was pre-draft.
WR – Marvin Mims, DEN
Overall Rank: #22
Position Rank: WR8

Marvin Mims was the 8th WR drafted and drafted in the 2nd round. Both of these things should interest you and have you moving him up. He is also being paired with Sean Payton, who has always had a player like this on his team. Branin Cooks, Lance Moore, and Deverey Henderson types have thrived in this offense.
My player comp for Mims pre-draft was T.Y. Hilton, and I absolutely love the fit in this offense. Expect them to run the ball more, and Mims could be the Tyler Lockett for Russell Wilson in the play-action game.
WR – Jayden Reed, GB
Overall Rank: #23
Position Rank: WR9

Jayden Reed is a fun player that offers some speed to a team that needs it. They have Christian Watson, but Reed is a different kind of player. Reed will not be targeted heavily down the field like DeSean Jackson. But Reed is a catch-and-run specialist that should do well in this offense. The draft capital and the landing spot are both check marks that should have you moving him up your boards.
TE – Sam LaPorta, DET
Overall Rank: #30
Position Rank: TE4

Sam LaPorta has been rising all offseason, and he ended up being the second tight end taken. He goes to a good offense that passed that ball at a high rate in 2022. LaPorta should step in as the top tight end on the team on Day 1, and he will get high snap counts. My concerns will be about his route participation and his target volume.
This is a team that just used the #12 pick on Jahmry Gibbs, who will demand a lot of targets himself. The team already has Amon-Ra St. Brown and Jameson Williams as well. I like the pick, and he is moving up, but I still am tempering expectations.
Biggest Fallers

QB – Hendon Hooker, DET
Overall Rank: #29
Position Rank: QB5
Hendon Hooker was a player that was getting 1st round buzz even during the 1st round. Not everyone agreed, and some had him as a Day 2 prospect. I was hopeful that he would go Round 1. Unfortunately, he did not, and I had to drop him down the board.
If the team decided to move on from Goff, this could be an amazing landing spot for Hendon Hooker. If Goff continues to play like last season, this is very unlikely. But, if Goff struggles, they could move on from him with only $5 Million in Dead Cap in 2024. He is a free agent in 2025 as well. Instead of moving up from Round 2, he is now falling to Round 3.
RB – Zach Charbonnet, SEA
Overall Rank: #15
Position Rank: RB6
Zach Charbonnet was one of the biggest losers on draft night. Charbonnet and Ken Walker both took a dynasty stock hit with this pick. Charbonnet got the draft capital we want in the 2nd round and as the third running back drafted. But, the concerns that he and Walker will hurt each other's values are real. Charbonnet could fall out of the 1st round because of it. This will be great for the Seahawks but not ideal for your fantasy football rosters.
RB – Tyjae Spears, TEN
Overall Rank: #19
Position Rank: RB7
Tyjae Spears was one of the biggest risers this off-season. His tape is some of the best in the class, and his production was phenomenal. However, his injury history and small school competition were the only things that concerned people. When Spears was the 5th running back off of the board and drafted in the third round, it should have helped his stock. Instead, sooner after being drafted, the reports came out about his knee, which made him a tough investment.
Not only does he have to sit behind Derrick Henry, who rarely leaves fantasy points left on the plate for other backs. Spears could have a shortened career due to his knee. Dynasty managers will be faced with a tough decision when he is sitting on the board in the 2nd round.
RB – Sean Tucker, TB
Overall Rank: #17
Position Rank: 47
Sean Tucker was another player that people were hot and cold on. Tucker was not able to participate in the combine and his pro day due to injury. This was a concern, and this turned into a red flag when medical reports came out about a potential heart condition. Tucker ended up going undrafted and will be a late-round flyer at this point. However, Tucker gets a decent landing spot in one of the weaker RB rooms in the league.
RB – Israel Abanikanda, NYJ
Overall Rank: #34
Position Rank: RB13
The average draft position for Abanikanda was lower than I thought. Maybe I was just too high on him, but the combination of draft capital and landing spots are red flags. Breece Hall is coming off of a significant injury, and the team may ease him back into the offense. But you still have Michael Carter and Zonovan Knight to compete with. Both players have played well in the offense, and it will be an uphill battle for Abanikanda to get on the field.
RB – Zach Evans, LAR
Overall Rank: #26
Position Rank: RB11
Zach Evans got a decent landing spot, but he was drafted in the 5th Round! Evans was all over the boards for dynasty managers as well as for NFL teams pre-draft. Some had him as a top 5 back, and some had him as a top 15 back. However, concerns about his pass-catching and never being able to take over a backfield pre-draft going into the draft became a reality.
A lack of confidence from dynasty managers in Cam Akers will keep hope alive for Evans. I am not burying him, but the 15th RB off of the board has dropped down my rankings.
WR – Josh Downs, IND
Overall Rank: #33
Position Rank: WR11
Twitter was having a meltdown as Josh Downs kept sliding down the board and was the 12th WR off of the board. A lot of people had him in their top 5, and his pre-draft ADP was a late 1st round pick! Downs was drafted in the third round, and he will go to Indianapolis.
I love the pick for Anthony Richardson, Downs compliments are really solid WR room. But, this team will be in flux, and early success for Downs looks unlikely. We have a new offense being installed and a potential quarterback change at some point this season. Downs could end up a value in the draft, but he can't be considered a top 5 WR anymore.
WR – Rakim Jarrett, TB
Overall Rank: #49
Position Rank: WR20
Rakim Jarrett was a highly recruited player that passed on opportunities with big-time SEC schools to play at Maryland. Unfortunately, Maryland's offense and Jarrett both did not have the success they dreamed of. As a result, Jarrett ended up going undrafted, and he might go undrafted in your rookie drafts.
TE – Darnell Washington, PIT
Overall Rank: #51
Position Rank: TE7
Darnell Washington dropped in the draft due to a medical issue with his knee. Several reports came out that he was pushed down boards or off boards due to this red flag. Washington also received a poor landing spot behind Pat Freiermuth as well as several other pass-catching options. The third strike for Washington was his draft capital. Washington was the 8th tight end off of the board. For all of these reasons, I'm out.
Here is a Superflex Rookie Mock Drafts that were completed after the 2023 NFL Draft