The first month of the 2023 MLB season is about to end. We have seen some unexpected stars carrying fantasy teams, but there have also been disappointing performers. Some of the latter, however, make for excellent bounce back candidates if you look closer at their profiles.
Here are some of them:
Go here for daily free MLB picks!

5 Bounce Back Candidates To Consider In Fantasy
Nolan Arenado, St. Louis Cardinals
Before the season, we predicted that Cardinals slugger Paul Goldschmidt would start his decline phase. It looks like we picked the wrong St. Louis star, though.
A career .288 hitter with a .876 OPS, Arenado has struggled in the early part of the 2023 season. He is batting .248 with 11 runs, a couple of home runs, and 14 RBI. Now, you might think those numbers don't look that bad, but when you factor in his .625 OPS and 73 wRC+, we get a clearer picture.
Arenado owners won't take solace in the fact his Statcast profile is full of blue: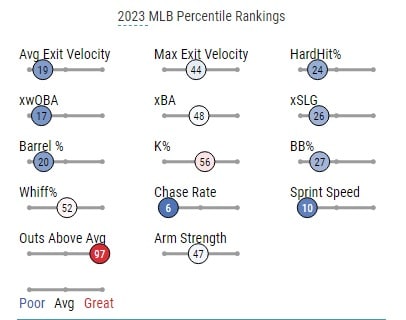 However, it's too early to give up on one of the most consistent sluggers in fantasy baseball. After all, he has an ongoing streak of 30-homer, 100-RBI seasons since 2015 (excluding 2020, for obvious reasons).
In fact, Arenado finished 2021 with 34 home runs, 105 RBI, and a 113 wRC+ in 2021. His Statcast profile looked a lot like his current one:
Be patient, let the guy work through his struggles, and you might see results soon. He just turned 32, so it's highly unlikely his decline has started. He is one of MLB's most obvious bounce back candidates.
Carlos Correa, Minnesota Twins
After 23 games, Correa is up to the grand total of 0.0 fWAR. That won't be the case for long, though.
Yes, he is off to a horrible start with the stick, hitting .195/.268/.356 with three homers and a 75 wRC+, but ask yourself this question: How can Correa not be one of the league's premier bounceback candidates when he has a career 128 wRC+ and is just 28 years old?
His 9.1 percent barrel rate is better than his career 8.8 percent mark, so he is still making good contact often. His average launch angle of 20.2 degrees on average might be a bit out of whack (he is at 10.5 degrees for his career), but it's nothing he can't correct. Hold tight.
George Springer, Toronto Blue Jays
The 33-year-old Springer is hitting .210/.272/.305 with a disappointing .577 OPS for the Toronto Blue Jays. However, there are reasons to believe he will get back on track soon. You should definitely write down Springer as one of the most evident bounce back candidates in baseball.
As his 115.9 mph max exit velocity proves, he still has elite raw power. However, judging by his quality of contact, his expected batting average is .259, and his expected slugging is .448. That means he has been getting a bit unlucky.
He does have three homers and five steals, so he still has some category juice. However, the disparity between his .271 wOBA and his .334 xwOBA is one of the largest in the league, so luck will even out eventually, and there will be positive regression for Springer.
Struggling Padres Should Be OK
Manny Machado, San Diego Padres
Just like Arenado, you just can't just assume prime Manny Machado (he is, after all, just 30) forgot how to hit. That's preposterous. But the fantasy baseball universe is filled with impatient owners who are probably trying to trade him.
The guy hit 32 homers with 100 runs, 102 RBI, a .298 batting average, a .898 OPS, a 152 wRC+, and 7.4 fWAR in 2022. Now, he is slashing a poor .245/.289/.406 with a .695 OPS, and that's after going crazy in Mexico City on Saturday night with two homers and a double.
Manny Machado and the @padres brought The Show to the #MexicoCitySeries. pic.twitter.com/GladAH2pNw

— MLB (@MLB) April 30, 2023
Yes, he took advantage of the environment (Mexico City is even higher than Coors Field) to put some numbers, but he was bound to rebound anyway. The guy is a superstar who was just in a rut, and maybe this can get him going. His hard-hit rates, barrel percentages, and even his average exit velocity are all slightly down, but it's still very early to panic.
Juan Soto, San Diego Padres
Soto makes for one of the most puzzling cases in fantasy baseball. He hasn't been the same since the start of the 2022 season with the Washington Nationals. Then, he got traded to the San Diego Padres. Overall, his 27 home runs and .853 OPS last year made him a well above-average player, but he has four campaigns with at least a .900 OPS.
Before Saturday's games, he was slashing .183/.345/.344 with four homers, 17 runs, nine RBI, a 98 wRC+, and a .689 OPS. The homers and runs give him a nice floor, not to mention his excellent plate skills and, therefore, OBP.
Will the contact skills return? Yes, they most likely will. His average exit velocity is a solid 92.1 mph, he is barreling balls at a 14.1 percent rate (better than his career norms), 56.3 percent of his batted balls have been at a minimum of 95 mph, his expected batting average is .238, and he also has a .470 expected slugging percentage. His .312 wOBA lacks in comparison to his .372 xwOBA. He will be fine, so make sure you have his name on your list of bounceback candidates for May.