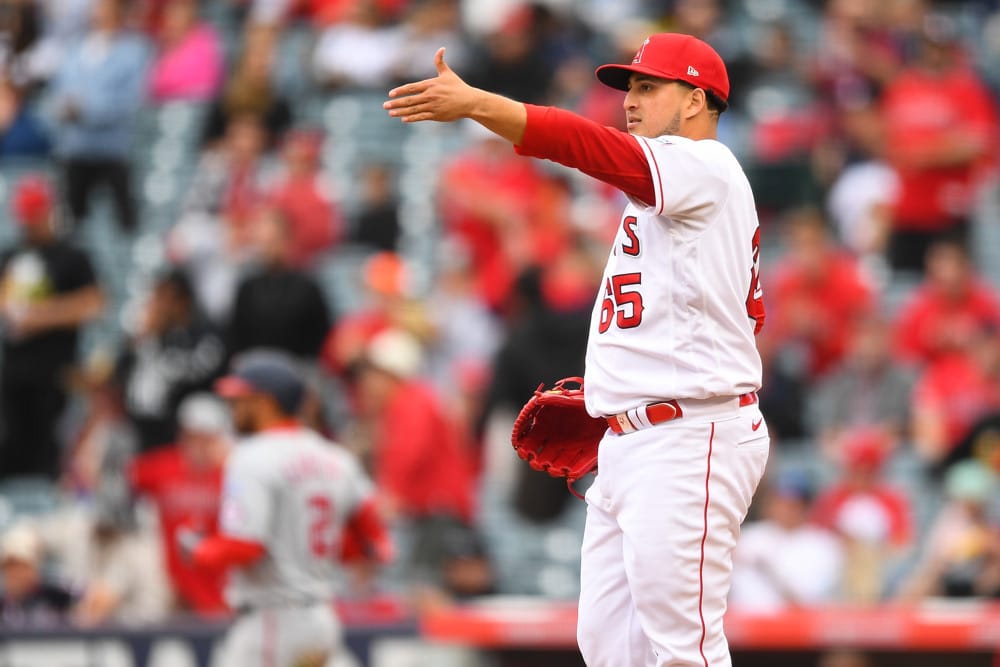 The MLB season is a few weeks old as we near the end of April on Sunday. That means the fantasy baseball season is in full swing, and managers are figuring out their needs. Something that seemingly any fantasy baseball team always needs is closers. Unfortunately, saves are hard to come by nowadays, with undecided bullpens and "closers" used earlier in games in higher-leverage situations. Nevertheless, there are some saves to be found on the waiver wire. Go here for the latest World Series odds.
We'll primarily highlight players rostered in less than 50% of leagues –– and they'll be listed in descending rostered % order ––, so they should be available in most of your leagues! If you have any questions, feel free to reach out to Ryan on Twitter (@RGilbertSOP) or in the SGPN Discord!
*All stats through April 24th
Go here for daily free MLB picks!



Fantasy Basebal

l Closer Watch: Relief Pitchers to Pick up for Saves
AJ Puk (MIA – 4 Saves – 67% Rostered)
Puk is only available in one-third of leagues, so I'll keep this short: go pick him up if he's available.
He has four of Miami's five saves this season (Tanner Scott has one) with nine strikeouts in as many innings. Since surrendering a home run on Opening Day, Puk has thrown eight shutout innings allowing just five hits.
---
Alex Lange (DET – 2 Saves – 55% Rostered)
Lange is firmly entrenched as the Detroit closer, but the bad news is that the Tigers aren't that good. To make up for that, however, Lange has a 1.64 ERA (2 ER in 11 IP) and .909 WHIP on the season. He's allowed just one hit and two walks while striking out 11 over his last seven outings (7 1/3 IP).
---
Adam Ottavino (NYM – 3 Saves – 51% Rostered)
Available in just less than half of the leagues, Ottavino is the second head to the Mets' two-headed monster with Edwin Diaz out for the season. David Robertson is rostered in nearly all leagues and has four saves on the season, with Ottavino just behind at three. In fact, Ottavino has the Mets' last two saves and three of their last five.
Buck Showalter will mix and match with Robertson and Ottavino, so the veteran isn't a bad option if you are looking for saves.
---
Fantasy Baseball Closer Watch: Angels in the Bullpen
Jose Quijada (LAA – 4 Saves – 50% Rostered)
Carlos Estevez (LAA – 3 Saves – 25% Rostered)
The Angels are another team with a two-headed monster coming out of the bullpen, but this one isn't as intimidating.
Quijada leads the way with four saves and had eight shutout innings before allowing five runs while recording just two outs to the Royals over the weekend.
Carlos Estevez is right there with three saves — and seven games finished — with just two earned runs allowed in 10 innings. However, Estevez has walked six while striking out 11.
As someone who rosters both of these Angels relievers, it's hard to figure out what is happening with the Los Angeles bullpen. Quijada has saves on the 5th, 12th, 18th, and 21st, with Estevez mixed in on the 11th, 17th, and 23rd. It appears as if they're going with a true committee for now, and I'd recommend rostering either of these options if they're available in your league.

---
Fantasy Baseball Closer Watch: Into the Depths
Kyle Finnegan (WSH – 4 Saves – 34% Rostered)
The Nationals aren't going to have many save opportunities this season, but Finnegan should get the bulk of the chances. However, it's tough to count on someone with an 8.59 ERA (7 ER in 7 1/3 IP) and just four strikeouts to five walks.
Carl Edwards Jr. has the Nationals' only other save and could be the "handcuff" here. Still, in general, Washington is a situation you might want to avoid unless you're desperate for saves in a 5×5 league and can take the ratio risk.
---
Reynaldo Lopez (CWS – 3 Saves – 34% Rostered)
Lopez is another bad closer on a bad (so far) team. He has the White Sox's only three saves on the season but has also allowed nine runs on 12 hits in 9 2/3 innings. Unlike Finnegan, though, the strikeout upside is there for Lopez, with 16 on the year and 63 punchouts in 65 1/3 innings last season.
---
Fantasy Baseball Closer Watch: Handcuff Holds
Bryan Abreu (HOU – 2 Saves – 49% Rostered)
Abreu is behind Ryan Pressly in the Astros bullpen, but he's been mighty impressive this season. He has 19 strikeouts in 12 1/3 innings while carrying a 0.73 ERA and 0.89 WHIP.
If you're in a league with holds, want to help your ratios and pick up a save here or there, or want to have the handcuff for Pressly, Abreu would be a fantastic look.
---
Yennier Cano (BAL – 1 Save – 6% Rostered)
Felix Bautista burst onto the scene out of the Baltimore bullpen last year, and the Orioles may have found another stud here in Cano.
Cano has yet to allow a hit or a walk through seven innings this year with nine strikeouts. On Monday, he struck out two of three batters while earning the save against the Red Sox.
Cano isn't going to take the job from Bautista, but he could be worth rostering for similar reasons to Abreu. He's available in many more leagues and could become the Orioles' closer in a few months if Bautista is dealt.