The NFL Draft is right around the corner, and there have already been some huge swings in fantasy value from the 2023 prospects. SGPN is here to provide you with a look at some of the best and worst fantasy values according to dynasty fantasy football rookie ADP. I used the Mock Draft ADP tool from the Faceoff Sports Network, which also provides outstanding draft analysis. Their site allows me to use only April drafts as well to sort ADP in order to show the most recent changes.

MORE SGPN FANTASY FOOTBALL CONTENT
Follow SGPN Fantasy Football on Youtube
Dynasty Rookie ADP Winners & Losers
C.J. Stroud – QB – Ohio St.
ADP: 9.44
No, that Faceoff Sports Network's ADP doesn't reflect a bargain in a superflex format. CJ Stroud is currently being taken in the first round of 1QB dynasty fantasy football rookie drafts. He is smart, accurate, and has winning intangibles that NFL general managers are looking for. However, he doesn't possess enough upside to be a difference-maker in 1QB formats.
The first concern is the lack of rushing ability, as Stroud never rushed for over 108 yards in a season. He is mobile but doesn't project to add much fantasy value with his legs at the NFL level. The nine best quarterbacks in fantasy in terms of points per game all finished in the top 12 in rush yards per game (min. five games played). Stroud is a valuable Superflex asset, but fantasy managers shouldn't expect him to be a consistent top-10 quarterback.
Dynasty Fantasy Football Rookie ADP Verdict: Loser
Roschon Johnson – RB – Texas
ADP: 18.78
After being a fantasy darling all off-season long, I am very surprised to see Roschon Johnson being picked near the end of the second round. Despite spending his career in the shadow of Bijan Robinson, there are very few holes in his game. He's extremely tough to tackle, is a great pass blocker, and boasts solid vision in finding an opening at the line of scrimmage.
The negatives are he isn't a premier athlete and didn't get much pass-game usage in college. His targets per route run percentage was average, though and his pass blocking could keep him on the field on third down. Draft capital is going to be huge for Johnson, and if he sneaks into day two, this is a bargain.
Dynasty Fantasy Football Rookie ADP Verdict: Winner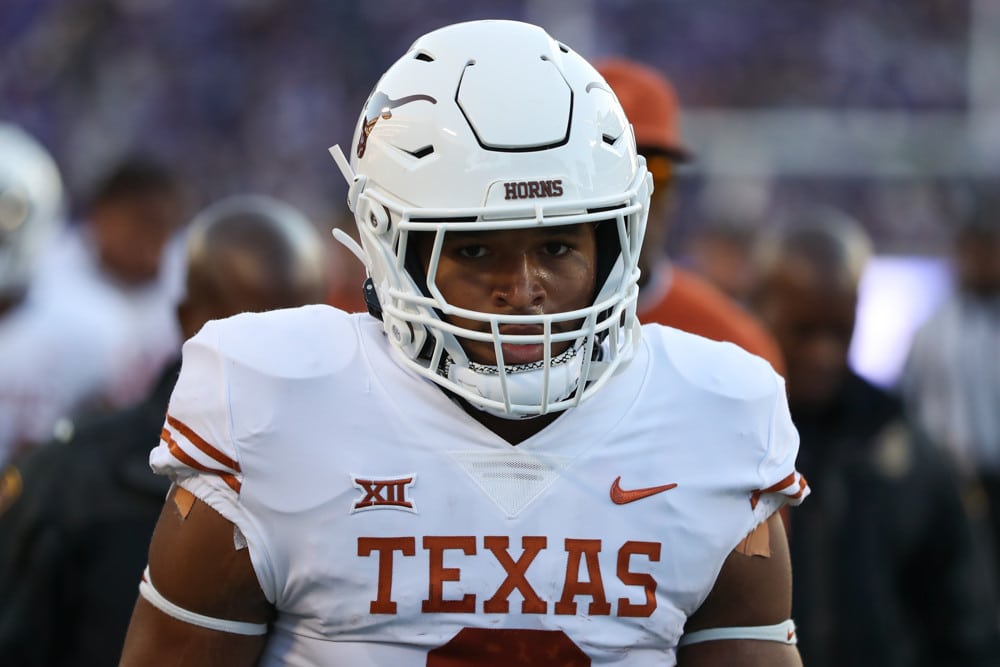 Tyjae Spears – RB – Tulane
ADP: 17.89
Another fantasy analyst darling, I am actually lower on Tyjae Spears than most within the community. However, one thing that can't be denied is how great he was in his final season at Tulane. Spears ran for over 100 yards eight straight times to finish his career. In addition, he demonstrated particularly fantastic vision in the way he would set defenders up to run into blockers.
Nevertheless, there are some major red flags beginning with two ACL injuries between high school and college. This hampered him for years until he finally truly broke out in 2022. The other concern is his athletic ability for his size. Spears reminds me a bit of Devin Singletary, who is also a brilliant runner, but whose potential is capped by his speed.
Dynasty Fantasy Football Rookie ADP Verdict: Loser
Israel Abanikanda – RB – Pittsburgh
ADP: 23.44
Another running back going way too low in these recent mock drafts, Israel Abanikanda, is my number four ranked rookie running back currently. After an impressive 40-yard dash time at his Pittsburgh Pro-Day that was initially reported as between 4.27-4.32, he is finally getting recognition. Abanikanda is one of the best pure rushers in this class, with 1,431 rushing yards on 5.99 yards per attempt in 2022.
Unlike many in this class, he also possesses a strong frame too, capable of taking on a large workload at the NFL level. Abanikanda isn't a great pass catcher as of yet, but there isn't a reason he couldn't develop in this area as a younger prospect. Ultimately I'm leaning on the upside here. There are prospects with safer profiles, but if Abanikanda lands in the right situation, he has a top-15 fantasy upside.
Dynasty Fantasy Football Rookie ADP Verdict: Winner
Jalin Hyatt – WR – Tennessee
ADP: 13.89
Jalin Hyatt is loved by NFL scouts more than fantasy analysts, as he is rumored to be the top wide receiver on some scout's boards. We know how the NFL covets speed in today's game, and if Hyatt is anything, he is a burner. However, this doesn't suggest he will be a consistent fantasy option at the next level.
Hyatt is a bit of a one-trick pony with a limited route tree and isn't a particularly strong contested catcher, either. However, the Tennesse offense also created a lot of space for him, which he shouldn't expect to be as easy at the NFL level. Hyatt will be very intriguing with round-one draft capital, but there are running backs I prefer in the early second round of a rookie draft.
Dynasty Fantasy Football Rookie ADP Verdict: Loser
Marvin Mims – WR – Oklahoma
ADP: 22.00
Marvin Mims is my number five ranked wide receiver in this draft class, and I would be thrilled to land him at the end of the second round. There aren't many holes to his game with great hands and strong athletic testing (4.38 40-yard dash). He is extremely versatile as well and should be able to line up inside or outside at the NFL level.
Nonetheless, similar to many of the wide receivers in this class, Mims has less than ideal size. He performed much better at the NFL Combine, though, than other highly regarded wide receivers and has the college production to back it up, too (96th-percentile breakout age). If Marvin Mims is selected within the first 50 picks of the NFL Draft, it will solidify this ranking.
Dynasty Fantasy Football Rookie ADP Verdict: Winner
RELATED CONTENT