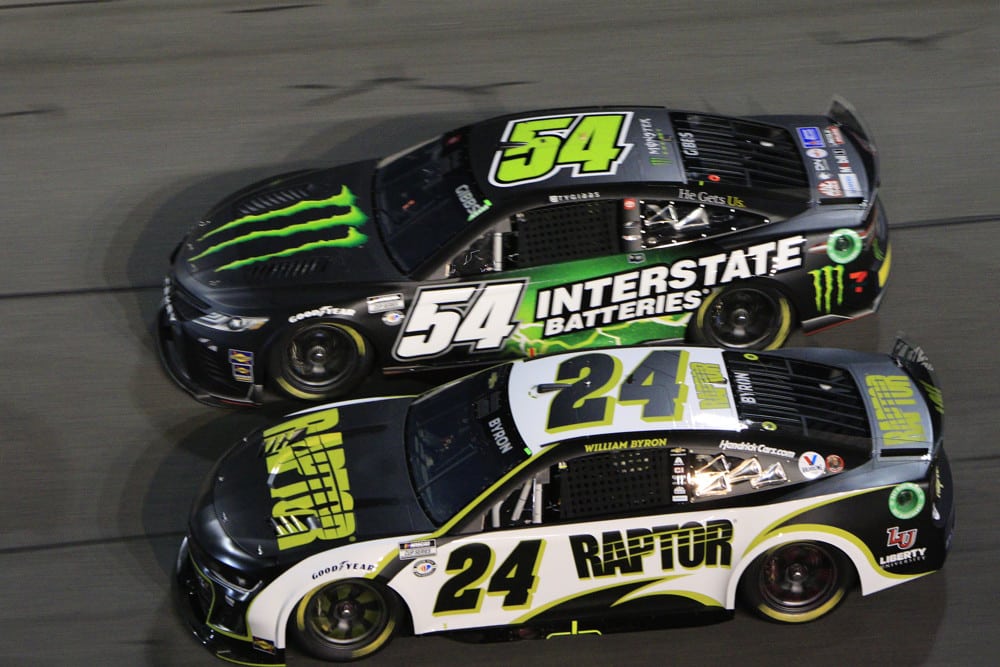 The dust has settled from the Bristol Dirt race. Christopher Bell became the seventh different Cup Series winner through eight races in 2023. Last week Matt Crafton filled in for Cody Ware following his arrest.
With Ware suspended, Truck Series champion Zane Smith will take over the #51 Rick Ware Racing car this coming week. NASCAR's most popular driver, Chase Elliott, will also return after fracturing his leg in a snowboarding incident and missing six races.
This week it's on to the "paperclip" of Martinsville Speedway. The half-mile track is located in Ridgeway, Virginia, just south of Martinsville. One of the first paved surfaces that NASCAR ever raced on, the series has been coming to this track since the beginning in 1948.
Martinsville is the smallest track on NASCAR's regular season schedule (The Clash at the Coliseum was shorter). 400 laps of short-track racing will test the tempers just a bit! In this article, I'll give you my five best bets using a budget of $5,000. Then cover a few drivers to keep an eye on for your weekly DFS contests.
NOCO 400 at Martinsville Speedway NASCAR Best Bets DraftKings DFS Picks
$1,500 – Kevin Harvick Top 10 Finish (+110 Caesar's Sportsbook)
No driver is more consistent than Harvick in the Cup Series. Through nine races (counting the Clash), Harvick had only finished worse than 13th once, when he was involved in a wreck at the Atlanta Superspeedway race. On the NASCAR GAMBLING PODCAST, Harvick is a perennial favorite bet on any track at any time.
Even last week at one of his least favorite things in Bristol dirt, you didn't hear from him all day. Then at the end of the race, Harvick is 9th on the leaderboard. You have to go back to October 26th, 2014; for the last time, Harvick finished worse than 20th at Martinsville. Mr. Consistency gets a bet from me almost any week.
$1,000 – Kyle Busch Over Ryan Blaney (-110 Caesars Sportsbook)
Ryan Blaney's winless streak is now up to 54 races. His last win came at Daytona in the fall of 2021. Ryan has been one of my favorite drivers to bet on in the past. However, with his luck lately, he's gone into full fade mode. Blaney's season so far has looked like this. Daytona wrecked twice. Auto Club was wrecked on a restart.
Las Vega's bad pit strategy cost him. At Phoenix, Blaney scored a second-place finish. COTA brought another wreck. Richmond was more problems on pit road. Bristol Dirt Blaney restarted on the front row with just seven laps to go and was spun out.
The moral of the story is despite showing speed most weeks, Blaney and his Team Penske Ford just cannot be trusted to deliver results. On the other hand, Kyle Busch only has one finish worse than 19th, which came last week at Bristol Dirt after a broken suspension late in the race forced his retirement.
Busch struggled here in the fall, but that was his second to last race at Joe Gibbs, and it appears both Busch and the team were ready for a vacation at that point. Before that, Busch hasn't finished worse than 19th at Martinsville since April of 2012. Additionally, in 14 of the last 24 races here, Busch has finished in the top five with two wins to his name.
$500 – Ty Gibbs Top 10 Finish (+220 Caesars Sportsbook)
Ty Gibbs has scored a top-10 finish for four weeks in a row at four different styles of tracks. The rookie is coming into form, and despite being a rookie already has 23 career Cup Series starts under his belt after filling in for Kurt Busch last season. Gibbs ran a solid day and finished 19th here last fall, a day after winning the Xfinity Series race.
On the NASCAR GAMBLING PODCAST, we're high on teammates Denny Hamlin and Christopher Bell. The other Joe Gibbs Racing car of Martin Truex Jr is the co-favorite to win this race. I expect Ty to put together another solid day and score his fifth consecutive top-10 finish.
$1,000 – William Byron Top 5 Finish (-125 DraftKings Sportsbook)
Byron comes in as a clear-cut favorite for this race, and for a good reason. He's the only driver with two wins this season and has led 385 laps through the first eight races. Last spring, Byron dominated this race. After taking the lead from teammate Chase Elliott after a pit stop. Byron led the last 212 laps of the race en route to the victory.
In the fall race, Byron had to start back in 25th but worked his way through the field to finish seventh. As good as this #24 team has looked this year, count on Byron to have a fast hot rod.
$1,000 – Denny Hamlin to Win (+700 Barstool Sportsbook)
This week, Denny Hamlin called his shot on his podcast Actions Detrimental with Denny Hamlin. "Mark it down now; this is the week the #11 car gets hot." How can you argue with confidence like that? Denny has five wins at Martinsville, is the active laps leader in the Cup Series, and sits ninth on the all-time laps-led list at the track.
In the fall, Hamlin led 203 laps on the day before settling for a 5th-place finish. With 17 top-five finishes and those five wins at this track in his home state of Virginia. I think Denny already has a spot for his sixth grandfather clock.

NOCO 400 DraftKings DFS Driver to Watch
With 400 laps led and fast laps available this week, it's going to be key to get the driver or two who dominate this race. So keep a close eye on practice and qualifying before you set your final lineup for Sunday. Here are a few drivers to remember as you make your DraftKings or fantasy lineups.
Denny Hamlin $10,100
As mentioned above, Denny has been good at this track. Hamlin has led 2.190 Cup Series laps around this .526-mile circuit, good enough for ninth all-time. Denny had a great day last time out at this track, leading 203 laps to a fifth-place finish. Unfortunately, after Ross Chastain's famed hail melon move, that wasn't good enough to get Denny into the championship round. Denny is out to avenge that loss this week, and I think he'll be out front for many laps.
Ty Gibbs $6,900
Gibbs checks in at an excellent $6,900. This is another guy I just cannot quit. In four races in a row, Gibbs has finished inside the top 10 on varying styles of tracks. His salary went up a whopping $200 from $6,700 last week after he scored 47.0 fantasy points. However, two weeks ago at Richmond Gibbs was $7,300 in cost. They haven't adjusted his price to match his four races in a row scoring over 42.0 points. Enjoy getting Gibbs at this price now; in five to ten years, nobody will believe you ever got him this cheap.
RELATED CONTENT