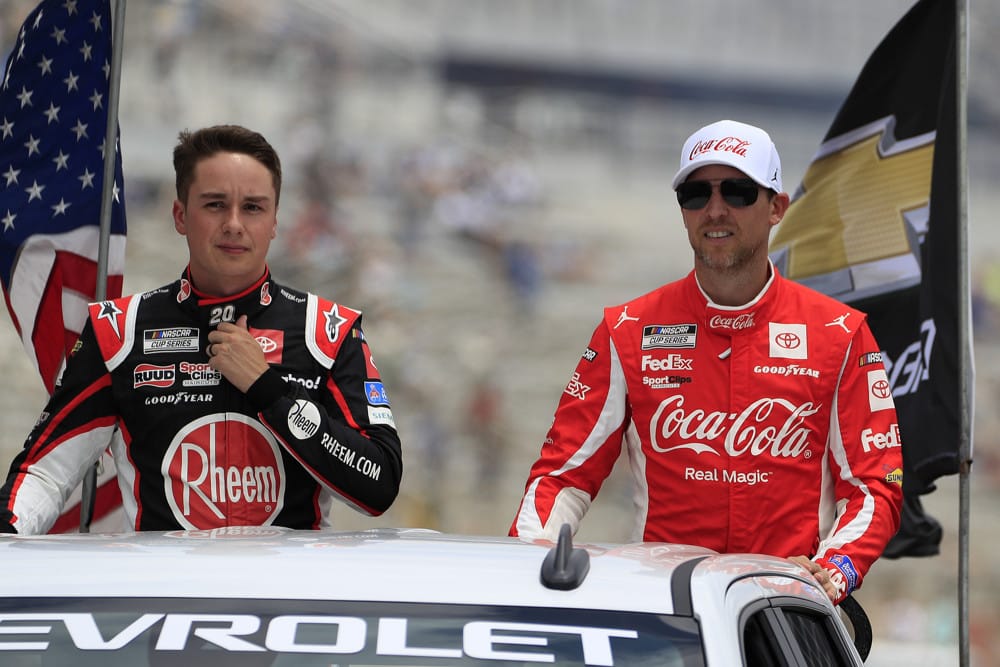 They finally got through all the overtime attempts at COTA last week. Tyler Reddick was the most dominant car all weekend. Proving to everyone it wasn't just a fast car last season. He is going to be a force on road courses going forward.
This week it's back to the east coast and Richmond, Virginia. Richmond Raceway is a .75-mile D-shaped track. Known for its high speeds and tire wear, Joe Gibbs Racing has won nine of the last 15 races at this track. On the other hand, Hendrick Motorsport is usually a dominant force every week. However, they picked up just their first Richmond win in 2021 with Alex Bowman since last winning in 2008 with Jimmie Johnson.
Last year's winners at Richmond were Denny Hamlin in the spring and Kevin Harvick in the fall event. As we do every week, I'll give you my five best bets using a budget of $5,000. I followed up with a few drivers to keep an eye on in DFS at Richmond. Be sure to subscribe to the NASCAR GAMBLING PODCAST for coverage and picks for all three of NASCAR's premier series.
Toyota Owners 400 at Richmond Raceway NASCAR Best Bets and DFS Picks
$1,500 – Alex Bowman Over Brad Keselowski (-120)
Despite Hendrick Motorsports' struggles to get to victory lane here at Richmond, Alex Bowman has had a decent amount of success lately. In four of his last five races here, Alex has finished 12th or better, including that 2021 victory. Going back to a few weeks ago at Phoenix, the closest comparison track they've been to in 2023. Bowman scored a solid ninth-place finish. Bowman has finished in the top 10 in every race this season other than his 14th-place finish at Atlanta.
Brad Keselowski has an excellent resume at Richmond Raceway, including two victories. However, that run of great finishes came with Penske Racing. Things haven't been as easy for Brad since taking the driver/owner role at RFK. Brad finished a respectable 13th and 15th here in last season's races. At Phoenix, however, Brad had to settle for an 18th-place finish.
With Ford struggling on the non-superspeedway tracks early in 2023, going against the raw speed and power we've seen from Hendrick and Bowman himself. While I expect Brad to have an okay day, this matchup is lopsided based on Bowman's strong 2023 season, which has him leading the points standings after this week's reduction of the Hendrick penalty from Phoenix.
$500 – Winning Manufacturer Toyota (+250)
As mentioned above, Toyota has typically been the team to beat at Richmond. The slight disadvantage when taking Toyota is there are only six in the field. However, all six are very strong cars capable of winning races. Denny Hamlin has four wins here at his home track. Martin Truex Jr has visited victory lane three times. Christopher Bell has won at New Hampshire, a shorter, flatter track.
Ty Gibbs won here last year in the Xfinity Series on his way to winning the series title. Tyler Reddick is fresh off winning last week at COTA and a third-place finish at Phoenix. Bubba Wallace has shown speed early this season with a fourth-place finish at Las Vegas and also scored a third last season at New Hampshire.
Chevy checks in as the favorite manufacturer (+115), with Ford next (+195). As we often talk about on the NASCAR GAMBLING PODCAST, any manufacturer can win any week when there is value in one of them, with the track history to back it up. So this bet is a no-brainer when it comes to value.
$1,500 – Denny Hamlin Top Five Finish (+120)
All aboard the Toyota train this weekend. Denny Hamlin has finished top five at Richmond in four straight races. He's also scored a top five in ten of his last twelve races at Richmond. So it's safe to say he loves this track and being back close to home. Even in 2022, when Hamlin didn't finish better than 13th in any of the first six races, including three finishes of 29th or worse, Hamlin still found himself in victory lane here.
$500 – Denny Hamlin to Win (+1000)
For all the same reasons listed above, this number is just too juicy not to take. Hamlin's 2023 is off to a much better start, where a 23rd-place finish at Phoenix is his worst performance. In three of the six events so far this season, Hamlin has finished sixth or better. Hamlin has four wins and 16 top-five finishes in his career at Richmond.
$1,000 – Christopher Bell to Win (+750)
The young Joe Gibbs Racing Toyota driver has had nothing but success at Richmond. His first career start in a Leavine Family Racing car Bell scored a 15th-place finish. Since switching over to Joe Gibbs, it's been four straight finishes inside of the top six, including second place last fall to Kevin Harvick. Bell won at the comparable New Hampshire Motor Speedway last season. In addition, Bell had rough luck at Auto Club and COTA last week. Besides those two bad finishes, Bell hasn't finished outside of the top six so far in 2023.

Toyota Owners 400 at Richmond Raceway DFS Drivers to Watch
As always, keeping an eye on qualifying before setting your lineup will be important. The drivers mentioned above I'm very high on. I fully endorse playing those guys and will likely have them highly rostered. So here are a few other drivers not yet mentioned to keep an eye on.
Kevin Harvick ($10,800)
Harvick finished second in the spring and won the fall race here at Richmond. In the fall race, Harvick led 55 laps. Harvick scored a fifth-place finish at Phoenix and was leading at the end of the race before a late caution and pit stop cost him. That was Harvick's 20th top-10 finish in a row at Phoenix. While his streak isn't quite that good at Richmond, it's still pretty impressive. In 17 of the last 19 races here, Harvick has finished 11th or better. It's no coincidence this driver is one of the favorites heading into the weekend (+600)
Tyler Reddick ($9,000)
Stop me if you've heard the Toyota love for the weekend already. Reddick, however, isn't getting the same level of respect as his fellow Toyota drivers. His track record here isn't wonderful. In five starts, he's never finished better than 11th. That was in a Richard Childress Racing Chevrolet. Now Tyler is in a 23XI Toyota and fresh off a win at COTA. With that momentum and his third-place finish at Phoenix, I've seen all I need to see. Reddick may be under the radar, and that's fine with me!
RELATED CONTENT