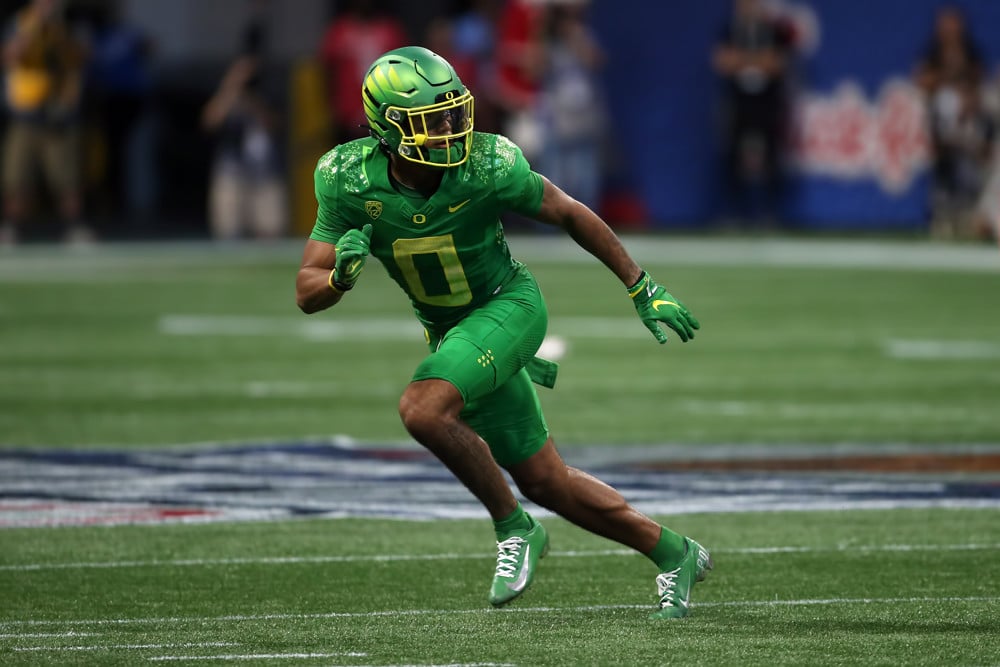 This class is filled with talent and will bring great value to your dynasty squad for the foreseeable future. Dave Heilman (@DynastyDorks) and I (@FFBourbonDude) brought you a ton of pre-combine draft profiles at each of the offensive skill positions. Now it's time to get into our defensive players. Be sure to check out our NFL Draft Playlist on YouTube for all of our draft profiles.

MORE SGPN FANTASY FOOTBALL CONTENT
Follow SGPN Fantasy Football on Youtube
Christian Gonzalez – NFL Rookie Draft Profile
Background
Height – 6'1″
Weight – 197 pounds
A 4-star recruit started his journey at Colorado where he maintained very good analytics like yards per catch, he didn't land his first interception until this season. His athleticism covers up for his lack of game-changing DB play.
2020 (Colorado)
Lee Willard Award as the top freshman on defense
Finalist for the CUSPY for Male Freshman of the Year across all CU sports
2021 (Colorado)
Pac-12 All-Conference honorable mention
2022 (Oregon)
Coaches Pac-12 All-Conference first team
Phil Steele All-Pac-12 first team
Associated Press All-Pac-12 second team
Pro Football Focus All-Pac-12 second team
Phil Steele All-America fourth team
Defensive Back Pros
Athleticism
Christian Gonzalez athletic score is off the charts and definitely has the fluidity to keep up with any route in the tree.
Tackling
Extremely low missed tackle rate of 4.9% per PFF.
Speed
Clocked a 4.38 at the NFL combine and showed that speed on the field when recovering.
Defensive Back Cons
Recognition
Sometimes he is delayed in recognizing the play in Zone Coverage in particular. Isn't the kind of guy that jumps routes and creates turnovers. Classic cover corner.
Ball Skills
Only 4 career interceptions and a good amount of tape that shows him just not looking for the ball.
Run Support
Gonzalez did make 13 stops in run support per PFF but the thin frame will likely hinder this at the next stage.
BE SURE TO CHECK OUT OUR OFFENSIVE NFL DRAFT PROFILES ON YOUTUBE! You won't regret it. #DEGENS