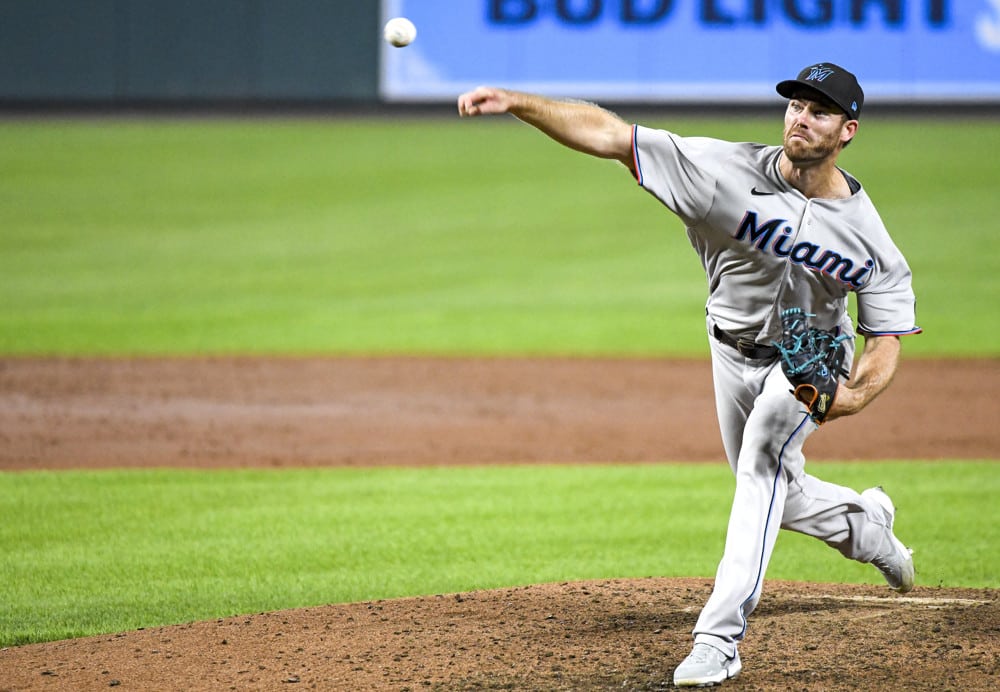 The 2023 MLB season is about to start. That means fantasy owners, more than ever, will be hunting for late-round save sources for their teams. You won't find Josh Haders, Emmanuel Clases, or Ryan Presslys in this article. This is more about potentially cheap, easy-to-acquire options to get owners at least some saves.
5 Late-Round Save Sources For Your Fantasy Baseball Team
Late-Round Save Sources: Shopping At The Bargain Bin
Dylan Floro, Miami Marlins
There isn't a set closer in Miami, but a series of circumstances make Floro one of the best late-round save sources in fantasy. On Sunday, he struck out two in a perfect inning of relief against the Washington Nationals.
Earlier in spring training, his fastball velocity was down a couple of miles per hour. It's probably part of the reason why he allowed seven earned runs in Grapefruit League play. However, he has gotten them back, and that's good news for his ninth-inning outlook.
Floro looks like the favorite for saves in that bullpen. He has a solid 3.15 ERA for his career and was at 3.02 last year. He won't be an ERA star or a strikeouts powerhouse, but he is good enough to keep the closer gig all year if he gets it.
Among late-round save sources, Floro is one of the safest bets to return at least a few.
AJ Minter, Atlanta Braves
Minter pitched 70 innings last year with the Braves, and boy, they were good. He had a 2.06 ERA, 94 strikeouts, and a 0.91 WHIP, with five saves sprinkled in.
The 29-year-old lefty is more than capable of holding down the fort while Raisel Iglesias recovers from a bout of shoulder inflammation. Who knows? Maybe the two relief aces will share closing duties going forward if the Braves want to go easy on Iglesias with an eye on the playoffs.
Carlos Estevez, Los Angeles Angels
In early December, the Angels signed Carlos Estevez to a two-year, $13.5 million contract. Coming off a 3.47-ERA, 1.18-WHIP season with the Rockies, we had every reason to believe he would be the closer to start the year.
The spring was rough for him, so much so that he still has a 12.15 ERA and a 10/9 BB/K ratio. Keep in mind that's only 6.2 innings, though, before you overreact.
In fact, he has conceded only one run in his last three frames, with a 0/6 BB/K ratio. In other words, he has been righting the ship at the best possible time. So while there might not be a nominal closer in LA, he seems like the favorite to get most of the chances, at least early on.

Two Potential RP Values Despite Probable Timeshare/Committee
Michael Fulmer, Chicago Cubs
As far as late-round save sources go, you can do much, much worse than Michael Fulmer. The Cubs' free agent signee is expected to share the job with Brad Boxberger, but he is good enough to emerge as the leading option and will still have value on a timeshare.
He had a 3.39 ERA last year, and while he doesn't have the ceiling of a high-strikeout elite closer, he can thrive in the role. You can get more saves than you think from the former Detroit Tigers for the potential cost.
Scott McGough, Arizona Diamondbacks
Under normal circumstances, Mark Melancon would have been the D-Backs closer. He is typically one of baseball's most reliable mid to late-round save sources, but he won't start the season on the roster because of a right shoulder strain.
That leaves Scott McGough and Andrew Chafin as the primary candidates for ninth-inning work in Arizona. The latter, a left-hander, will likely be used in save chances that feature a lefty-heavy order. Theory indicates that most of the opportunities should go to McGough.
With much closing experience in Japan, McGough has had a solid spring with a 2.16 ERA and a 0.84 WHIP. He also had a 2/9 BB/K ratio in 8.1 frames in the Cactus League.
RELATED CONTENT