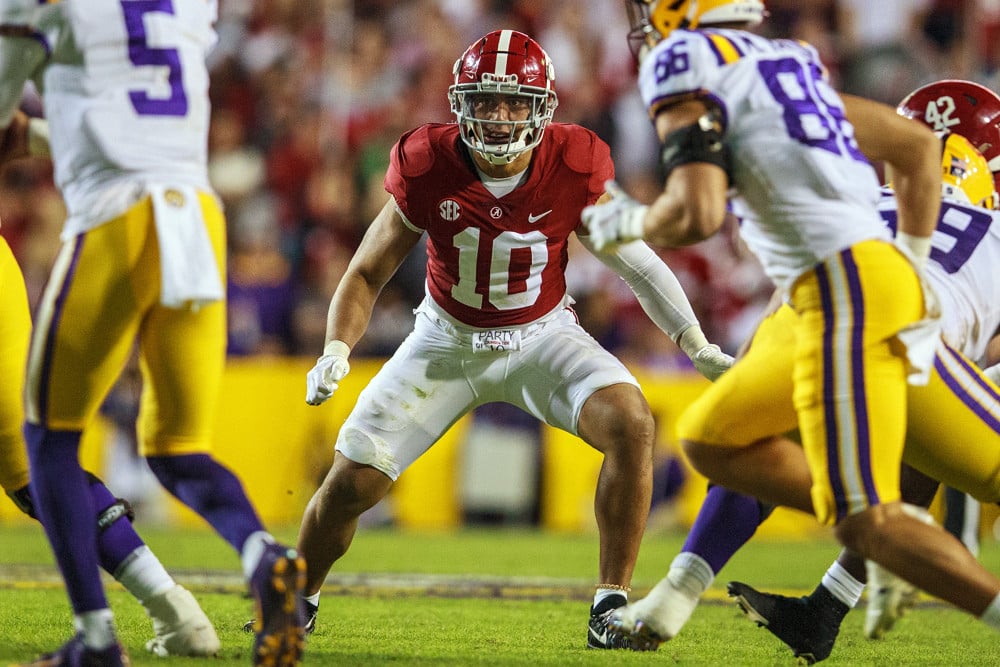 This class is filled with talent and will bring great value to your dynasty squad for the foreseeable future. Dave Heilman (@DynastyDorks) and I (@FFBourbonDude) brought you a ton of pre-combine profiles at each of the offensive skill positions. Now it's time to get into our defensive players. Be sure to check out our NFL Draft Playlist on YouTube for all of our draft profiles.

MORE SGPN FANTASY FOOTBALL CONTENT
Follow SGPN Fantasy Football on Youtube
SGPN Fantasy Football Rankings
---
Henry To'oTo'o – NFL Rookie Draft Profile
Background
Height – 6'2″
Weight – 228 pounds
To'oTo'o has really shown over the last four seasons that he can be a well-rounded middle linebacker. Whether at Tennessee in 2019 and 2020 or Alabama in 2021 and 2022, he played with great instincts and leadership to be a true field general. During his two seasons with Alabama, he totaled 206 tackles, seven sacks, and 20 tackles for loss per NCAA.
2022
First-team All-SEC honors from the league coaches
Semifinalist for the Butkus Award, presented annually to the nation's top linebacker
Watch lists for the Bednarik Award and Nagurski Trophy
Watch lists for the Lombardi, Lott, and Polynesian Player of the Year
2021
All-SEC Second Team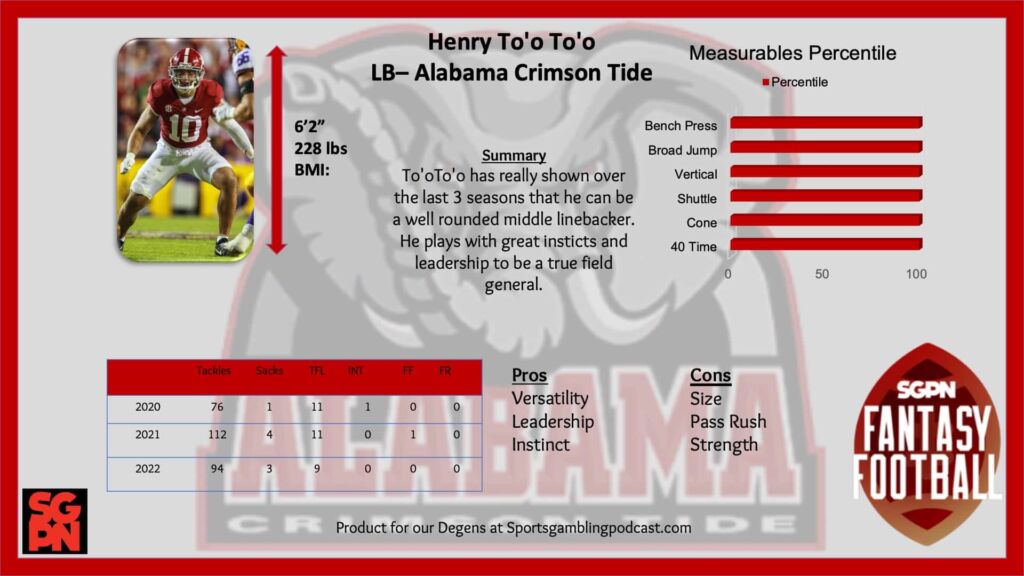 Linebacker Pros
Versatility
To'oTo'o has shown that he can play well in zone coverage, defend against the run, and command a defense. He is what you want out of a middle linebacker.
Leadership
Identified by the Alabama coaching staff as one of the smartest players on the field. He was voted for the Pat Trammel Award, which is given to the player "whose character and contributions to the Alabama football team most personify the All-American youth of today and has reflected qualities of Integrity, Character, Importance of Academics and Inspirational Leadership" per Tuscaloosa News.
Instinct
Voted the Outstanding Defensive Performer for the Alabama squad after leading the team over a 2-year span in tackles with 206 in 2021-2022.
Linebacker Cons
Size
You see some of the league-leading tacklers in the NFL around the 230 mark, but To'oTo'o just looks lean on film. Some studies have suggested a BMI of around 31 is most desirable for an NFL linebacker. Henry comes in at 29.3. I don't think this will limit his ability to perform at the next level.
Pass Rush
He rushed on almost 35% of true pass sets per PFF and only logged three combined sacks. Just not exactly his skill set.
Strength
His lack of strength is the major factor in his limited pass-rush ability. In all honesty, though, I don't care. He is a talent that can legitimately lead the league in tackles a la Foyesade Oluokun.
BE SURE TO CHECK OUT OUR OFFENSIVE NFL DRAFT PROFILES ON YOUTUBE! You won't regret it. #DEGENS
RELATED CONTENT