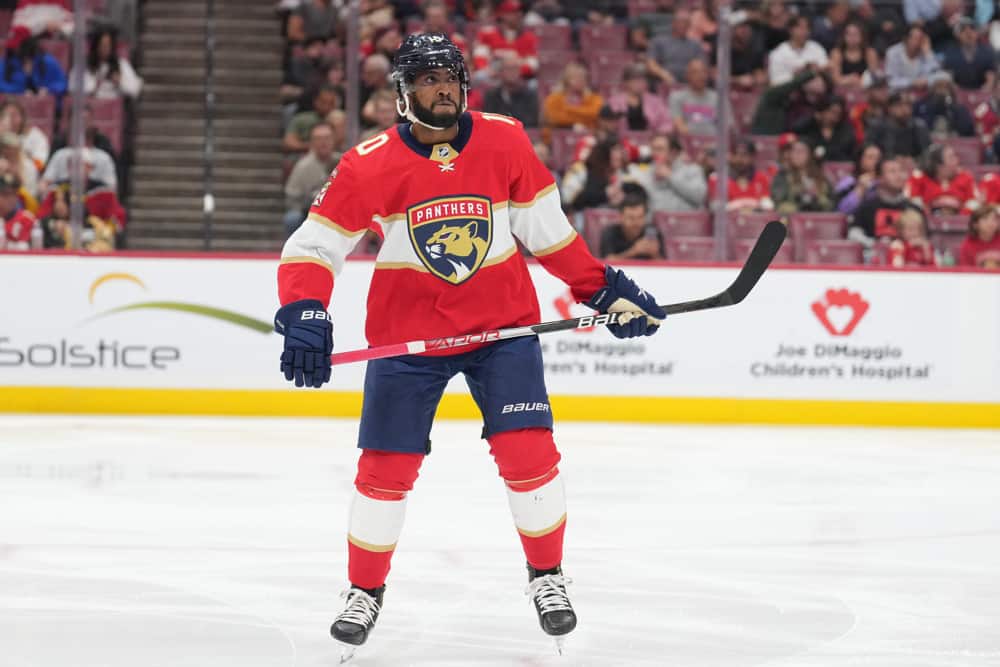 The fantasy hockey playoffs are here! Hopefully, you're still alive in your leagues. If not, there is always the consolation bracket — or third-place prize — and, of course, you still have pride to play for.
We have a fairly usual week with four lighter nights on Monday (6), Wednesday (3), and Friday (4). Those are the days to focus on to get an edge in your matchups, while you should already be covered on Tuesday (10), Thursday (11), Saturday (13), and hopefully Sunday (9).
If you are in a shallower or deeper league –– or just have a question or comment –– feel free to reach out to me on Twitter (@RGilbertSOP) or in the SGPN Discord!
Subscribe to the Hockey Gambling Podcast
Fantasy Hockey Waiver Wire Week 24: Teams to Stream
Over half of the league — 16 teams, to be exact — plays four times this week, but only two of those teams play twice on lighter nights (Monday and Wednesday). We'll be focusing on those two teams: the Florida Panthers and New York Islanders.
---
Florida Panthers
Monday @ OTT
Wednesday @ TOR
Thursday @ MTL
Saturday @ CBJ
The Panthers aren't a great road team, but they sure do know how to score. They should be able to put up some goals in at least three of their four matchups this week.
Radko Gudas (D – 46% Rostered)
The Butcher has carved out an excellent role for himself down in Florida. He only has 13 points on the season, so don't expect any production there, but he's an absolute banger. He has 60 hits in 11 March games to go along with ten locked shots, and he fires the puck a bit as well with 14 SOG in his last eight games.
Anthony Duclair (W – 12% Rostered)
Duclair made his season debut just over a month ago after missing the start of the year with an injury. He has five points in 11 games on the year, including two assists in his last three games.
Anthony Duclair's one-timer is still very much lethal. pic.twitter.com/TpvCPfkZ6y

— Colby Guy (@ColbyDGuy) December 15, 2022
The winger only has one goal in those 11 games, but he's getting a chance on the top line and second power-play unit, so those should come soon.
Eetu Luostarinen (C, W – 6% Rostered)
Luostarinen offers versatility at both center and winger as the Panthers' second-line pivot. He has 39 points (16 G, 23 A) in 73 games this season, including 17 points in 21 games since the All-Star break. Pick up the Finnish forward for Florida.
---

New York Islanders
Monday vs. NJD
Wednesday @ WSH
Saturday vs. TBL
Sunday vs. CAR
The Islanders are pushing to keep their playoff spot but have a tough road this week. Nevertheless, four games give these guys plenty of chances to produce.
Ryan Pulock (D – 21% Rostered)
Pulock plays on the second pair and second power-play unit for the Isles. He'll contribute across the board as he has a goal, three assists, a power-play point, 12 shots on goal, 14 hits, and 11 blocks in his last five games.
Jean-Gabriel Pageau (C – 20% Rostered)
Pageau recently returned from a month-long absence and has six points (2 G, 4 A) in six games since then. He's playing on the third line but gets some burn on the second power-play unit, and he's a weapon shorthanded as well.
Jean-Gabriel Pageau is on the ice. #Isles pic.twitter.com/c2QmAYkPxf

— Stefen Rosner (@stefen_rosner) March 6, 2023
JGP is only rostered in one-fifth of leagues, which is low given the upcoming schedule.
Zach Parise (W – 8% Rostered)
Zach Parise in the year 2023? Zach Parise in the year 2023!
The former Devils and Wild star has 20 goals for the first time since scoring 25 goals in 69 games during the 2019-20 shortened season. He's been a bargain of a pickup for the Isles with 11 assists as well as 31 points on the season.
Parise has 167 shots in 74 games, well over two shots per contest, and had a four-game goal streak that recently ended. He's making the most of his playing time on the third line and second power-play unit.
---
RELATED CONTENT