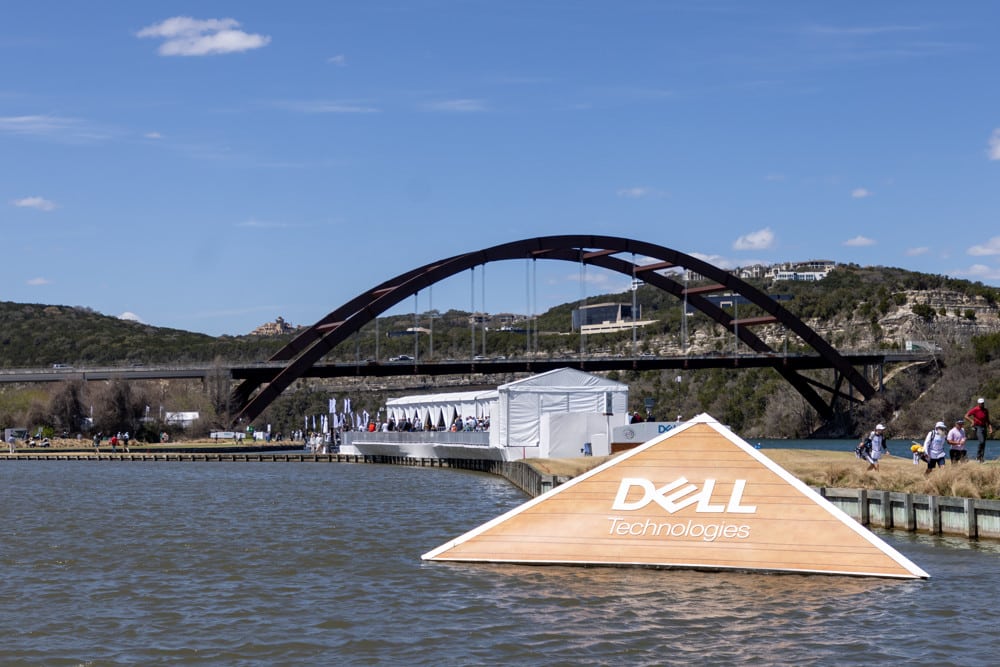 It's the end of an era. At least for now. For the final time, 64 golfers will go head to head at Austin Country Club for the WGC Match Play. As always, here is your early deep dive on the 2023 WGC Match Play and a preview of how to bet.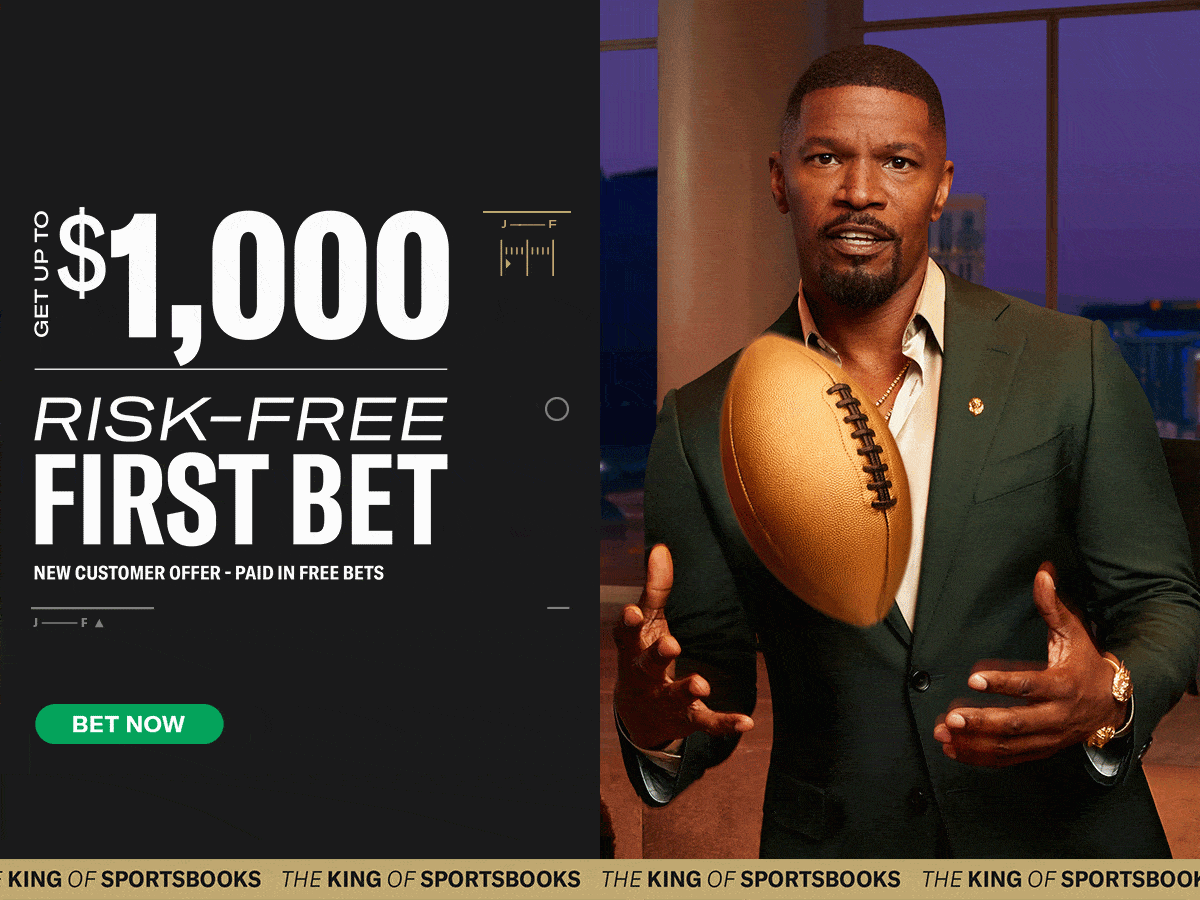 2023 WGC Match Play Preview – The Golf Course
The Austin Country Club was founded in 1899. However, the site of the current club was established in 1984. The golf course itself was designed by Pete Dye, who, true to his reputation, created a championship-caliber golf course designed as a thorough test of all a player's abilities.
While the golf course is Bermuda, it's not warm enough to support healthy growth this time of year. As such, the fairways are overseeded with a Ryegrass/Fescue mix. The greens are overseeded with Poa Trivialis. The rough, however, is not overseeded and will be a mix of dormant and non-dormant Bermuda grass.
It's unfortunate that not only does it seem like the WGC Match Play will come to an end, but it also will be the final time we see professional golfers play at Austin Country Club. That's a shame because it served as a wonderful host for the match play format:
The front nine has the look and feel of a more traditional Texas or Southwestern golf course. It's much more rugged than the back nine. Pete Dye did a very nice job using the surrounding terrain to create obstacles and challenges for the golfers. There is a lot of sloping, and the side hill lies on the front nine. The holes use the surrounding canyons as natural hazards quite well.
The back nine has more of the look and feel of a traditional Pete Dye design. There are more water hazards on this side of the golf course as well as Pete's trademark expansive, elongated fairway bunkers. The back nine is also much more interesting visually on television, particularly from holes 12 through 14, which work their way toward the Pennybacker Bridge and Lake Austin.
This side of the golf course is also much more exposed to the trademarked Texas winds. The front is much more protected by surrounding trees. The back nine can play pretty difficult in windy conditions, particularly the Par 3 11th. Overall, there are plenty of ways to both gain ground on your opponent, as well as let a big lead slip away on the back nine.
The golf course is a great venue for match play. It isn't overly long and is fairly generous off the tee. However, it's penal for those who are missing fairways. There also are several holes that reward the bold and daring. These include the short Par 4 13th over water and the driveable 18th. Both are great holes down the stretch for a match play format.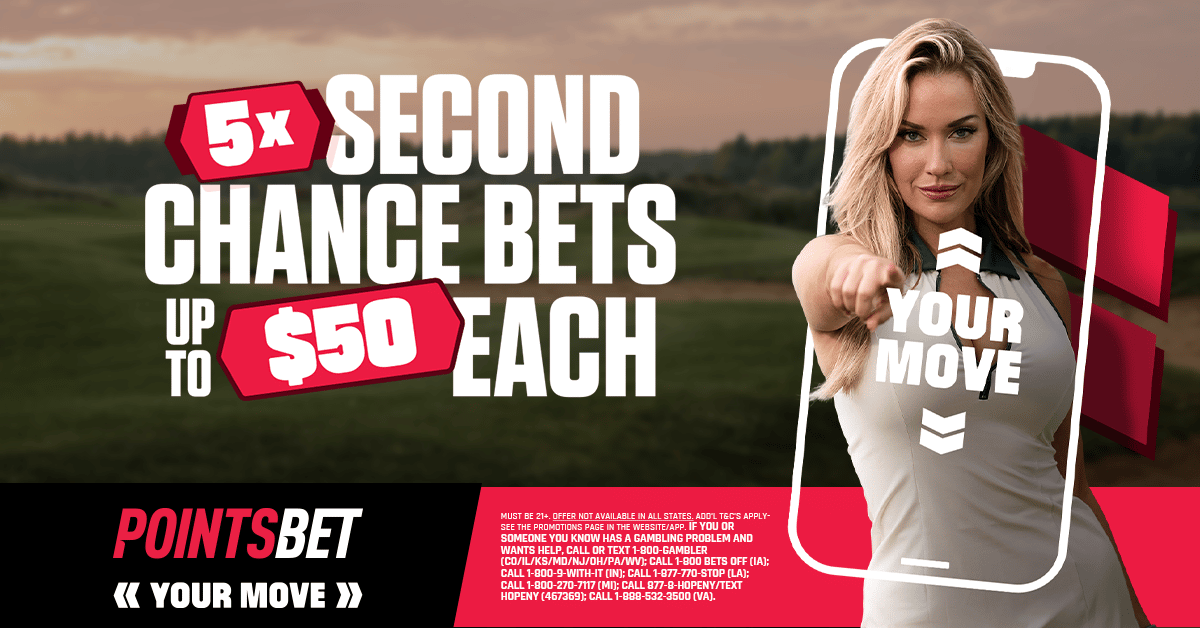 2023 WGC Match Play Preview – Betting Strategies
There are a lot of things going against gamblers this week.
For starters, this event is 100% match play. Matchplay tournaments are some of the most unpredictable to pick. It's entirely feasible for one player to beat another player head-to-head if everyone counted their own strokes. But because only the best score between the two is relevant, anything is possible.
There are also not a lot of commonalities regarding who has done well at Austin Country Club. Here's the Final Four in each of the last six tournaments at Austin Country Club:
2016:
Jason Day (Winner)
Rory McIlroy
Louis Oosthuizen
Rafa Cabrera Bello
2017:
Dustin Johnson (Winner)
Hideto Tanihara
Jon Rahm
Bill Haas
2018: 
Bubba Watson (Winner)
Justin Thomas
Kevin Kisner
Alex Noren
2019:
Kevin Kisner (Winner)
Francesco Molinari
Matt Kuchar
Lucas Bjerregaard
2021:
Billy Horschel (Winner)
Scottie Scheffler
Matt Kuchar
Victor Perez
2022:
Scottie Scheffler (Winner)
Kevin Kisner
Corey Conners
Dustin Johnson
They are plenty of players who make hay in completely different ways. There are bombers. There are short and accurate players who rely on getting hot with their putter. And there are all-around solid ball strikers who do a little bit of everything really well. There doesn't seem to be a particular style of golf that dominates at Austin Country Club.
There are a few things gamblers can look at this week to try and help handicap the field. First, DataGolf offers a relative skill set chart from Austin Country Club: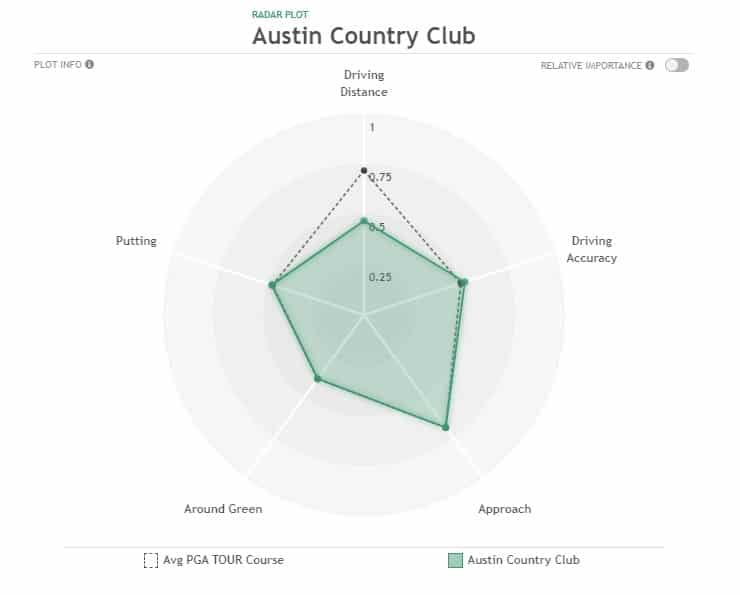 This chart confirms how Austin Country Club breeds parity. There's no correlation between how long or short one hits it off the tee and success at the golf course. But in all other four categories, there's some semblance of correlation of success. Translation – Austin Country Club allows you to succeed with the tools in your arsenal. No one is behind the eight ball.
Second, here's the ShotLink data for approach shot lengths into the greens from the 2021 WGC Match Play. Based on a quick scan of the results from 2022, this chart is representative of the overall distribution of approach shots at the golf course:
Shots Analyzed: 252
<125 Yards: 78 shots (31.0%)
125-150: 14 Shots (5.6%)
150-175: 40 Shots (15.9%)
175-200: 60 Shots (23.8%)
200+: 60 Shots (23.8%)
This also reinforces the parity at the golf course. There are lots of shots from under 125 yards. But there's also a significant amount from 150-200 yards and 200+. Golfers will be tested in a variety of ways with their approach shots this week at the 2023 WGC Match Play.
Lastly, there's an unquantifiable factor for gamblers this week. Who exactly is motivated to not only play well this week but motivated to potentially play as many as 126 holes across five days. With the Masters in three weeks, do golfers really want to put that many holes on their odometer before the first major? Or are they more looking for batting practice?
Unfortunately, there's no telling exactly who will be looking to grind out a top-four finish or those who want a guaranteed paycheck and hop on a flight home on Friday. So be careful relying on traditional stats, recent form, or course history when handicapping the event. You never know if a player you bet on is planning on mailing it in this week.
Related Content