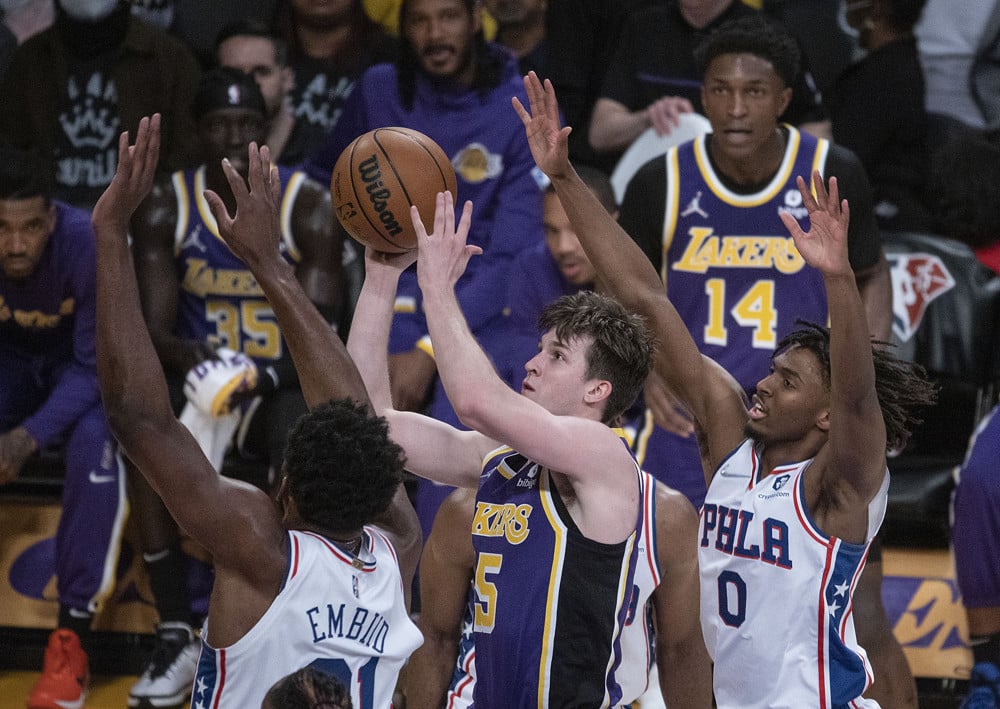 NBA Daily Fantasy Lineup for Tuesday – March 14th
Tuesday night is coming at you with an eight-game NBA slate. We dug through all the action this weekend and came up with some sleepers that you're going to need for your NBA daily fantasy lineups. Come check out the whole squad we put together and win with us.

NBA Daily Fantasy Lineup for Tuesday – March 14th
PG – Darius Garland – CLE – $7,900
Perhaps one of the biggest salary steals on Tuesday night in NBA daily fantasy is Darius Garland. Despite outperforming his season average in fantasy points, minutes played, and rebounds in four of his last five games, his salary has still dropped down. With the rebounds being a sneaky boost to his scores and the Hornets being rough on the glass, it could be another nice night for Garland.
SG – Bradley Beal – WAS – $8,200
Beal is another buy-low NBA daily fantasy candidate for me on Tuesday. He had one of his worst fantasy performances of the year on Sunday, but the odds of him doing that twice is pretty minimal. The outlook is even better when you realize he's got the Pistons on the second end of a back-to-back.
SF – Scottie Barnes – TOR – $7,200
On a two-game swing through Los Angeles, the Raptors really decided to let Barnes start to let it fly. On the season, he's averaging 13.4 shot attempts but tallied 20 per game on that road trip. He also exceeded his average from deep as well. The result was a 26-point average, and it didn't hurt his rebounding numbers either. Let's try to ride this new shot happy trend.
Scottie Barnes in the loss:

32 PTS
9 REB
7 AST
13-19 FG

Career high in points. pic.twitter.com/ttGDFmGreO

— StatMuse (@statmuse) March 11, 2023
PF – PJ Washington – CHA – $6,700
Speaking of guys who are getting a chance to shoot more, Charlotte seems to be happy to lean on Washington as of late. He, like Barnes, is averaging just over 13 shots a game (13.1, to be specific). However, over the last three games, they took the leash off, and he's given us 15, 16, and 18, respectively. His field goal percentage didn't really change with the increased output, so we'll lean on another guy getting more looks.

C – Zach Collins – SAS – $6,300
Collins has really come into his own as of late, and he's doing so by spreading it out on the stat sheet. Double figures scoring, 6+ rebounds, and 3+ assists – and that's just the floor. He's regularly flirting with a double-double and drilling four deep balls on Sunday. With 36.65 fantasy points a game over the last four, this NBA daily fantasy salary is puny.
G – Austin Reaves – LAL – $4,800
AUSTIN REAVES WITH THE DISGUSTING EURO-STEP 🤢pic.twitter.com/qqpo0sb9vy

— Lakers Lead (@LakersLead) March 13, 2023
Reaves feels like a bit of a gamble here, but one I can take given his relatively low cost. When D'Angelo Russell was gone, he was a must-roster type player. Now that Russell is back on the court, he is still logging 25+ minutes a game. As long as he gets a hot hand for a few possessions or snags a few extra dimes, he is still valuable here.
F – Royce O'Neale – BKN – $5,000
O'Neale is making himself one of the guys in Brooklyn and doing so heavily with his work on the boards. He is averaging a double-double over his last three games and wildly exceeding his fantasy averages for the year. The matchup with Oklahoma City should make this even easier, as they currently rank 29th in rebounds allowed a game.
UTIL – Eugene Omoruyi – DET – $3,800
If you need that one guy out of the bargain bin to fill in your lineup for the night, you could do a lot worse than Omoruyi. In a wild turn of events, he signed a 10-day contract with the lowly Pistons and, just five games into it, cracked the starting lineup on Monday. He played 32 minutes and scored 17 with 6 boards. You have to imagine that's worth another start and definitely a DFS play.
If you'd like even more information that could help your NBA daily fantasy lineup, be sure to check out the NBA Gambling Podcast. The guys are dropping episodes every week to make you the smartest guy at the bar. 
Related Content