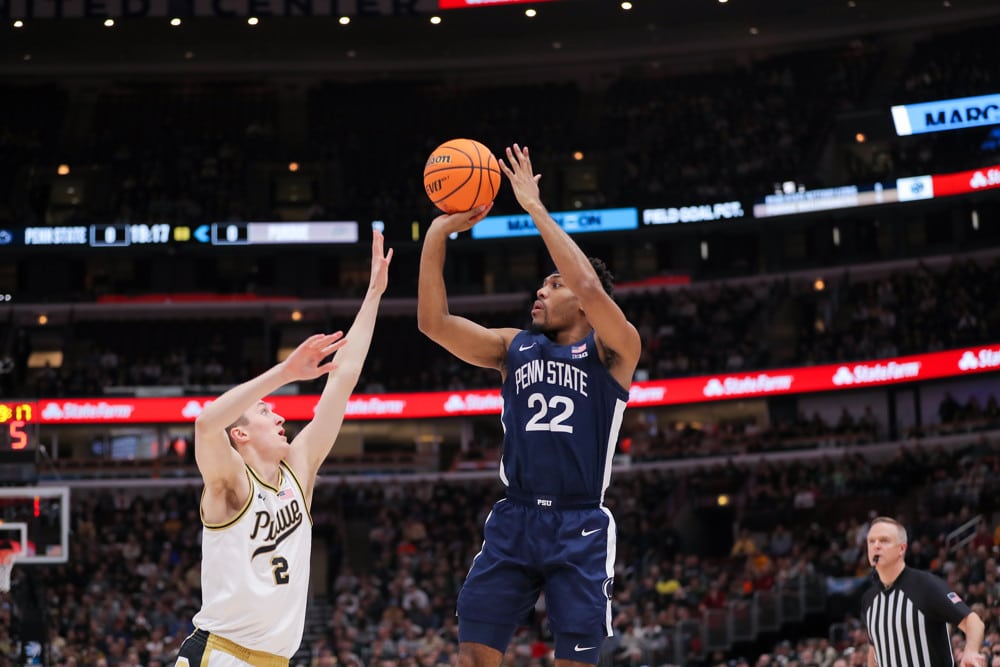 March Madness Picks Part 1
The guys (@GamblingPodcast) are live from The Wynn in Las Vegas giving out their March Madness picks. This episode covers all their college basketball picks ATS for the first day of the NCAA Tournament. If you're looking for college basketball predictions 3/16/23 this is your show.
The Round of 64 of the tournament will begin on Thursday, March 16th. We have been waiting for this day for very long, and all the games on that day will be discussed in this episode!
West Virginia is -2 and kicks off the madness with a battle against Maryland. Maryland's head coach is in their first year and will be trying to face off against an experienced Bob Huggins. In addition, West Virginia is statistically better, and Maryland doesn't play well away from their home.
Furman is +5.5 dogs against the four seeded Virginia team. Virginia does not rebound well and Furman does while having a strong offense that can handle the slow play of Virginia. With this many points, Furman can cover well.
Utah State is -2 against Missouri. Missouri has good guard play that should fair well in tournaments but Utah State has been hot after a nice run in the Mountain West tournament. Historically, when the 10 seed is favored against the 7 seed, they are 10-7 against the spread.
Howard battles as a 16 seed against Kansas, who is -20.5. Kansas is still the play here despite the large spread since Kansas is coming off a large loss and Howard has lost big to a number of inferior opponents in comparison to Kansas. Howard also struggles to hold on to the ball.
Charleston will play San Diego State who is -5.5. San Diego State is a superior team to Charleston and can smother them defensively as they are 10th in the nation in defensive efficiency. Charleston shoots the ball well but SDSU can defend the three point line well.
Princeton is +14 against Arizona. Princeton can catch Arizona sleeping later in the game and drill some threes to get a backdoor cover.
Illinois faces off against Arkansas and is a +2.5-point dog. Both of the teams are solid but probably don't have a big run in them. Arkansas has battled injuries all year and is slowly crawling back by the hands of the MUSS BUS. Their defense should be able to carry them through this rock fight.
Iowa and Auburn will battle with Iowa at -1. Auburn will have the benefit of playing in their home state which could benefit them greatly. Iowa usually lets down in the tournament and has a poor defensive rating.
Duke is favored by 6.5 points against Oral Roberts. Duke has been very hot as of late and looks better than a 5 seed. Oral does have talent that can match Duke though as long as everyone stays out of foul trouble, as they have the best player on the court.
Colgate is +14 against Texas. The public is on Texas in this one and could be because Colgate always lets down in the tournament. Texas should present a lot of problems for Colgate with their strong defense and they shoot their free throws better.
Northwestern is -1 against a 10 seeded Boise State. Northwestern had people excited through the year but they lost their last 4 of 5. Boise shuts down well defensively and is playing somewhat near their homecourt.
Houston is favored by 19.5 points against Northern Kentucky. Houston will be missing one of their better players in Marcus Sasser but they still should be able to get through this game. Houston is just 1-5 in their last six games against the spread.
Louisiana will try their hand at covering a +10.5 spread against Tennessee. Rick Barnes, coach of Tennessee, is 19-32 against the spread in the tournament and is missing one of his best players.
Penn State battles Texas A&M where A&M is -3. Penn State is 8-0 as a dog in their last 8 games. They shoot the ball extremely well and is very experienced but they have to overcome the strong defense of A&M.
UCLA is -17.5 against the 15 seeded UNC Asheville. UCLA is number one in defensive efficiency and is top 25 offensively. Still, this spread is too high as Asheville has some talented offensive players that won't go down lightly.
March Madness Bets:
Kramer Locks: Utah State -2, San Diego State, Boise State +1.5
Kramer Dog: Louisiana ML
Sean Locks: West Virginia -2, Auburn -1, Louisiana +10.5
Sean Dog: Penn State ML
Colby Locks: Texas A&M -3, San Diego State -5.5, Auburn -1
Colby Dog: Louisiana ML
TriPuss:
Furman ML, Louisiana ML, Boise State ML
March Madness Betting Odds via WynnBET
| | | | | | | |
| --- | --- | --- | --- | --- | --- | --- |
| Time | # | Teams | Sprd | ML | Tot | 1H T |
| | | | | | | |
| 3/16 9:15 AM | 9 | West Virginia | -2 | -130 | 137.5 | 63.5 |
| Birmingham, AL (S) | 8 | Maryland | | 110 | | |
| 3/16 9:45 AM | 13 | Furman | | 195 | 132 | 61 |
| Orlando, FL (MW) | 4 | Virginia | -5.5 | -230 | | |
| 3/16 10:40 AM | 10 | Utah State | -2 | -130 | 154.5 | 72 |
| Sacramento, CA (S) | 7 | Missouri | | 110 | | |
| 3/16 11:00 AM | 16 | Howard | | 1400 | 145.5 | 68 |
| Des Moines, IA (W) | 1 | Kansas | -20.5 | -3500 | | |
| 3/16 11:45 AM | 16 | SE Missouri St / Texas A&M CC | | | | |
| Birmingham, AL (S) | 1 | Alabama | | | | |
| 3/16 12:10 PM | 12 | Charleston | | 180 | 141.5 | 66 |
| Orlando, FL (MW) | 5 | San Diego State | -5.5 | -210 | | |
| 3/16 1:10 PM | 15 | Princeton | | 750 | 153.5 | 72.5 |
| Sacramento, CA (S) | 2 | Arizona | -14 | -1200 | | |
| 3/16 1:30 PM | 9 | Illinois | | 120 | 144 | 66.5 |
| Des Moines, IA (W) | 8 | Arkansas | -2.5 | -140 | | |
| 3/16 3:50 PM | 9 | Auburn | -1 | -120 | 152.5 | 72 |
| Birmingham, AL (MW) | 8 | Iowa | | 100 | | |
| 3/16 4:10 PM | 12 | Oral Roberts | | 240 | 146 | 68 |
| Orlando, FL (E) | 5 | Duke | -6.5 | -285 | | |
| 3/16 4:25 PM | 15 | Colgate | | 850 | 148 | 70 |
| Des Moines, IA (MW) | 2 | Texas | -14 | -1400 | | |
| 3/16 4:35 PM | 10 | Boise State | | 105 | 128 | 59 |
| Sacramento, CA (W) | 7 | Northwestern | -1.5 | -125 | | |
| 3/16 6:20 PM | 16 | Northern Kentucky | | 1300 | 123 | 57 |
| Birmingham, AL (MW) | 1 | Houston | -19.5 | -2800 | | |
| 3/16 6:40 PM | 13 | Louisiana | | 450 | 136.5 | 64 |
| Orlando, FL (E) | 4 | Tennessee | -10.5 | -600 | | |
| 3/16 6:55 PM | 10 | Penn State | | 130 | 134.5 | 62.5 |
| Des Moines, IA (MW) | 7 | Texas A&M | -3 | -150 | | |
| 3/16 7:05 PM | 15 | UNC Asheville | | 1300 | 134.5 | 63.5 |
| Sacramento, CA (W) | 2 | UCLA | -17.5 | -2800 | | |
Podcast Transcription