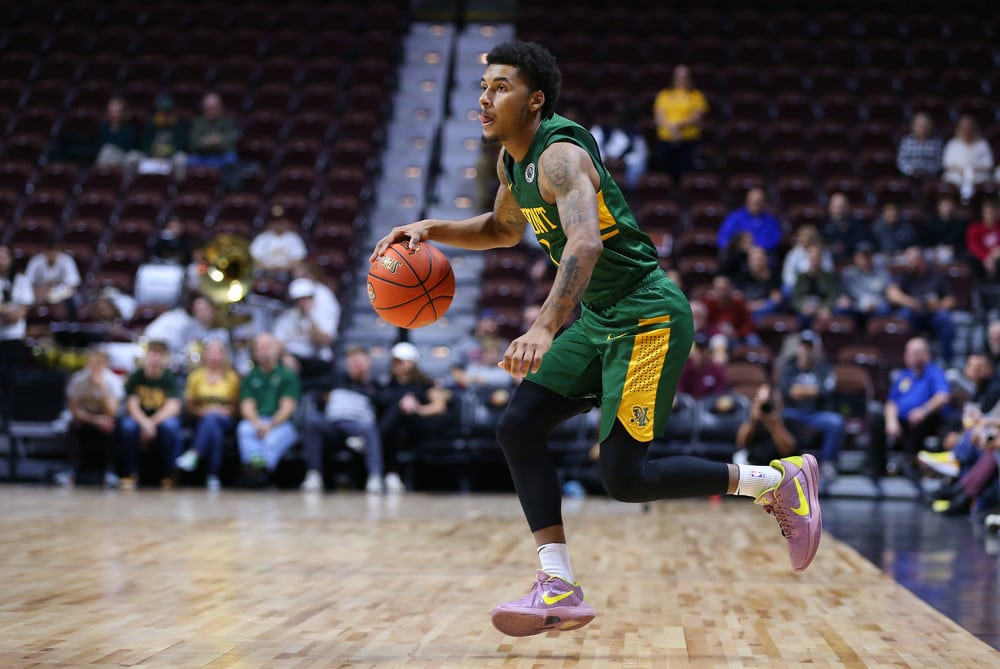 American East, Big Sky, Southland Conference Tournament Previews
The guys (@GamblingPodcast) continue their college basketball conference tournament preview series with their American East, Big Sky, Southland Conference Tournament preview podcast. They're joined by Colby Dant (@TheColbyD) from The College Basketball Experience.
Things are heating up in March Madness as blood is getting shed. These college basketball conference tournaments will have some powerhouses but also other teams who can give them a run for their money.
America East Conference Tournament Preview
This conference gets re-seeded for the tournament. Bryant is a sleeper at 13-1 to win the conference here as they have an above average offense. Still though, taking Vermont is the easiest bet, but UMass Lowell deserves attention.
UMBC/Binghamton
UMBC is -7 in this one at home, even though it was a 3-point game when these teams just played. However, Binghamton is due to put together a good game.
Bryant/New Hampshire
Bryant is a road favorite and can score the ball but has cooled off as of late. Against the spread they have been rough but at -2 they can certainly get it done.
Maine/UMass Lowell
Maine just beat Boston College and proves they can be frisky as they finished marginally well in their last 11. At +11, Maine can certainly make it interesting.
Vermont/NJIT
Vermont is -16 and the points could be even higher. No shade to NJIT, but Vermont is an absolute power house and should more than handle them.
Big Sky Conference Tournament Preview
In the Big Sky, the one and two seeds get an extra day of rest for the tournament while the other teams fight it out. Montana State is one team who can make some noise as they play solid defense. Eastern Washington is another large favorite to win the tournament as well.
Idaho/Northern Arizona
Northern Arizona is -4 in this one and has a nice average of 8 offensive rebounds per game. They will also have a slight home advantage as they are closer to the neutral site.
Northern Colorado/Portland State
Northern Colorado is -1 in this one. They were able to beat Portland State twice this year and won these games pretty handily. However, if Portland State can get the tempo up, they might have a shot.
Idaho State/Montana
Montana is projected at -5 in this one and is elite in free throw shooting in the country. Both teams have good defenses which can make the game close but Montana's smooth offense should allow them to prevail.
Sacramento State/Weber State
Both teams are 4-1 against the spread in their last 5 but Weber State won both matchups this year. They have been a little weak to close the year but should still deliver a good game as the spread is essentially a pick 'em.
Southland Conference Tournament Preview
Northwestern State seems to be the best value play to win the conference as they were 21-10 on the year despite being 9th in the conference in free throw shooting. Texas A&M Corpus Christi seems to be promising as well to win the conference.
McNeese State/Texas A&M Commerce
McNeese is -1 but Commerce won in overtime the last time they played.
New Orleans/Houston Christian
New Orleans is -1 and they are a top 20 team in the country in three-point shooting and they have won 4 of their last 5.
America East Locks
Kramer: Bryant
Sean: Vermont -16
Colby: Bryant -2
Big Sky Locks:
Kramer: Montana
Sean: Weber State -1
Colby: Weber State -1
Southland
Kramer: Texas A&M
Sean: New Orleans -1
Colby: New Orleans -1
Podcast Transcription