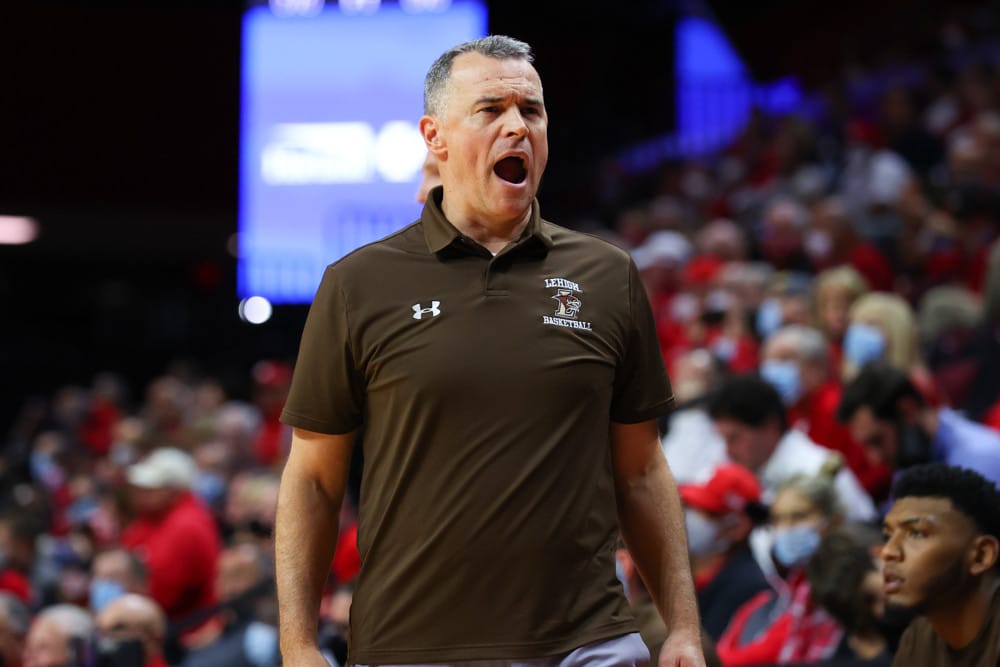 Sun Belt, Atlantic Sun, Horizon + Patriot League Conference Tournament Previews
The guys (@GamblingPodcast) get into their March Madness picks with their college basketball conference tournament previews. They cover the Atlantic Sun Conference Tournament, the Atlantic Sun Conference Tournament, the Horizon League Conference Tournament and the Patriot League Conference Tournament.
Go here for all their college basketball picks. College Basketball was hot this week! Some games certainly made it feel like it was March Madness, especially that Iowa State vs Michigan State game. As we get into conference tournament play, the level play will only get higher.
Atlantic Sun Conference Tournament Preview:
Liberty and Kennesaw State are the two highest favored to win this conference. Although there are certainly some sleepers like Stetson who are 7-1-1 against the spread at home. Kennesaw is having one of its best years in a long time and plays really well at home and has the mojo headed in the right direction. Queens though was able to split with Kennesaw State this year and could be the ultimate sleeper, as well as North Alabama as they are both 100-1 to win the conference tournament.
Bellarmine/North Florida: Bellarmine -3.5
Bellarmine won the conference last year and their experience should certainly help them get past the first round.
FGCU/Queens: FGCU +1.5
Queens plays very good offense, especially in the conference. Both teams have beaten good teams at some point this year which explains why the line is so close.
Stetson/Lipscomb: Stetson -4
Stetson is a great offensive team who shoots well but they are a poor defensive team. Although, they are the best in the league against the spread so they should handle business.
North Alabama/Eastern Kentucky: Eastern Kentucky -7
Eastern Kentucky plays good ball, but 7 points is a lot for a North Alabama team that could make something shake early on.
Horizon League Conference Tournament Preview:
The first two rounds of this conference are at campus sites of the higher seed, but the semi-final and final are at a neutral site. Antoine Davis plays for Detroit Mercy and is very close to breaking the NCAA scoring record, he might only need 2 games. In this conference, the longest win streak is 2 games, showing how tight the league is. Youngstown State, Milwaukee, and Cleveland State are all getting byes in the first round of this conference tournament and the remaining teams will be reseeded after round one. Robert Morris has played big time ball and beat some major players in conference but just had a tough recent loss.
Wright State/Green Bay: Green Bay +17
Green Bay has only won 3 games this year, but they don't have much to lose. Nonetheless, they are a bottom 10 defense and offense in the country, not much to feel good about.
Robert Morris/IUPUI: Robert Morris -14
Against the spread, IUPUI is really good. Robert Morris has some big wins but has shown to let down in some spots.
Detroit Mercy/Fort Wayne: Detroit Mercy -6
If Antoine Davis wants a shot at breaking the record, he is going to have to win this game. Detroit Mercy should handle business in this one.
Oakland/Northern Kentucky: Northern Kentucky -9
9 points seems like a lot and Oakland plays good offense. However, Northern Kentucky has much better defensive stats and is playing at home.
Patriot League Conference Tournament Preview:
Colgate and Navy head the conference in favorites although there is not a lot of confidence in Colgate. But the conference championship will have to go through Colgate's home gym which is something to note. Navy has played well in February and could give the field a run for its money.
Bucknell/American: American -5
Bucknell will be on the road in this one against an American team that has been up and down all year. Against Bucknell though, they were down both times. Bucknell should be able to cover in this one.
Holy Cross/Loyola: Loyola -2
Just a few days ago, Loyola beat Holy Cross by 22. Across the board Holy Cross has just looked terrible. Loyola is not much better, but they are better.
Army/Boston University: Boston University +5
Boston's Walter White is an all-league forward who fills the stat sheet.
Lafayette/Lehigh: Lafayette -4
Lafayette is rough from the free throw line, but they do play clean basketball. Lehigh plays good ball as well though and beat Lafayette by 12 last time they played.
Sun Belt Conference Tournament Preview:
The conference added some new members such as JMU who have seen good success this year. This conference wields 4 teams with more than 20 wins, proving that good basketball has been played. JMU has been hot this year and has probably the best roster but has been a little inconsistent as of late. ODU has had a good year as well and is coached well. Texas State has been good too and could be a longshot to win it all. Despite no teams being in Florida, the conference tournament will be hosted there.
Coastal Carolina/Arkansas State: Coastal Carolina -1
This game will not be wielding a big LIT factor, and will not be exciting ball either. Last they played; Arkansas State won by 16.
Texas State/Georgia State
Georgia State is 321st in offense in the country, taking them would be an atrocious move against a solid Texas State team.
South Alabama/App State: South Alabama -5
On February 11th, South Alabama won by 17 points, and they have won 8 of their last 10. However, App State could still find a way to cover.
Georgia Southern/Louisiana Monroe
Southern is definitely the better team as of late. Louisiana Monroe is at the bottom for most offensive categories while Southern is a good defensive team. This is a tough combo for Monroe fans.
Bets:
Atlantic Sun Conference
Kramer Lock: Queens -1.5
Sean Lock: Queens -1.5
Colby Lock: Queens -1.5
Horizon League
Kramer Lock: Robert Morris -14
Sean Lock: IUPUI +14
Colby Lock: Robert Morris -14
Patriot League
Kramer Lock: Bucknell +5
Sean Lock: Lehigh -4
Colby Lock: Lehigh -4
Sun Belt Conference
Kramer Lock: Texas State
Sean Lock: South Alabama -5
Colby Lock: Texas State
Dogs:
Kolby: North Alabama ML
Sean: Boston University ML
Colby: Bucknell ML
Atlantic Sun Conference Tournament Odds
| | |
| --- | --- |
| Atlantic Sun (ASUN) | Bracket |
| Campus Sites | Feb 27,28 + Mar 2,5 |
| Liberty (2) | -230 |
| Kennesaw State (1) | 300 |
| Eastern Kentucky (3) | 1600 |
| Stetson (4) | 1700 |
| Lipscomb (5) | 2500 |
| Florida Gulf Coast (10) | 5000 |
| Queens NC (9) | 10000 |
| North Alabama (6) | 10000 |
| North Florida (7) | 20000 |
| Bellarmine (8) | 20000 |
Horizon League Conference Tournament Odds
| | |
| --- | --- |
| Horizon League (HOR) | Bracket |
| Campus Sites | Feb 28, Mar 2 |
| Indiana Farmers Coliseum | Mar 6-7 |
| Youngstown State (1) | 180 |
| Cleveland State (3) | 330 |
| Northern Kentucky (4) | 330 |
| Wright State (7) | 750 |
| Milwaukee (2) | 1000 |
| Detroit Mercy (8) | 1800 |
| Robert Morris (6) | 2500 |
| Oakland (5) | 5000 |
| Fort Wayne (9) | 7500 |
| Green Bay (10) | 50000 |
| IUPUI (11) | 50000 |
Patriot League Conference Tournament Odds
| | |
| --- | --- |
| Patriot League (PAT) | Bracket |
| Campus Sites | Feb 28, Mar 2,5,8 |
| Colgate (1) | -220 |
| Navy (2) | 270 |
| Army (4) | 1100 |
| Lehigh (3) | 1600 |
| Lafayette (6) | 4000 |
| Boston U (5) | 6000 |
| American (7) | 8000 |
| Loyola MD (8) | 20000 |
| Bucknell (10) | 25000 |
| Holy Cross (9) | 30000 |
Sun Belt Conference Tournament Odds
| | |
| --- | --- |
| Sun Belt (SBC) | Bracket |
| Pensacola, FL Pensacola Bay Center | Feb 28, Mar 2,4-6 |
| Marshall (3) | 200 |
| Louisiana-Lafayette (2) | 360 |
| James Madison (4) | 380 |
| Southern Mississippi (1) | 450 |
| South Alabama (8) | 850 |
| Troy (5) | 1600 |
| Old Dominion (6) | 3000 |
| App State (9) | 4500 |
| Georgia Southern (7) | 5000 |
| Texas State (11) | 15000 |
| ULM (10) | 25000 |
| Coastal Carolina (12) | 30000 |
| Georgia State (14) | 50000 |
| Arkansas State (13) | 50000 |
Podcast Transcription